Bbet is one of the newer additions to the Aussie betting market. They offer native apps for both iOS and Android, as well as an optimised mobile site. However, Bbet lacks many of the advanced betting features we're used to seeing at other top mobile bookies.
If you're serious about betting on mobile, we suggest taking a look at bet365's app. They are far better in almost every aspect, from live betting to the selection of markets. Not to mention that bet365's market-leading streaming platform is available on mobile as well.
Bbet App Overview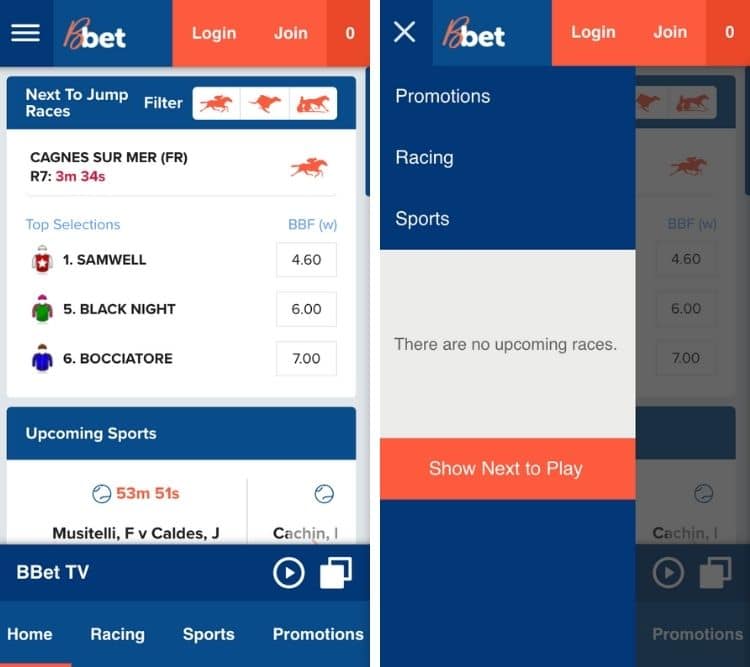 Bbet offers native apps for both iOS and Android. However, they don't provide many special betting features, such as live betting or bet builders. Live streaming is available on all the Bbet apps, but their coverage is far behind what bet365 has to offer.
With Bbet you get only a simple looking online sportsbook and nothing more. That makes it great for new punters who are just starting with online betting. We doubt that more seasoned users will be pleased with an offering this thin.
The great news is that the full range of Bbet's odds and markets are available across all platforms. This bookie is primarily focused on horse racing betting, so expect to find a great selection of events and every racing market you can imagine. We also liked how easy it is to find any racing odd, even when betting on a smaller screen.
If you're not a fan of downloadable software, feel free to use Bbet's mobile website. It offers all the same features as the iOS and Android app, so you won't miss out on anything. Just use your device's browser to visit the Bbet website, log in to your account and start betting right away.
Bbet Android App
Bbet offers a custom made betting app for Android devices. But since Google doesn't allow any betting apps on the Play Store, you'll have to download the Bbet Android app directly from their site.
It's a rather simple process, however, if this is your first time downloading a betting app, we suggest you take a look at our guide below. There are no guides on the Bbet site about how to install their Android app, so if something is unclear, contact their customer support and ask for help.
Bbet iOS App
All iPhone users can download the Bbet app for iOS directly from the App Store. In case you want to install the app on your iPad, just switch the tabs on the App Store to show the iPad version and follow the steps below.
The Bbet app for iPhone performed great during our testing. However, they only have a 1.9 star rating on the App Store, which means that some other punters had issues. We haven't noticed anything problematic, but keep in mind that there may be some bugs.
Is the Bbet App User-Friendly?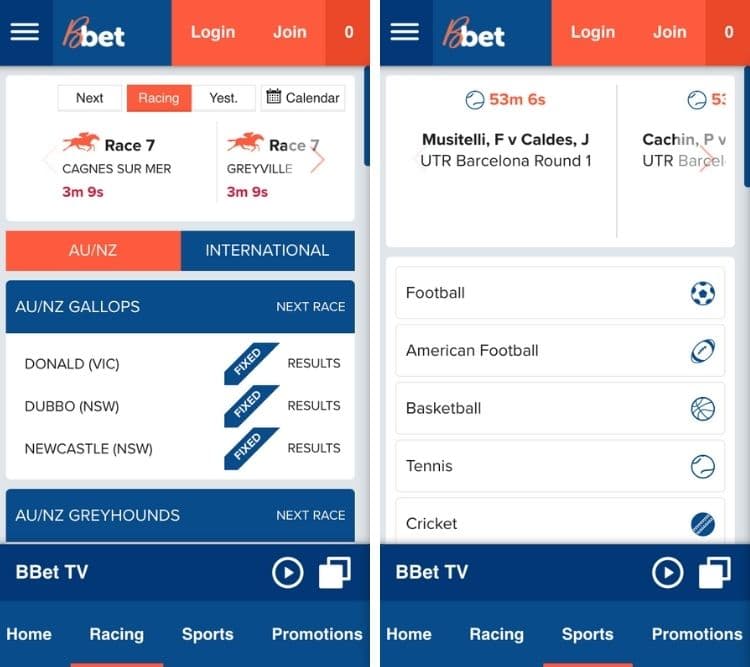 Bbet offers a very simple online sportsbook. The same goes for all their betting apps. There aren't almost any special features to distract you, which makes this app great for new punters who are just starting with online betting.
They have the same page layout as every other BetMakers bookie, such as BetDeluxe, Realbookie, TexBet, etc. If you've already played at some of these sites, you won't have any problems adjusting to Bbet.
You'll see a few upcoming races listed on top of the Bbet app home page. Below are future sports events. Even though we liked how neat this page looks, the selection of sports and racing markets is way too small. This means that, in most cases, you'll have to visit a dedicated page to find the bets you want.
All the important links are listed in the lower menu. From there you can go to the 'Home', 'Sports', Racing' or 'Promotions' page with a single click. The main menu is in the upper left corner, but it has all the same links as the bottom menu, so we suppose you'll rarely use it.
Mobile Live Streaming
You can watch live racing events on Bbet TV even when betting on mobile. The best thing here is that you don't have to register an account or make a deposit to start live streaming. Just click the 'Play' button in the lower right corner, and the broadcast will begin.
The streaming window covers only the bottom half of the mobile screen, which means that you can watch and bet at the same time!
Bbet TV only covers selected racing events. Sports streams aren't available at the moment.
Mobile Payment Methods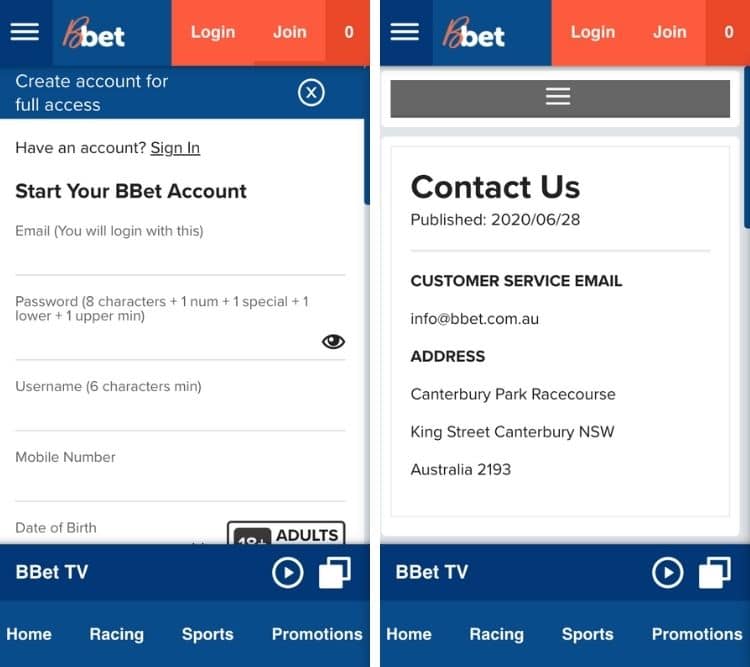 Bbet covers a solid range of Australian payment methods. You can place a mobile deposit via Visa, MasterCard, bank transfer, POLi or BPAY. All deposits are instant, so you can start betting right away. Note that you'll have to verify your account before doing any money transactions.
The selection of withdrawal options is a bit slimmer. Bbet can send you your winnings via bank EFT or a credit/debit card you previously used to deposit. The good news is that you just have to wait 2 or 3 days for the money to reach your personal account.
Final Verdict
The Bbet app can probably be good enough for complete beginners, but nothing more than that. They don't offer almost any additional betting features that would make them stand out from the crowd. Live streaming over Bbet TV is decent, however, bet365's live offer is still far better.
Because of all this, we can't recommend the Bbet app. If you want to bet on mobile, try visiting bet365. They have a much better mobile offer which includes iOS, Android and web-based apps. All their apps are packed with the latest betting features, so go and give them a look.
Bbet App FAQs
Is there a Bbet Android app?
Yes, Bbet offers a native app for Android devices. Note that you'll have to download their Android app directly from the Bbet website. If you're not sure how to download and install an Android betting app, take a look at our step-by-step guide.
What payment methods are available on the Bbet app?
You can place a mobile deposit at the Bbet app via Visa, MasterCard, bank transfer, POLi or BPAY. When it comes to withdrawals, the only options are bank transfer and credit/debit cards. Note that you'll usually have to wait around 2 or 3 days for your winnings.
Does Bbet app support live streaming?
Yes, you can watch live racing on the Bbet app. You don't even have to register an account or place a deposit. Just click the 'Play' button at the bottom of the screen to start the broadcast. Note that Bbet covers only racing events, meaning that no sports streams are available.
What sports are available on the Bbet app?
Bbet app offers the full range or Bbet sports odds and markets, which includes all the most popular leagues, such as AFL, NRL, BBL, NBA and so on. However, they lack many of the niche sports and advanced betting markets.
---