BetDeluxe is one of the finest new bookmakers in Australia. However, their mobile betting offer is still far from being the best on the market. It's mainly because BetDeluxe lacks popular payment methods and native apps for iOS and Android devices.
If you're searching for a reliable betting app, you should definitely give bet365 a look. Unlike BetDeluxe, they offer excellent native apps for both iOS and Android. All of the bet365's betting features are available on mobile as well, including sports and racing live streaming.
Pros And Cons
Quick web app
Simple design
No native apps
Weak sports betting offer

A limited selection of payment method
BetDeluxe App Overview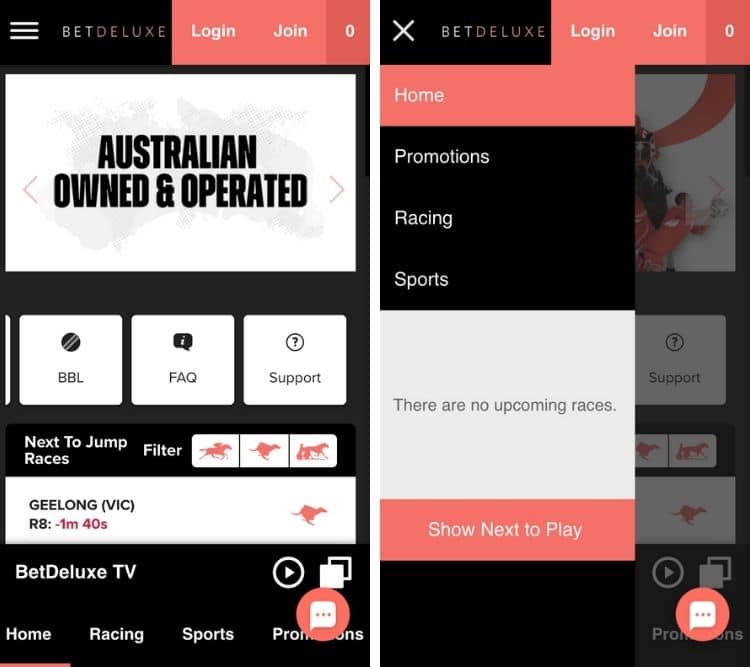 Since BetDeluxe still hasn't released native apps for iOS and Android, mobile punters can enjoy their betting products only via the web-based app. Luckily, the BetDeluxe mobile site looks very attractive and is super straightforward to use.
This bookie uses the well-known BetMakers platform, which also hosts many other Aussie betting sites. Punters who have already played at TexBet or RealBookie will have no problems adjusting to the BetDeluxe mobile app since all of these websites share a very similar design.
Don't worry if this is your first time with BetDeluxe. One of the best things about this bookie is how simple their website is. The same goes for the BetDeluxe mobile app, so we are safe to say that even complete beginners will have a relaxed betting experience.
Another great thing about the BetDeluxe mobile app is that it has all of the same betting features as the desktop version of the site. It includes even BetDeluxe TV, meaning that you can watch live horse racing on your phone for free and with no strings attached!
BetDeluxe Web App – Design and Betting Features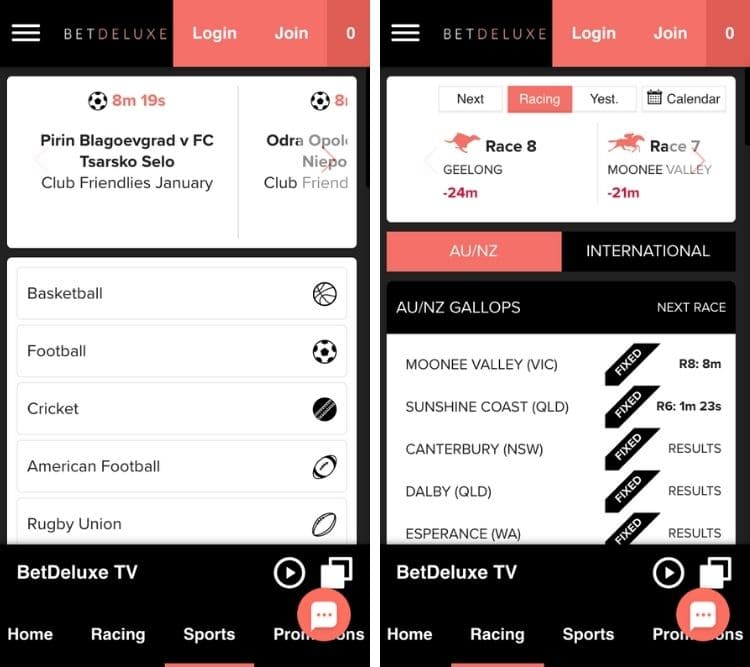 The BetDeluxe app has the same, straightforward layout as the desktop version of the site, which makes it very easy to use even on a smaller screen. The design looks blocky and doesn't have too many distracting moving objects.
The mobile site is mostly black with white text on top. We like this combination since the letters just pop, making it really easy to read even on small phones.
The hottest sports and racing markets are listed on the home page, so you can always place a quick bet with just a few taps. You can also swiftly switch between different sports and race types, without having to load another page.
You can find all of the most important links in the bottom menu. From there, you can access the 'Home', 'Racing', 'Sports' and 'Promotions' pages. There is also a main menu in the top left corner, but it has the same links as the bottom menu, so you probably won't ever use it.
We love how the live chat icon is always available at the bottom of the screen. In case you need a helping hand, just tap the icon, and the chatbot will pop up. Note that the BetDeluxe support agents are working from 6 am to 1 am.
BetDeluxe TV – In-App Live Streaming
BetDeluxe TV is available on the mobile website as well, meaning that you can stream live horse racing on your phone or tablet. All you need to do is tap the 'Play' button at the bottom of the screen, and the race will start. The BetDeluxe TV button is available from any page, so you won't ever have to look around for it.
You can even stream races on a smaller window in the bottom half of the screen, and still use the BetDeluxe site as usual. If you want only to watch the broadcast, tap the full-screen button to expand the window.
The only issue is that on some devices the live chat icon is placed over the 'Play' button, making it hard to click. This is a minor design problem, so hopefully, BetDeluxe will resolve it sometime soon.
💡 BetDeluxe TV is free for everyone. You don't even have to create a betting account to start streaming.
Mobile Payment Methods
BetDeluxe offers only a basic selection of payment options on both mobile and desktop site. You can deposit via bank EFT, POLi or credit/debit cards.
When it comes to withdrawals, the selection is even slimmer. The only way to get your winnings back is via bank transfer.
On the positive side, it usually takes just around 24 hours for the winnings to hit your personal bank account. BetDeluxe processes withdrawal request a few times a day, which results in very short waiting times.
Final Verdict
BetDeluxe offers a simple web app that even complete beginners can use with ease. The great thing is that all of the desktop betting features are available to mobile punters, including live streaming via BetDeluxe TV.
The biggest drawback is that BetDeluxe still doesn't offer native apps for iOS or Android. Their web app is solid, but it's easy to see why the lack of native apps can be a dealbreaker for many punters. On top of that, the selection of payment methods is barely acceptable.
If you're fine with having only the basic mobile betting features available, the BetDeluxe app can be a solid choice. In any other case, you would be much better off with some other Australian betting sites, such as bet365.
BetDeluxe App FAQs
---