If you're a fantasy sports fan who likes to bet on the go, Draftstars app may be a perfect choice. They offer both iOS and Android native apps. The best thing is that all of Draftstars fantasy contests are available on mobile as well.
Our Draftstars app review covers everything you need to know before playing. If you're new to mobile betting, we even explain how to get the apps on your phone.
Pros and Cons of Draftstars App
Very easy to use
Native apps for iOS and Android
Excellent selection of fantasy contests
Not so many payment methods
Draftstars App Overview
The great thing about the Draftstars app is that it looks and feels almost the same as the desktop site. It means that you won't have a hard time switching from laptop to phone or tablet.
They are known for having great navigation and lots of filters that make it easy to find contests you want. All of the desktop functionalities are integrated into the Draftstars mobile apps. Regardless if you're an Android or iPhone user, the design will look almost identical.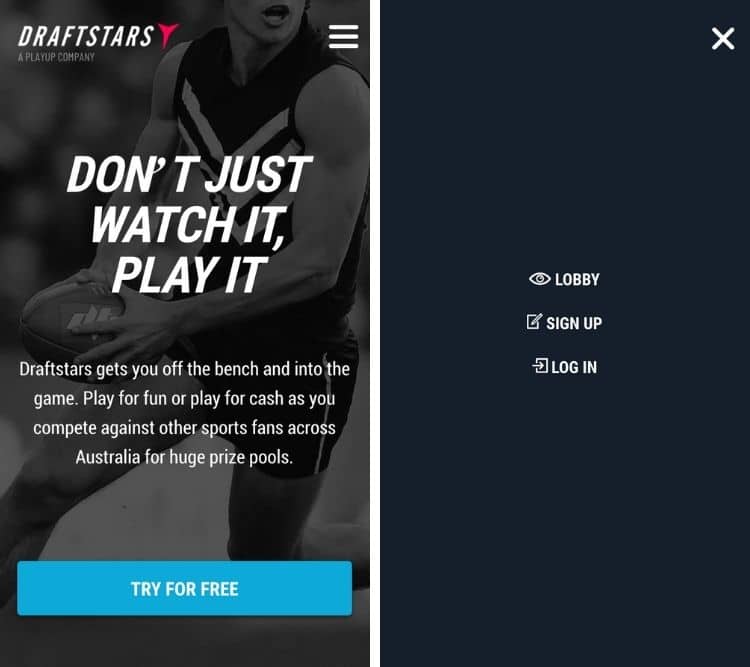 In case you're not a fan of downloadable apps, note that the Draftstars website is fully optimised for mobile users. All you need to do is visit the site using a mobile browser and log in with your account. It works on all devices and screen sizes, so you don't have to worry about compatibility.
All of the fantasy sports are available on the app as well. Whether you prefer NBA, NFL or AFL fantasy, Draftstars will have something for you. Every contest type is there as well, including their signature Rapid Fire game mode.
Draftstars Android App
All of Android users should be pleased to hear that the Draftstars Android app works as good as advertised. The interface follows the same slick design of the mobile website, so you won't have a hard time adjusting.
Keep in mind that you can't get it on the Play Store since Google doesn't allow any betting apps. Instead, head out to the Draftstars mobile website and simply click the pop-up in the top of the page. It will download the apk file and install the app on your device. Once the installation process is done, enter the Draftstars Android app and start playing right away.
Note that you can use it on both Android phones and tablets.
If this is your first time downloading an app like this, take a look at our guide below.
Draftstars iOS App
Unlike Android, iOS app is available directly on the App Store. All you need to do is search for Draftstars on the App Store or click the Apple logo in the footer of Draftstars website. Once you click the 'Download' button, the app will automatically install on your iPhone or iPad. Note that you'll need at least 19.2 MB of free storage and iOS 9.0 or later to run the Draftstars iOS app.
When it comes to usability and interface, it all looks more or less the same as on Draftstars's other apps. The design is identical, but it feels like pages load even quicker on iOS.
If you're not 100% sure how to download the Draftstars iOS app, follow the step-by-step guide below.
App Interface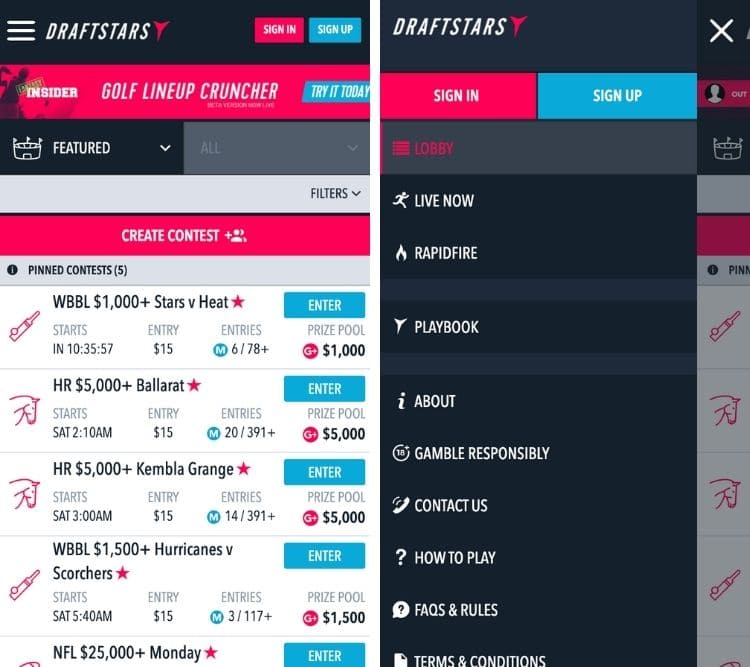 Even though fantasy sports require a more complex interface that classic sports betting, Draftstars somehow managed to make it all look good even on small screens. Homepage doesn't say it much. All you can find is a short beginners guide and their Twitter feed. If you want to see what fantasy sports leagues are on offer, use the menu in the upper left corner to enter the 'Lobby'.
From the 'Lobby' you can browse whole Draftstars' fantasy sports offer. They have several great filtering options that seamlessly fit any phone screen. You can select leagues based on sport, buy-in size, game mode and so on. Just tap on the contest name if you want to learn more details. They'll automatically display everything from prizes to scoring rules and schedules.
Another great feature available only to the Draftstars app users is push notifications. You can turn them on and get notified when the contests start or anything important happens in the game. This way you won't miss something important ever again.
Mobile Payment Methods
Draftstars isn't known for having an extensive selection of payment options. You can deposit via credit/debit cards, bank EFT or POLi. When it comes to withdrawals, a bank transfer is the only option. But on the bright side, all of those are available on Draftstars app as well. All you need to do is visit the cashier and pick the option you prefer. It would be much better if Draftstars offered some of the popular e-wallets, like PayPal, because they are very convenient for mobile use.
All of the in-app deposits are instant. However, you'll have to wait up to 3 days to get your winnings back. It all depends on your bank and how fast they handle the requests. Waiting times are somewhere around the industry standard for the EFT transactions, so we don't have any complaints.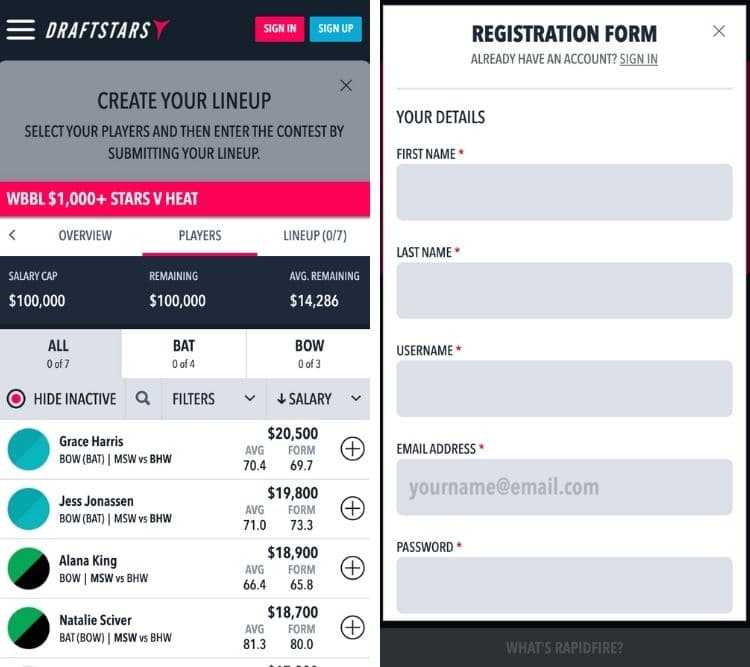 Final Verdict
Draftstars is known as one of the best fantasy sports sites in Australia, and their app hasn't disappointed us. The most important thing is that all of the fantasy contests and game modes are available on mobile as well. Draftstars Android app works excellent, as well as its iOS counterpart.
Pages load quickly, and the interface is as straightforward as it gets. We loved how they managed to make everything look so coherent even on very small screens. If you're a fan of fantasy sports, there is no better mobile option than Draftstars app.
Draftstars App Review FAQs
Is there a native Draftstars app?
Yes, Draftstars offers native apps for both Android and iOS devices. You can get the iOS app on the Apple App Store. Draftstars Android app is available directly on their site. To learn more about both of Draftstars native apps, take a look at our review.
How to get Draftstars Android app?
You should visit Draftstars mobile website and either click on the pop-up at the top of the page or tap the Android icon in the footer. After you download the apk file, install the app and start playing. Take a look at our Draftstars Android app download guide in the review above.
What fantasy sports are available on Draftstars app?
The great thing is that all of the sports from the desktop site are available on the apps as well. If you want to play fantasy AFL, NRL, NBA or any other sport, Draftstars app have you covered.
Can I deposit via Draftstars app?
Yes, you can both deposit and withdraw funds from your account via Draftstars app. All of the payment methods from the desktop site are available to mobile users as well. If you want to learn more about Draftstars in-app payments, take a look at our review.
---
User Reviews
No reviews yet
---