The LottoGo app is easily one of the best lottery betting apps in Australia. It's simple to use and works on all mobile devices, so it's no wonder that it's proved to be popular.
Our LottoGo app review covers everything you need to know before starting to bet on mobile with this bookie. We will explain how to get started with the LottoGo app and mention both its perks and drawbacks.
The LottoGo App Overview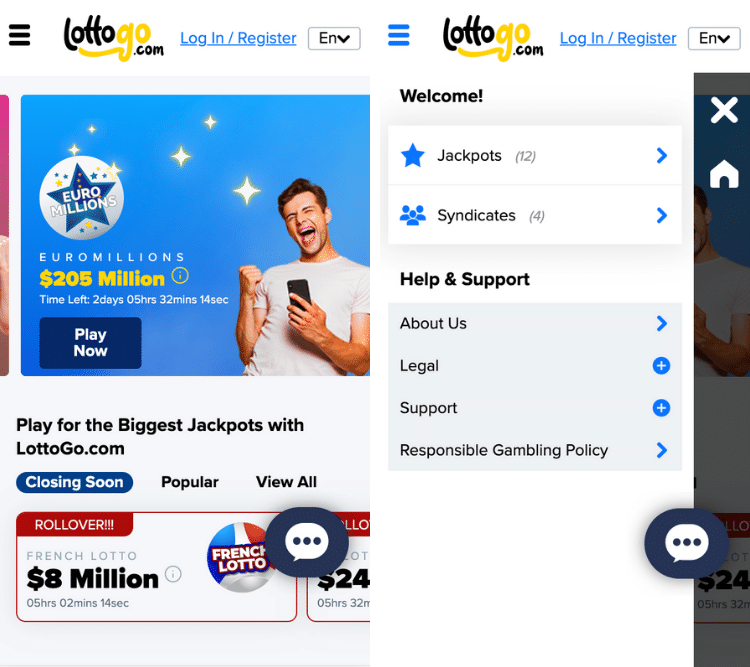 LottoGo offers an excellent web-app that works on all devices and operating systems. You don't have to download anything to start playing. Just use your device's browser to enter the LottoGo mobile website, log in to your account and start betting right away. The LottoGo app is very easy to access, which makes it great for a quick bet on the go.
The only drawback is that LottoGo still hasn't released a native app for Android. But since all the desktop features are available on the LottoGo web app, Android users won't miss out on anything even when betting on the go. On the other hand, iPhone users can head out to the App Store and download the native LottoGo app.
What Lotteries Are Available?
When it comes to the selection of lotteries, the LottoGo app is among the best on the market. You can enjoy all the top LottoGo games even when betting on the go. It includes major jackpots, like US Powerball and Mega Millions, as well as a solid range of international lotteries, such as SuperEnalotto, UK Lotto, El Gordo, Euro Jackpot and so on.
LottoGo iOS App
We suggest all iPhone users visit the App Store and check out the new LottoGo app for iOS. It has the same features as the desktop site, plus a few great additions, such as more user-friendly interface, push notifications and lower data usage.
Note that the LottoGo iOS app has a slightly different design than the mobile website. They both offer more or less the same features, but the navigation is slightly changed. We prefer the native iPhone app layout since it has all of the important links listed in the bottom menu, which makes it much easier to move around.
💡 You can use the LottoGo iOS app on your iPad as well. Just switch to the iPad tab on the App Store and follow the steps below.
Is the LottoGo App User Friendly?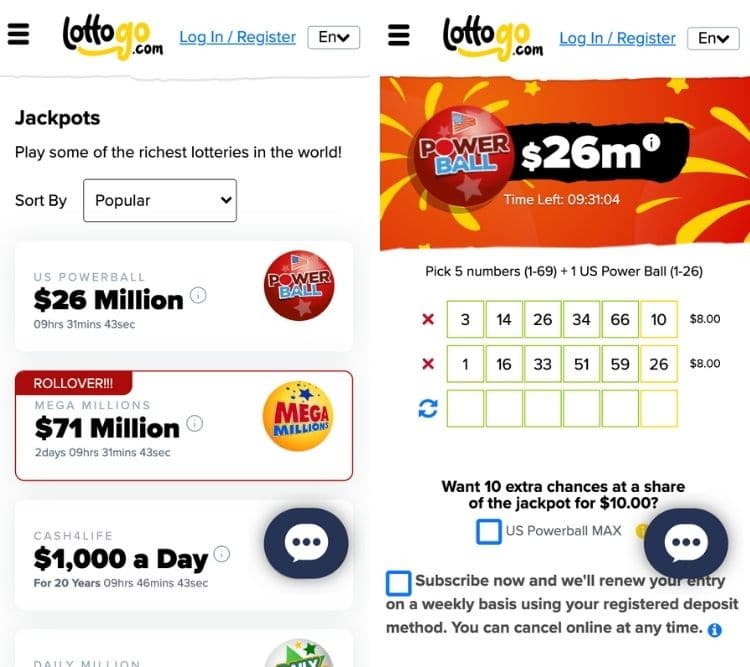 The LottoGo app is very user-friendly. It doesn't have many special features, which makes it straightforward to use. That's why we recommend the LottoGo app to both novice and experienced punters.
All pages load quickly, and everything is easy to find, even when playing on a smaller smartphone. We especially liked how the live chat button is always available in the lower right corner. Just tap the icon, and the chat operator will be there to help you. They usually answer in a matter of minutes!
As soon as you enter the LottoGo app home page, you'll see the list of their top lotteries. There are 'Closing Soon', 'Popular' and 'View All' filters to help you find the game that best suits your needs. If you want to check out your account details or visit the 'Help Centre', head out to the main menu in the upper left corner of a mobile screen.
The 'Syndicates' page is also listed in the top menu. All the available LottoGo syndicates are there, so feel free to enter any of them. If you need more info about shares and buy-ins, just tap the syndicate's name. They even installed a filter to help you find the right syndicate.
In-App Payment Methods
The weakest part of the LottoGo app is their selection of payment methods. At the time of writing, you can only deposit and withdraw via debit cards. Even though debit cards are the most widespread payment method among Aussie punters, we would still like to see at least a few more banking options.
On the positive side, LottoGo offers excellent withdrawal waiting times. In most cases, your winnings will be on your personal bank account within 24 hours. However, keep in mind that it could take up to a few days, depending on your bank.
Final Verdict
LottoGo offers excellent betting apps. They are quick, easy to use and have a fantastic selection of international lotteries. If the Android app were available in Australia, we wouldn't have anything to complain about. But you can still enjoy all LottoGo's features when playing on their mobile website.
Because of all this, it's safe to say that LottoGo has one of the best lottery betting apps in Australia. We highly recommend them to both new and experienced bettors. Take a look at the LottoGo app and see for yourself why we think so highly of them.
LottoGo App FAQs
---