TexBet is a new, local bookie specialised in horse racing betting. However, they still haven't developed a substantial mobile presence. The most notable drawback is the complete lack of native TexBet apps for Android and iOS.
Because the TexBet app is still underdeveloped, we would suggest you try some of the more established mobile bookmakers. Bet365 has excellent apps for both iOS and Android devices. They also offer in-app live streaming and an unmatched selection of payment methods.
Pros And Cons
The app is quick to load
Great racing betting offer
No live streaming
Weak sports offer
No native apps for iOS and Android
TexBet App Overview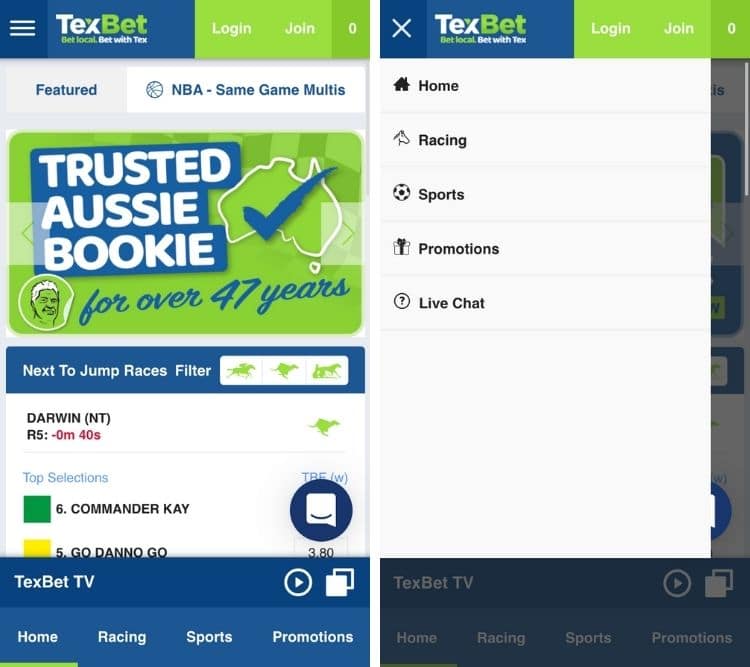 TexBet only current offers a web-based app. They don't have any native apps for Android or iOS. We even spoke with their customer support about this, and it seems that they don't plan on releasing any mobile apps anytime soon.
The lack of native apps can be a huge dealbreaker for many mobile-first punters. If you're one of them, we suggest you take a look at what bet365 has on offer. You'll be surprised by how many betting features they managed to squeeze into their mobile apps.
If you're not bothered by all of this, then the TexBet app is still a solid choice. All you need to do to start is use your device's browser to enter the TexBet mobile website and log in to your account. There is no need to download or install anything, which makes the TexBet app great for placing a quick bet on the go.
What Sports Are Available on the TexBet App?
TexBet is primarily focused on racing betting. Their founder, Terry Tex O'Shea, is a well-known on track bookmaker, so don't be surprised when you see all of the hottest racing bets available on the TexBet app.
On the other hand, their selection of sports is far from being the best on the market. TexBet covers all the popular sports and offers a decent amount of markets, but it's still far less than what the likes of bet365 and Unibet have on offer.
Is The TexBet App User-Friendly?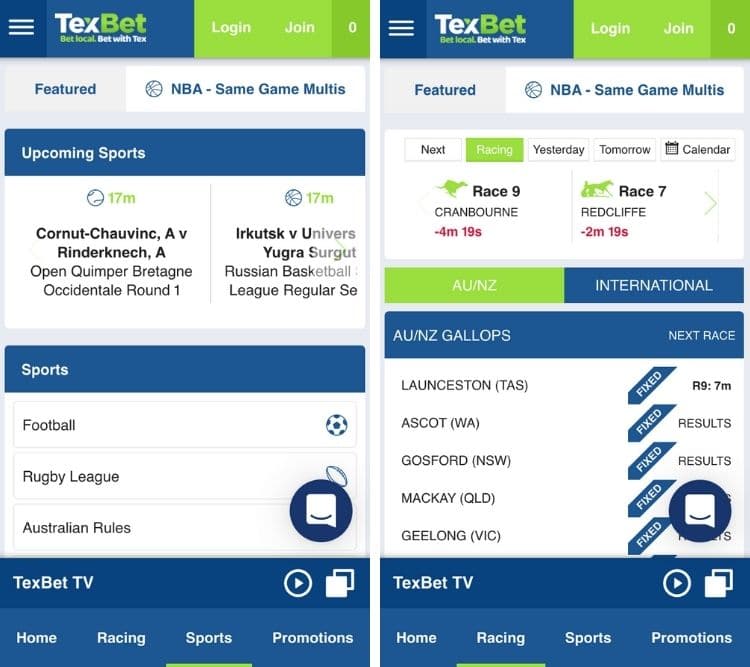 The TexBet app is very straightforward to use. They offer a minimalistic betting platform even complete beginners can use. There are almost no moving parts or complex features that could distract you.
The Text web app has the same design as the desktop version of the site, which is similar to other BetMakers bookies, such as Realbookie or BetDeluxe. If you already played at some of these sites, you won't have a hard time adjusting to TexBet.
They list only a handful of upcoming races on the home screen, right above the future sports events. The selection of bets on the start page isn't great, so you'll probably have to dig into a specific sports or racing pages to find markets you want.
Luckily, dedicated sports and racing pages are always easily available from the menu at the bottom of the screen. There is also a main menu in the top left corner, but it has all the same links as the bottom menu, so you probably won't have to use it that often.
We liked how the live chat button is always in the bottom right corner, which makes it really easy to contact customer support at any time. You'll also find the TexBet TV button just under the live chat icon. It allows you instant access to the TexBet live streaming feature, but we'll talk more about it in the following paragraph.
TexBet App Live Streaming
You can watch live racing events directly on the TexBet app via the TexBet TV feature. All you need to do to start live streaming is press the 'Play' button at the app's lower right corner. The streaming window will open in the bottom half of the mobile screen, meaning that you can place bets and watch live racing at the same time.
The best thing about TexBet TV is that it's completely free. You don't even have to have a registered account at TexBet to start streaming. This feature works like a dream on the TexBet app, so you can watch even when on the go.
However, there are a few downsides. The main one is that they currently cover only horse and greyhound racing events. It means that anyone who wants to watch live sports should look for other options. Bet365 and Unibet both have excellent live streaming platforms available on their mobile websites and native betting apps.
App Payment Methods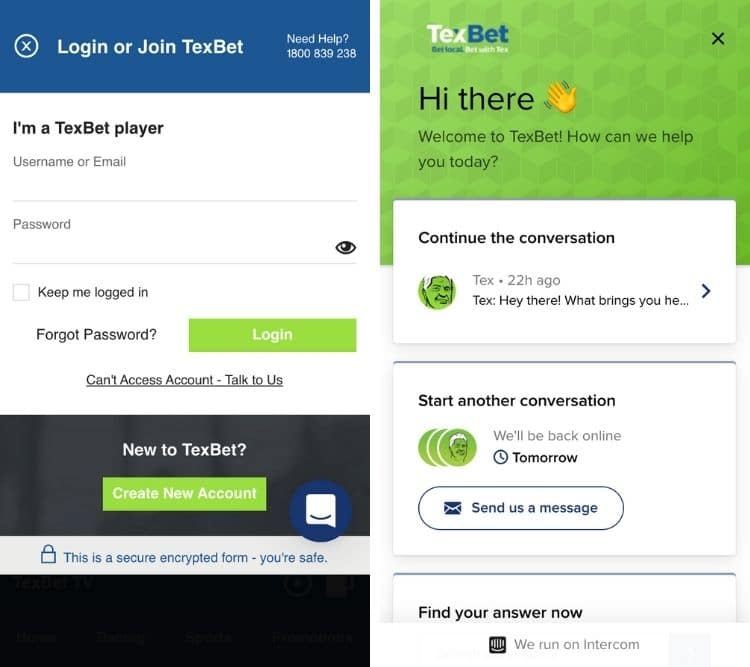 TexBet offers a decent range of Australian payment methods on both their desktop and mobile sites. They don't cover any e-wallets, but you can use POLi and BPAY. TexBet also accepts credit/debit card and bank transfer deposits. All you need to do is visit the cashier by clicking the button in the upper right corner, pick the banking method and place a deposit.
The selection of withdrawal methods is a bit smaller. TexBet can send you your winnings either via bank transfer or credit/debit card. Waiting times can vary depending on your bank, but in most cases, the money should be in your account within 2 or 3 days.
Final Verdict
The TexBet app is very straightforward and easy to use, which makes it great for novice punters. However, if you want anything more than a basic mobile betting offer, the TexBet app probably isn't for you. They have very few extra features and no native betting apps. On top of that, TexBet's sports offering is far behind what other established bookies have on offer.
Because of all that, we suggest taking a look at some other top betting apps. Bet365 currently has probably the best betting app on the market. It features all the bells and whistles from their desktop site, including the market-leading live betting platform.
TexBet App FAQs
---