Here at Aussiebet, we pride ourselves on providing you with unbiased, impartial and honest reviews of the mobile apps on offer from Aussie betting companies. In our Unibet App review, you will find out all you need to know about Unibet's apps. They are one of Australia's best-known bookies and this European owned company is a global player in the industry. They have separate Apps for Android and Apple devices, and users of other devices can use the Unibet Web App. To find out more, just keep on reading below.
Unibet Australia Apps Overview
Unibet are famed for their generous odds across a wide range of sports, but their mobile app for Apple and Android devices is not quite up to the same standards. We thought the Unibet Australia Mobile App did not work very smoothly and while the full range of sports and markets are available, the pages take a long time to load.
The App itself is well laid out, and we like how the home page showed all the latest odds available with Unibet Australia. The sports and racing markets can be accessed via buttons on the left-hand side menu and overall, the App is well designed and easy to navigate. In the same home page menu bar, you can find links to Streak, Expert Edge, the Unibet Blog and also Punter of the Week.
Perhaps the best feature of the Unibet Mobile App is the Unibet TV facility. This enables Unibet Australia members to watch a wide range of sporting events from across the globe live on their mobile devices. The sports available include MLB, NBA, tennis, soccer and a whole lot more. So, if you like to bet and watch on the move, the Unibet Mobile App is well worth checking out
Unibet Apps Pros And Cons
Well designed interface
Easy to navigate and a vast range of sports and racing markets available
Live streaming of lots of sports available via Unibet TV
Does not operate very smoothly
Pages can take quite a long time to load which is not ideal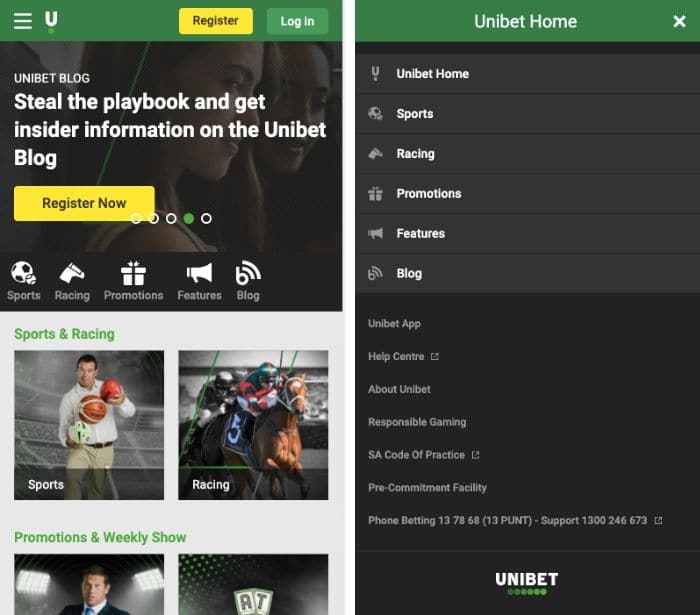 Unibet Apps for Aussie Punters
Unibet Android App
Unfortunately, the Google Play Store does not make gambling apps available for Android users to download from. However, like the majority of Aussie bookies, Unibet Australia has a mobile app tailor-made for Android device users. The App is 13 MB and it can be downloaded directly from the Unibet site, simply click on the link, give the permissions and hey presto, you will be betting on the move with Unibet Australia.
Unibet iOS App
The Unibet Australia iOS App is available to download directly from the App Store for iPhone/iPad users. There are two versions available, one for the iPhone and another for the iPad. Both Apps are 32.2MB in size and they require iOS 9.0 or later. Both versions of the App will work for iPod Touch users too. Age restrictions apply and though you only have to be 17 years old to download the App, you must be aged 18 or over to bet on the Unibet Australia iOS App.
Unibet Australia Web-App – Instant Betting on the Go!
Not everyone has either an Android or Apple device, and a lot of people use other types of devices like Nokia, Windows Phones or Blueberry. If you are someone that uses one of those devices you can still bet on the go via the Unibet Australia Web-App. Just search for Unibet Australia in your browser and you will be directed to the Unibet Web App.
All the same, features that are found in the Apple and Android Apps can be found on the web-app and unfortunately, the same issues exist too. The pages can take quite a while to load and it can be very frustrating at times. However, you can still stream live sporting events via the web-app and that is a huge plus. Overall, we think that the Unibet Web App is just as good as the native apps for Apple and Android devices.
How Easy Are The Unibet Mobile Apps To Use?
We found that the Unibet Australia App is well laid out and pretty easy to use. It is fairly easy to find the menus for sports and racing on the top left-hand side. You can also access an A-Z menu for sports by clicking on the icon just below the main menu bar. Just below the A-Z button, there is a menu bar that displays icons for all the most popular sports including Racing, NBA, Soccer, Cricket, AFL and NBA and there is also a button to access Unibet TV.
When it comes to placing a bet on the Unibet Mobile/Web App it couldn't be simpler. Although the pages take a while to load, once you find the event you want to bet on and your price, it just takes one click to add your selection to the bet slip. Simply enter your stake in the box provided, hit the 'Place Bet' button at the bottom of the bet slip and that is all you have to do.
Unibet Australia Mobile Apps Features
When it comes to betting on the move and mobile apps, the more features that are available the better it is for punters. In this section of our Unibet Australia mobile app review, we will look at some of the extra facilities that can be accessed by Unibet members, including World Cup Predictor and Unibet Streak.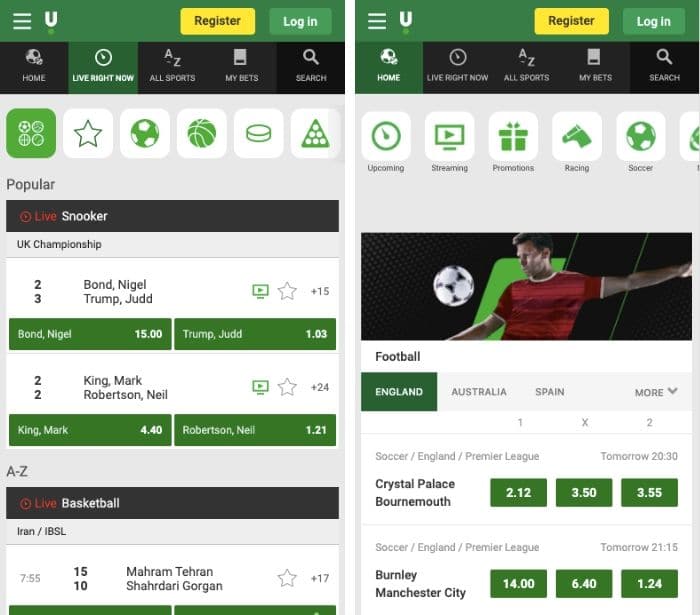 Unibet App Live Streaming
With the Unibet App, you can watch all matches that qualify for live streaming. You can find all of them in the Live Now section. Just look for the little "Play Now" sort of icon, tap it, and the stream should start immediately, depending on how good your internet connection is. However, you have to be registered and logged in with Unibet to get access to live streaming. This is not in any way just another gimmick or sort of an induced promotion to get you to register. This is the only way Unibet can know which of their customers/visitors are indeed adults and allowed to bet.
Personally, we'd rather have the search bar work with "Live Stream", because most customers do just that. The bad thing, no events are displayed when you search for Live Stream. Again, look for the LIVE RIGHT NOW tab.
Unibet Australia Mobile Deposit Options
If you are opening an account with a bookmaker and you are planning on betting via their mobile app, it is vital that you are able to deposit money to place your wagers. We are happy to report that Unibet Australia has an excellent range of deposit options for members on their mobile app. All the options that can be used on the Unibet desktop site are also available on the Unibet Australia Mobile App. Your account must be verified before you can make a deposit to your Unibet account.
You can quickly and securely make deposits on the Unibet Mobile App via credit/debit card, from your PayPal account, from your bank account via a Bank Transfer or through online money transfer services such POLI. Just go to 'My Account' and select 'Deposit' to see all the different methods. You will also be able to find any fees applicable and transaction times for each deposit method available. Overall, for deposit options, the Unibet Australia Mobile App is up there with the best in the industry.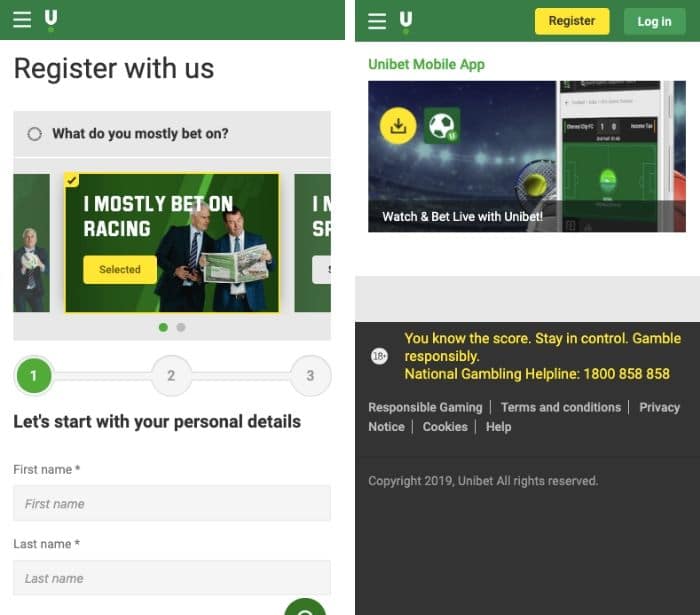 Unibet Australia Mobile Apps: The Verdict
So, to sum up, we think there are positives and negatives when it comes to using the Unibet Australia Mobile App. The biggest negative for us was the slow loading time of the pages on the Unibet Mobile and Web Apps and this is something that they can definitely improve upon in the future.
However, the app is easy to use and navigate, you can access cool features like free to enter competitions such as Streak and the $1 million World Cup Predictor. The same deposit options are available across all platforms too with Unibet Australia. You can also stream live sports via Unibet TV. Overall, we think the Unibet Australia Mobile/Web App is more than adequate, and if they can improve the load times of pages it would rate as one of the best around.
Unibet Australia Mobile App FAQs
📱 Is the Unibet mobile betting app any good?
It depends. Although Unibet has a reputation for generous odds and overall user-friendliness, we were left somewhat disappointed. Things don't run as smoothly on the Unibet mobile site. In fact, we experienced slow load rates and sports markets available were also quite limited.
📱 How can I download the Unibet Australia mobile app?
You can easily download the Unibet app for iOS directly from the Apple App Store. In case you are an Android user, you'll have to visit their site and download the app directly. If you aren't sure how to do it, check out the review above.
📱 Do I need a separate account to bet on mobile with Unibet Australia?
No. You can sync your account to multiple devices without the need to download a native app. Users can simply sign in to their betting accounts on the Unibet Australia mobile site and they will have full access to their personal profile. Their mobile activity will then be updated on desktop also.
---
User Reviews
No reviews yet
---