If you are reading this Centrebet review you are obviously contemplating opening an account with them. Well, the good news is that you are in the right place! Our comprehensive Centrebet review takes a close look at what this bookie has to offer, taking into consideration a large number of factors. Sign up bonuses, quality of odds, range of markets, security and customer service all come under the microscope. Here at Aussiebet we give it to you straight, so to find out what is best and worst about what Centrebet has to offer, just read on.
Centrebet: Pros And Cons
Strong odds and good variety of markets.
Focus on horse racing betting.
Good variety of banking facilities.
No sign up bonus or promotions for existing customers.
No cash-out facility.
Centrebet Information And Facts
Originally founded in Alice Springs in 1992, Centrebet was the first ever betting agency to offer online gambling in Australia in 1996. In 2003 Centrebet was acquired by Sportsodds group and they were listed on the Australian Stock Exchange in 2006. Licensed in the Northern Territory, in 2011 Centrebet was the subject of a successful takeover bid by Sportingbet.
William Hill, one of the world's best known betting companies, swooped in and took over Centrebet in 2013. The site stopped taking new members in June 2016, but in January 2017 it was relaunched as a no frills sports and horse racing betting site. With no promotions whatsoever for either new or existing customers, Centrebet is unique among Aussie bookies. Whether it will turn out to be a successful business model remains to be seen.
Centrebet Sign Up Bonus: None Available
Unlike the bulk of their industry rivals, Centrebet do not offer any sign up bonus to new customers. It is a risky policy to adopt, as with most other bookies sign up bonuses range from as little as $50 to as much as $500. However, residents in some Australian territories cannot claim sign up bonuses due to local laws. For those customers (WA, SA, NSW, VIC) having no sign up bonus makes no difference whatsoever. For those that live in other territories though, the lack of a sign up bonus from Centrebet must be regarded as a huge negative.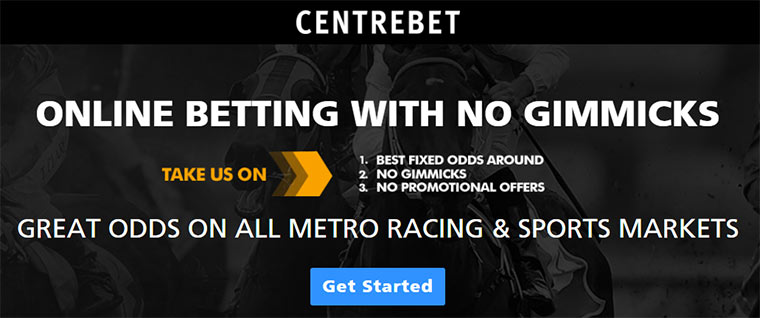 How To Open An Account With Centrebet
Visit the Centrebet site by clicking on our link. Click on the 'Sign Up' button in the top right hand corner.

Enter your details when prompted and Make a deposit.
Start betting on horse racing and sports. Really easy and you get the odds.
Centrebet: No Promotions For Existing Customers
Unlike the majority of bookmakers around the world, Centrebet do not offer any sort of promotions for existing customers. Their parent company William Hill run a host of promotions for their members, including features like Price Pump and lots of money back specials. Centrebet, on the other hand, do not offer any at all and again this a massive negative in our book. Here at Aussiebet we firmly believe customers should be rewarded for their loyalty, but unfortunately Centrebet don't agree.
Centrebet Live In Play Betting
In Australia it is illegal for Aussie licensed betting agencies to offer in play betting on their desktop or mobile sites. Bookmakers are allowed to advertise and display in-play odds on their websites, but in order to place a bet you have to pick up the phone. Centrebet offers live in-play betting across a wide variety of sports, including NRL, NBA, soccer, darts and boxing. To find out how to bet in-play with Centrebet check out our step by step guide below.
Centrebet How To Bet In Play
Open a Centrebet account by following this link.
Make a deposit.
Click on the event on which you wish to place a wager.
Find your odds and call 1800 132 946.
Place your in-play bet.
Centrebet Live Streaming
Many Australian bookmakers have started to offer live streaming of horse racing and other sporting events. At this present moment Centrebet do not offer any live streaming services. Perhaps this policy will change in the future, and if it does we will be the first to let you know.
Centrebet Mobile App And Web App Betting
Betting on the move is growing in popularity in Australia and Centrebet are well aware of this fact. Bookies will get left behind unless they have a decent mobile/web app and Centrebet's offering is simple but effective. The mobile app is available to download for Apple and Android devices, and users of Windows/Nokia/Blackberry devices can bet on the go using the Centrebet web app.
If you use an iPhone, iPad or iPod Touch you can download the Centrebet App via the App Store. IOS 7.0 or later is required and you must be over 17 years old to download the App. Regulations mean that you won't find the Android App in the Play Store, but you can download it direct from the Centrebet site. It will work on all recent Android devices.
The Centrebet mobile and web apps are simplistic in design, but that is not necessarily a bad thing. The App works smoothly and it is very easy to find what you want to bet on. The 'Live Betting' section is where you will find all available in-play betting events, and with a wide range of markets available on a huge amount of sports, politics and novelty events the Centrebet App is well worth checking out.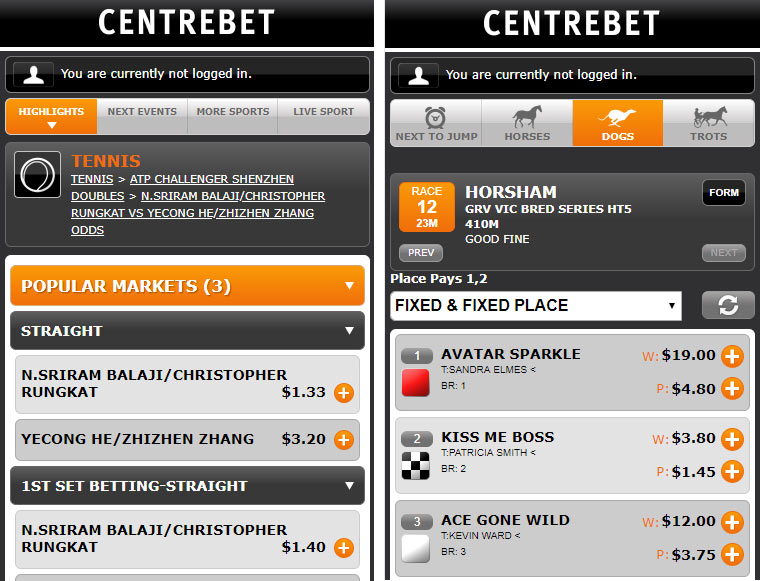 Centrebet Odds: A Definite Strength
Due to the lack of promotions and sign up bonuses, Centrebet relies heavily on the strength of its odds to attract sports betting customers. They are one of the best in the business when it comes to value on sports betting, and to illustrate this we looked at the recent UK Championship soccer clash between Middlesbrough and Leeds.
The best way to find out the margin that bookies operate at is by working out the over round. For the above mentioned match we looked at the odds on offer from Centrebet and Palmerbet. Centrebet had an over round of 105.66%, whereas it was 108.55% for their rivals Palmerbet. That is a near 3% difference and while it may not seem like much, over time it all adds up in the bookie's favour.
Centrebet also outdo many of their rivals with the depth of markets they have on offer. For the match we looked at above, Centrebet have a total of 198 different markets for punters to play on. Palmerbet only offer 54, and while some bookies do offer more than Centrebet they are still in the top half of the table when it comes to the range of markets available for certain events.
Centrebet Horse Racing Betting
Horse racing has always been a sport held in high regard by Australians. Not many countries can lay claim to staging a race that stops a nation, but The Melbourne Cup does just that. Horse racing is a key focus for Centrebet and they pride themselves on offering generous odds and providing a wide range of betting options for horse racing punters.
All the usual betting methods are available with Centrebet, including win, place and each way. Exactas, Trifectas, Quinellas, First Four and other exotic bets are available too. In the handy 'Multiples' section you will find Daily Doubles, Quaddies and Win 6 betting options. Best Fluc betting is available up to 30 minutes before the start of the race.
Centre Mid Tote guarantees a dividend that is equal to or exceeds the 2nd highest official Win dividend declared by the three Australian Totes. 'Centre BEST': Guarantees you either the fixed-odds given at the time of placing your bet or Centre TOP TOTE, whichever is the greater. Applies to the Win portion of the bet only. See pay-out limit rules below for more details.
The odds on offer from Centrebet are the main attraction for horse racing punters. The lack of promotions like Protest Payouts and Odds Boosts mean that they have to offer value via their prices. We looked at the fixed odds on offer for a recent race at Flemington, comparing Centrebet with two of their biggest rivals. Centrebet had an over round of 119.91% (fixed win odds), whereas Crownbet (120.7%) and Bet365 (121%) were less generous.
Centrebet: Pick Your Own Field
Another cool feature that horse racing punters can avail of with Centrebet is the Pick Your Own Field (PYOF) tool. With PYOF you can narrow the field down to as many horses as you like and Centrebet will calculate the odds for your remaining runners. If your horse finishes first from the horses in your customised field, you get paid as a winner. Some terms and conditions apply so  check the Centrebet rules for details.
Centrebet Deposit And Withdrawal Methods
Instant Deposit Methods: Credit/Debit Card, PayPal, POLi, MasterPass, Skrill.
Non-Instant Deposit Methods: BPAY, Bank EFT.
Withdrawal Methods: Bank EFT, PayPal, Skrill, BPAY.
When it comes to banking facilities Centrebet is among the best in the business. Their association with William Hill Australia means they have similar facilities to them. Minimum deposit limits vary from $1 with POLi up to as much as $30 with Skrill, PayPal and BPAY. Before you make any withdrawal, you will need to verify your account, and credit and debit cards may have to verified too. Check out our guide on how to verify your Centrebet account below.
Centrebet Account Verification
Click here to open a Centrebet account.
There are three ways you can verify your Centrebet account.
Edentiti: This is the easiest way (online) and is recommended by Centrebet.
Australia Post: Fill out and print the relevant form then take the completed form to your local Australia Post office along with the requested ID documents.
Send certified copies of ID to Centrebet, PO Box 2336, Parap, NT 0804.*
* Credit Cards must also be verified see Centrebet 'My Account' for full details.
Centrebet Limits And Payouts
The majority of bookmakers impose certain win and bet limits on customers in order to protect themselves from excessive losses. Centrebet is no different in this regard and they have win and dividend limits in place for sports and horse racing. Below you can find out the most important limits imposed by Centrebet at the time of writing. *
Centrebet Horse Racing Limits And Payouts*
Centrebet Racing Dividend Limits
Greyhound Racing: $26.00.
Harness Racing: $51.00.
Thoroughbred Racing: $101.00.
Centrebet Payout Limits Horse Racing
Mid/Selected Tote Bets: $20k horse racing. $10k harness racing.
Fixed Price Plus Bets: $50k Metropolitan meetings. $25k Non Metropolitan meetings. $10k International Meetings.
Exotic/Multi Bets: Minimum stake $0.01 online/$50 Phone.
Maximum Pay-out: $50k Metropolitan meetings. $25k Non Metropolitan meetings.
Centre BEST Wagers: $50k metropolitan meetings. $25k non-metropolitan meetings.
Centre Bet Multi Payout Limit: $500k (telephone) or $50k internet.
Pick Your Own Field Limit: $20k. PYOF Multi limit: max 4 legs $35k.
*Please check Centrebet Terms and Conditions other limits may apply.
Centrebet Customer Service
In this day and age, the provision of polite and prompt customer service should be a priority for any business. Centrebet have a number of ways through which customers can get in touch and contact details are listed below.
Centrebet Contact Details
Telephone: 1800 013 627 (Toll free 24 hours).
Email: [email protected]
Post: PO Box 700, Parap, NT, 0804.
Fax: +61 2 9284 8885.
Live chat: Available 24 hours 7 days.
Is Centrebet A Bookmaker You Can Trust?
As one of the original online bookmakers in Australia, Centrebet has forged a good reputation in the industry. Now part of the massive William Hill pty Group, Centrebet can definitely be trusted to honour your bets. You can rest safe in the knowledge that your information will be stored securely too. Below are some of the measures taken by Centrebet to ensure your banking details don't fall into the wrong hands.
All personal details are stored on a secure server.
Electronic payments are protected by the very latest SSL technology.
All Centrebet employees must respect strict confidentiality agreements.
Credit cards may need to be verified as an added security measure.
Responsible Gambling
Another area we take very seriously at Aussiebet is the promotion of Responsible Gambling. It is ever so easy to slip into bad habits with your betting, and if you stop enjoying it then it is time to stop. Centrebet is s staunch supporter of the promotion of responsible gambling, and we list some of the services that customers can avail of below.
Easily keep an eye on profits/losses by keeping track of transactions.
Pre-Commitment/Wagering Limits: Set daily, weekly or monthly deposit or wagering limits on your account.
Loss Limits: Set daily, weekly or monthly limits on the amount you can lose.
7 Day cooling off period before pre-commitment limits can be changed.
Self-Exclusion: Temporary or permanent self-exclusion available.
Links to and contact details for relevant gambling help services.
Highly trained staff who can spot and help problem gamblers.
Centrebet: Perfect For Horse Racing Punters
So overall, how highly does Centrebet rate in comparison to their main market rivals? Well, for those who like to keep their betting simple, then Centrebet could be ideal for you. There are some obvious negatives to consider, the biggest ones undoubtedly being the lack of a sign up bonus, a dearth of promotions for existing customers and no cash out or live streaming facilities.
However, for horse racing punters they have some cool tools like the Pick Your Own Field Feature and Owners' Overs. Their odds for racing are very competitive too. So are their prices for sports, and the amount of markets on offer compares well against a lot of their competitors. Centrebet have taken a big risk with their overall approach to online gambling, and we are not too sure if it has paid off, but the quality of odds on offer means that Centrebet is worth checking out, especially for racing punters.