If you are interested in making CrownBet your new bookie you are in the right place to find all the information you need. Here at Aussiebet we are committed to providing accurate, insightful and impartial reviews of all of Australia's biggest bookmakers. From customer support to banking facilities we have everything covered, and if you want to know more check out our exclusive CrownBet Review below.
CrownBet: Pros And Cons
Lots of markets on a large amount of sports.
Live streaming of tennis, soccer, basketball, Victorian horse racing and AFL.
Low minimum bet of $0.50 (online only).
Odds can sometimes be less than generous.
CrownBet Information And Facts
Patriotic punters will be delighted to know that CrownBet is 100% Aussie owned and licenced in the Northern Territory. Crown Leisure, founded in 2007 when PBL demerged, also own Betfair Australia, the country's only betting exchange. Originally known as Betezy and then BetEasy, the name Cro$wnBet was adopted in March 2015. The current chairman of CrownBet is James Packer. As you might expect from an Australian owned company, CrownBet cover all of the nation's favourite sports including horse racing, NRL, soccer, tennis, rugby and lots more.
CrownBet are also an official partner of the AFL and they offer live streaming of AFL matches on their mobile apps. You can also watch basketball soccer, tennis and Victorian horse racing live on the CrownBet site. Cricket streaming will be coming soon. You can bet in play with CrownBet too, thou$gh to do so you need to pick up the phone as regulations do not currently allow in-play betting online. Crown Leisure is a well established company and since forming in 2007 they have become one of the biggest betting agencies in Australia.
Crown Bet In Play Betting
Although Australian Law forbids online in-play betting, you can still bet in running with CrownBet. In the 'Live Centre' you will find a list of all the current live events and the latest in-play betting odds. You cannot place your in running bet via the CrownBet Mobile/Web App or desktop site though, and to discover how to bet in-play with CrownBet read our step by step guide below.
How To Bet In Play With CrownBet
Open an account with CrownBet by clicking here.
Head to the 'Live Centre' section of the website/mobile app.
Find the relevant event and the odds you want to take.
Call 13 5483 to place your bet (minimum stake $50 horse racing/$20 sports).
CrownBet The Call
Another very useful resource that CrownBet customers can utilise is their blog, The Call, where you can find a wealth of information and tips on a wide range of sports. CrownBet's team of expert tipsters are well known for finding lots of winners, and you can find tips for horse racing, NRL, AFL, soccer, basketball, tennis and even E-Sports. The Call is a wonderful tool for punters to use and it is part of an overall package that helps CrownBet to stand out from the crowd.
CrownBet Specials For Punters
As well as the promotions we outlined earlier, CrownBet have other specials for existing customers. These include Protest Payouts and Fair Go Refunds and you can find out more about these superb CrownBet specials below.
CrownBet Protest Payout
So you just backed a winner, but the dreaded news comes through that your horse has been demoted due to a successful protest. Well, CrownBet customers need not worry if such a situation unfolds because they will still get paid on the horse that was first past the post.
CrownBet Fair Go Refund
It can also be deeply frustrating if you lose a bet through no fault of your own. However, with CrownBet's Fair Go Refund you may well still get paid. If a referee gives a contentious penalty in the last minute of the game or a controversial try is scored and costs your side a win, keep your eyes peeled for a Fair Go Refund.
CrownBet Live Vision
Not many Australian bookmakers offer live streaming of any sort, but that isn't the case with CrownBet. As an official partner of the AFL they have streaming rights for their matches, and you can watch basketball, tennis, soccer and Victorian Thoroughbred racing live via the CrownBet mobile Apps or the desktop site (AFL via mobile devices only). To find out how to stream with CrownBet read our step by step guide below.
CrownBet How To Get Live Vision
Open an account with CrownBet by clicking here.
You must have a positive account balance to view CrownBet Live Vision.
Download the latest version of their Mobile App to your IOS or Android device.
AFL matches can be watched on your mobile device, while all other events can also be watched on your desktop computer.
Place your wager and enjoy the live stream of your chosen event with CrownBet.
CrownBet Live Vision-Now Showing Sky Racing!
In a very exciting recent development CrownBet have announced that members can stream live Australian horse, harness and greyhound racing from Sky Racing on their desktop site and mobile apps. * CrownBet recently increased their presence in the Australian gambling market by acquiring William Hill Australia and his latest development will definitely help CrownBet to further increase their profile.
From here on in, Aussie punters who have an account with CrownBet can watch every Aussie horse race, greyhound race and harness race live on either the desktop or mobile app. Best of all, you don't even need to place a bet to watch Sky Racing 1 or 2, you simply have to be a CrownBet member with an active account.
Accessing the Sky Racing Channels couldn't be easier with CrownBet. Simply log in, head for the racing section of the desktop site and look for the Sky Launch button. For those who bet on the move using mobile devices, the Sky Launch button is easily located in the racing section of the iPhone/iPad App, Android App or Mobile Web App. Just log in to your account, hit the launch button, choose the channel you want to watch and sit back and enjoy live coverage of domestic and international horse, harness and greyhound racing. *
* T&Cs Apply. Vision available for select events on Sky Racing 1 and Sky Racing 2 channels only. Data charges may apply.
How Good Are CrownBet Odds?
One area where CrownBet have room for improvement is the size of the odds they offer. In a bookmaker margin survey carried out in 2017 CrownBet's average margin was 5.6% in comparison to an industry average of 5.2%. This is quite a big difference and as an example we looked at the odds on offer from CrownBet and Ladbrokes Australia for the recent Watford vs Chelsea Premier League match.
For this event CrownBet's over round is 106%, whereas with Ladbrokes Australia the over round is way lower at 104.55. That is a significant difference and it illustrates nicely the importance of shopping around for the best odds possible. However, the Bet Boost feature we discussed earlier enables punters to increase their odds on selected bets so that is one way that CrownBet customers can combat the slightly lower prices on offer.
CrownBet Multi Express
Another unique feature of the CrownBet desktop site and mobile app is the Multi Express tool. This allows you to create your very own custom multi bet easily and quickly. You can place as many legs as you wish across multiple sports. Simply make your selections, choose your stake and get those multi bets on with Multi Express. Betting using Multi Express is subject to CrownBet's standard terms and conditions.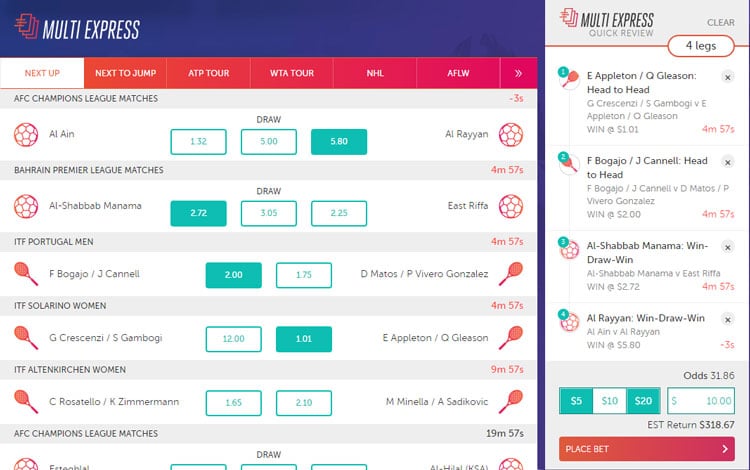 CrownBet Mobile And Web App Betting
For those who like to bet on the move, CrownBet's Android and iPhone/iPad/iPod Touch Apps are well worth checking out. If you have a Windows Phone, Nokia or Blackberry device you can access the CrownBet special mobile site and stream Victorian Racing, AFL and certain basketball, soccer and tennis matches live.
To download CrownBet's Android app you must do so through their website. Gambling related Apps are not available through the Play Store. Simply click on the 'Available for Android' link and it will automatically download. Click on the CrownBet.apk file to install the App on your device and then just log in and start betting! Android version 4.03 or later is required to run this app.
The iPhone/iPad/iPod Touch App is available from the App Store and it requires IOS 9.0 or later. You must be 17 years old to download this App. All of CrownBet's best promotions, multi express and live vision are all available via their mobile/web app. You can view in-play prices too, but if you want to bet in-running you have to phone in your wager due to Australian restrictions on online in-play betting.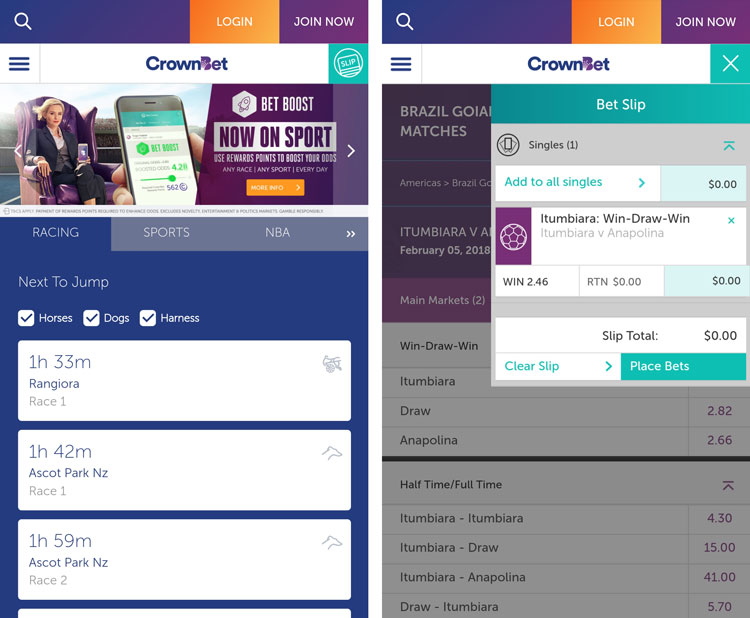 Need a break? – CrownBet Cashout on Demand
There is nothing worse than when the last leg of a multi lets you down, but the CrownBet cash out feature allows you to protect yourself against those agonising bad beats. Check out our blow by blow guides to cashing out early with CrownBet below.
How To Cash Out With CrownBet (Desktop)
Select 'My Account' at the top of the navigation menu on the right.
Click on 'Betting Statement' on the left.
Select 'Pending' to view your 'Cash Out' information.
Click on the 'Cash Out' button if you're happy with the amount and want to get out of your bet.
Select 'Confirm' and you have successfully 'Cashed Out'. *
How To Cash Out With CrownBet (mobile)
Select 'My Account' to view 'Cash Out' eligible bets.
The 'Cash Out' icon next to a pending bet will tell you whether this option is available to you.
Click on 'Details'.
Select 'Cashout'.
If you're happy with the amount, and want to get out of your bet, select 'Confirm'.
You have successfully 'Cashed Out'. *
*  All cash out requests are subject to CrownBet's terms and conditions.
CrownBet Horse Racing Betting
As one of Australia's best loved sports, horse racing betting is extremely popular with punters. You can bet on the horses with CrownBet and they offer odds on a massive amount of domestic and international meetings. If your only bet every year is on the race that stops a nation, The Melbourne Cup, you can get on with CrownBet. What is more, you can watch Live Victorian Thoroughbred Racing live on your CrownBet Mobile App or on their desktop site.
You can bet in all the usual ways on horse racing with CrownBet. Whether you prefer simple win or place bets, or if exactas, trifectas, top flucs and quinellas are your thing, CrownBet has got you covered. They also offer markets on the First 4 home, as well as a very cool Mystery Bet feature.
CrownBet Deposit And Withdrawal Methods
Instant Deposit/Withdrawal Methods: Credit Card, POLi, PayPal.
Non-Instant Deposit /Withdrawal Methods: BPAY, Bank Transfer, Cheque, Telegraphic Transfer.
Minimum Deposit/Withdrawal: $5.
Banking facilities are always worth thinking about when you are considering signing up with a new bookmaker. With CrownBet there are a number of instant and non-instant ways in which you can deposit to or withdraw money from your account. The instant methods include Credit Cards (deposit only), POLi and PayPal (no fees).
Non-instant deposit and withdrawal methods include BPAY, bank transfers/deposits, cheques or telegraphic transfers. It is important to remember that your account must be verified before you will be able to withdraw or deposit funds to your account. To find out how to verify your CrownBet account just read below.
How To Verify Your CrownBet Account
Open a CrownBet account by clicking this link.
Click on the 'My Account' section and select 'Verify Now'.
You will be asked to provide an official ID document.
These include Passport, Driving Licence, Proof Of Age card or National Identity Card.
Another document is required for proof of address.
Valid documents include Recent Bank Statement, Medicare Card, Centrelink Card, Recent utilities Bill (other documents can be used see CrownBet t&cs).
If your details check out, your CrownBet account will be fully activated.
CrownBet Bet Limits And Payouts
Just like most other bookies, CrownBet have limits in place on the maximum winnings they pay out on certain types of bets and on the maximum stake they accept. There is also a minimum bet limit of $0.50 online. Below you will find the different limits applied across the CrownBet site. *
CrownBet Horse Racing Limits And Payouts
Max-pay-out of $250k on racing MultiBets (maximum 25 selections).
Max-daily pay-out of $250k on any bet or bets including pre-post.
Max-daily pay-out of $20k on Top Fluc bets. Excess winnings will be paid at official SP.
Max daily-pay-out of $25k on multis containing a greyhound/harness racing leg.
Limits apply to winnings only and do not include the initial stake.
CrownBet Sports Betting Limits And Payouts
Max pay-out on sports or sports/racing combined multis is $250k.
The maximum pay-out for an AFL 'Brownlow Most Team Votes' Multi Bet or combination of Multi bets that contain a 'Brownlow Most Team Votes' leg is $50,000 per client.
It is the client's responsibility to ensure they stake accordingly to the limits.
Max pay-out on multis containing an E-Sports Leg is $10k.
CrownBet Regional Horse Racing Win Limits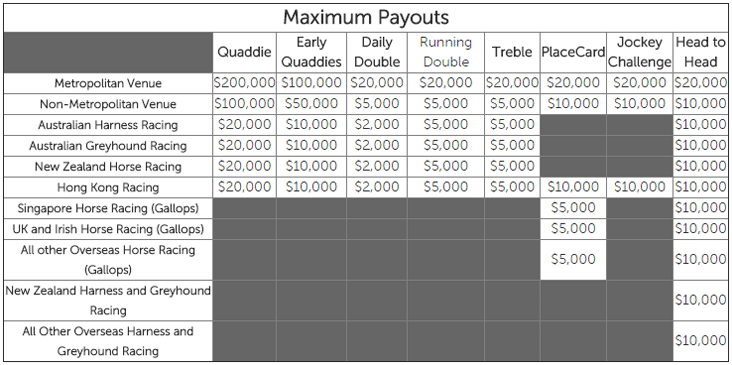 *Other limits may apply please check CrownBet Terms and Conditions.
CrownBet Customer Service
In all lines of business, providing quality customer service is crucial. CrownBet have improved remarkably in this department in recent times. They provide a 24-hour customer care phoneline and you can find all the relevant numbers below. You can also get in touch via post, fax or email. CrownBet also have a very useful Live Chat option and when it comes to taking care of their customers CrownBet are one of the leaders of the pack.
Telephone: 13 27696 238 (AUS)/ 0800 238 399 (NZ)/ +61 3 9257 3685 (INT) 24 hours.
FAX: 1800 32 64 32.
Post: GPO BOX 4279, Melbourne, VIC, 3001.
Live chat: 8am-12am Mon-Sat, 8am-11pm Sunday (ACT Time).
Email: [email protected]
Is CrownBet A Bookmaker You Can Trust?
One of the potential drawbacks to signing up with any betting company is the fact that you have to divulge a lot of sensitive personal information. This includes documentation to prove your identity as well as bank details and it would be a disaster if that info was to end up in the wrong hands. CrownBet has a lot of procedures in place to ensure that all this sensitive data is kept safe. These include:
CrownBet will destroy any personal information that is no longer required
Password protected databases and systems.
CrownBet uses the very latest SSL encryption mechanisms.
This ensures that your personal information cannot be accessed by potential fraudsters.
On occasion you may be asked to send in extra personal info as an added security measure.
Responsible Gambling
Here at Aussiebet we are big advocates of responsible gambling and we are glad to report that CrownBet think the same way. A large section of their desktop and mobile sites are dedicated to the promotion of responsible gambling and there are lots of useful links to helplines that can be used if you are concerned that you might be betting more than you can afford to lose. Below are the different ways in which CrownBet allow you to keep tabs on your gambling.
Deposit limits – for control over how much you spend with pre-committed limits.
Take a Break – to give you greater control by taking time out from betting.
Self-assessment tools – a calculator and questionnaire to make sure gambling remains in balance.
CrownBet: A Great Choice For Aussie Punters
As we pointed out earlier, CrownBet are 100% Australian owned and they are the biggest and best native bookie around. Although the size of the odds they offer and the exclusion of certain regions from bonus offers are slight negatives, there are plenty of positive attributes to consider if you are thinking about signing up with CrownBet.
Their customer service is second to none, they actively encourage responsible gambling and CrownBet Rewards is a superb initiative to reward loyal customers. The range of sports and depth of markets available rival what is on offer from any other Aussie bookmake. They have an awful lot going for them and if you are looking for a reliable and 100% Australian bookie you can trust, you should open an account with CrownBet.
The Game Just Changed AD