As from October 2019, TopBetta is joining forces with ClassicBet and MadBookie to form PlayUp. If you already have an account with TopBetta, don't worry, all your remaining funds will be automatically transferred to PlayUp. TopBetta was one of the best Australian betting sites, but with this merger, they have managed to improve even further. If you want to learn more about PlayUp, be sure to read our PlayUp review. 
TopBetta was founded in 2013 by Todd Buckingham, and it is a betting agency with a difference. You can bet on all the usual racing and sports markets with TopBetta, but their betting tournaments are what sets TopBetta apart. In our extensive and impartial TopBetta review, you will discover all the information you need if you are considering opening a TopBetta account. Here at AussieBet, we give it to you straight, and if you are thinking about becoming a TopBetta member, you are in the right place.
TopBetta: Pros And Cons
100% Aussie owned
Betting tournaments available
No Live In-Play betting
Lack of markets on sports
TopBetta Information And Facts
As we stated earlier, TopBetta was founded in 2013 by Todd Buckingham, and they are based in Broadmeadow in NSW. TopBetta Holdings also acquired MadBookie in April 2017, increasing their presence in the online gambling market in Australia. TopBetta was originally licensed by the Norfolk Island Gaming Authority, but since 2016 they are licensed by the Northern Territory Racing Commission.
You can bet on all the usual racing and sports markets with TopBetta, although the range of sports markets is not as extensive as with some of their industry rivals. However, TopBetta's unique selling point is their 'Tournaments', which allow punters to compete against each other rather than against the house. We will discuss the TopBetta Tournaments in more detail later on in this review.
Due to the Interactive Gambling Act, it is illegal for Aussie Bookies to allow live in-play betting online. Most bookies will facilitate in-play betting over the phone, but TopBetta does not offer live betting of any kind. Regular promotions for sports and racing are run too, and if you are on the lookout for a new bookie with a difference, TopBetta could be just the ticket.
TopBetta Blog
Sometimes even the best punters need a helping hand when it comes to finding those elusive winners. TopBetta's Blog is a very useful resource with tips and analysis for horse racing, NRL, AFL and Big Bash Cricket. TopBetta's experts aim to provide punters with an edge, and the TopBetta Blog is a handy tool you can use to boost your gambling profits.
TopBetta Available Sports – Lots of Options For Aussie Punters!
So, if you decide to take the plunge with TopBetta what sports will you be able to bet on? The good news is that you can bet on a decent selection of sports with TopBetta. They may not cover as many markets as some of the other Aussie bookies we review on this site, but they do have betting available for all of Australia's most popular sports and events.
You can bet on the footy with TopBetta, while they have markets available for rugby league, rugby union and cricket too. You can also get bets on tennis, boxing, basketball and even politics. TopBetta have 30 different markets available for every AFL footy match, including line betting, handicaps, margins and total points. You can check out the full list of available sports in the list below.
TopBetta Sports
American Football
Australian Rules
Baseball
Basketball
Boxing
Cricket
Darts
Football
Golf
Handball
Netball
Politics
Tennis
Volleyball
Ice Hockey
Rugby League/Union
TopBetta Player Props – A Brand New Way To Bet!
Another really cool feature recently introduced by TopBetta is their Player Props market. This allows punters to place customised bets on their favourite players and teams' performances. You can place Player Prop bets on the biggest soccer, NRL, Basketball, and rugby matches, but you can also enjoy betting on other sports. Betting on darts, for example, is just as easy and accessible!
For soccer matches, you can place bets on how many passes, shots, shots on target, assists and tackles a player will complete in a match. You can also bet on whether they will receive a card during the game. You can combine player prop bets into accas, and it is a really excellent feature that gives punters even more power.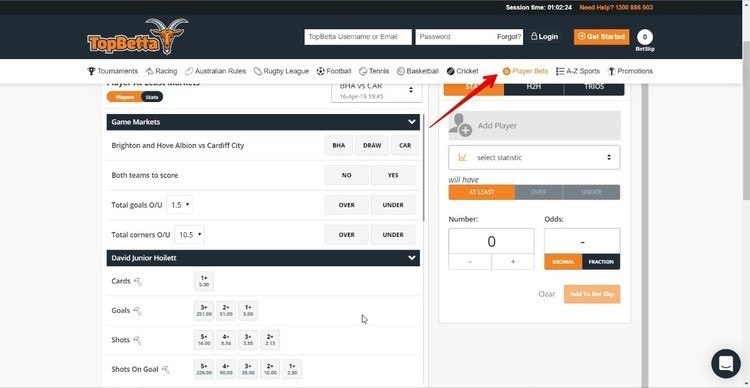 TopBetta Live-In Play Betting
As we discussed earlier, Live In-Play online betting is outlawed in Australia because of the Interactive Gambling Act. Most bookies display live odds on their sites, but you have to pick up the phone to place an in-play bet. However, TopBetta has no in-play odds on display and no facility to enable punters to place live in-play bets. This is a big negative, but if the situation changes, you will find out about it here first.
TopBetta Live Streaming
A lot of Aussie bookmakers now provide punters with the chance to stream live racing and sports. At the present moment, TopBetta does not offer live streaming on any events. This is obviously a drawback, here at AussieBet we regularly update our bookie reviews and if TopBetta does start to offer live streaming, we will be the first to let you know.
TopBetta Mobile App And Web App Betting
The ability to bet on your mobile device or tablet anywhere at any time is possible with TopBetta. Whether you are an Android or iPhone/iPad/iPod Touch user, TopBetta has a mobile app for you. Even if you use a different device, like a Blackberry, Nokia or Windows Phone, you can still bet on the move with the TopBetta Web App.
If you use an iPod, iPad or iPod Touch, you can download the TopBetta Mobile App for free from the App Store. It is 53.3 MB, iOS 9.0 or later is required, and age restrictions apply. The TopBetta Android App can be downloaded directly via a link on the TopBetta site, and it will operate on most recent Android devices.
For other devices just visit TopBetta via your browser, and you will be redirected to the TopBetta WebApp. The App works well, looks slick and you can access racing and sports markets as well as TopBetta Tournaments. When it comes to betting on the move, TopBetta is one of the best bookies around.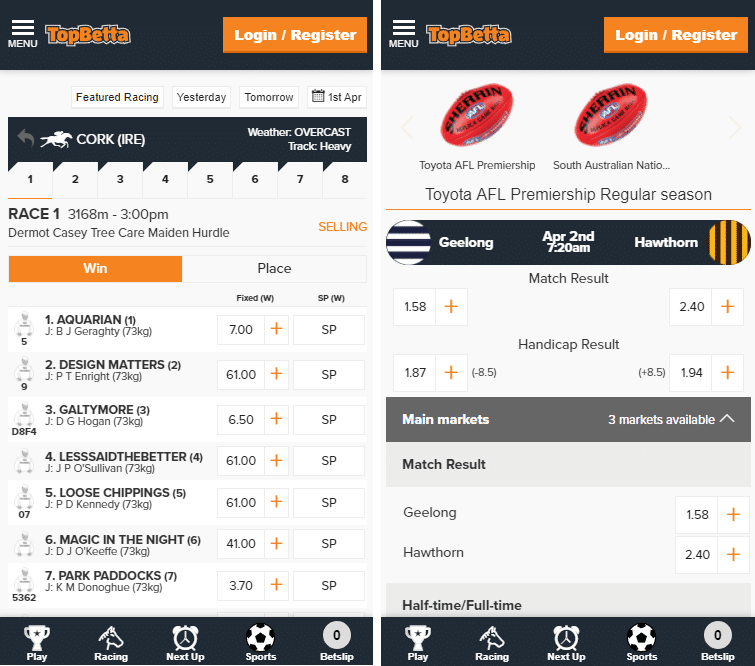 How Good Are TopBetta Odds?
When you are weighing up whether to open an account with a betting agency, the quality of odds and depth of markets should be at the forefront of your thoughts. We compared the odds and markets available with both TopBetta and CrownBet for the A-League match between Brisbane Roar and Central Coast Mariners.
When it comes to odds, TopBetta were far more generous than their rivals Crownbet. In the head to head market TopBetta had an over round of 105.61%, while for CrownBet it was 107.84%. That is a massive difference of over 2% and in the long run that can have a big impact on your punting profits.
However, when it comes to depth of markets, we found TopBetta to be well behind Crownbet. For the above-named match, TopBetta had a total of 29 different markets available. CrownBet had 121, over triple the markets on offer from TopBetta. So, for those looking for value TopBetta is well worth a second look, but before you sign up, make sure they provide betting on the markets you prefer.
TopBetta Horse Racing Odds Comparison
TopBetta came second in our horse racing odds comparison test. They were better than the BetEasy, but at the same time TAB has shown to have much higher prices than both of them. Keep in mind that this test is based on only one event, so it's possible that TopBetta will offer even better odds on some future races. That's why it's a good idea to always run an odds comparison test like this before placing your bets.
| Townsville | TopBetta | TAB | BetEasy |
| --- | --- | --- | --- |
| Kirabo | 2.90 | 3.00 | 2.80 |
| El Shaday | 3.40 | 3.70 | 3.40 |
| Airacobra | 2.25 | 2.30 | 2.20 |
| Perfect Knowledge | 9.00 | 9.50 | 8.50 |
| Molongle Chief | 18.00 | 16.00 | 16.00 |
| Overround | 125% | 120.6% | 128.6% |
TopBetta Cash Out
The vast majority of Aussie bookies provide punters with the option of cashing out their bets early for less than they would win if they sat tight. Unfortunately, TopBetta does not have a cash-out facility at the time of writing.
TopBetta Horse Racing Betting
For those who are hooked on horse racing, one of the most popular sports in Australia, TopBetta could be the bookie for you. They love their racing, and this is reflected in their various specials they offer. They run a King of Cups tournament worth $200k on Melbourne Cup Day, and their GOAT SP offer is another excellent horse racing feature.
You can place all the usually wagers with TopBetta including win/place/each way, but all bets are settled on one of the following Totes. You can place bets on the SuperTab (SUP), Top Tote from NSW/Tatts (TOP) or Best of 3 totes or SP (BO4). The big thing to note with TopBetta is that no fixed odds are available for horse racing. Betting is available on domestic and international meetings.
You can also place the usual exotic bets with TopBetta, including Quinella, Exacta, Trifecta and First Four wagers. The GOAT SP special is available on selected meetings only, and we discuss that excellent special in more detail below. The lack of fixed odds is an obvious negative, but daily horse racing tournaments more than makes up for that. If you enjoy having a casual flutter on the horses, TopBetta has got you covered.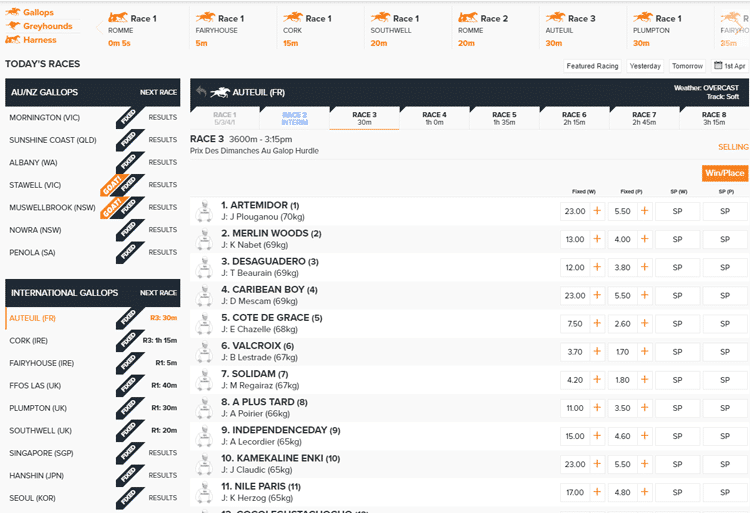 TopBetta Deposit And Withdrawal Methods
Instant Deposit Methods: Credit/Debit Card, POLi
Non-Instant Deposit Methods: BPAY, Bank EFT
Withdrawal Methods: Bank EFT
Another key factor in determining your decision on whether a bookmaker is the right choice for you is the banking facilities. There isn't much point in opening an account unless you can deposit and withdraw funds to and from it, and banking facilities are rather limited with TopBetta.
Credit/Debit cards, POLi, BPAY and bank transfers can be used to deposit, while Bank transfers are the only way you can withdraw. Before any withdrawal can be made, you must verify your account. Find out how to verify your TopBetta account below.
Account Verification
TopBetta do not allow customers to verify their accounts electronically
You must download a 'Verify Identity Form'
This form must be printed out and filled in
Post the completed form to TopBetta, 22 Lambton Rd, Broadmeadow NSW 2292, Australia
Accounts not verified within 45 days will be suspended
TopBetta Limits And Payouts
Most bookies protect themselves from bank-busting pay-outs by imposing strict win limits. TopBetta certainly takes no chances in this area, and their win limits are amongst the meanest in the industry. TopBetta has a maximum daily win for any individual of $50,000. Regardless of the client's total winnings for the day.
TopBetta MultiBet Win Limits And Payouts*
Maximum payout for any multi bet capped at $10k
Maximum legs allowed in multis: Racing-10
TopBetta Racing Win Limits By Race Type
Metropolitan Horse Racing
Win Betting – To win $50,000 per race
Place Betting – To win $30,000 per race
Trifecta and First Four – Maximum win $50,000 per race
Quinella and Exacta – Maximum win $25,000 per race
Quaddies – Maximum win $50,000
Provincial Horse Racing and Country Horse Racing
Win Betting – To win $25,000 per race
Place Betting – To win $15,000 per race
Trifecta and First Four – Maximum win $25,000 per race
Quinella and Exacta – Maximum win $10,000 per race
Quaddies – Maximum win $20,000
Australian Harness and Australian Greyhounds
Win Betting – To win $25,000 per race
Place Betting – To win $15,000 per race
Trifecta and First Four – Maximum win $15,000 per race
Quinella and Exacta – Maximum win $10,000 per race
Quaddies – Maximum win $20,000
International Horse Racing
Win Betting – To win $15,000 per race
Place Betting – To win $10,000 per race
Trifecta and First Four – Maximum win $10,000 per race
Quinella and Exacta – Maximum win $5,000 per race
Quaddies – Maximum win $20,000
 *Please check TopBetta Terms and Conditions other limits may apply. 
TopBetta Customer Service
In all forms of business, providing courteous and prompt customer service should be a priority. Poor customer service reflects badly on betting agencies, and it is an area TopBetta could improve upon as they have no live chat help service. If you have any queries or issues, there are a number of ways you can get in touch with TopBetta, and we list the relevant contact details below.
TopBetta Contact Details
Telephone: 1300 886 503 (no opening hours specified)
Email: [email protected]
Post: TopBetta, 22 Lambton Rd, Broadmeadow NSW 2292, Australia
Is TopBetta A Bookmaker You Can Trust?
It is never easy to part with sensitive personal information and banking details when signing up with a betting company. For peace of mind, it is always good to know that your prospective bookmaker takes security seriously. TopBetta does exactly that, and we list some of the key processes they have put in place to ensure your information doesn't fall into the wrong hands.
Protection of passwords using industry-standard encryption
Measures to preserve system security and prevent unauthorised access
Back-up systems to prevent accidental or malicious loss of data
Any paper copies are stored in locked cabinets or restricted access archive rooms
Third party data storage providers may be used to store personal information electronically
Documents verifying your identity and any credit card information you send us will be stored in a secure database
TopBetta Compliance – Playing By The Rules!!
In Australia, it is key that betting sites fully comply with standards implemented by the authorities. For betting sites, these are very strict, and we always like to see betting sites that do things by the book. If you see a bookie openly flouting the rules around advertising or live betting, it is not a good look, and their overall trustworthiness has to be questioned.
TopBetta, as far as we could see, play by the rules and fully comply with the rules and regulations imposed by the Aussie authorities. You can only access promotions once you have logged into the site, and you can only sign up if you have a valid phone number as account verification is done via text message. This means that TopBetta complies with the rules set out by the Aussie gambling authorities.
TopBetta is also big on encouraging safe and responsible gambling, and they display links to problem gambling resources prominently on their site. You can find out more about some of the tools available to help you gamble responsibly with TopBetta in our dedicated 'Responsible Gambling' section.
Responsible Gambling
At AussieBet we think the promotion of responsible gambling is extremely important. Gambling should always bring enjoyment, and if you are worried that your betting is becoming a problem, TopBetta has lots of resources in place. We list them below.
Allow clients to set a pre-commitment limit
Allow clients to self-exclude (either temporarily or permanently). A 7-day window applies to clients who request for the flag to be removed
Provide Responsible Gambling information and messages to members
Engage staff about Responsible Gambling training
Refer clients who are at risk of problem gambling to gambling-related support services
TopBetta: Tournaments The Top Draw
Overall, TopBetta is a 100% Aussie bookmaker that is worth giving a try. Okay, there are a number of negatives, including no fixed odds betting for racing, lack of depth of sporting markets and limited banking facilities. The inability to verify your account online is another slight negative.
However, the big advantage that TopBetta holds over its rivals is the TopBetta Tournaments feature. This unique and original product makes TopBetta stand out from the crowd, and some seriously big prizes are up for grabs every day. If tournament betting is something that interests you, then TopBetta is worth taking a chance on.
Topbetta FAQs
Topbetta accept a variety of payment methods, including credit cards and online banking, such as VISA, MasterCard, BPAY, POLi and Nab (National Australia Bank). Check your withdrawal options before proceeding further.
Due to the new nationwide advertising regulations, no bookie, including Topbetta, can advertise, promote, offer, any kind of inducement to bettors. If you're not new to online betting in Australia, you should be well aware of this, since this has been a thing for a while now.
GOAT, besides being a Topbetta mascot, is also an abreviation for "Greatest Of All Time". It's a catchy line that they've been pushing hard lately.
---
User Reviews
No reviews yet
---