William Hill is one of the best known brands in the betting industry and they have been operating in Australia since 2015. If you are thinking about opening an account with William Hill Australia, you will find everything you need to know right here. Our extensive and impartial William Hill Australia review takes an exhaustive look at everything this betting site has to offer. If you are wondering whether William Hill Australia is the right bookie for you, just keep on reading to find out!
William Hill Australia: Pros And Cons
Excellent sports coverage, especially Australian sports.
Good variety of banking facilities.
Odds could be more generous.
William Hill Australia Information And Facts
Although William Hill only started their Australian operation in 2013 they have quickly become a market leader. Originally founded in London in 1934, William Hill have been listed on the London Stock Exchange since 2002. They acquired Sportingbet/Centrebet in March 2013 and they added Townwaterhouse to their Aussie portfolio in August of the same year.
William Hill Australia is licensed in the Northern Territory and they offer betting across a wide range of sports. Due to regulations you cannot bet in-play online with William Hill Australia. However, they display in play odds on their desktop and mobile sites and punters can use the phone to place their in running wagers.
It isn't just sports that punters can bet on with William Hill Australia, they also run a number of lotteries. With Rapid Keno you can win huge prizes every few minutes, and there are plenty more ways to win on different international lotteries too. With a great rewards scheme for customers also, William Hill Australia is a bookmaker that is well worth a second look.
William Hill Australia Wolf's Tips
If on occasion you struggle to find those elusive winners, The Wolf is here to help you out. William Hill Australia customers can access daily tips across a wide variety of sports. These include daily racing and greyhound tips as well as tips for NBA, Cricket, Soccer, Tennis, Footy and other major sporting events. So, if you want to be howling with delight as the winners roll in, then check out The Wolf's Tips with William Hill Australia.
William Hill Australia BUILDABET
Another neat feature that can be accessed via Wolf's Tips is William Hill Australia's BUILDABET facility. This tool allows punters to request odds that may not be available anywhere else. It is as simple as filling out a form outlining the market you want a price on and William Hill Australia's traders will quote you odds. So, no matter what sort of wagers you like placing, you can get on with BUILDABET.
William Hill Australia In Play Betting
Due to Australian laws William Hill Australia is unable to offer in play betting online. However, they still display in running odds and to place a live bet all you have to do is pick up the phone and dial 1800 008 337. A William Hill Australia operator will take your call and you can place your bet. To find out exactly how to bet in play with William Hill Australia check out our detailed guide below.
William Hill Australia How To Bet In Play
Open a William Hill Australia account by clicking here.
Make a deposit.
Click on the 'Live Betting' button on the left hand side.
Find your odds, make a note of the Quick Code and call 1800 008 337.
Place your in-play bet.
William Hill Australia Live Streaming
If you decide to open an account with William Hill Australia you will be able to stream live action to your desktop or mobile device. You can watch live horse racing from NSW and VIC and you can also stream live commentary of UK and Irish racing. You can also watch every NBA match live, as well as streaming of selected Tennis and soccer matches (La Liga, Ligue 1, Championship England). Terms and conditions apply and to find out how to stream live sport with William Hill Australia just read on.
William Hill Australia How To Get Live Streaming
All you need to do is open an account with William Hill Australia by clicking here.
Make a deposit.
You must have a positive account balance OR have placed a bet in the previous 24 hours.
Visit the 'Live Betting' section of the desktop site/mobile app.
For live racing streams (NSW and VIC meetings) visit the 'Racing' section of the site/mobile app.
Click on the event you want to watch and it is as easy as that.
William Hill Australia Planet Lottery
This product is available to Australian residents only, apart from those living in South Australia. If you prefer to play on the lottery then you can do so with William Hill Australia. In this section of the site you can access a huge variety of lottery games including Rapid Keno, KeNow, US MegaMillions, EuroMillions and US Power. Some huge prizes can be won, with jackpots as big as $350 million for some lotteries. So, if you are loopy about lotteries, William Hill Australia could be the perfect betting agency for you.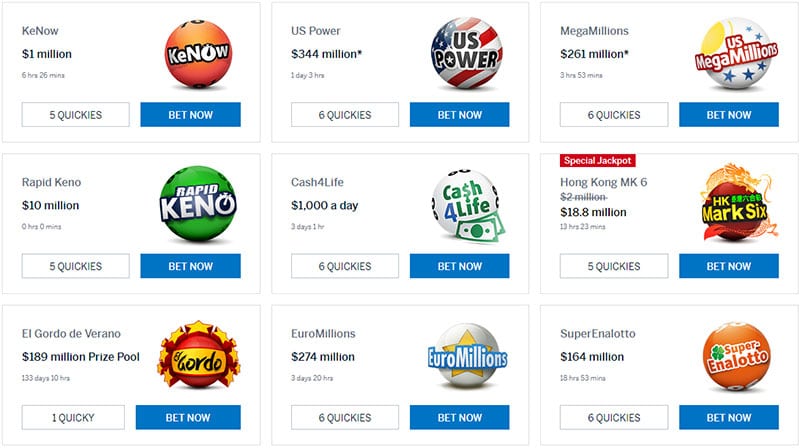 William Hill Australia Mobile App And Web App Betting
Betting on the move is the done thing these days, and William Hill Australia's mobile apps are well worth checking out. You will have thousands of potential bets at your fingertips and you can also stream live racing and sporting action via the mobile apps too. No matter what device you are using, you can bet on the go with William Hill Australia.
If you prefer to use Apple devices like iPad, iPhone or iPod Touch, you can download the William Hill Australia mobile app via the App Store. You must be at least 17 years old to download the app and IOS 9.0 or later is required for the William Hill Australia App to work.
For those who use Android devices, due to regulations you cannot download the William Hill Australia Mobile App via the Play Store. Instead, just visit the William Hill Australia site on your device and when prompted click on the 'Download Android App Link'. Those on other devices like Windows Phone, Blackberry or Nokia can access the William Hill Australia Web App by simply visiting the site on their device.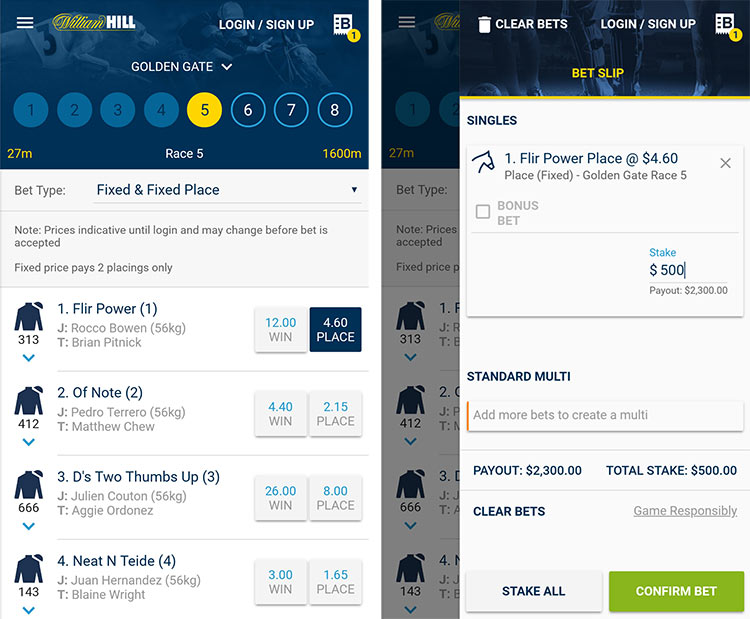 How Good Are William Hill Australia Odds?
William Hill Australia are in the middle of the pack when it comes to the generosity of odds and depth of markets available on sports and horse racing. To illustrate the difference between William Hill Australia and their industry rivals we looked at the prices available for the recent Champions League soccer match between Chelsea and Barcelona.
To start with, Unibet offer 274 different markets in comparison to 205 on offer from William Hill. The odds on offer from Unibet were better too. They had an over round of 102.52% in comparison to an over round of 103.7% with William Hill. That is over 1.2% of a difference and while it may not seem like much, it all adds up in the long run. It is definitely an area where William Hill Australia has room to improve.
William Hill Australia Cash Out: Better be Safe than Sorry – Take a Time Out!
There is nothing worse than missing out on a multibet with just one or two legs to go. However, if you are nervous about that last leg you can quit while you are ahead by utilising the William Hill Australia 'Cash Out' tool. Any sport that has the 'Cash Out' logo beside it qualifies and both single wagers and fixed odds multis can be cashed out early.
Your Cash out value is determined by a number of factors. These include the price you accepted at bet placement, the amount you wagered, and the current price. Your Cash Out value will fluctuate as the odds of your bet drift or shorten. To cash out a bet simply visit the 'My Account' section, look for 'Pending Bets' and if the cash out option is available you can cash out there.
William Hill Australia Horse Racing Betting
Australia is the home to the race that stops a nation, The Melbourne Cup, and horse racing is a sport that a lot of Aussies hold close to their hearts. It is one of the most popular betting mediums in the country and you can avail of a wide range of markets for horse racing with William Hill Australia. With live streaming available on all NSW and VIC racing you can bet and watch with William Hill Australia too.
All the usual betting methods are available, including win, place and each way. If you prefer exactas, trifectas or quaddies you can get on with William Hill Australia. With Bet Tote+ you will get paid at the best price available from the three Aussie Totes. Best Fluc betting is also available, and you can also do exotic bets like 'First Four', 'Win 6', Multis and Quinellas. William Hill Australia also run a large amount of specials that might interest horse racing punters.
William Hill Australia Deposit And Withdrawal Methods
Instant Deposit Methods: Credit/Debit Card, PayPal, POLi, MasterPass, Skrill.
Non-Instant Deposit Methods: BPAY, Bank EFT.
Withdrawal Methods: Bank EFT, International Transfer, PayPal, Skrill, BPAY.
It is always important to think about the banking options on offer from a prospective new bookie. William Hill Australia is up there with the very best when it comes to the range of banking facilities on offer. As can be seen from the list above there are a variety of different ways to withdraw and deposit money. However, before you can withdraw any money from your account it must be fully verified. To find out how to do that just read our detailed guide below.
Account Verification
Click here to open a William Hill Australia account.
There are three ways you can verify your William Hill Australia account.
Online: Verify details of Drivers License/Passport/Electoral Roll via desktop/mobile site.
Australia Post: Fill out and print the relevant form then take the completed form to your local Australia Post office along with the requested ID documents.
Send certified copies of ID to William Hill, PO Box A214, Sydney South, NSW 1235.*
* Copies of Passport and proof of address or drivers license are accepted.
William Hill Australia Limits And Payouts
Most bookmakers impose win limits as a means of protection from excessive pay-outs. William Hill Australia are no different, and they impose a host of limits on pay-outs for horse racing bets. We list the most important of those limits below, but others may apply. *
William Hill Australia Horse Racing Limits And Payouts*
Below are some of the most important bet and pay-out limits that apply to horse racing wagers placed with William Hill Australia.
William Hill Australia Racing Dividend Limits
Greyhound Racing: $26.00.
Harness Racing: $51.00.
Thoroughbred Racing: $101.00.
William Hill Australia Payout Limits Racing
Mid/Selected Tote Bets: $20k horse racing. $10k harness racing.
Fixed Price Plus Bets: $50k Metropolitan meetings. $25k Non Metropolitan meetings. $10k International Meetings.
Exotic/Multi Bets: Minimum stake $0.01 online/$50 Phone.
Maximum Pay-out: $50k Metropolitan meetings. $25k Non Metropolitan meetings.
*Please check William Hill Australia Terms and Conditions other limits may apply.
William Hill Australia Customer Service
It is always vitally important that companies deal with their customers promptly and in a dignified manner. Customer service is key for us at AussieBet, and we were pretty impressed by William Hill Australia in this area. There are a variety of ways by which you can get in touch, including email, phone (24 hrs) and live chat (24 hrs). Phone numbers are toll free for Aussie customers and William Hill Australia vow to reply within 48 hours to emails. Check out their contact details below.

William Hill Australia Contact Details
Telephone: 1800 007 238 (Australia) or +61 889 238 008 (International) 24 hours.
Email: Via 'Contact Us' section of website. (48 hours response time).
Post: William Hill, PO Box A214, Sydney South, NSW 1235.
Live chat: Available 24 hours 7 days.
Is William Hill Australia A Bookmaker You Can Trust?
When you sign up with a new bookmaker it is imperative that they can be trusted. You have to part with an awful lot of sensitive personal information and you don't want it ending up in the wrong hands. William Hill has a wealth of experience in dealing with these issues in Europe and being a stock exchange listed company it is in their best interest to keep your info safe. We had a look at their privacy policy and we think William Hill Australia is a bookmaker you can trust with your information AND your hard earned dollars.
All personal details are stored on a secure server.
William Hill does not give, sell, rent, share, or trade any personal information to third parties unless required by law.
All William Hill employees must respect strict confidentiality agreements.
Credit cards may need to be verified as an added security measure.
Responsible Gambling
Here at Aussiebet we are big on the promotion of responsible gambling. We are glad to report that William Hill Australia are too. If you are concerned about your own (or someone you care about) gambling habits, there are tools and links to useful resources that can help. Below are some of the ways in which William Hill encourage responsible gambling.
Easily keep track of profits/losses by easily keeping track of transactions.
Pre-Commitment Limits: Set daily, weekly or monthly deposit limits on your account.
Loss Limits: Set daily, weekly or monthly limits on the amount you can lose.
Self-Exclusion: Temporary or permanent self-exclusion available. Call: 1800 007 238.
Links to and contact details for relevant gambling help services.
Highly trained staff who can spot and help problem gamblers.
William Hill Australia: Ahead Of The Game
Overall, we think that William Hill Australia has strengths and weaknesses, but for us the former far outweigh the latter. Some of the negatives include average odds and depth of markets available for sports betting in comparison to some of their industry competitors.
However, where William Hill Australia comes up strong is with their live streaming service (mobile and desktop) and a strong brand that puts it high on any punter's priority list. They are a well established company that can be trusted. If you are going to become a member of William Hill Australia we think you are making a wise decision!
Sportingbet Australia was one of the biggest bookmakers in Australia with headquarters located in Darwin and Sydney. In general the Sportingbet Group started in 1998 and its Australian business came out 5 years later (2003). In March 2013 William Hill acquired both Sportingbet Group's Australian companies Centrebet and Sportingbet and is currently the owner of Sportingbet Australia.