Are you thinking of opening an account with Unibet, one of Australia's biggest online betting agencies? You will be glad to know that you have come to the right place. Here at Aussiebet, you will find all the information you need in our impartial and in-depth Unibet review.
We look at everything this bookmaker has to offer potential customers, including range and depth of markets/sports, quality of odds and a whole lot more. We put Unibet under the microscope because that's the only way to deliver a detailed review.
The Pros of Unibet
Extensive horse racing betting coverage

Fantastic Unibet App for Android & iOS

Insiders Section – Hub for Punters

Unibet TV – Live Streaming

Live scores and in-depth sports stats
The Cons of Unibet
Limited banking facilities

Not 100% Aussie Owned
Company Information and Facts
Unibet Australia is part of Malta-based gambling giant Kindred Group plc. Formed in Denmark by Anders Strom back in 1997, they quickly grew into one of Europe's leading online bookies. It now operates in over ten countries, and they started in Australia by acquiring Betchoice in 2012.
In 2015 Betchoice was overhauled and rebranded as Unibet Australia, and they are licensed in the Northern Territory. The current CEO of Kindred Group plc is Henrik Tjarnstrom, and the company is listed on the Nordic Stock Exchange. They have won numerous awards down through the years, including for their approach toward responsible gambling.
What makes them stand out from the crowd is the massive variety of markets available across a vast amount of sports. Unibet sports betting coverage of domestic leagues is second to none and includes AFL, A-League, NRL, Cricket, Golf and Tennis. Live streaming is available on many events, even when cross-compared with what other bookies have to offer.
You can also bet on horse racing and e-sports, and best of all, their odds are incredibly competitive. Although it sounds like a strange mix, eGaming is surging, and it a decade or so, it will match what racing is doing now. No wonder other bookmakers are making sure e-sports is well-covered, even today!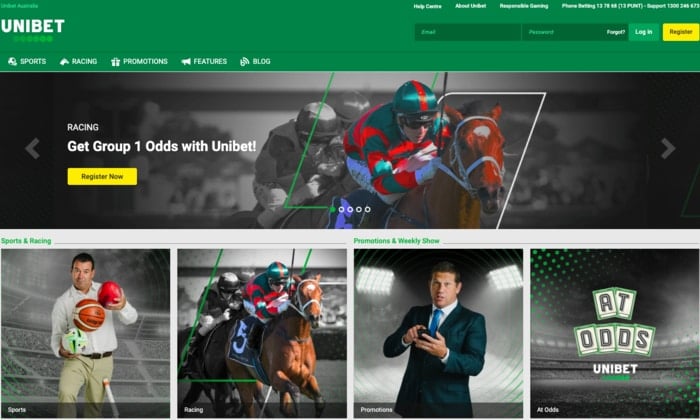 Safety Features
Another key element at the forefront of punters' minds is whether a prospective new bookie can be trusted. Well, the Australian Unibet is part of a Nordic Stock Exchange listed entity in Kindred Group, and it has been a market leader in Europe for years.
They may only have emerged in Australia in 2015, but they have been around for over two decades. It is highly unlikely that they will disappear with your hard-earned money. And they have a variation of security measures to keep your sensitive personal information safe.
All personal details are encrypted by a 128-bit SSL (Secure Sockets Layer)
Unibet does not give, sell, rent, share, or trade any personal information to third parties unless required by law
All of their employees are subject to confidentiality agreements
Credit cards may need to be verified as an added security measure
Expert Edge
Another excellent tool that punters can avail of when they join Unibet Australia is 'Expert Edge'. Here you will find all the stats you need to help you turn a profit on sports betting. All the biggest sports are covered, including Aussie Rules, Soccer, Cricket, Rugby, Tennis and Basketball.
Just click on 'Features', then click on 'Expert Edge' and choose your sport. You will find all the most essential facts and figures on upcoming fixtures. Expert Edge is another reason why Unibet is considered one of the best around.

Unibet Blog
Not only can you check out all the sporting stats with Expert Edge, but you can also find out what the experts think on the Unibet Australia blog. Some of the shrewdest minds in the business share their thoughts, and a whole host of sports are covered. Whether it is horse racing, AFL, rugby, cricket or tennis, you can find the best and latest betting tips on the Unibet blog.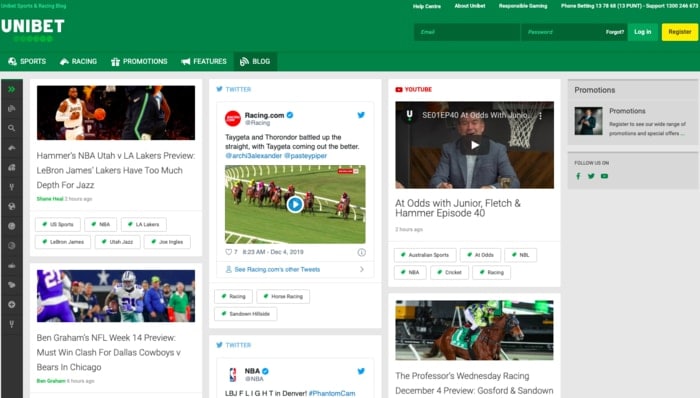 Unibet Insiders
The Unibet Insiders is the Unibet Forum, in practice. This is where the community gets to discuss "pressing" issues. Punters can provide feedback, which Unibet considers for future product updates. To gain access, you need to sign-up and visit the Insiders section under the Features Tab. Again, you have to be logged in. Nevertheless, the login window will appear as soon as you try accessing the Insiders HUB without logging in first.
The only thing you need is a Unibet Account.
Unibet Results
This bookie provides an extensive range of sports stats and live scores, not only for the Aussie market but for almost every sport and league you can think of. All of the Unibet results pages are regularly updated. They also offer many in-depth stats, like head to head or team stats. You can easily access all of them from any page on the Unibet site by simply clicking 'Statistics & Live Scores' link in the bottom-left corner.
Unibet Live Betting
Unfortunately, Australian Law means that you cannot place in running bets online. However, Unibet Australia display live in-play odds on their desktop and mobile apps, and you can place an in-play wager by picking up the phone. To find out how to bet in-play with Unibet, check out our guide below.
How To Bet In-Play with Unibet Australia?
Open a Unibet Australia account
Make a deposit
Click on the 'Live Betting' button
Find your odds and call 13 78 68
Place your in-play bet
Open a Unibet Account
Unibet Live Streaming with Unibet TV
When it comes to streaming live sport, Unibet Australia is one of the best bookmakers in Australia. No other bookie comes close to rivalling the wide range of sports they stream live. You can watch and bet live on lots of the biggest sporting events every year. These include soccer (La Liga, Serie A, Eredivisie, English C/ship), tennis (Sel. Grand Slams, ATP/WTA tours, ITF, Challenger Tours), basketball (NBA, NBL, WNBA), NHL and selected darts and snooker tournaments.

How to Stream with Unibet TV?
All you need to do is open an account with Unibet Australia by clicking here
Make a deposit
You need to have $1 or more in your account OR have placed a bet in the previous 24 hours
Visit the 'Sports' section of the desktop site/mobile app and click on 'Live Streaming'
Click on the event you want to watch and then sit back, relax and enjoy
Open a Unibet Account
Unibet App and Mobile Betting
Apart from Unibet desktop site, they also have one of the best mobile offerings on the market. No matter what your device you can bet on the move with the Unibet mobile app, which is packed with lots of cool features. You can access the extensive range of markets, as well as the very generous odds. Best of all, you can stream live sport on the move too.
The App for iPhones/iPads/iPod Touches can be downloaded free from the App Store. Split view is available on iPads, and IOS 8.1 or later is required. Unibet Android app is available for download on their site via the provided link. If you use a different type of device, use their slick Web App. The mobile site resembles what you see on the download or native apps. However, the difference is apparent in the performance department.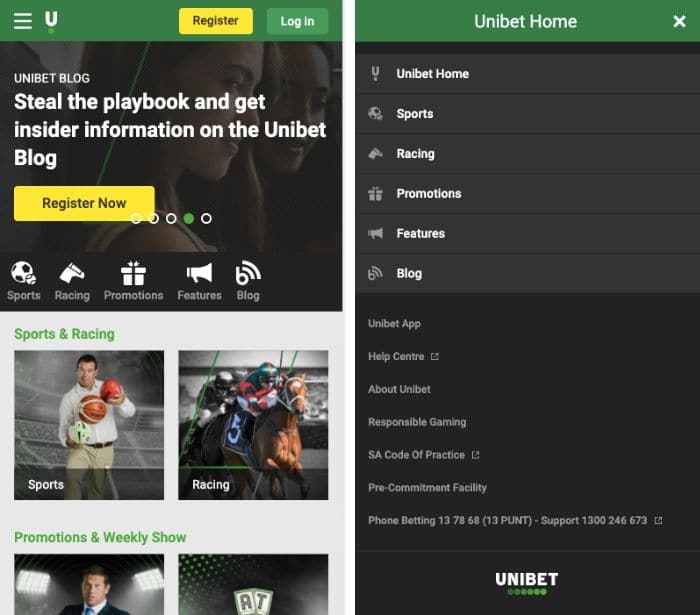 Unibet Horse Racing Betting
Widely known around the world as The Sport Of Kings, horse racing is an integral part of Australian culture. Not many sporting events have the power to stop a nation, but the Melbourne Cup is a race that does just that. You can bet on the country's favourite race with Unibet Australia, as well as a lot more domestic and international horse racing action.
All the usual betting methods are available, including win, place, each way as well as Quinella, Exacta, Trifecta and Quadrellas. Fixed, Top Fluc, Best Tote+SP and Tote+5/10% odds are available for win betting. For place betting Fixed, Best Tote and Tote+5%/10% odds are available.
Unibet Racing Odds Comparison
| Geelong | Unibet | BetEasy | Ladbrokes |
| --- | --- | --- | --- |
| Arktika Klasse | 17.00 | 18.00 | 18.00 |
| Beau Zoom | 5.00 | 4.60 | 5.00 |
| Divine Honours | 10.00 | 10.00 | 10.00 |
| Ears The Barman | 13.00 | 14.00 | 14.00 |
| Groundswell | 2.20 | 2.30 | 2.30 |
| Manhattan Sting | 8.00 | 8.00 | 8.00 |
| Manosphere | 31.00 | 34.00 | 34.00 |
| Spanish Peaks | 4.80 | 5.00 | 4.60 |
| Sweeping The Board | 13.00 | 13.00 | 13.00 |
| Overround | 133.3% | 131.1% | 131.1% |
As you can see from the table above, in this case, both Ladbrokes and BetEasy have a slight edge over the Unibet, when it comes to the odds on horse racing. But this is just one example, so it doesn't mean that Unibet won't have much more competitive odds for other events. Always try to do the odds comparison before placing your bets, because you never know which bookie will offer the highest prices.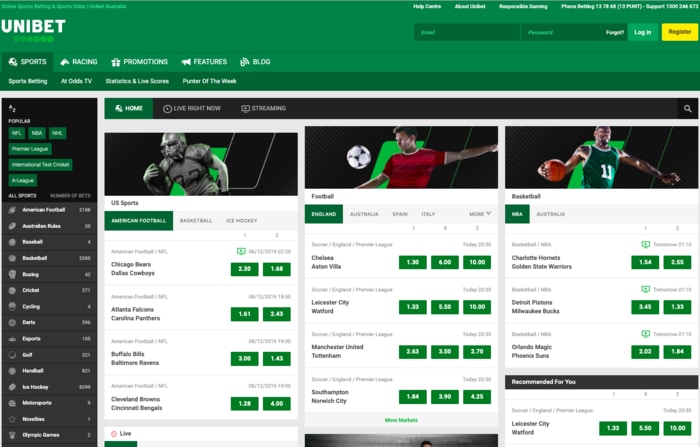 Payment Options Available at Unibet Australia
Instant Deposit Methods: Credit/Debit Card, PayPal, POLi
Non-Instant Deposit Methods: BPAY, Bank Transfer
When you open an account with a betting company, you should always make sure to check what banking facilities are available. Unibet Australia lacks the options provided by some of their primary industry rivals. You can deposit instantly by using your credit/debit card, PayPal or POLI. Unfortunately, Unibet does not support Moneybookers or Skrill. Non-instant deposit/withdrawal methods include BPAY and bank transfer. Note that all the same methods are available on Unibet mobile app as well.
Before you can withdraw funds, you need to verify your account, and you can find out how below.
Account Verification
Open a Unibet Australia account
After signing up Unibet attempt to electronically verify your personal details against official databases
If this process fails, you will need to provide documents
Upload the documents via the 'Verify Your Account Page'
Credit cards may have to be verified too as an added security measure
Open a Unibet Account
Limits And Payouts
Unibet Australia has limits in place on the maximum winnings they pay out, and these vary widely between sports. Below you will find the different limits applied across the site. *
Horse Racing Limits and Payouts*
'Best Tote Win': $100k
'Best Tote Place': $25k
'Middle Tote Win': $100k
'Middle Tote Place': $25k
'Tote+10% and Tote+5% Win': $100k
'Tote+10% and Tote+5% Place': $25k
'Top Fluc win wagers': $10k
'Top Fluc Place': $5k
'Place Card': $30k per meeting per day
Other Sports Betting Limits and Payouts*
Soccer (FIFA, UEFA, Major European Leagues and Cups): $300k
Soccer (Domestic and all other leagues): $100k
Futsal/Beach Football: $75k
NBA, Euroleague, Olympic Basketball: $75k
NHL, Finnish, Swedish and International Ice Hockey: $150k
All IHF sanctioned Handball events: $150k
FIVB Volleyball tournaments: $150k
All other Volleyball: $35k
Grand Slam Tennis: $150k
ATP/WTA Tennis: $75k
All other Tennis $15k
All NFL/MLB: $75K
AFL: $150k
Other Aussie Rules: $35k
International or major domestic cricket leagues: $150k
All other Cricket: $75k
Major Golf/Darts/Rugby/Snooker: $150k
Motor Sports (F1, Moto GP): $75k
Other Motor Sports: $35k
Novelty/Entertainment Wagers: $15k
Unibet Australia Customer Service
Here at Aussiebet, we think the customer should always come first, and if help is needed, it should be easy to access. Unibet pride in providing customer service of the highest quality. There are several ways in which you can get in touch with support agents, and we have provided the relevant contact details below. Phone and live chat lines are open from 9 AM to 2.30 AM (AEST).
Unibet Contact Details
Unibet Phone Number: 13 78 68 (Australia) or +61 (8)89433444. (International)
Email Address: [email protected] (8 hours response time)
Post: Unibet Corporation, Fannie Bay Racecourse, Dickward Drive, FANNIE BAY NT 0820
Live chat: Available from 9 AM to 2.30 AM (AEST) 7 days
Open a Unibet Account
Responsible Gambling
When it comes to promoting responsible gambling, Unibet is streets ahead of the rest. In 2016 it picked up two awards for being the industry's most 'Socially Responsible Operator'. They want their customers to be safe, so you'll find a lot of quick links in the footer to a couple of gambling support pages such as Gambling Therapy. They have lots of tools available to ensure that you don't lose more than you can afford. We list some of them below.
Self-Assessment tool so you can see exactly how much you are losing or winning
Pre-Commitment: Set daily, weekly or monthly deposit limits on your account.
Self-Exclusion: If you think you need to take a break from gambling you can self-exclude for 4 weeks, 6 weeks or 12 weeks
Links to software that will block gambling sites on your browser
Contact details for gambling support services
Made for Experts, Loved by Beginners
Unibet has made a big impression since entering the Aussie market. It has quickly become one of the nation's biggest online bookies, and it is easy to see why. Overall, we think you should seriously consider making it your number one choice. Yes, there are one or two negatives, including limited banking options.
However, there are a lot more positives for this sportsbook. These include a huge amount of stats and info at punters' fingertips with the Unibet Blog and Expert Edge. You can Bet and Watch with their streaming service, and their odds are among the most generous available across the industry.
They also take the promotion of responsible gambling very seriously, which is always a big plus in our book. If you are thinking about opening an account, this bookie comes highly recommended by us.
We made sure this Unibet review is more of a Unibet Australia review, focusing on the sportsbook available to Australian punters. Whether you're a new customer or a returning one, you will still get the same great odds, the variety of sports markets, and an excellent payment methods array. This is not a thing at all other online bookmakers.
Unibet FAQs
Who owns Unibet Australia?
The brand Unibet is part of the esteemed gaming and betting group Kindred. It's known as a safe, reliable, user-friendly operator which pays great attention to the user experience, the safety of customers and the maintaining a good reputation. Check out the review above to get more Unibet company info.
Is Unibet safe?
Unibet Australia is licensed and authorised to offer betting products and odds to Aussie customers. They have all of the latest safety features installed on their site. Unibet has a flawless track record, which has allowed them to expand globablly without any boundaries whatsoever.
Does Unibet have an app?
Yes, there is the Unibet app for Android and iOS devices, as well as the web-based app for all of you who don't fancy downloadable software. To download the iPhone app, just visit the Apple App Store. For Android app, you'll have to go to their site and get the apk file, as we already explained in part about Unibet mobile app.
How to close Unibet Account?
To close your Unibet Australia account, head over to your Account, and look for Edit Details. Leave your feedback why you're leaving Unibet and complete the process by deleting your account.
---
User Reviews
No reviews yet
---