PlayUp is one of the rising stars on the Australian betting market. This new and exciting betting site launched as a result of the merger of TopBetta, ClassicBet and MadBookie. PlayUp may be a newcomer, but we assure you they do have everything a punter could wish for. Apart from an array of sports betting opportunities and tote racing betting, PlayUp gives you a chance to play daily fantasy sports as well. But is everything so great as they claim it to be?
In this review, we will cover everything you need to know before starting to bet with PlayUp. You'll get to learn more about their odds, selection of sports, payment methods, and how PlayUp stand when compared with other top Australian betting sites. Keep scrolling and be sure to read the full review.
The Pros of PlayUp
Decent range of payment methods

Native apps for iOS and Android

Great selection of sports
The Cons of PlayUp
Live Streaming is not available

Not as many betting markets as at some of their competitors
PlayUp Information and Facts
PlayUp, although recently launched, are not an entirely new betting site. This operator obtained its sports betting license back in August 2016, while they were still doing business as TopBetta. Later on, established Aussie bookies ClassicBet and MadBookie joined them, and that formed the PlayUp we know today. Note that if you already have an account at any of these bookmakers, it will automatically transfer to PlayUp. This new Australian betting site holds sports betting license from the Northern Territory, which means that it's allowed to legally accept all Aussie customers.
PlayUp covers an array of sports. Here you'll find almost every sport you can think off, including all the most popular ones like soccer, rugby, horse racing and basketball. All of the Aussie sports and leagues are available as well. So if you desire to place a bet on the next AFL clash, you can do so at PlayUp. If you ever get bored with betting on mainstream sports, keep in mind that PlayUp has several niche sports on offer as well, such as handball, yacht racing, gridiron and so on.
Here you'll find a fantastic selection of races available for both fixed and tote betting. Horses, greyhounds and harness races are all available, so even the pickiest racing fans will find something interesting. Apart from classic betting, PlayUp has enabled daily fantasy sports as well. They made it possible in collaboration with one of the best DFS sites in Australia, called Draftstars. This all tells you how broad PlayUp betting offer really is. They are off to a strong start, so we hope that this new betting operator will live up to the expectations. So far, everything looks great!
ClassicBet
ClassicBet was a racing bookmaking powerhouse. They weren't ashamed at all of showing much more love to racing punters. Nevertheless, although they were in favour of racing betting, they were kind enough to offer sports odds on popular sports, at least the ones that are big in Australia. It resisted the pressure of regulators, yet they always were in line with all laws and regulations.
Madbookie
Very similar to ClassicBet, featuring the identical offer, yet the app was slightly worse. As a matter of fact, both ClassicBet and Madbookie were suffering from "poor" mobile offer. Hopefully, PlayUP is going to make up for the shortcomings. Another thing, there weren't as many tools that might help out punters, in a sense, to make betting more convenient. It was as if the operator stopped evolving solely because they were waiting for the merger to happen.
TopBetta
Last but not least, TopBetta, the Aussie bookmaker with a GOAT in the logo. It was so obvious, and people that were not aware of the GOAT acronym (Greatest of All Time) clearly missed the point. Like the other two, they always played by the rules, and they all had their big moments. We at Aussiebet, have followed them closely for the last 2 years now. Let's just say that it wasn't that hard to make an improvement, though, launching a new brand entirely was probably the best way to do it.
Live Betting with PlayUp – Great Selection of In-Play Sports
If you are into live betting, then you'll love PlayUp. They offer a wide selection of odds for in-play betting, meaning there will be something interesting to bet on at almost any time. As you probably already know, live online betting is illegal in Australia. But betting sites have come up with the loophole. They are not allowed to take live bets through the website, but they can publicly show live odds and take bets over phone.
So basically, you'll have to check out live odds on the bookie's site and then give them a call to place a bet. That way you'll get to bet in-play and not break the law. As with fixed odds, PlayUp tends to be very competitive with prices on live events. Be sure to check out what they have to offer, you won't be disappointed!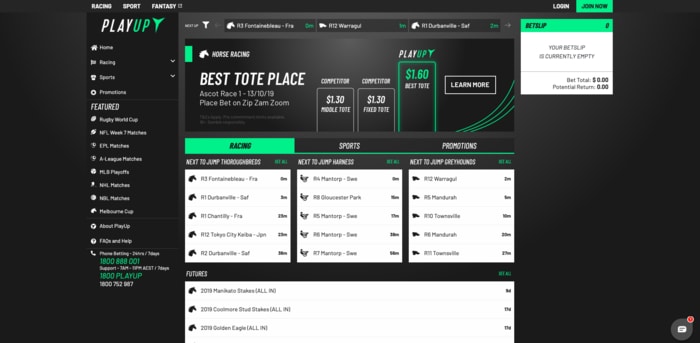 How to Bet Live With PlayUp Australia?
Open PlayUp account
Make a deposit
Visit the 'Live Betting' page
Check out the odds and call the displayed phone number
Place your live bet
PlayUp Live Streaming
At the time of writing this review, PlayUp wasn't offering live streaming. The option to watch live sports directly from their site wasn't available, but there are a few other ways to keep track of your live bets. For example, you can use their game visualisation and in-game stats to follow what's happening on the playing field. This isn't the perfect solution, but it would do until they enable live streaming. Keep in mind that PlayUp has just recently launched, so it's very likely that they will be adding new features in the future.
PlayUp Horse Racing Betting – All Main Events Are Covered
Horse racing is easily one of the most popular betting sports in Australia, so it's no wonder that PlayUp has invested so much in their racing betting offer. Here you can bet on almost any of the country's favourite events, as well as numerous international horse races. They have everything an experienced racing lover needs. You can place both tote and fixed odds bets when playing with PlayUp. All the usual methods of betting are enabled, including the popular ones like each way, win and place. Quinella, Exacta, Trifecta and Quadrellas are also available, in case you are into those kinds of bets.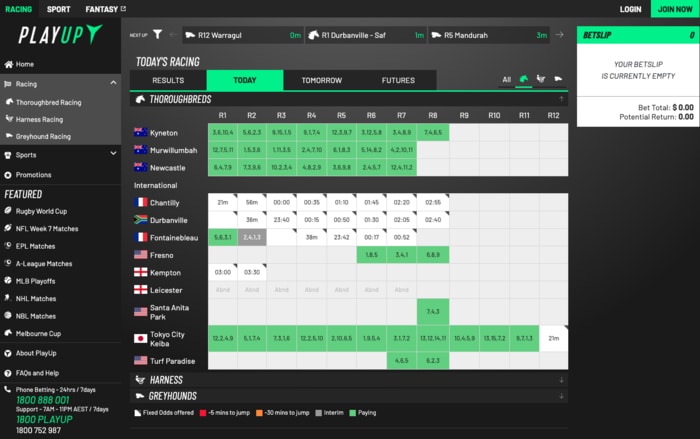 How Good Are PlayUp Odds?
One of the most important things to keep in mind when choosing a betting site is the quality of odds and selection of markets. These things may drastically vary from a bookie to bookie, so it's always a good idea to conduct a comparison test before placing a real money bet. When writing this review, we compared PlayUp odds and markets with what their direct competitors BetEasy and Ladbrokes have to offer. As an example, we took an A-League soccer match between Melbourne Victory and Western Sydney Wanderers.
We concluded that the PlayUp odds are in line with what the market leaders offer. They had the exact same overround as the BetEasy at 107.2%, and a slightly better score than the Ladbrokes which had 107.7%. But since the difference between PlayUp and Ladbrokes was only 0.5%, it's safe to say that they are both offering more or less the same prices. Keep in mind that this test doesn't give a definitive answer to the question 'what bookie offers the best odds'. It's merely an indicator that can show us what bookie tends to offer more lucrative prices. That's why we encourage you to do these kinds of quick tests every time before you bet.
Horse Racing Odds Comparison
We did a similar test with the horse racing odds, but this time PlayUp has failed to offer the best possible prices. They came last in our test, falling behind both Ladbrokes and BetEasy. PlayUp had an overround of 129.5%, which is considerably worse score than 125.5% BetEasy had, or 126.6% at Ladbrokes. But, since this is based on only one race, it's possible that the results would be quite different for some other event. If you want to learn more about our horse racing odds comparison test, check out the table below.
| Newcastle | PlayUp | BetEasy | Ladbrokes |
| --- | --- | --- | --- |
| De Goey | 8.50 | 8.50 | 8.50 |
| Medellin | 7.50 | 8.50 | 9.00 |
| Buckin' Rippa | 4.60 | 5.50 | 5.50 |
| Fituese | 1.80 | 1.70 | 1.65 |
| Latina Beauty | 4.40 | 4.60 | 4.60 |
| Dreams Out West | 26.00 | 31.00 | 31.00 |
| Overround | 129.5% | 125.5% | 126.6% |
Daily Fantasy Sports – Get Involved in Daily Fantasy Sports Competitions with Draftstars
One of PlayUp's main selling points are the daily fantasy sports competitions. They are offering fantasy sports in partnership with one of the most prominent DFS sites in Australia, named Draftstars. The great thing is that both sites are owned by PlayUp Interactive Pty, which makes their integration very easy and seamless. Draftstars has already made its name as one of the best daily fantasy sports sites around. They are known for covering all Aussie sports and leagues. So if you want to play fantasy AFL or fantasy A-League soccer, Draftstars is the right place for you.
In case you still haven't had an opportunity to try fantasy sports, don't worry, Draftstars have everything explained on their site. It's quite simple once you get the hang of it. You first draft players to your team, and when games start, you score points based on the performance of your players in the actual matches. For more details, read our Draftstars review.
PlayUp Mobile Betting – Dedicated Apps for Both Android and iOS
Good news for all mobile betting fans out there, PlayUp has released solid mobile apps for Android and iOS platforms. Both apps follow the same design as the desktop version of the site, which means that you should be able to find your bets with little to no effort. To download the iOS app, just go to the App Store. In case you are an Android user, visit the Android app page od their site and download the app directly. The great thing about the PlayUp app is that you'll have access to all of their betting features, regardless of the device you use.
Payment methods – All the Most Popular Ones Are There
Deposit options: Credit Cards, POLi, BPAY, Electronic Funds Transfer
Withdrawal Options: Bank Transfer, Credit Cards
Before registering an account with the betting company, always make sure you check what banking options are available. If you decide to join PlayUp, you'll have several deposit options available, including EFT, credit cards, BPAY and POLi. These are all standard payment methods we used to see at other Aussie betting sites, so we can say that PlayUp is pretty good on this matter. However, they miss some of the popular e-wallets, such as PayPal or Skrill. These payment options have become increasingly popular in recent times, so we would like to see them available at PlayUp any time soon.
When it comes to the withdrawal options, you can cash out your winnings via credit cards or bank transfer. Note that if you have made a credit card deposit, you must return the equal amount to the same credit card when withdrawing. After that, you can cash out the rest of your funds via bank transfer if you want to do so.
Customer Support – Live Chat, Email and Phone Support Available
PlayUp did a pretty good job when it comes to customer support. You can get in touch with their support agents via phone, live chat or email. Our recommendation is to always try first with the live chat since they have a fantastic average response time of just a couple of minutes. Email is a bit slower, so you'll probably have to wait around 24 hours to get a reply.
The only downside here is the fact that PlayUp doesn't offer 24/7 customer support. You can reach them via live chat or phone any day of the week from 7 am to 11 pm. They are available for most of the day, so the restricted working hours shouldn't be that much of a problem after all. What is most important, customer support representatives are very friendly and will help you solve almost every problem you stumble upon.
PlayUp Safety Features
Every time you register an account with a new bookmaker, you have to give up a few very sensitive pieces of information, such as bank details and personal data. That's why it's essential to be sure that your bookie is 100% reliable. PlayUp has all the latest safety features in place, including the industry best SSL encryption, so there is nothing to worry about security-vice. Also, bear in mind that PlayUp is formed by three well-known Australian bookmakers. Thus, you can be sure that people behind PlayUp know how to make an entertaining and reliable betting site.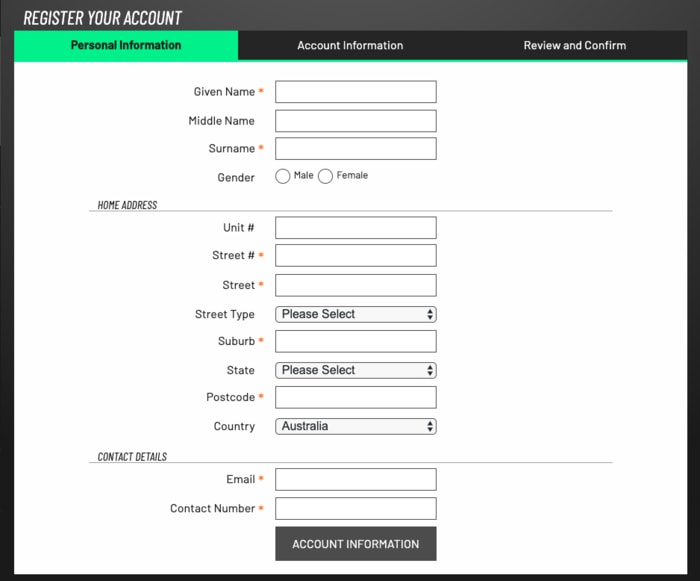 Responsible Gambling
We can't emphasise enough the importance of responsible gambling. That's why we were delighted to discover that PlayUp shares our enthusiasm on this matter. They have everything in place to help people with gambling problems, starting from self-exclusion lists to gambling help hotline numbers. The most important thing is to always play responsibly and seek help if you think you have a gambling problem. These are just some of the responsible gambling features PlayUp has installed on their site:
Self Exclusion
Deposit limits
Contact details for gambling help services
Identity checks
Self-help information and instructions
Conclusion – PlayUp Is Here to Stay
PlayUp is one of the best new online casinos in Australia. They have it all covered, from a vast selection of sports and leagues to the helpful customer support. Of course, there are a few things now and there that can be improved, such as live streaming for example. But the overall impression is positive. Therefore, we recommend you to register an account with PlayUp and see for yourself what this excellent bookie has to offer.
PlayUp FAQs
Is PlayUp safe?
PlayUp holds all necessary gambling licenses. Therefore we are safe to say that they are a secure and trustworthy online betting site. Apart from that, their website is protected with the industry best SSL encryption.
What deposit methods are accepted at PlayUp?
If you decide to join PlayUp, you'll be able to make a deposit via electronic funds transfer, POLi, BPAY or credit cards. On the other hand, if you want to withdrawal your winnings, you can do that via bank transfer or credit/debit cards.
Is there a PlayUp mobile betting app?
Yes, PlayUp has released native mobile betting apps for both Android and iOS platforms. If you are not a fan of downloadable apps, just use your mobile browser to access their web-based app, and you'll be ready to start betting right away.
---