Multi Bet Betting Sites in Australia
Multi bets are a great way to turn modest stakes into sizeable winnings. They combine two or more single bets on one ticket and increase your potential return.
Scroll down if you want to know more about different multi bet types and how to get the most out of them. We also list the top bookmakers for multi betting in Australia and explain how to calculate multi odds for those looking for more info.
Best Multi Bet Betting Sites
These are the best bookies for multi betting in Australia. Apart from being safe and reliable, they also have made it effortless to add multiple selections to your bet slip and switch between different bet types.
The user experience is very important when placing a multi bet, so we primarily focused on ease of use when picking bookies for our recommended list.
Our Top Three for Multi Betting in Australia
Here is a quick look at our top three betting sites for placing multi bets. Take a look at the interface and how quick it is to start accumulating bets with them. We also cover more about each bookie in our in-depth reviews.
bet365
The sheer number of markets available makes bet365 a perfect place for multi betting. There are so many bets you can combine, and it only takes a few clicks to put them together.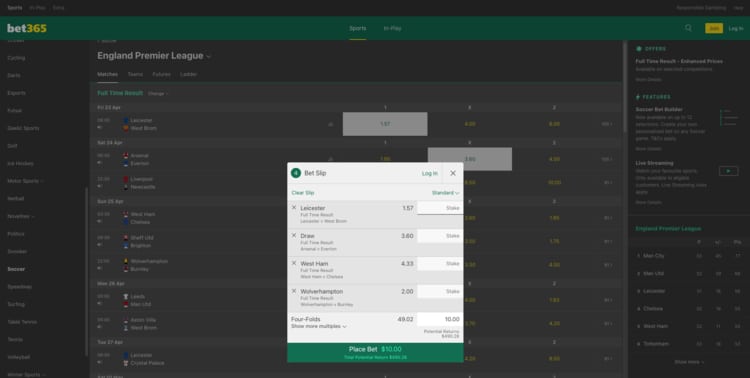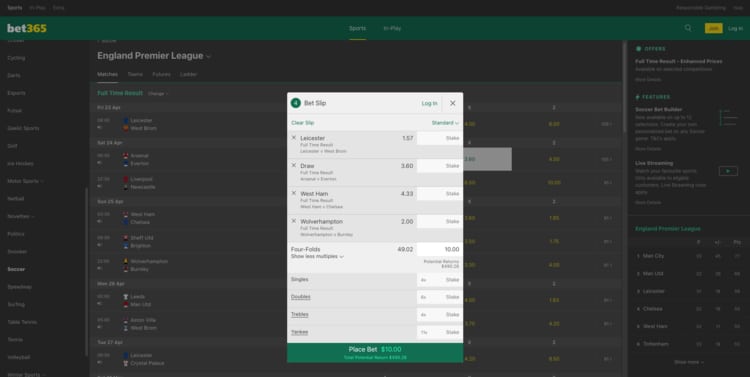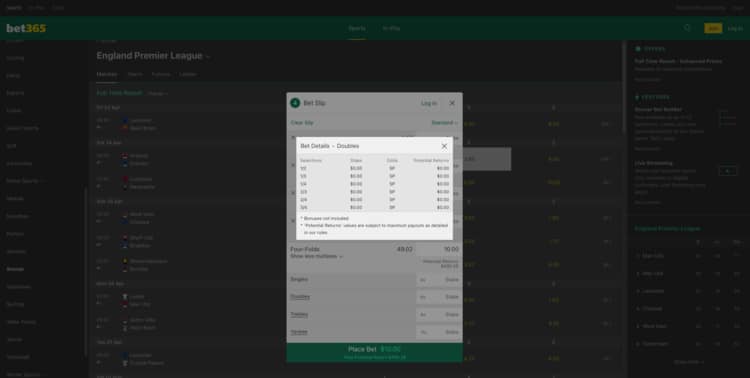 Once you add your selections to the bet slip, they're going to list all possible multi variations and clearly display odds and potential winnings. However, don't forget to check the max payout for each sport on your ticket since the lowest limit applies to the whole multi bet. Visit our bet365 review for more about what this bookie offers.
Unibet
Unibet offers a very user-friendly interface that looks great on mobile as well. After you add your picks to the bet slip, they'll neatly separate all the options into three tabs named 'Singles', 'Combination' and 'System'. This way, you can focus only on the bets you need right now without having to dig through tens of different markets.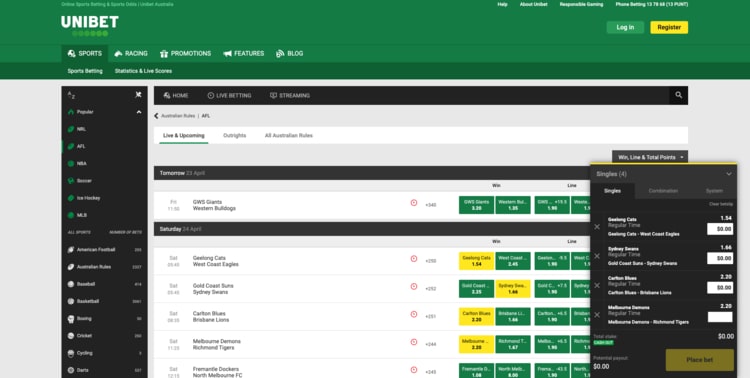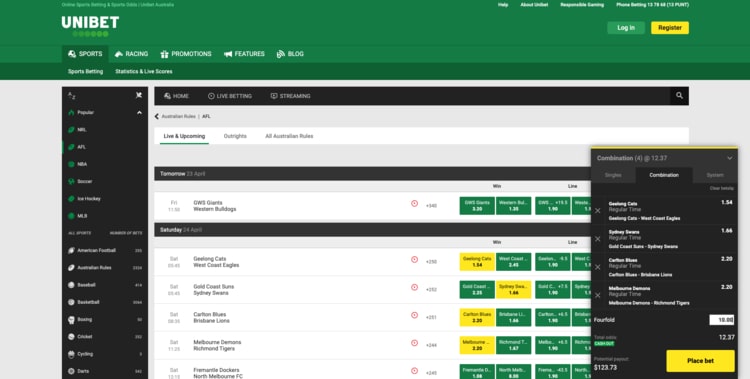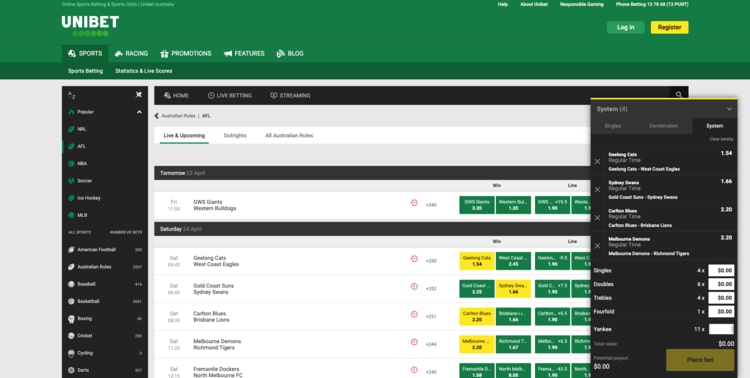 Unibet also shows the green 'Cash Out' icon directly on the bet slip whenever this feature is available, which is a really nice touch. Visit our Unibet review to learn more about this top betting site.
BlueBet
If you're a fan of Australian sports and racing, BlueBet can be an excellent choice. Their multi betting interface looks a bit cluttered, but BlueBet still offers all the important features and multi bet variations.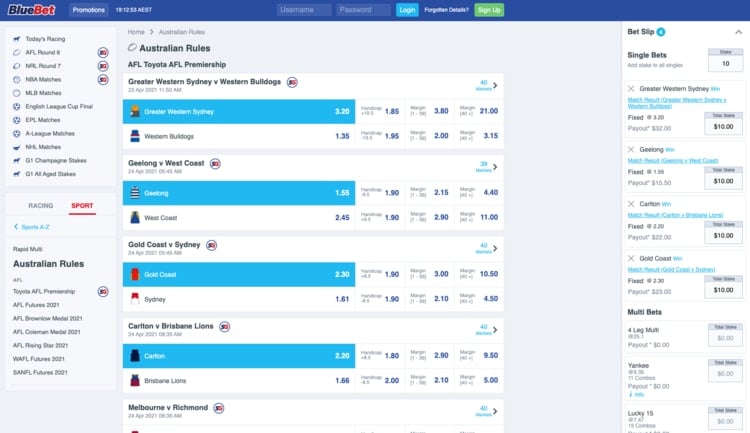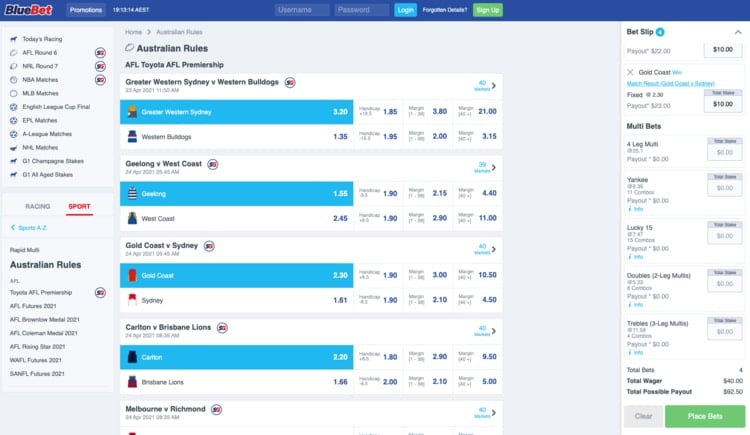 This betting site also includes an explanation for each multi bet type, which can be very useful to beginners. Check out our BlueBet review to uncover what else BlueBet do well.
Multi Bet Makers – Who Has The Best?
There are many different types of multi bets you can make. However, it isn't all about simply putting together accumulator bets on different match results anymore. One key development for multi bet fans was the introduction of multi bet builders. These allow you to quickly and easily perm different markets for the very same event, which we explain in more detail later.
Having this feature is a key element for all the best Australian betting sites. All of the bookies on our recommended list have same game multi bet features but knowing which has the very best can be a big factor in choosing which to join. Here's the quick answer:
Best Multi Bet Builders
Sports covered: Aussie Rules, rugby league, rugby union, soccer, tennis, basketball, cricket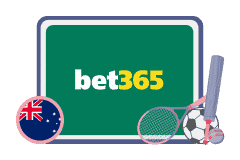 Easy to understand
Cash out available
Available for lots of sports
Sports covered: Soccer, American football, and ice hockey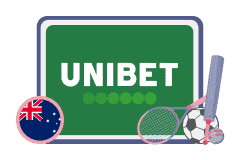 Quick to use
Great design
Combine your multi with a separate bet
How to Place a Multi Bet
Placing a multi bet works more or less the same at any of the betting sites we list above. If you're new to this type of wagering, take a look at our step-by-step guide below, where we explain how to place a multi bet in greater detail.
It is simply about adding more and more selections to your betting slip and deciding the type of multi you would like them in. For One Game Multi Bet Makers, simply select this tab to be taken to the sports and events that are being offered.
How Does a Multi Bet Work?
A multi bet, also known as accumulators, parlay, or all up, is a wager that includes multiple events and multiple outcomes on a single ticket. For accumulator bets, each bet is called a 'leg', and you need all 'legs' to have a positive outcome for your multi bet to win. If just one of the selections fails, the whole multi automatically loses.
This means that multi bets are much riskier than the string of single bets, which is why we only recommend them to more experienced punters. However, multis also come with much higher potential winnings because the odds from one win rolls over onto the next selection and is multiplied depending on the odds. We show how this works in a real-life example down below, so scroll down and give it a look.
There are also multi bets that can be permed so that not every selection has to be a winner. These are known as 'boxed multis' and are covered in our types of multi bets section.
Multi Bet Limits
Australian bookies are usually pretty liberal when it comes to multi betting. However, there are few potential limitations you should know about:
Max winnings – Bookmakers usually impose max limits on how much you can win on your multi bets. For example, limits for a bet365 multi bet range from $10,000 to $2,000,000, depending on the sport. If you have multiple sports on your ticket, the lowest limit applies.
Max number of legs – Some bookies limit the number of legs you can include in your multi bet. It usually ranges between 7 and 10 single bets.
Keep in mind that these limitations can be different depending on a bookie and can change over time. So we highly suggest you take a look at the terms of service or contact customer support before betting to avoid any unpleasant surprises.
Types of Multi Bets
There are several different types of multi bets available with the best multi bet betting sites in Australia. We explain a few of the most common ones below, so scroll down and give them a look.
Each of the listed bet types comes with certain advantages and disadvantages, therefore it's crucial to learn everything about them before playing with real money.
Single Multi Bets
These are also known as just 'win multiples', 'accumulators' or sometimes 'parlays'. It's the most common form where all the selections need to win for you to profit.
Win multi bets are really easy to understand, which is why we recommend them to beginners. It is best to start with a few simple accas and then work your way up to the more complex bet types we explain later.
Bookmakers usually name multiples based on the number of legs included. This is how they are usually referred to:
Two bet multi – Double
Three bet multi – Treble
Four bet multi – 4 Fold
Five bet multi – 5 Fold
Same Game Multis
Same game multi allows you to combine several outcomes of the same event on a single betting slip. These are catered for by the best betting sites with Multi Maker features.
For example, you can bet that the NBA's Trailblazers will win against the Grizzlies and that there will be more than 220 points in that game. So, you have two or more different bets on the same game as a multi bet.
Same game multis add more variation to a single contest, such as perming the number of corners in a soccer game with a certain player to be booked and the number of corners there will be.
⚠️ – Same game multis aren't a straight multiplication of odds like regular multi bets because legs can be related to each other. Depending on your bets, the final price can be lower or higher than standard multi odds.
Note that not all bookies allow same game multi betting. This feature is available only at prominent betting sites, such as the ones we list above, who have multi maker features to make this even quicker. As already mentioned, the Multi Bet Maker at bet365, also known as a bet365 Same Game Multi, is an excellent option for anyone wanting to place accumulators on the same match.
The Unibet Same Game Multi isn't far behind. Again, simply make your selections on the same fixture, watch as the odds build the more you choose, and place your stake when you are happy with the number of 'legs' you have chosen.
Betting Site
Best Feature
Secure Link
T&Cs
bet365

Best Live Streaming

Visit Site

Geo restrictions apply. You must have a funded account or have placed a bet in the last 24 hours to access. Under Australian law, we are required to inform you that Live Streaming on bet365 is exempt from Parts 3 and 4 of the Broadcasting Services (Online Content Service Provider Rules) 2018. Gamble Responsibly. Call Gambler's Help; National Gambling Helpline: 1800 858 858 or visit www.gamblinghelponline.org.au 18+
Boxed Multi Bets
Most bookies allow you to create multi bets that don't require every selection to win. These are called boxed multi bets or round robins.
If you have a 4-legged multi, a bookmaker will automatically create 4 x 3-legged combinations, meaning that 3 out of 4 bets have to win for you to profit. The more legs you include, the greater number of combinations there can be. For example, six-legged multi that requires four winning bets will result in 15 x 4-legged multis.
Let's take AFL betting as an example. Here are your 4 bets:
Geelong wins against West Coast
Carlton wins against Brisbane
Gold Coast wins against Sydney
Melbourne wins against Richmond
Here is how your boxed multi-bet would look like:
bet no1, bet no2, bet no3
bet no2, bet no3, bet no4
bet no1, bet no3, bet no4
bet no1, bet no2, bet no4
As you can see, all possible outcomes are covered with these 4 x 3-legged multis. It means that you'll earn some profits even if one of the bets loses.
However, keep in mind that you have to place a separate stake for each of these 3-way multis, which makes it very pricy. If you place a $10 on a single 4-leg multi bet, it will cost you $40 to create a boxed multi.
Exotic Multi Bets
The bookmakers we list above offer a quick and easy way to create already prepared combinations of different multi bets. We list below the most popular exotic multis, but keep in mind that some bookmakers may call them differently.
Trixie – Consists of 4 multi bets on 3 events, and you need at least 2 winning singles.
3 x 2-way multis
1 x 3-way multi
Patent – Consists of 7 multi bets on 3 events, and you need just 1 winning single.
3 x single bets
3 x 2-way multis
1 x 3-way multi
Yankee – Consists of 11 multi bets on 4 events, and you need at least 2 winning singles.
6 x 2-way multis
4 x 3-way multis
1 x 4-way multi
Exotic multis are great because they provide at least some return even for a low number of winning bets. However, the minimum number of wins will only minimise your losses. You'll need to get more bets right to make a profit.
Note that there are even more exotic multis available at our top betting sites, but we only recommend those to experienced bookies. We list a few of the most interesting ones below:
The Lucky 15 (15 bets on 4 events and you need 1 winning single)
The Super Yankee (26 bets on 5 events and you need 2 winning singles)
The Lucky 31 (31 bets on 5 events and you need 1 winning single)
The Heinz (57 bets on 6 events and you need 2 winning singles)
The Lucky 63 (63 bets on 6 events, and you need 1 winning single)
The Super Heinz (120 bets on 7 events, and you need 2 winning singles)
The Goliath (247 bets on 8 events, and you need 2 winning singles)
Multi Bet Strategy
Multi bets can be hard to win because there are so many variables included. That's why we asked our betting experts to come up with a few hints and tips on how to get the most out of your multis. This is all general advice you can use in almost any situation.
Still look for value – Just because a team is odds-on for victory, doesn't necessarily make them a good bet for an acca. Adding short-priced selections together is great for an acca but only if it's the right game. Only include it in an acca if you think it looks a value price.
Limit the number of legs – Everything above three or four legs is a bigger risk. Try to find good bets that can go together in a treble or four-bet acca. The more legs the more likely one is to slip up.
Stick to what you know – It is hard enough to predict a number of winners without trying to do it with a sport you aren't familiar with. Stick to what you know when putting mult bets together.
Multi Bet Apps
All of our recommended multi bet bookies also have excellent multi bet betting apps included. This means you don't need to look anywhere else when it comes to placing accumulators on the move.
It is just as easy to place accas using the best betting apps in Australia as it is from a desktop site. The process is exactly the same and the odds won't be different.
Using your mobile device to perm upcoming odds is more and more popular and only takes a few minutes. It doesn't matter if you are putting together a traditional accumulator multi bet or a same game multi bet, you simply click on your selections and place your stake.
Multi Bet Pros and Cons
Like all wagers, multi bets also comes with some advantages and disadvantages that have to be considered.
These bets come with high risks but high rewards and can be a lot of fun for punters. That doesn't mean there aren't other elements to weigh up before putting your money on them.
Multi Bet Pros
Low stakes with high potential rewards

Interest over many events

You don't have to win all legs in some instances

Quick and easy to place

Combine multiple sports

One sport multi makers available

Lots of multi bet options such as trixies and patents
Multi Bet Cons
Very high risk and harder to win

Payout limits can apply

Number of bets can be limited

Margins are bigger for the bookie
Conclusion
Multi betting is a great way to boost winnings if you managed to get your wagers right. The best multi bet bookies in Australia off plenty of options to choose from, including excellent features like one game multi makers.
A bookie that makes multi betting quick and easy for punters is appealing. They can be a great addition to other bets due to the interest you get over many events for a much smaller stake.
Multi Betting FAQs