Betting Sites in Australia
Finding the best betting sites in Australia requires a lot of research and cross-comparisons. You can skip that part because we have done the homework for you! Here you can learn everything you need from a top bookie.
Scroll down for the full list of recommended Australian betting sites. We also cover which bookies are leading the way for sports markets, horse racing, live streaming, and betting apps.
Best Australian Betting Sites
All of the listed betting websites above are authorised to accept bets in Australia. If safety is your biggest concern, note that all the operators you'll find here are tested and reliable, licensed in Australia and have great safety records.
If some of the operators from our list of online bookmakers in Australia already grabbed your attention, feel free to check out their full, in-depth reviews. We also have a step-by-step guide on how to open a betting account later in this article.
Each of the recommended betting sites in Australia have their own perks, so if you're searching for something specific, try checking out our category winners below. We list the best betting site for horse racing, live streaming, mobile punting, and more.
Category Winners
Since every punter has their own specific needs, we have broken down our top list into several different categories. We focused only on one aspect when making the category rankings. The betting sites in Australia you see below may not be the very best overall but each is a market leader in a particular area.
Australian Betting Site Reviews
Here's a taster of our top 3 betting site reviews. These highlight key points of interest and the reasons we rate them so highly for Australian punters.
You can head straight to the bookie to sign up or check out the full review for more details first.
bet365 Review
Unibet Review
Palmerbet Review
Why Are These the Best?
Criteria for evaluating betting sites
These best betting sites in Australia didn't secure spots on our top list by accident. Our experts thoroughly tested every one of them and cross-compared the results to create the top lists you see above. These are just some of the most important factors we consider when evaluating Australian betting sites.
Betting Bonuses
Since the new regulations went through in 2019, Australian betting agencies aren't allowed to advertise any bonuses to unregistered customers. However, if you register an account, you'll see that there are still lots of betting promotions available, which include free bets, cashback, matched deposit bonuses, and so on.
Because of all that, we can't list any specific sports betting bonuses on this page. If you want to check out real-life Australian free bets, we suggest you register an account with one of the operators from our top list and visit their 'Promotions' page.
Which Betting Site Offers the Best Odds?
High odds are probably the first thing you should look for when picking your next betting site. All of our top-ranked operators offer solid prices but some are better than others.
Comparing the odds between different bookies is a quick-fire way of boosting any potential winnings. The example below highlights this.
Soccer Match Odds Comparison

| Team | bet365 | Unibet | PlayUp |
| --- | --- | --- | --- |
| Liverpool | 1.29 | 1.27 | 1.27 |
| Leicester | 8.5 | 9.5 | 8.4 |
| Draw | 6.0 | 6.3 | 5.9 |
| Overround | 105.95% | 105.14% | 107.59% |
As you can see, a $10 bet on Leicester with Unibet would return $95. However, a bet with PlayUp would only see a return of $84. Just by comparing odds you have just boosted potential winnings by $11.
Another plus point for Unibet in this example is their overround percentage. This indicates the margin a bookie works into the market so is a good indicator of the value on offer.
Betting with better value odds over a longer period of time will help you as a punter, which is why it matters which bookie you choose.
With that in mind, we decided to highlight betting sites in Australia average payouts for some of our recommended choices. Since there are so many betting options available, this analysis is also divided by sports.
Greater betting odds will automatically mean more generous payouts, so you should always go with a better-paying betting site. Keep in mind that these figures are taken from a sample size of events, which implies that there can be some deviations in the future.
Average Odds Payout Percentage by Sport

| | |
| --- | --- |
| Bet365 | AFL – 95.7% NRL – 93% NBA – 93.9% EPL – 92.5% |
| Unibet | AFL – 93.9% NRL – 95% NBA – 89.9% EPL – 91.7% |

| | |
| --- | --- |
| BlueBet | AFL – 95% NRL – 96.1% NBA – 90.8% EPL – 95.7% |
| Palmerbet | AFL – 92.9% NRL – 92.5% NBA – 91.8% EPL – 94.3% |
As you can see from the table above, different websites excel in different areas. Bet365 is the overall winner, but if you only want to bet on the AFL, Palmerbet is the best choice. But whatever sport you are interested in, from World Cup odds to Melbourne Cup markets, it pays to always compare odds to see where you will potentially get more for your money
Cash Out
Cash out is another useful feature to consider when looking to pick a top Australian betting site. It allows you to get your money back even before the bet is over. Of course, you'll get just a piece of potential winnings, so be very careful when using this option. Also, keep in mind that this is an advanced feature reserved only for the best Australian bookmakers.
Most punters like to use this feature when betting live, so they can quickly salvage at least some funds if a bet starts going sideways. In case you're new to online betting, we suggest you be extra cautious when using cash out.
Note – Cash out isn't always available. Betting sites can restrict cash out because of events of the field or technical issues, so always double-check if this feature is available.
Betting Markets
A great selection of markets allows you to uncover the best betting opportunity and hunt down the best value. That's why the available range of markets is one of the top factors we consider when ranking Australian betting websites.
Keep in mind that the number of markets can vary drastically depending on the sport. Top Australian betting agencies often have hundreds of options for the most popular leagues.
For example, the best football betting sites, such as bet365, usually offer over 150 different bets for EPL matches. The table below can help you identify where to go for more detailed coverage of your favourite sport.
Top Betting Sites Per Sport
On the other hand, only the basic match winner markets are available for most niche sports. Even though eSports betting, such CS:GO and LOL, are on the rise, betting sites in Australia still don't provide the same range of bets as for traditional sports. Even our top CS:GO betting websites only offer around 30 markets for popular events.
Top Sports Covered
The most popular sports covered by the best Australian betting sites are listed below. Click on them to go to our dedicated sports pages:
| | |
| --- | --- |
| Rugby League | Rugby Union |
| AFL | Cricket |
| Golf | Soccer |
| Tennis | Horse racing |
Horse Racing Betting
Horse racing is easily the most popular pastime among local punters. All Australian betting sites offer a plethora of markets and excellent racing coverage. It includes everything from major events, such as the Melbourne Cup, to smaller races from Chile and South Corea. Some operators even offer horse racing live streaming!
Since the sport is so widely popular around here, we cover the best Australian horse racing betting in a separate place, so check it out if you want to learn more about this subject. There we discuss everything you need to know before betting on horses, from top events to the most popular racing markets.
Soccer World Cup Betting
The best betting sites in Australia will also offer the best World Cup betting as well. The world turns its attention to this tournament every four years and a host of great betting odds follow.
The top bookies will offer competitive prices, a wide array of markets to choose from, tournament odds boosts and other promotions. Joining a top Aussie bookie ahead of the tournament will give you access to bet on all the group game fixtures as well as the usual outright winner and top goalscorer markets.
Mobile Betting Apps
Online betting has taken a sharp turn towards mobile over the past several years. If a bookie wants to come even close to any of our top lists, it has to have a notable mobile presence. The best online betting websites in Australia usually develop native apps for iOS and Android, which provide an even better mobile experience.
Leading operators are packed with extra features, such as live streaming and bet builders. All of that should be available for mobile punters as well, regardless of the platform they use. If a betting agency has a limited mobile offer or their app is difficult to navigate, it's safe to say that you're dealing with a second-class operator that you should avoid.
Here are a few more things you should focus on when choosing the best betting app.
Good Mobile Betting Sites
Works on all devices

Well optimised interface

Pages load quickly

Very secure

Live notifications

All desktop features available
Bad Mobile Betting Sites
Slow and buggy

Crashes a lot

Heavy on mobile data

Poor graphics
These are all things to consider before using any mobile app. But you may be wondering: What do the top betting apps look like in real life? One of our personal favourites, bet365, can be seen below!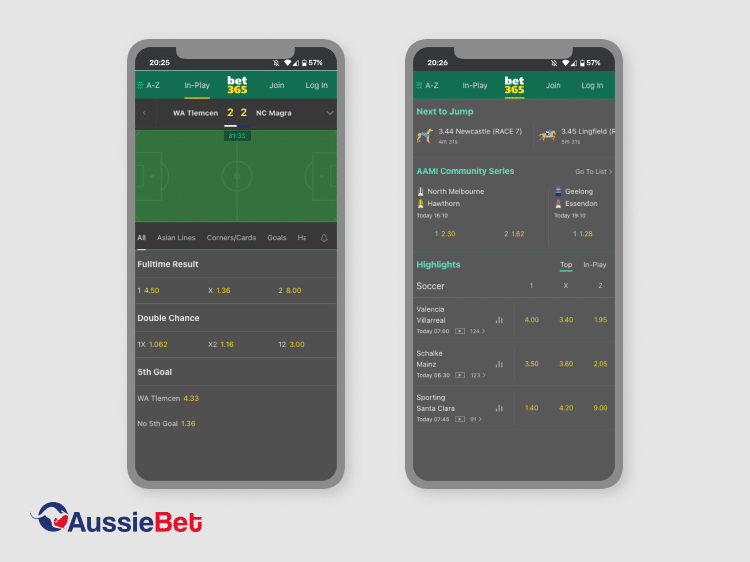 Live Betting
Live online betting has been through a lot. The Interactive Gambling Act of 2001 made it illegal for bookmakers from Australia to accept in-play bets over the internet. However, the government doesn't prohibit punters from placing live bets. So now operators display in-play betting odds on their sites and allow customers to place bets over the phone, which is 100% legal.
It may seem complicated at first, but you'll get the hang of it after a few tries. The great thing is that top Australian live betting sites, like bet365 and Unibet, have made this process much more convenient by using automation, meaning that you're always just three clicks away from placing an in-play bet.
Another option is to bet with Betfair. Because they are a betting exchange they aren't covered by those same rules, which means they are the only bookie where you can place live bets online, making them an excellent option if this is important to you.
Pros of Live Betting
Place bet after the game has started

Very exciting

Back up losing bets

More betting markets

Excellent for mobile betting
Cons of Live Betting
Higher volatility

Lower betting limits

Betting only over a phone
Live Streaming
Live streaming is one of the most advanced features reserved only for the best sports betting sites. It allows you to watch live sports or racing directly on their site and place bets simultaneously. Nowadays, the best online bookmakers are even offering an option to watch HD live streams directly on their mobile apps.
The best Australian bookmakers require you to have an active account, meaning that you have to place a bet or make a deposit to start streaming. However, keep in mind that, because of the broadcasting rights, not all of the top sports leagues and racing events are always available. This is another reason why you should stick with the best bookies since they usually have the most streams at their disposal.
We think bet365 leads the way in this regard due to the huge number of live streams they offer for many different sports. This combined with an excellent app makes watching sports you have bet on even easier.
Betting Site
Best Feature
Secure Link
T&Cs
bet365

Best Live Streaming

Visit Site

Geo restrictions apply. You must have a funded account or have placed a bet in the last 24 hours to access. Under Australian law, we are required to inform you that Live Streaming on bet365 is exempt from Parts 3 and 4 of the Broadcasting Services (Online Content Service Provider Rules) 2018. Gamble Responsibly. Call Gambler's Help; National Gambling Helpline: 1800 858 858 or visit www.gamblinghelponline.org.au 18+
Are Online Betting Sites Safe?
All the best Australian betting sites we feature on AussieBet are safe and secure. The most important thing to look for when joining any bookmaker is a betting license.
We highly recommend avoiding operators that don't hold an official license from one of Australia's regulatory bodies. These sites aren't reliable, so you can't be sure that your sensitive data will be safe with them.
Here are a few points that can tell you whether a betting site is reliable or not. If an operator doesn't tick even one of the boxes below, you should probably go with some other Australian sports betting site.
Aussie License is a Sign of Trust
The fact a bookie holds a license with one of Australia's states means they can be trusted much more than those that don't. They are held accountable for their actions and regularly scrutinised. They must meet a set criteria around standards of safety, support and customer service to be able to keep their license.
All of the bookies on our recommended list of the best Australian betting sites hold licenses that make them trustworthy. Punters also know they have somewhere to go should they not get the fair service they demand. Here is a list of the licenses held by our top-rated Aussie bookies:
Australian Betting Site Licenses
| | |
| --- | --- |
| bet365 | Northern Territory License |
| Unibet | Northern Territory License |
| BlueBet | New South Wales License |
| PlayUp | Northern Territory License |
| Palmerbet | New South Wales License |
| Picklebet | Northern Territory License |
| Draftstars | Northern Territory License |
What Makes Great Betting Sites in Australia?
Odds and markets are the most important parts of any betting site, but additional features are what make a betting website stand out from the crowd. The leading operators are packed with extra features, such as live streaming, bet builders, etc. They can greatly improve the online betting experience, so we always praise operators who invest in excellent products.
However, having a straightforward platform is also very important. It's not your fault if you can't find what you're searching for. It just means that the website is poorly designed. The best betting websites in Australia have lots of additional features and, at the same time, are effortless to use.
Take a look at our brief list of how to find the best platforms.

What Else to Consider
Other factors to consider
There are so many more other things to consider when choosing the best bookie online, apart from betting odds, markets and user-friendliness of the site. For now, let's focus on additional features, such as live betting and live streaming. If you're especially interested in a particular area, use the links above to jump straight to that part of the article.
Consider New Betting Sites
With the latest wave of regulatory changes, the Australian market became much less attractive for new operators. Then again, existing operators are starting up new brands with hopes that they will make a change and steal away a chunk of the current market share. That is a great thing for punters since new sites usually try to offer exciting features and competitive odds.
However, some new bookmakers can be shady and unreliable. That's why it's exceptionally important to always check whether the betting site is licensed by the Gambling and Racing Commission. Every new betting site featured here is 100% safe, so you don't have to worry about being scammed.
PlayUp is our pick for the best new betting site in Australia, so be sure to give it a look. If you want to learn more about new Australian betting sites, take a look at our dedicated page where we cover this subject in much greater detail.
The Best New Betting Site

| | |
| --- | --- |
| Name | PlayUp |
| Launch date | 2019 |
| Speciality | Horse racing |

| | |
| --- | --- |
| Live betting | Yes |
| Support | 24/7 |
| Native apps | For iOS and Android |
Betting Exchange
Exchange betting is a special way of racing or sports wagering where you bet against fellow punters instead of a bookie. The operator just charges a transaction fee of around 5%, which means that the betting odds are based on supply and demand. This is why betting exchanges almost always offer higher odds than a traditional betting agency.
At the time of writing, the only betting exchange available in Australia is Betfair. Luckily, they are the world's leading site of this kind. It means that Aussies can enjoy all of the top exchange betting features, even though there aren't many options to choose from. On top of it all, Betfair also offers some other excellent products, such as racing live streaming on desktop and mobile.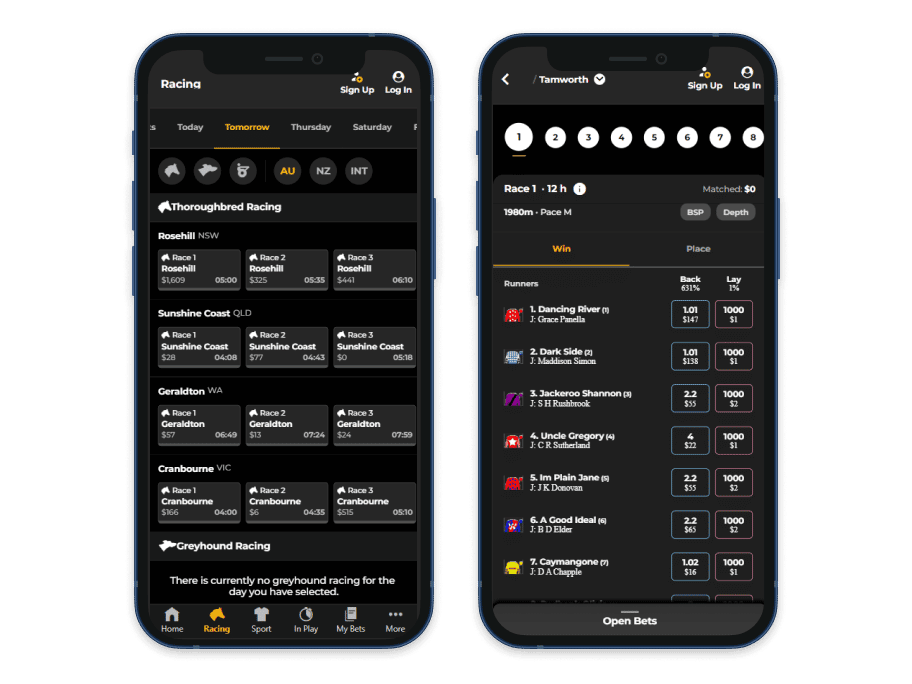 Consider Payment Options
The selection of betting site payment options can be a deal-breaker for many Australian punters, so we pay close attention to it when reviewing online betting sites. Every operator accepts credit/debit cards and bank transfer, but only the best ones include more than a few additional options. The most popular banking methods at an Australian betting agency are POLi and BPAY. On top of that, some of the best bookmakers in Australia even accept PayPal, Apple Pay and Paysafecard.
The great thing is that Australian online bookmakers don't charge extra for deposits and withdrawals. However, payment operators may impose their own fees. The table below lists all of the payment methods that Australian punters can expect to see. Plus, their fees, average withdrawal times, and transaction limits.
PayPal is easily the best payment method for online gambling. It's safe, simple, and you can use it for both deposits and withdrawals. However, the catch is that only a handful of top bet sites accept PayPal.
POLi and BPAY are two other options you can't go wrong with. They are Australian payment options, so most operators around here accept them. Just bear in mind that they can only be used for deposits, so you'll need to make your withdrawals via bank transfer.
Betting Sites with Instant Withdrawal
Getting your winnings quickly from a bookie can also be a big reason for picking one over another. There aren't many options when it comes to instant withdrawal betting sites but some are much faster than others.
Comparing different payment options as well as deposit or payment method withdrawal times could prove to be a deciding factor. We like bet365 when it comes to betting sites with fast withdrawal. The fact they offer Apple Pay and have the option of the bet365 Mastercard means they have some very quick withdrawal methods compared to the competition at this time.
Customer Support
Having great customer support is a clear indicator that you're dealing with a reliable betting site that cares about its customers. Top betting agencies offer live chat support because it's the fastest and easiest way for punters to solve their problems.
Customer Service
| | |
| --- | --- |
| Live Chat | 24/7 |
| Email | Respond within 24 hours |
| Phone | Also available on weekends |
| Social Network | At least 2 channels |
| FAQs | Detailed & filterable |
| Separate Help Section | Added bonus |
| Best Customer Support | |
Nobody likes to wait in line, so quick response time is a must. Most of the betting agencies from our top list answer within just a few minutes when contacted via live chat.
If you'd rather talk to an agent directly, some sports betting sites offer an option to give them a call. However, only a handful of the best bookies in Australia have phone support available. The other alternative is to contact customer support via email, but in that case, expect to wait up to 24 hours for an answer.
How Do I Start Playing at Australian Betting Sites?
If you're just starting out with Australian online bookmakers, this section is an essential read. Here we'll provide more details about the overall experience and how to place bets at online sports betting sites. If you want to learn more about online betting in Australia in general, we suggest visiting our dedicated page.
How to Open an Account
If this is your first time creating a betting account, take a look at our step-by-step guide below. This process may be slightly different depending on the betting sites, but for the most part, it's all pretty much the same.
1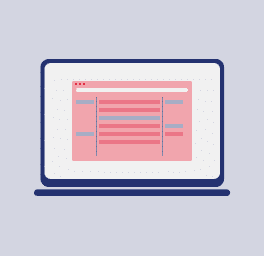 Step 1
Visit one of our top betting sites and click the 'Register' button
2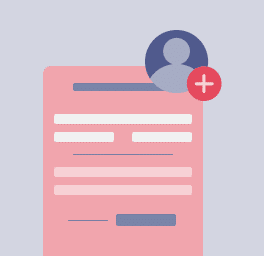 Step 2
Complete the registration form
3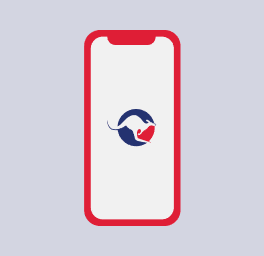 Step 3
They may send you a code to confirm your phone number
4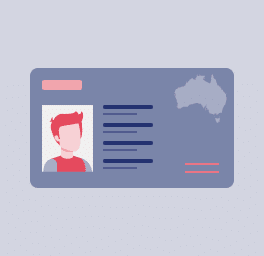 Step 4
Verify your identity by sending a copy of a personal document
What Bets to Place
Every successful bettor knows how to take advantage of multiple bet types. Each bet type has its own perks and drawbacks. You'll significantly increase your chances of making a profit by learning when and how to use each of them.
We explain some of the most common bets down below. Each of the sites listed above accepts all these bet types, so all you need to do is learn how they work and then utilise them in the best possible way.
Single bets – This is the simplest bet there is, which makes it great for beginners. In this case, you bet only one thing to happen on a single sports game or race. For example, you can bet that Australia will triumph over New Zealand in a Bledisloe Cup game.
Multibets – A multibet contains two or more single bets, where each of them has to pass for you to score a winning ticket. This is a high risk, high reward type of betting we only recommend to the more experienced punters.
System bets – They are very similar to multibets, just in this case, not all legs have to win for you to get a reward. For example, if you place a 12/13 system bet, it means that 12 out of 13 single bets you have on your ticket have to pass for you to profit.
Expert Betting Tips
Coming up with winning bets over and over again requires a bit of luck and a lot of skill. That's why we asked our experts for several tips to help you maximise your experience with betting sites. It doesn't mean you'll always win if you follow the advice below. But these tips can help you to avoid rookie mistakes and focus your bankroll on high-value bets.
Are Betting Sites in Australia Legal?
Online betting is 100% legal in Australia, but the new Betting and Racing Act was a cold shower for Australian online bookmakers. It shook the ground to such an extent that they had to completely rethink their core business models.
The most recent changes directly affected how betting can be promoted and advertised. Betting websites in Australia are no longer allowed to display bonuses to unregistered customers. Once you've registered and verified an account, you can see all of the betting promotions and bonus offers.
These laws extend to Aussiebet as well, meaning that we can't show any actual bonuses. Because of that, you'll need to explore promotions on your own. Just register an account and head out to the 'Promotions' page to check out all available betting specials.

Betting Sites Pros and Cons
Betting online is much more convenient than placing bets in person. However, using the best betting sites in Australia has its own pros and cons. We'll try to list all of the most important factors below, so you can decide whether this kind of wagering is for you.
Pros of Online Betting Sites
Very convenient

Suitable for all budgets

Wide range of betting options

Watch live sports or racing on betting sites

Very secure

Complete privacy

The quickest way to place a bet

No travel expenses
Cons of Online Betting Sites
Risk of shady operators

No personal interaction

Transaction fees

Withdrawal waiting times
Final Thoughts
The best betting sites in Australia immediately stand out with their advanced features and, of course, the presence of reliable betting licenses. Top betting agencies are 100% secure and offer high odds and excellent racing and sports coverage. On top of that, they have great mobile apps for both iOS and Android devices.
You can easily find the best betting site for you by checking out our recommended list of online bookmakers in Australia and by following the instructions on this page. Make sure that an online bookie offers the payment methods you need, as well as reliable customer support. If everything we mentioned is in place, you'll almost certainly have an excellent online betting experience.
Betting Sites in Australia - FAQs