Draftstars Review – Fantasy Sports Covered
Draftstars is one of the most popular fantasy sports sites in Australia and my personal favourite. I have enjoyed various DFS leagues with Draftstars for many years now. Their user-friendly interface and a fantastic selection of sports made this love at first sight.
Jump straight to: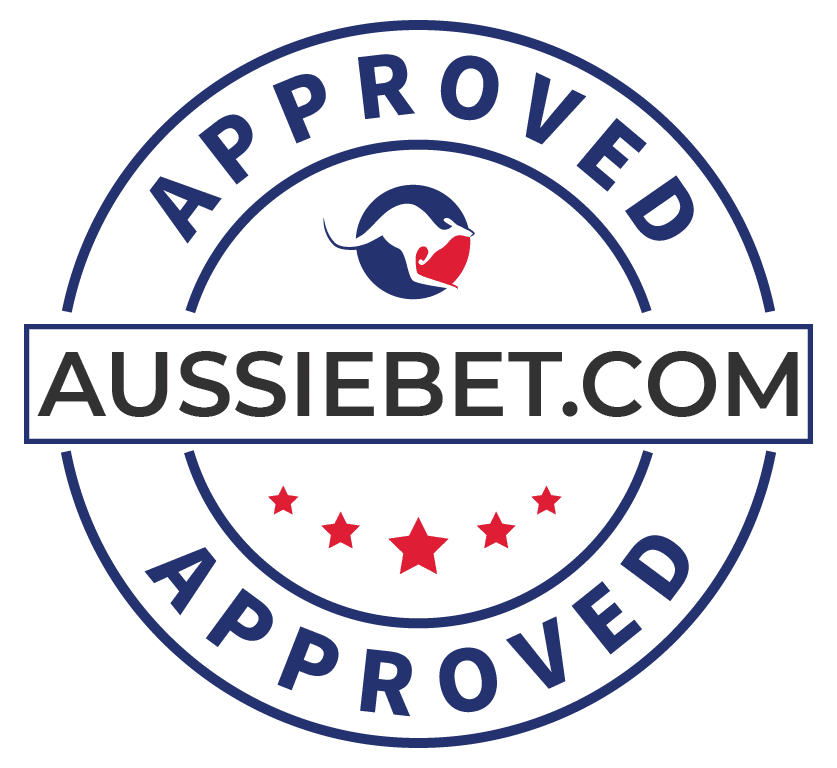 In this Draftstars review, I will reveal everything you should know before joining them. After reading, you'll be able to make an informed decision about whether Draftstars is the place for you.
The Pros of Draftstars
Daily fantasy leagues on matches in NRL, AFL, EPL, NBA, NFL & NHL

Huge prize pools

Native apps for iOS and Android

Many different fantasy league types
The Cons of Draftstars
Limited options for deposits and withdrawals

Email only support
Draftstars Overview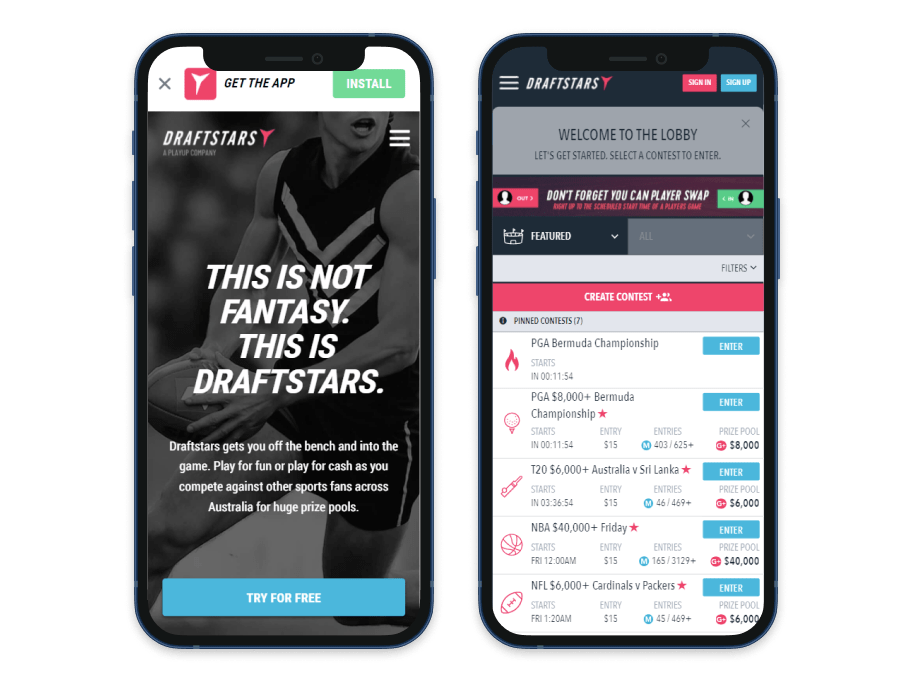 Fantasy sports betting gained enormous popularity in the last several years. It became a thing in the US first, and then in 2016, Draftstars brought DFS betting to Australia. Local punters, including myself, instantly loved it. Later on, the company was acquired by PlayUp, which is one of the global leaders in fantasy sports. Draftstars is since then got the industry-leading DraftDay software that guarantees the best possible daily fantasy sports experience.
Draftstars is still a 100% Australian company, meaning that they know exactly how to keep punters like us happy. There have been other platforms that tried to do this before, like SuperCoach for NRL or AFL, but those required a full-season commitment. Draftstars Australia made it possible to enjoy fantasy competitions based on a single game or series of games.
The integration of local sports and leagues is one of their best features and the main reason why it is one of the best Australian betting agencies on offer. They didn't just copy what bookies in the US did. Instead, Draftstars took their model and applied it to the Australian market. They are approved betting partners of the NRL and AFL, Draftstars covers most of Australia's favourite sports events. They also feature plenty of international sports, such as European soccer and the full range of US leagues, such as NBA or NFL, all of which are easily accessible from the excellent Draftstars lobby.
On top of all that, Draftstars has since started to offer racing as well. That wasn't the case before, so I was pleasantly surprised when I realised that now you can enter both horse and greyhounds racing fantasy leagues. They cover both Australian and international racing events, including all of the biggest tournaments. I'll explain how it works later in this Draftstars review, so keep on scrolling.
How Does Fantasy Sports Betting Work?
Fantasy sports still isn't a widely popular concept in Australia, so let's cover the basics of how it works. Don't be afraid if you're just a beginner. DFS is a fairly simple concept, so you'll quickly get the hang of it. It took me just several minutes to learn how it functions, and then a few hours of actual play to really get into it.
To start with fantasy betting, you'll first have to choose a sport and a fantasy league you want to compete in. You'll have to pay a certain amount to enter the league. There are many leagues available at different price points. Some of them have a $10 buy-in, while others go all the way up to $500, meaning that everyone can find something suitable. After that, you get a virtual salary cap and a chance to draft real-life players to your fantasy team before the leagues start.
When the competition begins, you earn points based on the real-life performance of the players you previously drafted. Everything they do on the field, such as goals or rebounds, is transferred into points.
Points are calculated differently for each sport. You can see how points are earned by looking at some of the scoring tables below. The winner of the league is the player who has the most points at the end. Draftstars Australia offers a few different types of fantasy leagues, which I get into below.
Types of Fantasy Leagues at Draftstars
When I compare Draftstars from 2016 and the one we have today, it seems like we're talking about two different companies. They have improved so much in that time. Now you'll find several great league types, which guarantees an almost endless amount of entertainment. My personal favourites are Rapidfire and Multi-Entry games. Take a closer look at the descriptions below and see which one seems to be the best fit for you.
These are game types on offer. Click on the link and jump straight to the detailed description.
Guaranteed Game
Draftstars guarantees a prize pool for these games, as long as there is a minimum number of contenders. For example, if there is a league with a maximum of 1000 available spots and Draftstars pay winnings to the top 100 contenders, the prize pool will stay the same even if there are only 300 spots filled. This is one of the most straightforward ways to get involved with fantasy sports betting, so I highly recommend it to beginners.
Multi-Entry Game
In these leagues, you can enter the contest more than once by drafting multiple teams. Of course, for each new team, you'll have to pay an additional entry fee. I love the Multi-Entry leagues because they let me cross-compare and experiment with different lineups.
Multiplier Game
Multipliers come in two variants – double up and triple up. With the double up leagues, the top 45% of contenders will get their stakes doubled. In triple up, only the top 30% of players get rewarded, but they win triple the entry fee.
Rapidfire
In a Rapidfire game, you have to pick one player or a horse in each of 5 matchups set by Draftstars. There are two modes available. With Rapidfire 3, you have to select 3/5 matchups correctly, which will earn you 1.8x your stake.
The other option is Rapidfire 5, where you have to get all 5 matchups right. But it also pays significantly more – 20x your entry fee. This is one of my favourite games because it's so quick and convenient. If you want to play a swift game on the go, Rapidfire is the mode for you.
Golf fans will especially love Rapidfire because there is a special option for golf tournaments. You can pick a player from a set matchup and enter the contest either based on their daily performance or general tournament ranking.
Target Game
Draftstars set a wanted score, and the players compete to reach the target. When the league is settled, the prize is split equally between all the players that have passed the threshold. I like this game as well since it doesn't force you to compete against other contenders. Instead of that, you only focus on reaching the set number of points.
Drop1 Contest
In these games, only the scores from the top 8 out of 9 players you have drafted will count towards the final result. In a situation where the bottom two players have the same score, one of them will be dropped.
How to Play at Draftstars
Now you know how Draftstars works in general and what kinds of games are available, you're ready to get involved in some real fantasy sports action! I have included a quick step-by-step guide in this Draftstars review to help you get started.
Draftstars Scoring
Since every sport is scored differently, Draftstars have separate rules on how real-life points are recalculated into fantasy points. I will dissect how it's done for a few of the most popular sports. In case you want to learn more details about Draftstars scoring, take a look at their site. If something is still unclear, I suggest you contact customer support. I've done this myself a number of times, so don't be afraid to ask!
If you're interested in a specific sport, just click the icon below.
AFL
When footy season is in full swing, this is one of the most popular fantasy sports events. With Draftstars, you can enter fantasy leagues for every single AFL match. You need to choose 9 players, 2 forwards, 3 midfielders, 2 defenders and a ruckman. Here's how AFL points are awarded at Draftstars:
Draftstars AFL Scoring

| Category | Points |
| --- | --- |
| Kick | 3 |
| Handball | 2 |
| Mark | 3 |
| Tackle | 4 |
| Free Kick | 1 |
| Free Kick Against | -3 |
| Hit Out | 1 |
| Goal | 6 |
| Behind | 1 |
NRL
Draftstars also covers almost every NRL clash. Select the event you like from the Draftstars lobby and draft 2 wingers/full backs, 1 centre, 1 half, 2 second row forwards, 1 hooker and 2 front-row forwards. Buy-ins usually range from $2 to $15 for the big prizes, while you can even play for free in some cases. This is how Draftstars divvy out points for fantasy NRL:
Draftstars NRL Scoring

| Category | Points |
| --- | --- |
| Try | 8 |
| Goal | 2 |
| Field Goal | 5 |
| Try Assist | 5 |
| Line Break | 4 |
| Line Break Assist | 2 |
| Tackle | 1 |
| Tackle Break | 3 |
| Missed Tackles | -2 |
| Offload | 2 |
| Run Meters Gained | 0.1 |
| Kick Meters Gained | 0.05 |
| Error | -2 |
Soccer
They have daily fantasy leagues for all the biggest EPL, UCL and A-League matches. You can enter tournaments for as little as $2, and there is even some 'Play For Fun' events you can join for free. You need to pick 8 players, including a keeper, 2 defenders, 2 midfielders and 2 forwards. Check out the scoring system below:
Draftstars EPL/UCL/A-League Scoring

| Category | Points |
| --- | --- |
| Goal | 8 |
| Assist | 4 |
| Shot on Goal | 1.5 |
| Shot | 0.5 |
| Accurate Cross (DEF, MID, FWD) | 0.5 |
| Tackle Won (DEF, MID, FWD) | 1 |
| Passes Intercepted (DEF, MID, FWD) | 1 |
| Accurate Pass | 0.05 |
| Fouls Drawn | 1 |
| Fouls Conceded | 0.5 |
| Yellow Card | -2 |
| Red Card | -5 |
| Penalty Kick Won | 4 |
| Penalty Kick Conceded | -2 |
| Penalty Kick Missed | -4 |
| Own Goal | -4 |
| Clean Sheet (DEF) | 3 |
| Clean Sheet (GK) | 5 |
| Saves (GK) | 2 |
| Penalty Kick Save (GK) | 5 |
| Win (GK) | 4 |
NFL
From the regular season, through the playoffs and the Super Bowl itself, Draftstars have leagues to suit all budgets. You have to choose 1 QB, 2 RBs, 2 WR, 1 Flex and a Team Defence. There is also a turbo version where you pick six players. The scoring is explained below.
Draftstars NFL Scoring
Offense
Defense/Special Teams
Category
Points
Category
Points
Rushing Yard
0.1
Sack
1
Receiving Yard
0.1
Opponent Fumble Recovery
2
Pass Yard
0.04
Safety
2
Reception
1
Interception
2
Rushing TD
6
Blocked Kick
2
Receiving TD
6
Two-Point Conversion/Extra Point Return
2
Passing TD
4
Interception Return TD
6
Interception Thrown
-1
Punt/Kickoff/FG Return TD
6
Two-Point Conversion - Rush/Receive/Pass
2
Blocked Punt/FG Return TD
6
Kickoff / Punt Return / Offensive Fumble Recovery TD
6
0 Points Allowed
10
Fumble Lost
-2
1-6 Points Allowed
7
/
/
7-13 Points Allowed
4
/
/
14-20 Points Allowed
1
/
/
21-27 Points Allowed
0
/
/
28-34 Points Allowed
-1
/
/
35+ Points Allowed
-4
NBA
If you are a fan of the NBA, you can enter daily fantasy sports leagues with Draftstars.com.au. Start some of the leagues for as little as $2 and compete for some of the big prizes. You need to select a team of 9 players. Each team consists of 2 Point Guards, 2 Shooting Guards, 2 Small Forwards, 2 Power Forwards and 1 centre. Fantasy NBA scoring is as follows:
Draftstars NBA Scoring

| Category | Points |
| --- | --- |
| Point Scored | 1 |
| Missed Field Goal | -0.25 |
| Missed Free Throw | -0.25 |
| Assist | 1.5 |
| Rebound | 1.25 |
| Turnover | -0.5 |
| Steal | 2 |
| Block | 2 |
| 3 Point Made Bonus | 1 |
| Double-Double | 2 |
| Triple-Double | 2 |
Cricket
You can draft daily fantasy teams for One Day, 20/20 and Test Cricket matches. I like cricket DFS leagues because they add excitement to watching a real match. You can get involved in the BBL as well as other major leagues and tournaments.
For the Big Bash League, you select 7 players, 4 batsmen and 3 bowlers. The scoring system is explained below.
Draftstars BBL T20 Scoring 1
Batting
Bowling
Category
Points
Category
Points
Run Scored
1
Wicket
20
Six Hit
2
Maiden Over
15
Duck
-10
Wide / No Ball
-1
50 Run Bonus
10
3 Wicket Bonus
10
100 Run Bonus
30
5 Wicket Bonus
30
Strike Rate Bonus >=130% to
0.25 for each run scored
Economy Rate Bonus
2 for each ball bowled
Strike Rate Bonus >160%
0.50 for each run scored
Economy Rate Bonus Economy Rate Bonus >5.5 to
1 for each ball bowled
Draftstars BBL T20 Scoring
Fielding
Category
Points
Catch
10
Runout
10
Stumped by Keeper
10
Horse Racing
Horse racing is a relatively new thing at Draftstars. It works in a way that you choose one horse from each leg of the contest, and then you score points based on the odds. They use official S-TAB dividends that are later converted into points. For example, if the winning horse pays a dividend of $12, you'll earn 12 points. The same goes if your horse places.
Note that the horse that wins will get both win and place points. You can also swipe horses any time before the race starts. You can also use the Racing Combo Calculator tool to get the most of your lineups.
Draftstars App – DFS on the Go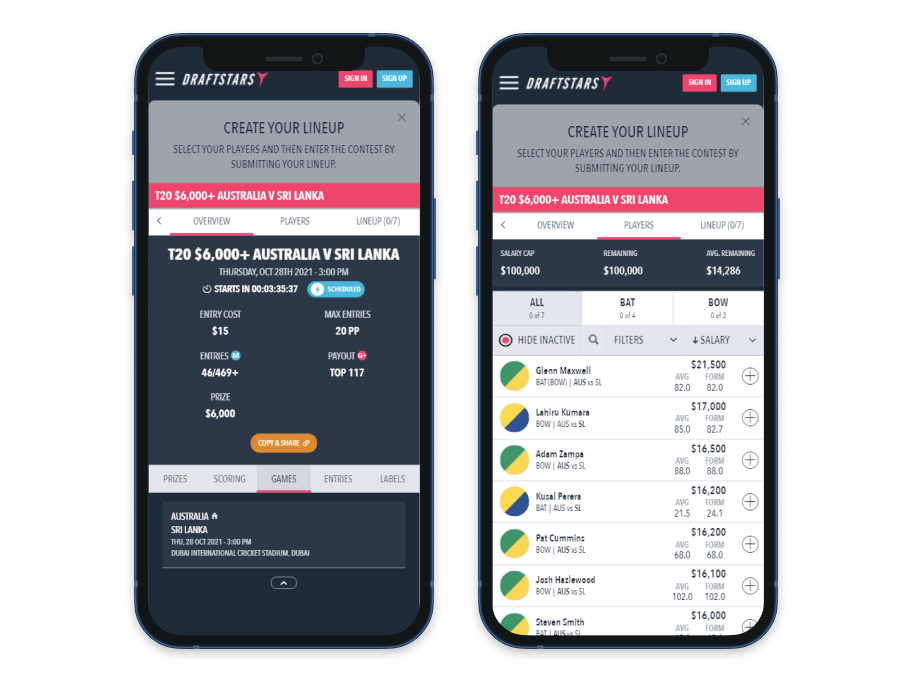 I loved the Draftstars app from the get-go. They just did everything right and it is a major factor that this bookie impressed as much as it did in this Draftstars review. I like to have it all as simple as possible when betting on the small screen, so I don't have to wander around and search for too long. You just need to enter the Draftstars lobby, choose a contest and that's it! They have all sorts of filters so you can find your fantasy league as quickly as possible. Also, there is a big red button to create a contest of your own and play with your friends.
If you need to access the 'Help' page or your account settings, click on the main menu in the top left corner. I like the fact that everything you need to start playing is right there on the start screen. You don't have to browse through long menus to enter a contest.
I used the Draftstars app for iOS numerous times, so I can claim from my own experience that it works as advertised. There are no glitches, and the pages load fairly quickly. I also tested the Draftstars Android app for some time. There weren't any problems, and from what I could see, it looks and feels pretty much the same as the iOS version.
The only real difference is that you'll have to get the Draftstars Android app directly from the site because Google doesn't allow betting apps on the Play Store. In case you want to learn more about any of the Draftstars mobile apps, take a look at our dedicated review.
Here is a quick guide on how to download the Draftstars Android app.
If you don't want to download any betting software, there is also an option to use Draftstars' mobile website. Just visit them via a mobile browser and enjoy all the same features as on the native apps.
Live Streaming – Not an Option
I wasn't surprised to learn that Drafstars doesn't offer sports or racing live streaming. It just doesn't feel like a natural part of their betting site, so I doubt that they will introduce live sports anytime soon.
In case you want to watch live streams and place bets at the same time, check out bet365. They have the best streaming platform in Australia that works perfectly on both desktop and mobile. Take a look at our bet365 review to learn more about this fantastic bookie.
Draftstars Bonus
There is a reason you can't see what betting bonus you will get by joining Draftstars. Aussie betting regulations prevent bookies from promoting their bonuses to potential customers.
Instead, you will discover your Draftstars bonus once you have registered. This is common with all Aussie bookies, which is why it is better to make your choice based on other factors.
Draftstars Blog
If you're new to fantasy sports betting or you just want to do your homework before entering the next content, Draftstars Blog is the great place where you can sharpen your sports knowledge. They add new posts fairly often and cover sports like AFL, NRL, NBA, BBL, NFL and so on. Don't worry, horse racing is there as well!
I personally don't think that design is too impressive, but the important thing is that everything is easy to use. My favourite part is the Draftstars Weekly Wrap, where they briefly go through all of the most important events from the world of sports. It's a great resource to always stay up to date, so I recommend giving it a go even if you're not a Draftstars Australia user.
Payment Methods
Payment methods are one of the rare areas where Draftstars Australia underperforms. You can deposit only using EFT, cards and POLi. Draftstars have a minimum deposit amount of $5 for those using POLi, which is less than some other bookies. I hope that they add at least a few other banking options since what they have now is barely acceptable. Adding just one or two e-wallets, like Skrill or PayPal, would make a world of difference.
You can only withdraw funds via cards and ETF. The withdrawal times are under 3 days, which is something I can live with. Also, don't forget to verify your account as soon as you register, since otherwise, they won't allow you to make any money transactions. Here is a quick overview of Draftstars' withdrawal times:
Draftstars Payment Options

| Payment Methods | Withdrawal Times |
| --- | --- |
| MasterCard | 1 - 3 Working Days |
| Visa | 1 - 3 Working Days |
| Bank EFT | 1 - 3 Working Days |
| POLi | N/A |
Here are the deposit and withdrawal limits in case you need them.
Max daily deposit – $1,000
Max weekly deposit – $5,000
Max monthly deposit – $10,000
Min withdrawal for Australia – $20
Min withdrawal for New Zealand – $100
Is Draftstars Australia Safe?
Since they are a part of a highly reliable betting company such as PlayUp, it's safe to say that Draftstars is safe and reliable. They hold a betting license issued by the Northern Territory Gaming Commission, which is the same as their parent company. Draftstars also has all of the usual safety features in place, such as SSL encryption. This means that you can be sure all of your sensitive data is safe with them.
Draftstars Company Info

| | |
| --- | --- |
| Name | PlayUp Interactive Pty Ltd |
| Launched in | 2016 |
| Headquarters | Sydney |

| | |
| --- | --- |
| CEO | Matt Sanders |
| ABN | 22 609 405 816 |
| Speciality | Fantasy NRL and AFL |
In case you think your gambling habits may be becoming problematic, note that there is the phone number of Gambling Help Online in the footer of every page. If you know someone who may need their assistance, don't hesitate to reach out.
Customer Support – Email Only
Customer support is probably the worst part of Draftstars Australia. They don't have live chat or phone support, so the only way to reach out to them is by sending an email. On the bright side, they say that the response time is up to 4 hours if you contact them within working hours from 7am to 11pm. This is a fantastic response time for email, but still far worse than any live chat I ever used.
Luckily, they have a pretty decent FAQs section, so you should be able to solve many of the smaller issues on your own. In any case, I hope that they will add a few more options here since email only supports just isn't good enough in this day and age.
Verdict – The Best DFS Site in Australia
I firmly believe that Draftstars is the best fantasy sports site in Australia. You can enjoy pretty much every single domestic and international league, as well as horse and greyhound racing. Draftstars offers a user-friendly website and a fantastic mobile app that runs smoothly on all devices. On top of that, they even feature lots of different types of games, with something to suit everyone's betting styles.
But, as I pointed out in this Draftstars review, there are a few downsides as well. In my opinion, the biggest one of them is the lack of ways to contact customer support. However, we can't deny that Draftstars' actual DFS products are as close to perfect as it gets. So, if you're looking to enjoy some daily fantasy sports, joining Draftstars is probably the best decision you can make.
Draftstars FAQs