Picklebet is a unique bookmaker specialised only for eSports. They are even offering eSports fantasy betting. However, you won't find any of the classic sports around here. That's why I believe that bet365 is still a better choice since they offer the same range of eSports plus everything else.
As a Picklebet customer, I had a chance to experience both the good and the bad sides of this bookmaker. In my Picklebet review, I'll cover everything from game selection to payment methods. So, if you're about to join, make sure to read my review first.
The Pros of Picklebet Review
Great selection of eSports

Daily fantasy eSports
The Cons of Picklebet Review
No live betting

No native mobile apps

eSports only
Picklebet Overview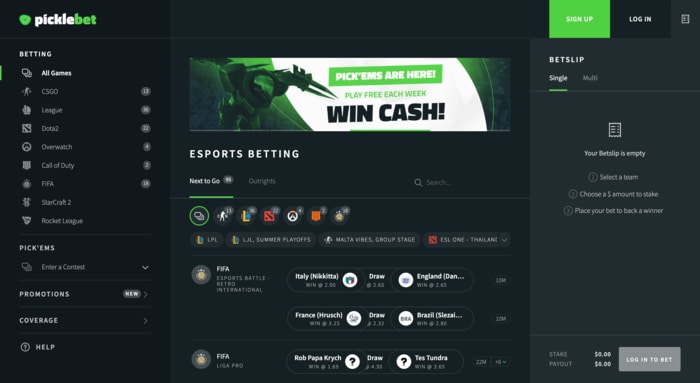 Even though sports and racing are still dominating the landscape, eSports are quickly catching up. I have been doing this business for a long time, and if someone told me 5 years ago that we'll have an eSports only bookmakers, I would take it with a huge grain of salt. But here we are. Picklebet looks and feels like any other top betting site from Australia. You probably won't even notice the difference before you realise that they don't offer horse racing or AFL. Instead, you'll find markets for all of the most popular video games, like CS:GO, Dota2, FIFA and so on.
Picklebet started not so long ago in 2017 as a result of the increasing popularity of eSports among Aussie punters. This bookie was first known as Skrilla, but they quickly changed the name to Picklebet. The initial idea was to implement their homemade cryptocurrency into the platform. However, after abandoning that idea, Picklebet focused on providing the best betting services in the eSports niche.
Another thing that sets them apart is the daily fantasy eSports offer. This is something you won't find and many other betting sites around here, so all of the eSports fans should be more than pleased. I was certainly impressed!
eSports Betting with Picklebet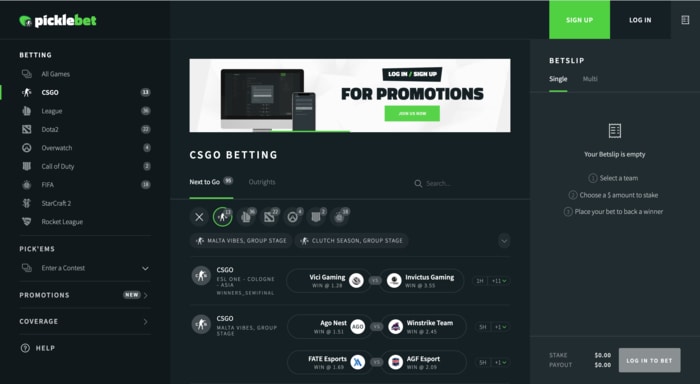 I like the design of Picklebet. It's a very simple-looking website that allows you to place bets with ease. As soon as you enter the site, you'll see the list of matches that are about to start. Next tab is reserved for outright bets, meaning that you have most of the offer right there on the home page.
If you already know what you want to bet, use the search option to locate the wager instantly. It won't even force you to reload the page. Instead, it will display search results almost immediately on the same page. I use this feature all the time, so don't miss to give it a look.
When it comes to the selection of eSports, Picklebet has everything hardcore fans could wish for. From most popular games like CS:GO and Dota2 to a bit more niche titles such as Rainbow Six and FIFA, this bookmaker has it all. These are some of the options on offer:
CS:GO
LOL
Dota2
Overwatch
Call of Duty
Rocket League
FIFA
StarCraft 2
Picklebet covers all of the specific eSports betting markets. Head to head bets are usually displayed in front. But if you expand the tab, you'll see many more markets available, including handicaps, total maps, spread bets and player props. The important thing to point out is that Picklebet is offering much more eSports events and markets than other top Aussie bookies, like bet365 or Unibet. This is another indicator of how serious they really are.
Odds Comparison
Picklebet came last in this test by a close margin, meaning that in this case, they have the least attractive odds. However, keep in mind that this is only based on one market, so don't be surprised if you see them come on top in some other situation. That's why I suggest you do a separate odds comparison test before each bet, just to be sure you're getting the best offer.
Picklebet eSports Odds Comparison

| CS:GO | Picklebet | Unibet | bet365 |
| --- | --- | --- | --- |
| Bravos Gaming | 1.91 | 2.00 | 2.00 |
| Detona Gaming | 1.71 | 1.75 | 1.72 |
| Overround | 110.8% | 107.1% | 108.1% |
Live Streaming – Watch on Twitch
Picklebet doesn't offer eSports live streaming on their own platform. Instead of that, they put quick links to Twitch streams right beside the betting markets. All you need to do is press the red 'Play' button, and the stream will start. Even though Picklebet doesn't have its own streams, I really liked what they did here.
This is a fantastic solution from the user-experience standpoint. You get to watch most of the matches with no strings attached. It supports screen inside a screen, meaning that you can watch a Twitch stream and browse the Picklebet site all in one tab. All of this works on the mobile as well, so feel free to watch some live eSports on the Picklebet app.
Live Betting
At the time of writing this review, Picklebet wasn't offering live betting. As a huge fan of in-play wagering, I think this is a big minus for Picklebet, especially if we know that many other top bookmakers are already offering in-play betting on eSports. For example, bet365 live betting offer is excellent and it includes a nice selection of popular eSports.
Picklebet support agents have reassured me a few times that they are working on their live betting platform, so we can expect to see this feature available very soon. I hope that will be the case since in-play betting has become a must-have for any bookie that wants to stay relevant in the long run. If Picklebet starts offering live eSports betting, you'll read about it first on Aussiebet.
Fantasy eSports with Picklebet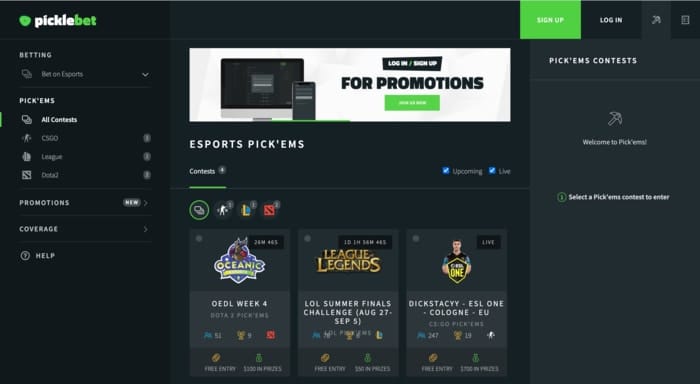 Fantasy sports are usually available only on the specialised betting sites, such as Draftstars. However, Picklebet has decided to go one step further. They offer a bunch of eSports fantasy leagues which you can enter for free. It all works the same as with fantasy betting on traditional sports. You enter a league, choose a rooster and follow the leaderboard.
There are plenty of different eSports to choose from, including all of the most popular ones, like LoL and CS:GO. This is still a pretty unorthodox way of betting on eSports, so there wouldn't be tens of fantasy leagues available at all times. In most cases, you'll have to choose between 3 or 4 contests.
This is how you can start with eSports fantasy betting at Picklebet:
Note that there are two types of fantasy contest – paid and free to play. Paid tournaments are available only for US-based punters, meaning that Aussie punters can enter only the free to play leagues. This doesn't mean that you can't compete from real money prizes. It only implies that there will be a bit fewer tournaments to choose from. Regardless of that, I still believe that Picklebet fantasy sports platform is very good. Not many bookmakers are offering this kind of services, which makes Picklebet unique in this area.
Picklebet App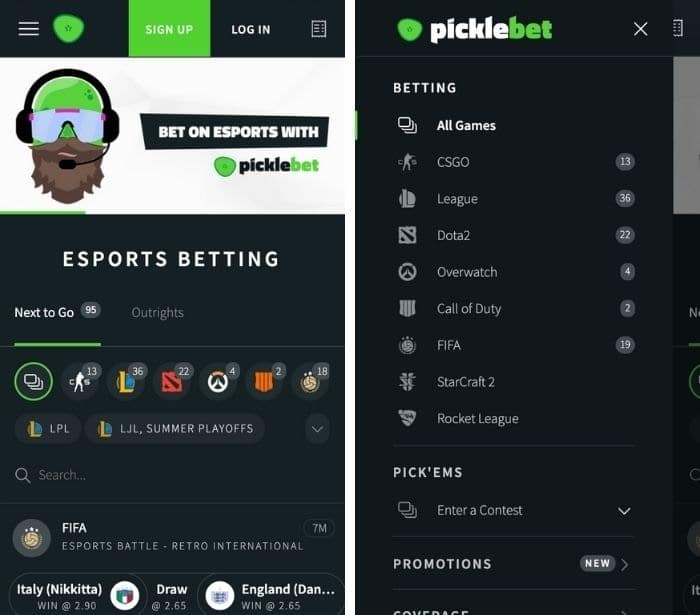 If you are a fan of mobile betting as much as I am, use your mobile browser to enter Picklebet site, and enjoy all the features from the desktop site. Their mobile website is very smooth and easy to use, so I didn't have any issues whatsoever.
When you enter the web-app, you'll first see the list of upcoming events, as well as the option to quickly switch to the list of outright odds. For the full selection of eSports and fantasy leagues, click on the main menu in the upper left corner. This is basically all you need to know about the Picklebet app. It's that simple!
The biggest downside here is the lack of native apps. The web-based app is very good, so my user-experience wasn't too affected when betting on mobile. But still, not having native apps is a major disadvantage in today's world.
If having native iOS or Android betting apps is a must-have for you, Picklebet is a bookie you should avoid. In that case, try visiting Unibet. They are known for having top-notch mobile apps for all platforms. To learn more about what they have on offer, try reading our impressions of Unibet mobile apps. You can also check some of these top mobile bookmakers.
Bookmakers With Best Native Apps

| | | |
| --- | --- | --- |
| | | |
Payment Methods
Picklebet doesn't offer a whole lot when it comes to payment methods. You can deposit only via credit/debit cards or POLi, while withdrawals are available via cards and bank EFT. On the bright side, they do offer Skrill to customers from other countries, so I hope they'll bring it to Australia as well.
Another positive is that withdrawals are quite swift. In most cases, you should receive the money within 2 working days. Keep in mind that all of the withdrawal request sent before 4 pm will be processed the same day, so cash out in time! Also don't forget to verify your account and cards as soon as you register, since they won't let you withdrawal otherwise.
Deposit methods: Credit/Debit Cards and POLi
Withdrawal methods: Bank EFT and Credit/Debit Cards
Customer Support
Picklebet customer support is excellent. They don't have a phone line, but you can quickly reach out to them via live chat. Agents usually reply within a few minutes, which is fantastic. The thing I hate the most is waiting too long for an answer. It just makes the situation even worse! Luckily, I haven't experienced that kind of issues at Picklebet. Plus, the agents are very friendly, so there is no need to feel uncomfortable about contacting them.
If you're more into written communication, send an email. You'll have to wait a bit more to get an answer, so I advise you to stick to the live chat whenever you can.
The other option is to take a look at Picklebet's FAQs page before reaching out. There is a nice selection of answered questions, which can be very useful for solving smaller issues. Just click on the 'Help' button in the lower-left corner, and they will redirect you either to the live chat or a relevant FAQ.
Is Picklebet Safe to Use?
The short answer is – yes. Even though they are among the newcomers to the Australian betting market, I consider Picklebet to be a very trustworthy operator. They hold a betting license issued by Australia's Northern Territory Government, which is the clear indicator that they are doing the things the right way.
Also note that Picklebet has all the latest safety features installed on their site, including 2048-bit encryption. Because of that, you can be sure that all of your sensitive data is 100% secured. We leave a lot of important information when betting online, like home address and card numbers, so I always try to make sure that bookies I recommend are as safe as possible.
In case you're experiencing gambling issues, feel free to use self-exclusion or some other given tools. The great thing is that Picklebet provides numbers and links to a few agencies that deal with problem gambling, such as Gambling Help Online. Visit the 'Responsible Gambling' page for more details.
Picklebet Company Info

| | |
| --- | --- |
| Name | Puntaa Pty Ltd |
| Founded in | 2017 |
| CEO | Nicholas Heaney |

| | |
| --- | --- |
| Headquarters | Darwin, NT |
| ABN | 56 601 575 240 |
| Speciality | eSports |
Verdict – eSports and Nothing Else
If you're into eSports, you'll love betting with Picklebet. They are offering all of the most popular games and a plethora of special markets. Everything is packed inside off a very user-friendly website, so even beginners can bet with ease.
However, there are few major downsides I can't avoid to mention, such as lack of live betting and mobile apps. The biggest issue is that in terms of eSports, they don't offer anything more than bet365 or Unibet have in place. That's why I think that you'll be better off with these sites since they have a far better overall betting offer.
Picklebet FAQs
Can I watch live streams on Picklebet site?
Picklebet doesn't offer live streaming over their own platform. But they do have quick links to Twitch streams, meaning that you can enjoy live eSports either way. For more info, check out the Picklebet live streaming part of our review.
What eSports are available for betting at Picklebet?
Picklebet covers all of the most popular eSports, such as League of Legends, Dota2 and CS:GO. However, they do have several less popular games on the menu as well. Check out the review above for the full list.
How can I contact Picklebet?
You can get in touch with Picklebet support agents via live chat or email. Just click on the 'Help' button, and you'll see the live chat pop up. For more info about Picklebet customer support, take a look at our review.
Is fantasy eSports betting available at Picklebet?
Yes, it is. Picklebet is offering several eSports fantasy leagues on their site. However, note that Australian punters can join only free to play fantasy leagues. If you want to learn more about fantasy eSports at Picklebet, take a look at the review above.
---
User Reviews
No reviews yet
---