Betfair Review – Key to Live Betting Online in Australia
For those in search of a different betting experience, Betfair offers something totally unique to Australian punters. They are the only betting exchange in Australia, meaning you can lay and back bets against fellow punters and even place live bets online.
As a Betfair customer, I'm familiar with both the pros and the cons of this unique Aussie bookie. In this review, I'll talk you through everything you need to know to get the most out of signing up.
The only Betting Exchange in Australia

The Betfair Hub – Great source for Betting Tips, Guides and News

Place live bets online

High odds compared to some bookies

Great app
No live streaming

Could be more withdrawal options

Takes time to understand a new way of betting
Betfair Overview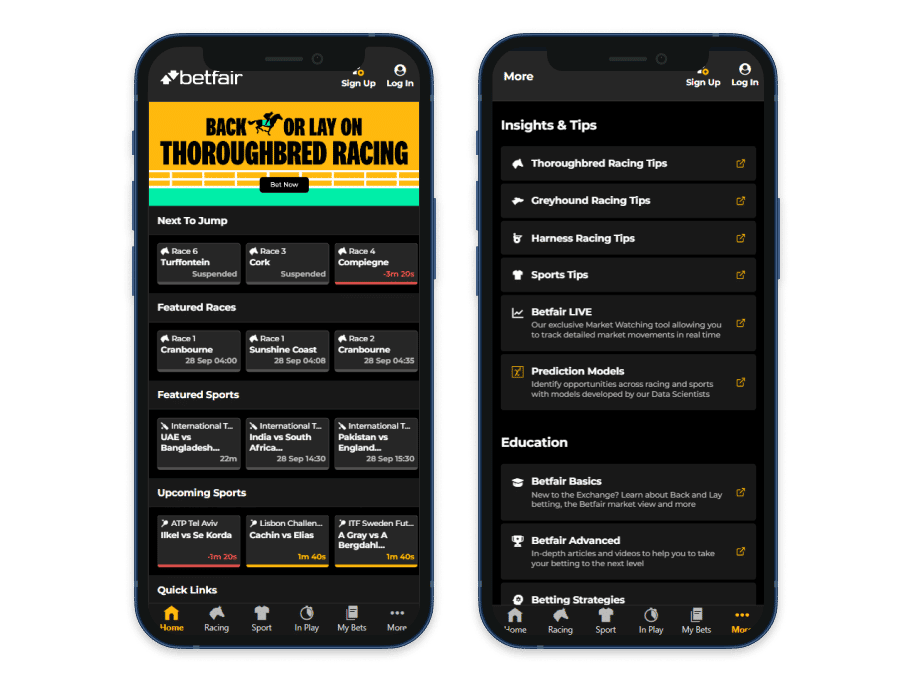 Betfair is a popular bookie that is enjoyed by punters across the world but it is its betting exchange that really sets it apart for Aussies and brings with it features that you can't find elsewhere.
Andrew Black and Edward Wray founded the company in 2000. It was an instant success, and just five years later, Betfair Australia was also founded. The company merged with Paddy Power in 2016 to create Flutter Entertainment and is now an approved betting partner of some of the biggest events in Aus, including the NRL, the Australian national cricket team, and Basketball Australia.
I recall that Betfair was a huge hit when they arrived in Australia. Even though online betting wasn't as popular back in the day, local punters quickly realised how fun it is to bet against each other and the extra value that could be had.
When it comes to the sheer quality of betting products, Betfair has always been among the best in the business. They do offer a completely different type of betting, but still, the way it's all organised tells me that I'm dealing with a premium bookmaker.
Betfair has lots of sport and racing events available for betting as you'd expect from one of the best Australian betting sites. Even if you want to bet on some lesser sport or an international horse race, this bookie usually has you covered. I particularly like the extra features they offer, such as:
Bet against other punters
In-play betting online
The Betfair Hub
We will cover all of these in even more detail below. First of all, let's explain exactly how this bookie works for those new to exchange betting.
How Does Betfair Work?
Since Betfair Australia is the only betting exchange around, I assume some of you aren't quite familiar with how things work here. That's why I believe it would be useful to explain the basics before we move on. In case you know how Betfair Exchange works, feel free to skip this part and explore our sections on horse racing and sports markets, as well as the added features that help this bookie stand out.
Backing and Laying
The biggest difference with Betfair is that you can either 'back', which means to bet on your selection to win, as you would with other bookies, or 'lay', which means to bet on a selection to lose. In this case, you're not betting against the bookmaker but taking bets from other punters and so playing the role of a bookmaker. One group is betting on an outcome to happen, while the other is betting for it not to happen. Odds are formed based on demand and supply. Because of that, you'll usually get better odds than with classic bookies.
Trading on Betfair
Trading is another factor that makes Betfair so unique for Aussie punters. The ability to trade your bets opens the door to 'hedging', which means you can guarantee a profit on the same event if done correctly.
The shifting odds, as well as Betfair offering live betting online, means you can cover all outcomes. For example, before an Ashes cricket match, you may lay England to lose. However, a dominant first session for England could see the odds shift significantly in their favour. You could now back England to win and the draw and cover off all eventualities to guarantee a profit.
This can work the same with trading on horse racing. You may back a horse ante-post at a much larger price than it ends up on the day of the race. In this case, you could then lay the horse to ensure you come out with a profit on your overall wagers.
The key is being able to predict how the odds may shift and backing or laying at the best possible price for each outcome. Again, live betting offers even more chances to do this.
How to Use Betfair
Once you know those basics, it is quick and easy to start using Betfair online. From opening your account to placing your first exchange bet is simple to do. Let us talk you through the process with a simple step-by-step guide to joining:
1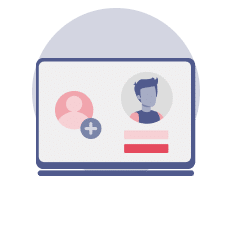 Register your new Betfair account
2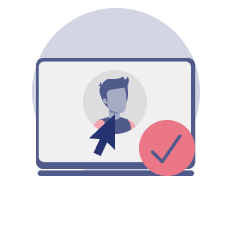 3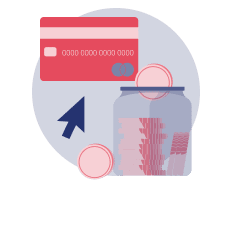 Fund your Betfair account
4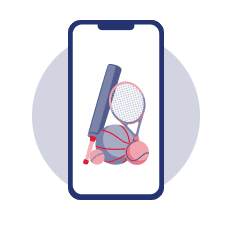 Download the Betfair app for betting on the go
5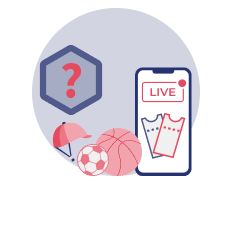 Search the markets to find the odds you want to bet on
6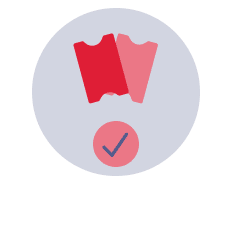 Enter your bet and confirm your stake
Betfair Commission
You must be wondering how Betfair Australia makes money then? Simple, they take around 5% commission on all winning bets. That's why they don't worry about the final outcome of the bets. All Betfair needs to do is focus on making its betting platform as convenient and easy to use as possible.
It's important to know that commission rates can change based on how much you use Betfair. Frequent bettors will see the level of commission decrease the more they use the exchange. However, this works both ways, with rates returning to a 5% base rate if your account hasn't been used for a while.
Betfair will make it clear the amount of commission you are paying and explain it all to you with each bet. So, for example, if you have just started betting and have no discount rate, you will pay the market base rate of 5%. This means you would pay £5 commission on a £100 net win.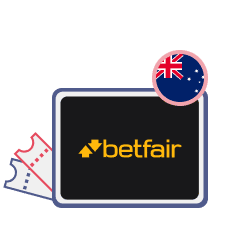 Join Betfair now to start trading on the Betfair exchange. Place 'back' and 'lay' bets against other punters and also enjoy the ability to place live bets online.
Visit
Betfair Horse Racing – Lay Bets on Horses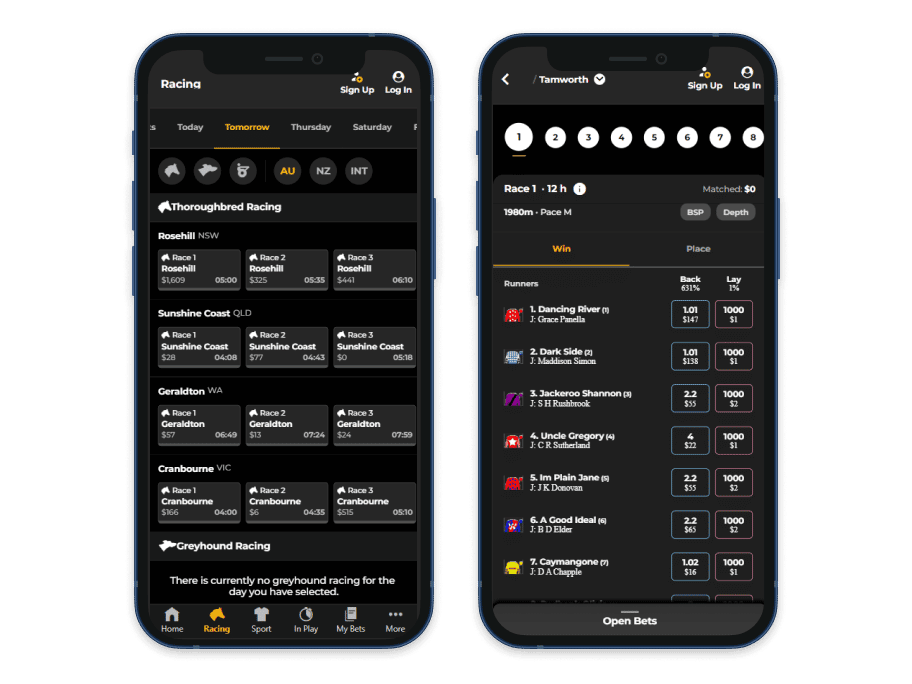 As I mentioned above, Betfair covers both Australian and international racing events. You can bet on races from the UK, the US, Ireland, New Zealand and many more. To see all available events click on the 'Horse Racing' tab in the main menu. Because the Betfair Exchange offers different kinds of bets than other operators, I like that they made it all as easy to follow as possible with the excellent option for you to set your chosen liability for each bet you take from other punters.
The main thing why I like betting on horses at Betfair sportsbook is the option to lay horses. In other words, you can bet on horses to lose. This is something you can't do at any other betting site in Australia. It opens up a whole new world of possibilities, so if you're into betting on horses, laying bets is something you should try. Betfair Australia also offers a range of usual bet types, such as win, place, each way, match betting and forecast. In case there is some more important event, they may introduce a few additional markets, like winning distance.
The lay bets aren't the only thing that makes Betfair horse racing offer completely unique. Here you can bet live on horses, which is also something you can't do anywhere else. I will explain everything about it in the in-play betting section below.
Sports Betting with Betfair Exchange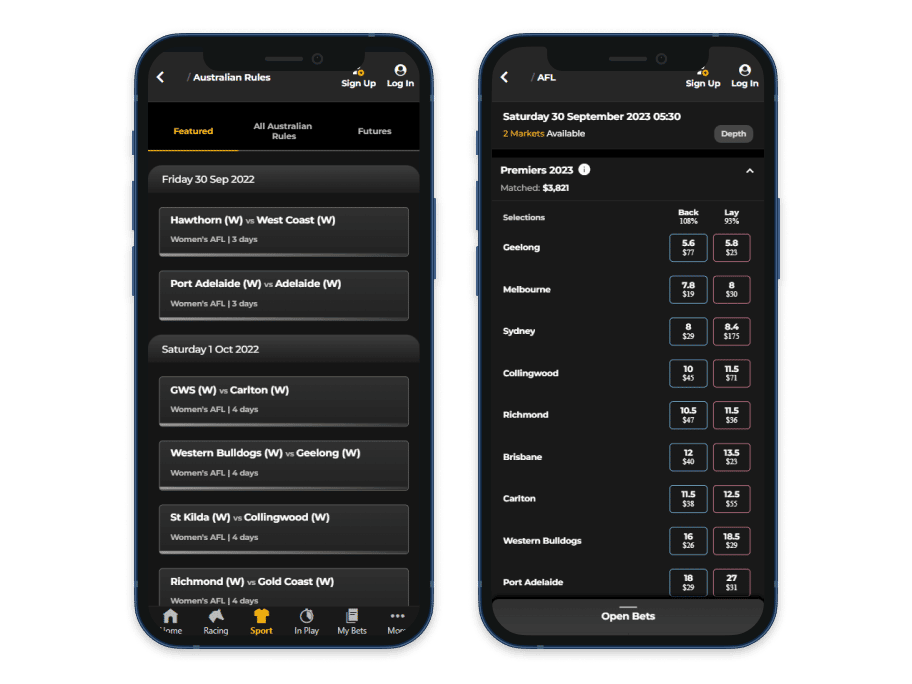 Betfair offers a good range of sports markets. The selection is extensive and, importantly, they cover all of the top Australian sports, including NRL, AFL and cricket, as well as a number of US leagues for good measure. There are also many other popular sports, like soccer, tennis and basketball catered for.
When you enter the site, you'll be presented with the selection of the best sports odds. Everything is neatly separated by sports, so you'll quickly find whatever you're looking for. Since I'm a huge fan of in-play betting, I liked that they have quick links to the live odds on the right side of the screen as well. In case you want to visit some of the individual sports pages, you'll find all the links on the left-hand side.
Same as with horse racing, you can lay bets on sports as well. I suggest you take a closer look at each market before betting and use the provided tool to calculate potential profit and liabilities. This is way more complicated than betting at classic bookmakers, so I don't recommend it to complete beginners but it will be rewarding once you take your time to get to grips with this method of wagering. Betfair offers plenty of guides with the Betfair Hub that will help you learn everything you need to start exchanging bets.
Betfair Exchange Offers Great Odds
When it comes to odds, Betfair is almost always one step ahead of other bookies in Australia. That's simply due to them having a different business model. While Aussie bookmakers usually have overround margins of 115% or 120% on horse racing markets, Betfair is rolling somewhere near 105% in most cases.
Even when you take out the 5% commission, they're still better than other Aussie bookmakers. Betfair's superb prices are actually one of the main reasons you should consider joining. Other punters could well be willing to take bets that normal bookies wouldn't think of doing, which opens up the possibility of you getting a better edge.
Place Live Bets Online with Betfair Australia
Betfair is definitely one of my favourite bookmakers for live betting. If you have any experience with in-play betting at Australian betting sites, then you know that due to the Interactive Gambling Law, bookmakers aren't allowed to accept live bets online. Instead, you have to do this over the phone.
However, because Betfair isn't a bookie, but rather a platform where people bet against each other, this ban doesn't apply to them completely. At Betfair, you can place live bets directly on the website, which is something unique to them.
The selection of live odds is also good. There are enough options to keep things interesting, but not as many as you would find at bet365 or Unibet. But having the ability to get your stake down without having to pick up the phone more than makes up for this.
The interface is very straightforward. Just click on the 'In-Play' tab, and you'll see all of the currently live games stacked one below the other. A small detail I especially like is that they show you which games are also showing live so you can watch them and bet at the same time.
Live Streaming
Betfair does not offer live streaming to Aussie customers. It means if live streaming is important to you then looking at bet365 or Unibet is probably the way the go.
However, the fact you can place live bets online, even without watching the action, is still something that sets this bookie apart. We will be sure to let you know if live streaming for Australian customers is something that is offered in the future. Until then, you could also consider one of the best live betting sites in Australia instead.
Betfair App – Android and iOS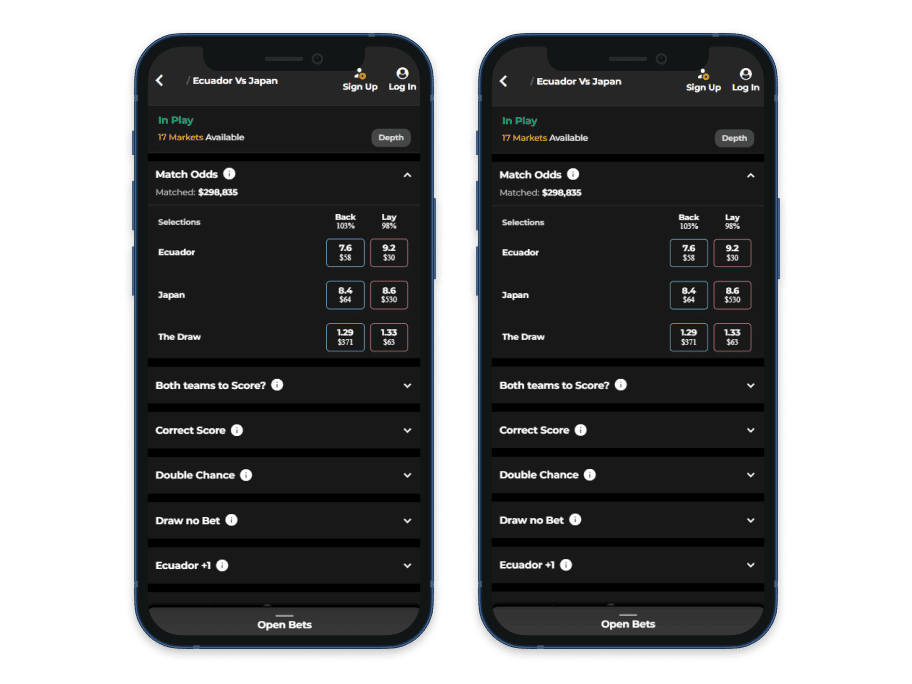 If you like betting on the go as much as I do, the Betfair app will serve you well. I remember several years ago when Betfair first released the mobile app. Even then, it had all the basics done right. But after the new release went live, I confidently say that this is one of the best betting apps on the market.
Betfair mobile brings all the excitement of exchange betting to your phone or tablet. It has every feature from the desktop site. You can see the full depth of markets, as well as price graphs and even favourite markets you saved on the desktop. The home page is reserved for quick links to all of the important pages.
I use the Betfair app for Android, and so far I haven't had any problems. For the sake of the review, I also tried the iOS app as well. They are both pretty much the same, meaning that regardless of the device you have, the Betfair mobile app will work equally well. The only real difference is that you'll have to download the Betfair app for Android directly from their site. If you want to know more about how to get the app, and why you have to download it from the site, take a look at our in-depth Betfair app review for more.
Those who don't like to download betting software can take advantage of the Betfair mobile website. Just visit Betfair using a mobile browser, log in with your account and enjoy all the same features as on desktop or native apps.
Betfair Hub – A Free Betting Academy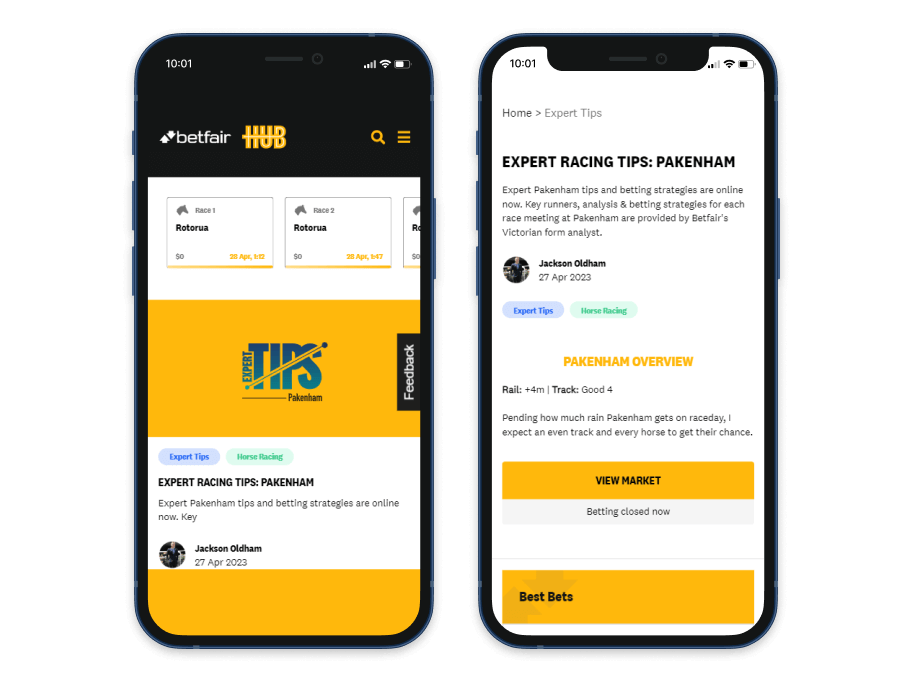 I love the fact that Betfair makes money out of fixed commissions, meaning that they genuinely want you to win your bets. One of the best ways to boost your chances of winning is to visit the Betfair Hub. It's essentially their blog where numerous industry experts share their thoughts about upcoming events and betting strategies.
Here you'll find lots of game and race previews and betting guides. However, they don't focus too heavily on the actual tips. Rather than that, Betfair Hub contains everything you'll need to make your own informed betting decisions. They cover all of the most popular sports, from racing and rugby to soccer and basketball. Even if there are no articles about your favourite sport, you can still learn a lot from the general betting guides. The Hub also covered key questions about how to use Betfair as well. It is one of the best bookmaker sports betting blogs on the market because of how they mix those tips and previews with exchange betting advice.
Great Range of Banking Methods
Betfair Exchange doesn't have the best selection of payment methods I have ever seen, but it should be good enough for most punters. On top of the usual Australian options, like POLi, BPAY, EFT and cards, you can also use PayPal, Skrill and Neteller.
On the other hand, you can also deposit via PayID and Osko. I personally haven't used these two before. In case you want to give them a try, note that Betfair is one of only a few bookmakers to have these methods.
You can withdraw funds only via bank transfer or e-wallets. Whenever I requested a withdrawal by bank transfer, money was in my account within 1 to 3 days. E-wallets should be a bit faster, with up to two days of waiting time. Still, that is a lot slower when compared with other top bookmakers which offer withdrawals in less than 12 hours.
| Payment Methods | Withdrawal Times |
| --- | --- |
| Bank EFT | 1 – 3 Working Days |
| PayPal | 1 – 2 Working Days |
| Neteller | 1 – 2 Working Days |
| Skrill | 1 – 2 Working Days |
| Visa | N/A |
| MasterCard | N/A |
| Pay ID | N/A |
| Osko | N/A |
| POLi | N/A |
| BPAY | N/A |
Account Verification
Don't forget to verify your account as soon as you register, since they won't let you deposit until you do so. The process is very straightforward. You recieve an email about how to do this and, again, the Betfair Hub can also help. This will involve send some personal details or documentation to varify your identity. Betfair has a very high security standard, so you don't have to worry about your personal data being misused.
How to verify Betfair account
When you register with Betfair, they attempt to verify your account electronically
Take a photo of your identification
Attach the photo to an email and send to [email protected]
Once your details are found to be correct, your account will be verified
If successful, you will be notified by email, usually within 24 hours
Safety at Betfair Australia
Betfair is one of the most popular bookmakers in the world, meaning that you can be confident they are trustworthy. On top of the usual safety features, such as 2048-bit encryption, Betfair is also licensed by the Northern Territory Government of Australia. As far as I could see, they have all the safety protocols in place.
They also have all the tools to help you not get lost while betting. If you think that you may lose control, try using 'Time Out', 'Self Exclusion' or set deposit and loss limits. I use these tools as well, so don't hesitate to give them a try. You can also contact some of the agencies that deal with problem gambling. For example, the link and the phone number of Gambling Help is in the footer or every page.

| | |
| --- | --- |
| Owner | Flutter Entertainment |
| Founded in | 2000 |
| CEO | Peter Jackson |
| Revenue | $393 million |
| Headquarters | UK and Malta |
| Type | Subsidiary |
Around the Clock Customer Support
Let's get the bad things out of the way first. Betfair doesn't have a direct live chat. I still believe that using a live chat is by far the most convenient method to quickly solve most problems. However, they do offer 24/7 automated support, which should be good enough for the most part. You can also send them an email, but from my personal experience, this will be a slower way to get things done.
On the positive side, they offer some great FAQ points and further advice at the Betfair Hub, including guidance videos on how to use a betting exchange. Overall, I believe that Betfair's customer support is very good.
Betfair Contact
How We Make Our Bookie Reviews
To give you a greater understanding of what we considered when compiling this Betfair review, we have listed some of the points. It is important that we compare similar bookie factors at AussieBet so that our reviews are as accurate as possible. Here are just a few things we take note of: 
Betting apps

Every good betting site also has an appealing betting app to go with it. Betting on the move is vital these days and a bookie that makes this quick and easy for their customers will always be looked upon favorably. All the bookies we recommend have impressive betting apps.

 

Licenses

Punters should feel safe and secure when betting online in Australia. At AussieBet, we only put forward those that are regulated and have a valid license from the Australia government. There are no unregulated bookies here. We will only assess the very best options for you.

Selection of markets

A wide choice of betting markets is a must for any bookie that wants to be recommended by us. When compiling this Betfair review, we checked that there were lots of markets for lots of different sports. The more choice a punter has, the more chance they have of spotting a good betting opportunity.

Value odds

As we have said many times before, bettors love nothing more than getting the best odds possible. It is never easy to pinpoint the bookie with the best odds because this will always vary. However, every bookie we recommend is known for have a good standard of betting odds on offer. This was no different with Betfair.

Payment methods

We always make sure to assess the payment options a bookie has available. Betfair was good in this regard but the more available the better. The best bookmakers will offer the likes of PayPal, POLi, Apple Pay, BPAY, MasterCard, and VISA.
Verdict – Best Betting Exchange
As you could see from my Betfair review, this bookmaker is unique in so many ways. Betfair Exchange is the only place in Australia where you can lay and back bets on both sports and racing. Because of this, they have very competitive odds that are often bigger than conventional sportsbooks.
Several great additional features, such as the Hub, gives customers even more to enjoy. The best point for me about Betfair Australia is the fact that it is the only place you can make live bets online instead of having to pick up the phone. This ability really is unique and something that clearly sets them apart from other betting sites.
Overall, I believe that Betfair is one of the best betting sites in Australia. If you are searching for value and don't mind trying a new way of online betting, then Betfair Australia is worth a visit.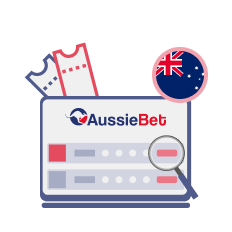 Betfair is the biggest and the best betting exchange in the world. If you want to learn more about what else this bookmaker has to offer, just click the button below.
Betfair Overview
Betfair Australia FAQs
Can I place live bets online with Betfair?
Yes, because you back against other punters it means in-play betting online is possible at Betfair, unlike other bookies in Australia. You don't need to pick up the phone to place live wagers.
Is Betfair legal in Australia?
Yes, Betfair Exchange is 100% legal in Australia. They hold the license from Northern Territory Government, meaning that you can legally lay or back bets at Betfair. If you want to learn more about Betfair, check out the review above.
How do I use Betfair?
You should first visit their site, register an account and make the first deposit. Betfair offers you an option to lay and back bets. It means that you bet against other punters whether some outcome will or will not happen. To learn more about how Betfair works, check out the review above.
Does Betfair have live streaming?
No, Betfair doesn't offer live streaming to Australian customers. Other bookies like bet365 and Unibet would be better in this regard. Betfair excels in other areas compared to competitors, such as their online live betting offering.