If you are fed up of betting the usual way, Betfair, the nation's first and only betting exchange, allows you to cut out the middle man and take on your fellow punters. Not only can you place bets to win, but you can also lay bets to lose.
This facility has revolutionised the way people bet around the world. If you take your betting seriously, then Betfair Australia is well worth checking out. This is our Betfair review, where we cover everything you need to know before placing a wager.
The Pros of Betfair
Allows punters to effectively become the bookie for a small commission fee of 5% on winnings. *

The only Betting Exchange in Australia

The Betfair Hub – Great source for Betting Tips, Guides and News

In-play Betting

Odds are usually a lot more generous than you will find with most Sportsbooks
The Cons of Betfair
The Hub doesn't have enough Exposure (some bettors never visit it)

No live streaming
*Commission rates may vary, see terms and conditions.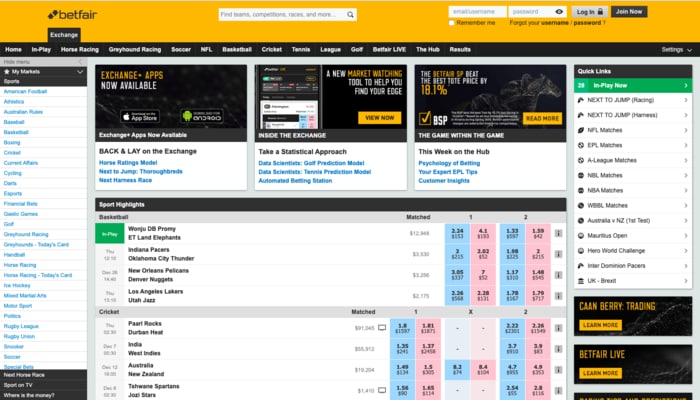 Betfair Australia Facts and Information
Betfair, the world's first and biggest betting exchange, was launched back in 2000 by Andrew Black and Edward Wray. The Australian version was launched in 2005 in collaboration with Crown Leisure with a Tasmanian License. They were eventually acquired by Crown Resorts, which also owns Crown Casinos in Melbourne and Perth.
Betfair Australia remains the only betting exchange in the country, and it allows punters to lay selections to lose, as well as backing to win. It facilitates the transaction and they make their money by charging a usual commission of 5% on all winning bets. Although some may be slightly intimidated by this different style of betting it is well worth persevering with, as the odds on offer often dwarf those available from conventional bookies.
Odds: Best Exchange in Australia
The big advantage that Betfair Australia holds over its market rivals are the generous odds available. They cover all of the biggest sports, including horse racing, AFL, NRL, cricket, tennis, greyhound racing and lots more. More often than not, the best odds available on any given event will be biggest on the their website.
Most bookmakers usually have an over round of between 104% and 108% on the majority of sports markets. To illustrate, here is an example of the difference between them and the rest. For the past NFL Superbowl, New England can be backed at 1.55 and Philadelphia at 2.8 with Betfair Exchange. That translates as an over round of just over 100%. With SportsBet that over round is over 104%, a significant difference. The margin is even bigger for horse racing.
As their distinct lack of promotions for existing customers show, they reliy heavily on the strength of their odds to attract punters. However, it is a massive positive to have the biggest odds around, as it maximises potential winnings. Even after the usual 5% commission is taken into account, the odds on Betfair Australia ensure you will usually win bigger than you would with any of their competitors.
The clean and easy to use desktop site!
Mobile App: Live Betting on Racing!
One of the key features that help Betfair Australia's web-app stand out from the crowd is the ability to place in running bets on horse racing online. This includes all Australian, (excluding Victorian jumps), New Zealand and selected international horse races. If you love to bet on The Melbourne Cup, you can do that with this operator. They also offer in-play odds on lots of other sports that you can avail of by picking up the phone.
No matter what device you are using, including iPhone/iPad, Android, Windows Phone or Blackberry, you can easily access the Betfair mobile app for Australian bettors. The new-look Web App was introduced in December 2016. Updated features include the ability to set a default stake, a faster odds refresh rate and an adjustable liquidity slider.
Betfair Inplay Australia: 132 238
Betfair Inplay NZ: 0800 567 002
A handy 'Search' function allows you to find your favoured bet with the minimum of effort. The new-look Betfair Australia Exchange Plus Web App is certainly a big improvement on their old offering. If you like to bet on the move, you will find all you need here.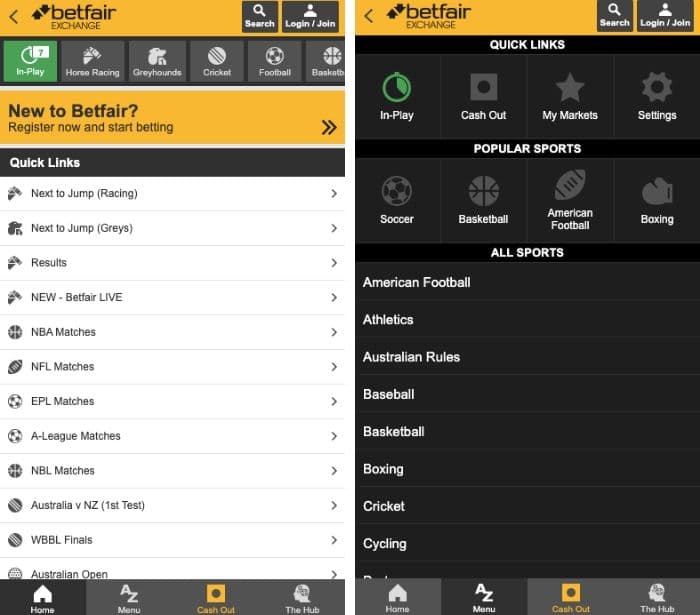 The Betfair Australia Mobile App includes in-play betting on racing!
Horse Racing Betting
Horse racing is a sport that Australians are passionate about. It is one of the most attended sports in the country every year, and it is also one of the most popular sports for betting on. Betfair horse racing product is all about the odds and the ability to lay horses to lose, and if you love value, then you will enjoy backing horses on the betting exchange.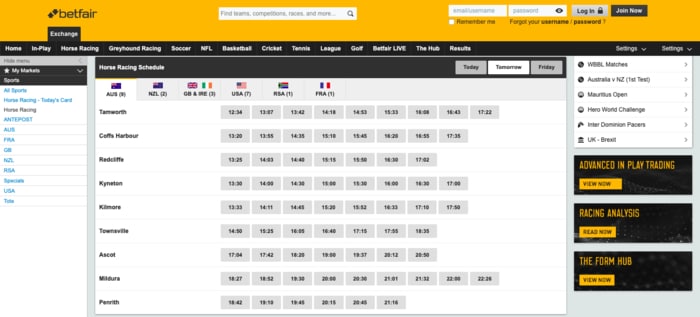 There are loads of ways to back horses with this operator, including win, place, each way, match betting and forecast/reverse forecast betting. If there is a strong favourite in the race, sometimes they form 'Without the fav' or 'winning distance' markets. Additionally, you can lay a horse to lose in most of the above markets, something that cannot be done with other bookmakers.
Although the ability to lay horses to lose is a massive attraction, the generous prices on offer are impossible to ignore. That's right, lay betting is a thing. The majority of mainstream bookmakers have an over round in the region of 109% to 116%, or even bigger sometimes, on horse racing.
As an example, in a six runner race held in the UK in a month, bet365 Australia had an over round of 110%, whereas Betfair Australia's was just 102%. Even after the usual 5% commission is deducted, it is clear to see that if you are looking for the best odds on horse racing, this is the place to find them.
It goes without saying that the Betfair website is great for Australian racing betting. After all, it's dedicated to entertaining customers from all of Australia, including New South Wales, the Northern Territory, Western Australia, South Australia and Victoria as the key areas.
Betfair Live Streaming
Unfortunately, at this present moment, Betfair Australia does not offer live video streaming on any sporting events. However, if you enjoy betting on UK horse racing, you can stream live radio commentary from Timeform via the Betfair Australia site. It isn't quite the same as watching live, but at least you can hear how your selection is running in real-time.
Betfair Hub
Unlike a lot of their industry rivals, Betfair Australia is not known for their promotions or bonuses for existing customers. However, while promotions may be thin on the ground for members, betting resources are not. When you decide to open an account with Betfair Exchange, you will gain access to 'The Hub', an area where you can find all the tools you need to help you find those winning bets.
The Hub is a section of the website that can be accessed via the main menu bar at the top of the home page. In the Betfair Hub, you will find a wealth of information and expert opinion on a variety of sports. These include tips for horse and greyhound racing, NRL, AFL, cricket, tennis, soccer, racing and USA sports.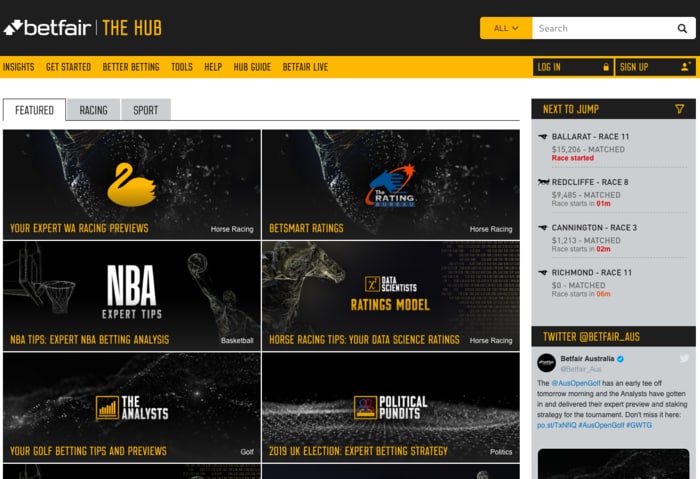 You will also find form guides, stats and sectional times for horse racing, as well as all the latest results from Australia and from around the world. The Hub also contains interesting articles that explore different areas of various sports, and all this extra info goes towards making you a better-informed punter. It's a great resource, and for many who choose Betfair Australia as their bookmaker, it is one of the main reasons why they made that decision.
We recommend not raising your hopes too high if you're looking for betting tips, as in predictions. In short, it's more of a "betting academy". The Hub sets this betting exchange aside from others like Unibet, bet365, TopBetta, Ladbrokes, BetStar and BetEasy among many, many other bookmakers.
Learn everything you need to know in the hub.
Betfair Deposit and Withdrawal Options
Betfair Payment Policy

Deposit Limit & Times

Withdrawals
Payment Method
Minimum Deposit
Time
Times and Limits
VISA
$10
Instant
N/A to Australian Customers*
MasterCard
$10
Instant
N/A to Australian Customers*
POLi
$5
Instant
N/a
BPAY
$5
1-3 Days
1-3 Days | No Minimum Limit
Bank Transfer
$5
1-3 Days
1-3 Days | Min $20**
NAB
$5
1-3 Days
1-3 Days | Min $20**
Credit Union Transfer
$5
1-5 Days
1-5 Days | Min $20**
Skrill
$15
Instant
24 Hours | No Minimum
NETELLER
$25
Instant
24 Hours | Min $5
* This only applies to all Australian and New Zealand currency credit cards. Other currencies may incur fees.
** NAB account holders depositing via internet banking may receive their funds within 1 hour if they have NAB SMS Security set up.
When making a decision on what betting company is best for you, banking facilities are always something that should be considered carefully. The ability to easily deposit or withdraw money improves the betting experience massively, and Betfair Exchange has plenty of options in this area.
Instant deposit methods:
Credit/debit card
POLi
Skrill
Neteller
Non-instant deposit methods:
BPAY
Bank transfer
Osko
PayID
Betfair cannot allow customers to withdraw money via their credit/debit cards. However, there are a number of different ways to extract your winnings. You can withdraw money via bank transfer or BPAY. Skrill and NETeller will also work of course.
Account Verification
Before your Betfair Account becomes fully active, you must first verify it. If you do not verify your account, you will be unable to withdraw funds. After 14 days if your account remains unverified, it will be suspended. There are two ways in which to verify your account, electronically or with official proof of identification.
Electronic Verification
When you open an account with Betfair Exchange, they attempt to verify your account electronically.
Most new accounts are verified in this manner.
If successful, you will be notified by email, usually within 24 hours of signing up.
Personal Identification
If electronic verification is unsuccessful, you will be notified by email
Take a photo of your Passport/Driving License/National ID card/Citizenship Certificate
Attach the photo to an email and send to [email protected]
Once your details are found to be correct, your account will be fully verified
Betfair Australia Limits and Payouts
When you bet with other Australian bookies, it is always a case of you vs the house. However, it is different here, as it is punter vs punter. In this case, the more you win, the more Betfair wins via commission, so it is no surprise that pay-out limits are thin on the ground.
The only limits on pay-outs imposed by Betfair Australia are on multiple exchange bets. This is the only way you can bet against the house, so Betfair has protected themselves. The maximum pay-out on exchange multiples is a cool $1 million. Apart from that restriction, you can win as much as you want.
Limits And Payouts
Maximum pay-out on Betting Exchange multiples is $1 million
Betfair Exchange Customer Support
No matter what business you are in, if you want success, you must provide prompt, polite and efficient customer service. This is a basic for any business, and Betfair Australia has two avenues through which you can get in touch, phone and email. You can also book a live demonstration on any aspects of the betting exchange that you may find confusing via the telephone number listed below.
Phone Number (Betfair AU): 1300 238 324 (24 hours/7 days)
Phone Number (Betfair NZ): 08 0023 8324 (24 hours/7 days)
Email Address: [email protected] (monitored 24 hours/7 days)
Is Betfair a Bookmaker You Can Trust?
If you are weighing up your options, one of the key questions to ask is whether this is a betting company you can trust. Betfair Exchange has been around for some time, and its owners Crown Leisure are a well-established company. Below are some of the safety measures put in place to protect Betfair's customers from fraud and security breaches.
Betfair is fully compliant with local data protection laws
Betfair encrypts all data using the latest SSL technology certified by Thawte
This ensures that your personal information is kept safe during all financial transactions
Responsible Gambling
We think it is vitally important that bookies look after their customers' welfare, and Betfair Australia is big on responsible gambling. They want punters to enjoy their betting, and they have a number of features available that help to ensure that they do. If you think you are, or someone you care about is, losing more than you/they can afford, don't hesitate to ask for problem gambling support.

These include:
Deposit Limits (daily, weekly or monthly)
Time out tools
Self-exclusion tools
Relevant links/contact details for gambling helplines
Betfair Australia allows access to ALL betting transactions over the lifetime of an account
As the above list illustrates, Betfair is all about gambling responsibly
Betfair Australia: Number One for Odds
So, when it comes to the crunch, what makes Betfair Australia stand out from the crowd? Well, as we outlined above, they have plenty going for them, especially the very generous odds they have on offer across all sporting events.
Not only can you back to win, but you can also lay to lose. Their web-app works well across all devices and uniquely allows in-play betting on horse racing. They cover a vast amount of sporting events, domestically and internationally.
Betfair Australia has adopted an admirable approach towards Responsible Gambling, and that is a huge plus. As is their attitude towards fraud and security, as we outlined in our Betfair review. One area that they could possibly improve on is their customer service, particularly the lack of a 'Live Chat Help' option. If you are a bettor that places importance on value and maximising your winnings, then this could be the bookie for you.
Betfair Australia FAQs
Who owns Betfair?
Betfair Australia is owned by Crown Resorts. It is the only betting exchange in Australia, operating under a Tasmanian Gaming License. However, they also have a Northern Territory license.
How does Betfair work?
When you bet online, you bet against the bookmaker. When you bet at Betfair AUS, you bet against other fellow punters. Betfair just takes a commission between 2% and 5% from the winner. Betfair offers up to 20% better odds.
Is Betfair any good?
Betfair is the world's number 1 betting exchange for a good reason. They have a fantastic range of markets, as well as odds that are usually around 20% higher than at their competitors. You can also place online lay or back in-play bets, which nobody else is offering. Because of all this, it's safe to say that Betfair is a great choice for your next betting site.
How to lay bet on Betfair?
Lay betting essentially means that your betting for an outcome not to happen. For example, if you lay a soccer team to win, you'll get a payout if that team loses or the game ends as a draw. Betfair lets you place lay bets by simply choosing the appropriate odds in the menu. Note that you can also lay bets on horses with Betfair Exchange.
How can I contact Betfair customer support?
You can contact Betfair customer support 24/7 via phone or email. However, note that live chat isn't available at the moment. Here are the Betfair contact details:
Phone Number (Betfair AU): 1300 238 324
Phone Number (Betfair NZ): 08 0023 8324
Email Address: [email protected]
---