Soccer Betting Sites in Australia
Australians, although known as avid racing punters, have proven to be keen on team sports as well. You can put your betting skills to the ultimate test at some of the best soccer betting sites Down Under. They all have great coverage and many exciting markets.
Those of you who are merely looking for their next soccer betting destination can jump straight to our top 5 soccer bookmakers list. The rest of you who want to get familiar with soccer betting, in general, can read the whole article. We cover everything from the most popular markets to how to find the highest soccer odds.
The Best Soccer Betting Sites
Our evaluation is based on several important criteria, such as the odds, the customer treatment, the betting specials and the quality of the overall design, not limited to the mobile app. Due to the overwhelming diversity soccer brings to the table, the betting opportunities are limitless.
Bet on Soccer with Unibet Australia
Unibet is a global betting brand with millions of happy customers every day, so there is no doubt that you'll also be satisfied here. They offer a fantastic range of betting services as well as some of the highest odds on the market.
Unibet sportsbooks are available on both desktop and mobile devices, in case you're one of those players who like to wager on the go. We have listed below a few more reasons why you should join Unibet Australia, so don't miss to give them a look.
Very extensive domestic sports betting service
In-depth statistics on all of Australia's favourite sports
Try Unibet Now!
Soccer Betting Odds
A big advantage of joining one of Australia's best bookmakers is being able to quickly place bets on the odds you want. Searching their many markets, spotting a value bet and putting your stake down at the price you want is quick to do.
All of the Australian bookies are offering odds on soccer, but if you start to look around, you'll realise that some of them are much more generous than the others. That's why we always advise you to do a quick odds comparison test before placing real money bets.
Soccer Odds Comparison Test
This takes 10 or so minutes, but it can eventually bring you a lot higher winnings. If you are placing a bigger stake, even a small difference in odds can make a lot of difference. Bet365 used to offer some of the highest online soccer betting odds, but as we said, it all may differ from event to event, so always compare prices before playing.
We just picked a single Premier League outright match winner market as an example, but this can also be done for any other market being offered.
Top 3 Soccer Betting Sites Comparison

| EPL | bet365 | Unibet | PlayUp |
| --- | --- | --- | --- |
| Leicester City | 3.5 | 3.5 | 3.4 |
| Manchester United | 2.05 | 2.15 | 2.02 |
| Draw | 3.6 | 3.75 | 3.5 |
| Overround | 105.13% | 104.02% | 107.49% |
The example above shows that if you fancied Leicester and Manchester United to play out a draw, you'd get more money back with Unibet if successful. A $10 bet on the draw would see you get a $37.50 return. However, if you bet with PlayUp you would only have a return of $35. This adds up over time or with bigger stakes.
Another plus point for Unibet in this example is how much better their overround percentage is compared to competitors. This indicates the margin a bookie works into the market and is a good indicator of the value on offer.
Soccer Betting Tips
Another thing you can do once you have picked a top Aussie betting site is lookout for soccer betting tips. Our soccer experts provide tips for top leagues and tournaments, from the English Premier League and A-League to the World Cup and European Championships.
Our soccer betting experts here at AussieBet work to bring you their top selections and where to get the best prices for them. We have tips available on our individual soccer event pages, which we cover later in this piece.
Best Soccer Betting Site for Live Streaming
A big factor we considered when naming our recommended soccer betting sites was which ones offered a top live streaming service. Being able to watch a soccer game through your betting site is a great benefit of joining, but also of great assistance for betting purposes, especially for anyone interesting in live soccer betting.
Both Unibet and bet365 are among the very best live streaming betting sites in Australia and have streams available for many soccer leagues around the world. We think that bet365 just edges it when it comes to live soccer streaming due the number of soccer leagues they cover, not to mention other sports too. The fact this live streaming service also goes so well alongside their excellent betting app and live markets makes them our top choice.
Best for Soccer Live Streaming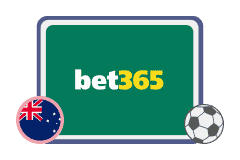 Good number of soccer streams
Same Game Multis
Live betting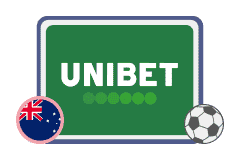 Great app
Excellent soccer stats
Odds boosts
Best Soccer Betting Apps in Australia
A soccer betting site app must meet a few specific criteria in order to satisfy a punter who loves the sport. First and foremost, due to the betting market diversity, the punter must be able to navigate the markets easily and intuitively. Mobile betting is a relatively new branch, considering the long history soccer has. However, objectively speaking, the majority of bookmakers have gotten their user interfaces close to perfection.
Bet365 and Unibet have the best soccer mobile betting apps, at least in our opinion. Download the iOS apps from iTunes if you have an iPhone or an iPad. Android compatible betting apps have to be downloaded directly from the respective bookmaker. Although seemingly inconvenient, the process is fairly simple once you learn the steps. If you're not sure how to do it, we have a step-by-step guide on how to download betting apps on a separate page. We also go into further detail about what makes the best apps stand out from the competition.
Soccer Betting Strategies
Once you have picked a top soccer betting site you can start to look into factors that will help you spot good wagering opportunities. After this section, we will talk about the main soccer markets on offer, but first, it's best to arm yourself with all the information you need to identify favorable odds.
Soccer betting is a complex business and to be good at it you need far more than just a few quick tips and a bit of luck. For long-term success, you'll have to master some of the soccer betting strategies that will help you find excellent betting opportunities on a regular basis.
The first option is to learn all this by yourself through trial and error. But the far easier way is to read and soak what seasoned punters have uncovered over the years. Below we have listed the best soccer betting strategies to guide your choices.
Team and Player Form – Form is key in any sport and knowing a player is performing well can have a big impact on what bets you make. A striker going through a purple patch makes him a more appealing bet in the goalscorer markets. This is the same for general team form as well.
Soccer News – Keeping ahead of all the soccer news can be a big advantage. Knowing a star player is missing with injury or a key man is coming back into contention can guide your bets.
Key Match-ups – Knowing where key battles will take place on the field can be great for booking bets or where one side may have an advantage. Will the winger give his full-back a difficult afternoon?
Home Advantage – Some teams have great home records and are hard to beat when in action in front of their own fans. Checking out home and away records can give a good indication on how things might pan out.
Get the Best Odds – Make sure you always shop around for the best odds for the bet you want to place. This can instantly boost your winnings.
Multi-team Acca – You can get bigger odds by adding more winner predictions to your accumulator. Picking more teams to win can result in large winnings for small stakes. That said, be aware that one team losing will scupper the bet regardless if the others win.
Don't Ignore the Stats – You can get all the information you need with the best bookies. Looking at the stats can tell you everything from how much possession a team tends to have to how many fouls they give away.
Where to Find the Best Soccer Betting Stats?
Most of the Australian soccer betting sites are offering at least some stats and analysis to help punters find the best betting opportunities. Both Unibet Australia and bet365 have excellent stats available for soccer bettors.
With Unibet, everything is neat and well-organised, meaning that you'll easily find your way around in that ocean of numbers. You can use them even if you're not registered. However, note that Unibet is one of the best soccer betting sites in Australia, so being able to bet at the same time as assessing the stats is a big positive.
Betting Site
Best Feature
Secure Link
T&Cs
Unibet

Watch and bet live!

Visit Site

Reliable Bookmaker with Flawless Track Record
Types of Soccer Bets
Once you have joined one of the best soccer betting sites in Australia, you will quickly get assess to a host of soccer betting markets.
We can distinguish two different types of soccer bets. First up there are futures bets around competitions and players. Secondly, there are match or game bets within that. They are both straightforward and self-explanatory. The outcome of game or match bets depends on an individual match, whereas future bets like picking the league winner will take longer to settle.
In order to attract more customers, bookmakers have come up with hundreds of markets that come under match bets. We're going to cover most of them, at least the most popular ones below. But first, we're going to check out the future bets, since they're not as diverse.
Soccer Future Bets
As their name suggests, these bets are settled longer in the future. The odds of these bets are way more attractive, especially if you expect the tables to turn, or you're backing an underdog to win a soccer tournament or league. Here are a few of the standard future bets most bookmakers offer.
Tournament/League Winner – An Outright Bet
Instead of backing a team to win just one match, this bet is more of a long-range prediction. Depending on when you place the bet, you might have to wait a few months for this bet to settle. If you back a team to win a league or tournament at the start, you will notice their odds shorten the better they do. This could make your bet look even better when you're sitting on a much bigger price.
Major soccer competitions such as the UEFA Champions League and the World Cup are perfect for an outright bet. Selecting the team you think can secure the trophy is an interesting wager and can give you plenty of interest over a long period of time.
Top Goalscorer
Betting on who will be the top goalscorer of the season or of the competition is another popular futures bet that soccer fans love. Much like the team futures bet, this can bring plenty of interest as you follow one particular player week in, week out. Each goal they grab will edge you closer to landing your bet at the end of the campaign.
To Qualify/Group Winner
This is the most fundamental form of a future bet. Will the given team qualify for the final, or perhaps reach a certain stage?
These bets are great if you think a team can cause an upset and qualify from a World Cup group stage. They may not have enough to go all the way and win the whole tournament but that doesn't mean you can't collect winnings due to their success.
You will also see this bet in the knockout stages of competitions like the Champions League or FA Cup. Backing a team to qualify is different to backing a team to win the game as this also includes the side that comes out on top after extra time or penalties. The official match result could be a draw, but someone still has to go through.
Popular Soccer Match Betting Markets
It's worth taking a look at each of these individually. Although highly unlikely, some of you might not be completely familiar with how each of them works, but more importantly, how you can take advantage of them.
Bear in mind, you don't have to be an expert on all of these markets but it does help to know the options you have should an opportunity crop up.
Full-Time Result – 1 X 2 Market
First thing's first, the basic betting market – Betting on the full-time result. Punters have three options, to back the home team win (1), the away team win (2) or bet that it will be a draw (X). This is the betting market most punters have started with. As we have already pointed out, the favourite doesn't always win. While being on form or playing at home is an advantage, you should still look into the stats and player news first.
Half Time/Full Time
HT/FT bets are all about predicting which team, if any, will be leading at the halfway stage and then again at the end. These bring higher odds because they are harder to predict. In a game between Chelsea and Liverpool you could go Liverpool – Liverpool, which would require Liverpool to be leading at half-time and then at full-time. Another option could be Liverpool – Draw.
More risk, significantly bigger odds, the HT/FT bets are the bread and butter of avid punters with many years of experience. Punters who avoid markets related to the goal count love HT/FT bets. In all honesty, it's not that difficult to predict the outcomes of some soccer games, which is where HT/FT bets find their purpose. Then again, some leagues are simply too competitive for this bet.
Double Chance
Introduced with one purpose only, to give the punter the ability to manage risk. Sure, the risk is cut, but so are the odds. Some people like this bet because it takes away a draw preventing you from winning. For example, you could back the home team and the draw, which gives you a better chance of success. That said, considering the short odds, these bets aren't the most appealing
Goals Over/Under
Sometimes, you know there will be a lot of goals scored, but you're not sure who will the victor be. Goal-line bets, or in this case, over/under bets are great for soccer matches. especially if both teams favour offensive strategies. Regardless of who the match winner is, or even if there isn't a victor, you can still win.
On the other hand, some soccer matches are tight affairs with not many goals. Take, for instance, the French Ligue 1. On average, the number of goals is significantly lower than the average goal count in an English Premier League week.
Note, don't make the mistake many punters do. Over/under bets have nothing to do with how balanced the teams are. There are times when the favourite outclasses the away team, yet they can't score more than one goal. Do not underestimate the underdogs if over/under bets have sparked an interest.
Goals Odd/Even
Much similar to Over/Under bets, since it's directly related to the goal count. To be honest, odd/even bets kind of resemble betting on red/black at a roulette table. It can literally go either way. We're not fans of coin toss bets. In the long run, they aren't a great idea.
For what it's worth, an even bet is a winning one if the total count of goals scored in a soccer match, or any other kind of game is an even number. For example, 0:0, 1:1, 2:0, 0:2, 3:1, 4:0 and so on. An odd bet is the exact opposite. From a statistical point of view, even bets appear more probable. Don't fall for this. Do your homework before you bet, regardless of the type of the bet.
Both Teams to Score
Our personal favourite, both teams to score and over 2.5 goals. Not only are the odds attractive, but it's easy to spot a match in which both teams will score. By adding the over 2.5 goals, you add a bit of risk, yet you boost the odds of roughly 30%.
Now, you can bet that both teams will score, or that they won't. The first impression is that it should be easy to spot when two teams will be looking to play attacking football, but it's not quite that simple. We've witnessed matches when it was probable that both teams will score, and then, one of the teams is simply having a bad day. Their opponent's goalkeeper simply wants that clean sheet.
You can spice up both teams to score bets by betting on the 1st half only, the 2nd half only, or both! Although it sounds improbable, both teams to score in the first and the second half is a surprisingly popular bet choice for passionate soccer punters.
Special Soccer Bets
These can be extremely alluring! One example is the "Bet Builder" feature with some bookmakers. This can help you form an accumulator of many different factors in one match. Add a player to be booked, to there to be a certain number of corners and plenty more. It is worth noting that all selections in an accumulator bet must win for you to win the bet.
Besides the aforementioned, other specials are will there be any penalties during regular time? Which team will miss a penalty if there's one? Will there be a sending off? As we said, there are no limits to special bets. However, we should point out that the array of specials largely depends on how attractive a given soccer match is. For instance, a World Cup match in the latter stages of the tournament will definitely have at least a dozen special bets.
Live Betting on Soccer
Live betting is a great way to spice things up and bring even more excitement to you're usual bets. It works more or less like regular pre-match betting, just with one important difference – you place stakes and choose markets after the game has started.
All the best soccer bookies will offer live betting as well, so any of the sites from our list will do the job. They also cover a host of other sports. However, it is important to note that in Australia bookies aren't allowed to accept live bets online, because of the Interactive Gambling Act. But they are allowed to display live odds and take wagers over the phone, meaning that you'll have to give them a call to place a bet.
Don't worry, it's a very simple process! To make it even easier for you, we have made a quick guide on how to place live bets on soccer with any of the Aussie bookies, so scroll down and keep reading.
Get the Most from Live Soccer Betting
Live betting is a real gold mine if you know the right strategies. One of the most used ways to score a winning live bet is to back a favourite after they go behind to an early goal. This is an excellent strategy as long as you have been encouraged by how the pre-match favourite started the clash. If the goal came against the run of play then you may feel they have a good chance of a comeback. The benefit of live betting is that their price will be much bigger now they have gone behind.
Another great use of live betting is for hedging. In simple words, if you have backed one team, but after the game has started you can take advantage of the ever-changing odds. Perhaps your team goes a goal ahead so you back the opposition at a bigger price to guarantee a profit as long as there isn't a draw. This is called hedging, and this technique can be used to secure or increase winnings if you spot the right opportunity
In-Play Betting Markets
Live betting markets for soccer are mostly the same as for the pre-match bets. However, there are a few specific options that you may take advantage of. We will list below some of the most interesting in-play betting markets available at Aussie bookmakers.
Next team to score – You choose which team will get the next goal. Always choose the team which have more momentum on their side, as they are probably going to pursue another goal.
Next player to score – This is a tricky one. It first seems to be almost impossible to guess who will score next, but if you keep track of the player's performance and place a quick bet, you may land the bet.
Time of the next goal – Here you can bet on the timeframe when any of the teams will score next goal. There are a few different options to bet on, like to score in the next 10 minutes, or between 60 and 90 minutes.
Handicap Betting on Soccer
The best soccer bookmakers will have a great range of handicap betting available. This is something to assess before deciding which bookie to choose.
Handicap bettingis a great way to increase the odds and potential winnings in one-sided matches. In many cases, a bookie will allow you to place a handicap bet, which means that before the game even begins you can bet as if a particular team has already scored a goal. That way the strengths will be balanced and naturally, the odds will be much higher.
For example, in a match between Real Madrid and Osasuna, Real is a clear favourite. But if you play (-1) handicap on Real Madrid, it would be like the games started with 0:1 for Osasuna. So now Madrid will need two or more goals to win, or a single one to get out with a draw. In case you believe one team is good enough to win by a wide margin then the handicap markets are for you.
There is another way of handicap betting called Asian handicap. The principle is the same, just, in this case, the draw isn't an option. To learn more about Asian handicap betting on soccer, scroll down and keep reading.
Asian Handicap Bets Explained
Imagine that a team can start with an advantage, say of two goals. This is possible, and it's manifested with Asian Handicap bets. Experienced punters who know when to push the limits opt for Asian Handicap bets. They can be, but they're not limited to, goal line bets, full-time results, and they're even are HT/FT Asian handicap bets. However, it should be duly noted that Asian Handicap bets come with significantly greater risk. Nevertheless, the odds are much more appealing as well.
However, there are special Asian Handicap bets, such as Asian Handicap 0.25, Asian Handicap 0.5, Asian Handicap 0.75, Asian Handicap 1. This is advanced online soccer betting. Forget everything we talked about up until this point. Asian Handicaps are complex for punters who have just recently joined the betting community. That's why we're going to explain them in greater detail.
First, we're going to start with the elementary Asian Handicap, AH +/- 0.5.
Soccer Asian Handicap 0.5
The AH 0.5 serves as the starting point because it excludes the special conditions which we're going to talk about later. Basically, the 0.5 means half a goal. It can be +0.5 (plus half a goal) or -0.5 (minus half a goal). In reality, there's no such thing as half a goal, but in AH betting there is. The best way to explain AH bets is via examples.
Let's say that Arsenal encounters Leicester. Unibet offers odds of 2.10 for Arsenal -0.5. In order for your bet to be a winner, Arsenal has to win. If Arsenal wins with a 1 goal difference, the bet's a winner. If it's a draw, the bet's a loser. And yes, if Arsenal loses, the bet's a loser as well.
Now, AH 1.5, AH 2.5 works exactly the same as 0.5. However, in the case of 1.5, Arsenal has to win with a 2 goal difference, in AH 2.5 they need to win with a 3 goal difference, and so on. In simple words, the AH +/-0.5 simply removes the Draw bet. As you can see, there has to be a winner, and the 0.5 line is defined!
Asian Handicap - 0.5 (+/-) Results Explained
Handicap
Match Result
(Your Selection)
Bet Result
-0.5
Win
Win
-0.5
Draw
Lose
-0.5
Lose
Lose
+0.5
Win
Win
+0.5
Draw
Win
+0.5
Lose
Lose
Soccer Asian Handicap 0.25
Things get very complicated with the ¼ and ¾ AH bets. They're commonly written or displayed as 0.25 and 0.75 though, but feel free to read them as ¼ and ¾ respectively.
To get back on point, We're going to use the Arsenal vs Leicester game as an example again. Let's assume that PlayUp offers 1.90 odds for Arsenal -0.25. Your stake is $100. If Arsenal wins, you get $90 profit, and the original stake of $100, which is $190. If it's a drawn game, you get half your stake back. In other words, you get $50 back, and $50 goes to the bookmaker. If Arsenal loses, you lose the entire stake. So, the draw outcome is not completely removed.
So how does this work? Half of your $100 stake, $50 goes for a bet on -0.50, and $50 goes for a bet on a draw match. That's only in theory, in practice, you place a $100 bet on an AH -0.25 bet. To reiterate, the AH 0.25 simply halves your losses in the event of a draw.
Asian Handicap - 0.25 (+/-) Results Explained
Handicap
Match Result
(Your Selection)
Bet Result
-0.25
Win
Win
-0.25
Draw
Lose Half
-0.25
Lose
Lose
+0.25
Win
Win
+0.25
Draw
Win Half
+0.25
Lose
Lose
Soccer Asian Handicap 0.75
Some of you might already have ideas about what the AH 0.75 actually is. Whether you do or you don't, it doesn't matter. We're going to show you what it is with an example.
Arsenal meets Leicester again, but this time around we're interested in placing an AH -0.75 bet. So, Unibet offers odds at 1.90. Let's say that the final score is Arsenal 2, Leicester 0. If this is the final score, your bet is a winner. However, if Arsenal is the victor with a 1 goal difference only, you get HALF your STAKE BACK. If Leicester wins or the game ends tied, you lose the full bet amount.
In a way, it's exactly the same as an AH 0.25 bet, but it's based on full goal advantage.
Asian Handicap - 0.75 (+/-) Results Explained
Handicap
Match Result
(Your Selection)
Bet Result
-0.75
Win by 2+
Win
-0.75
Win by 1
Win Half
-0.75
Draw
Lose
-0.75
Lose
Lose
+0.75
Win
Win
+0.75
Draw
Win
+0.75
Lose by 1
Lose Half
+0.75
Lose by 2+
Lose
Soccer Asian Handicap 1.00 and AH Level Ball/ DNB
These two work exactly the same, it's just that there's a full goal advantage in place. For example, let's say that you bet on Arsenal to win -1 AH, and the stake is $100. The bet is a winner if Arsenal wins with a goal difference of at least 2. However, if Arsenal wins by only 1 goal, you get your full stake back. Not half, but the FULL AMOUNT. The bet's a loser if the game is tied or if Leicester wins.
What's with AH 0:0, or Level Ball or Draw No Bet? Well, it only removes the draw bet. That being said, if a draw occurs, the bet is pushed, or the stake is returned to the punter. We avoided explaining these two because if we had done so, it'd be more difficult to grasp the idea behind AH 0.25 and AH 0.75.
Both examples are included together in the table below.
Asian Handicap - 0 and 1.0 (+/-) Results Explained
Handicap
Match Result
(Your Selection)
Bet Result
0
Win
Win
0
Lose
Stake Refunded
0
Draw
Lose
-1
Win by 2+
Win
-1
Win by 1
Stake Refunded
-1
Draw
Lose
-1
Lose
Lose
+1
Win
Win
+1
Draw
Win
+1
Lose by 1
Stake Refunded
+1
Lose by 2+
Lose
Summary of Asian Handicap Bets
Asian Handicaps can turn an unbalanced soccer match in an exciting game to watch and follow from a punter perspective. It also gives the underdog a chance to prove its worth, even when they're losing. Know the outcome of each of your Asian Handicap bets. The bookmaker will take your bets, regardless of how much you understand Asian Handicap bets.
If you're new to soccer betting, we recommend going for standard betting for now. Once you feel prepared, you can give Asian Handicap betting a go, but only if you understand each of the bets.
Soccer Spread Betting
Soccer spread betting is very similar to handicaps, but with a few important differences. The most significant distinction is that in this case you don't have fixed odds, nor fixed stakes or payouts. How much you win or lose is determined by how accurate your predictions were.
For example, if you decide to bet that in a match between Arsenal and Chelsea there will be more than 2.5 goals, your winnings (or losses) will be calculated by multiplying the stake with the difference between goals scored. So in case there are 3 goals and you staked $10, you'll win $5 because of 3 – 2.5 is 0.5, which multiplied by $10 is $5.
This is just the basic principle, so note that soccer spread betting can get much more complicated. That's why we don't recommend it for beginners.
Soccer Leagues Around the World
There are hundreds of soccer competitions around the world, but only a few deserve your attention. The A-League most definitely deserves your attention being the highest soccer competition in Australia. It's held under the patronage of Football Federation Australia, which also monitors Australia's national soccer team. But which are the other soccer competitions that are popular amongst Australian punters and offer some extra betting opportunities?
A-League – Australia's Best Soccer League
It's not the most popular in the world, but A-League betting is of great importance to AussieBet! This is why we pay Australia's primary soccer competition special attention. It's probably disputed only by the AFC Champions League. Unlike most renowned leagues around the world, the A-League comes with 12 clubs competing for the title.
Like we already said, the A-League deserves special treatment, which is why we think you must know the details. Finding A-League betting odds is easy, whether you're in Australia or in other parts of the world, it is surprisingly popular. In our opinion, there's something special and invigorating about betting on domestic soccer matches. Up the ante by betting on Australian soccer matches at an Australian online bookmaker, the likes of Unibet, for instance.
Premier League
The Premier League is the top soccer competition in England, with 20 clubs competing for glory, prestige. It was founded in 1992 by the top 5 teams at the time, Everton, Liverpool, Tottenham, Manchester United and Arsenal, as teams looked to take advantage of lucrative TV deals.
Although it's a national competition, punters from all around the world are focused on the Premier League. Many avoid betting on their own domestic competitions and pursue profits in the Premier League. Currently, the Premier League is the most attractive and well-balanced and most competitive league competition in Europe.
UEFA Champions League
The UEFA Champions League is the premier continental soccer club competition in Europe. Soccer clubs from all European countries compete for a spot in the hall of fame, to leave their footprint in history. Besides this, it's an attractive soccer tournament for millions of punters from around the world, Australian punters included.
32 clubs try to reach the final to the best of their abilities. It's a 10-month-long journey, followed by millions, and only one club gets to take the trophy home. The odds are attractive just like the matches themselves.
FIFA World Cup
During the month-long international soccer tournament called the World Cup, the world stands still. All eyes are turned on the soccer action. Out of 211 eligible teams, only 32 get the chance to participate in the World Cup, which says a lot about the gravity of the tournament.
Betting on World Cup matches is special because you can do it only for a month every four years. Sure, there are other attractive soccer tournaments, but nothing beats backing your nation's soccer team in front of the world soccer audience. The Socceroos regularly compete too!
UEFA European Championships
The Euros is another international soccer tournament that gathers the best teams from Europe. This is the second-largest international soccer event, just behind the FIFA World Cup. Since most of the top national teams come from the continent, competition at the event is fearsome. That makes it a perfect event for soccer betting.
Same as with the World Cup, you can bet on the European Championship in advance, which makes it even more exciting. The obvious downside is that all of the games will be scheduled when in Australia in the middle of the night. But that doesn't mean you can't follow the highlight and enjoy betting on top teams and players.
Betting Site
Best Feature
Secure Link
T&Cs
Unibet

Watch and bet live!

Visit Site

Reliable Bookmaker with Flawless Track Record
Conclusion
When it comes to discovering the best soccer betting site in Australia, you can look no further than our list of recommended bookies at the top of this page.
The best choices have a wide range of soccer markets, competitive or enhanced odds and stand out from the rest due to excellent apps, live streaming and features such as multi makers and soccer stats.
Soccer Betting Sites FAQs