Palmerbet Review – A Favourite for Aussie Punters
Palmerbet is easily one of the favourite betting brands among Aussies. They have been my top choice for horse racing betting over the last few years. I have a lot of insights to share regarding the Palmerbet's sports betting products, payment methods, customer support and much more.
Even though I'm a customer myself, I won't shy away from pointing out any flaws. In case you're new in the world of online betting, this Palmerbet review can help you a great deal to decide whether it's the right fit for you.
100% Aussie owned and proud of that fact

Great odds on sports and horse racing

Free tips for members on the Palmerbet Blog
Palmerbet Overview
When I said Palmerbet is 100% Aussie, I really meant that! Long-standing Australian bookmaker Ted Palmer founded the company over 30 years ago, and ever since it stayed a family business. That's one of the things I like the most about Palmerbet. Unlike huge corporations such as bet365 and Unibet, this operator still feels like a family-run firm that really cares for its customers.
Ted Palmer is long retired, but his heirs Grant and Andrew have been more than successful in running the show. Under their command, Palmerbet became an approved partner of NRL, ARU, AFL, Tennis Australia and Cricket Australia. This is another thing why I keep coming back to Palmerbet – they are an excellent choice for betting on national sports and leagues.
Even though they are very strong when it comes to sports betting, horse racing is still the thing that made Palmerbet one of the best Australian betting sites. The Palmer family is long associated with Australian horse racing, even before they made success with Palmerbet. To this day, Palmers have pitches on all Metropolitan Sydney tracks, so it's safe to say that they have a lot of hands-on experience with betting on Aussie horse races. We will make a much deeper dive into the selection of racing markets and the quality of odds down below.
Palmerbet Horse Racing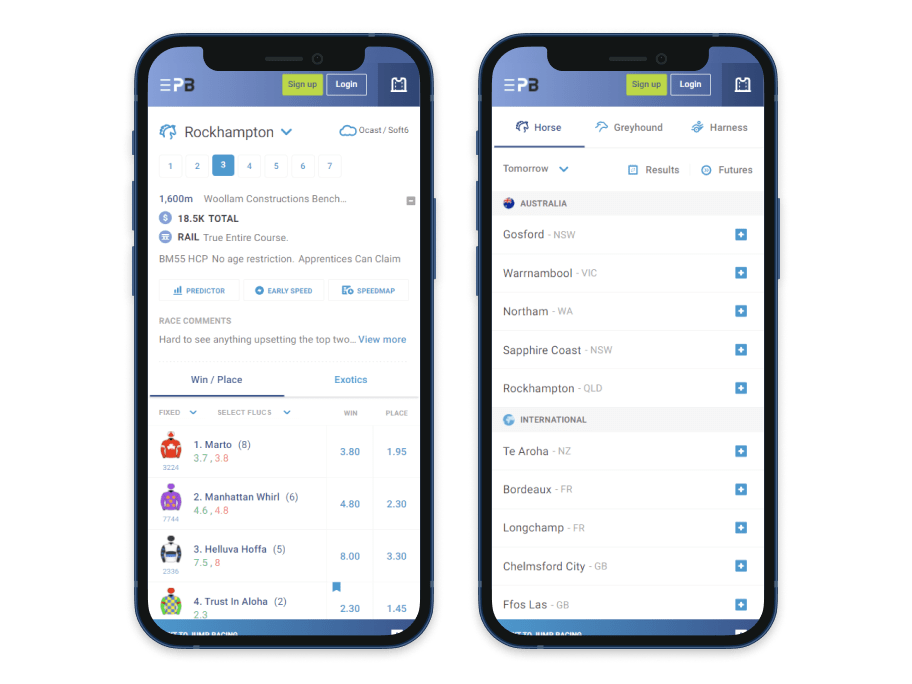 It's safe to say that Palmerbet is one of the best places for racing bettors. This is even more the case if you prefer to wager on domestic events. They entered the business as an on-track bookie, meaning that Palmerbet know what's important about betting on horses as a top on-course bookmaker online.
When you enter the site, it all screams 'Horse racing'. I personally like this in-your-face approach, since you'll know right away that Palmerbet is indeed a racing betting hub. If you take a look at the left side of the screen, you'll notice that horse racing is listed at the top. Centre of the screen is reserved for the best upcoming races, while on the far right, you'll see the list of events that are about to start.
You just open the site and BOOM – all you need to place a bet is just one click away. Palmerbet also boasts a racing stats centre where keen punters can take a deeper dive into the form before betting. They also have a comprehensive list of futures markets, especially for the Aussie racing calendar, which was a huge plus point for us during this Palmerbet review.
Horse Racing Odds and Markets
As you could probably guess by now, Palmerbet offers all of the horse racing betting options you can think of. These are just some of the wagers. For big races, you can expect to find even more bets!
Exactas
Trifectas
Quinellas
First 4s
Quaddies
Tote +5%
Tote +10%
Best of Two
Middle Tote
Top Fluc
Best of the Best
Note that if you're a horse owner, Palmerbet will give you BOB (Best of the Best) odds every time via the Owner's Odds feature.
On the other hand, if we talk about the odds for us who aren't lucky enough to own racing horses, Palmerbet still holds its ground. Rather than just asking you to believe my word on this, I'll show you how great Palmerbet prices are by doing an odds comparison test.
| Flemington | Palmerbet | bet365 | Unibet |
| --- | --- | --- | --- |
| Ashlor | 5.50 | 5.00 | 5.00 |
| Snitzkraft | 7.00 | 7.00 | 7.00 |
| Gee Gee Secondover | 4.00 | 4.00 | 3.90 |
| Bumper Blast | 6.50 | 6.50 | 6.50 |
| Irish Mint | 6.00 | 6.00 | 6.00 |
| Mister Mogul | 6.00 | 6.00 | 6.00 |
| Sunday Pray | 19.00 | 19.00 | 19.00 |
| Fight | 10.00 | 9.50 | 9.50 |
| Overround | 121.5% | 123.8% | 124.4% |
The table undoubtedly shows that in this case (event by random choice) Palmerbet offers the highest odds. As you can see, we haven't compared them against some low-end bookies. Unibet and bet365 are among the best operators around, but still, Palmerbet managed to end on top. That's one of the reasons I instantly loved them in the first place.
Palmerbet Horse Racing Payout Limits
Since there are so many players who like to bet big, almost all of the bookies, including Palmerbet, are imposing the max win limits. Here are some of their limits for Australian horse racing. In case you want to see the full list, visit the 'Rules' page on the Palmerbet website.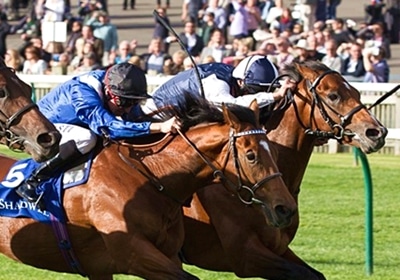 | | |
| --- | --- |
| Win and Place | $300k Metropolitan / $150k Non-Metropolitan |
| Same Race Multi | $50k Metropolitan / $50k Non-Metropolitan |
| Quinella | $200k Metropolitan / $50k Non-Metropolitan |
| Exacta | $100k Metropolitan / $30k Non-Metropolitan |
| Trifecta | $200k Metropolitan / $50k Non-Metropolitan |
| First Four | $200k Metropolitan / $50k Non-Metropolitan |
| Quaddie | $300k Metropolitan / $100k Non-Metropolitan |
| Early Quaddie | $100k Metropolitan / $25k Non-Metropolitan |
| Big 6 | $300k Metropolitan / $100k Non-Metropolitan |
| Betting Without | $50k Metropolitan / $25k Non-Metropolitan |
| Odds/Evens | $50k Metropolitan / $25k Non-Metropolitan |
Sports Betting at Palmerbet
It is so easy to move around the Palmerbet website and find the sports you want to bet on. I'm sure you'll like the simple and bright design, as it makes placing bets so easy. You'll see the list of the most popular sports on the left-hand side.
If you want to bet on some of the more exotic events, click the "All Sports" button. One of the options I use the most is the 'Upcoming' tab where you can see all the games that are about to start. I appreciate nothing more than a user-friendly interface, and Palmerbet nails that part!
The range of sports on offer is good, but nothing more than that. It's comparable with what other local bookies offer, such as BlueBet. When I want to bet on some exotic sports, like netball or surfing, the likes of bet365 and Unibet have proven to be a superior option. However, Palmerbet is fantastic for betting on local sports. They know the needs of Aussie punters and have strong connections with many Australian leagues.
Again, don't just trust my word for it. Check out our Palmerbet review odds comparison table below to see that Palmerbet is up there with the best when it comes to sports odds.
| AFL Team | Palmerbet | Unibet | bet365 |
| --- | --- | --- | --- |
| GWS Giants | 1.87 | 1.87 | 1.86 |
| Brisbane Lions | 1.93 | 1.95 | 1.92 |
| Overround | 105.3% | 104.8% | 105.8% |
Palmerbet Live Betting
Palmerbet does offer live betting, but they are not exactly the best in the business in this category. You'll find all of the in-play markets under the menu on the left-hand side. I personally don't think that they are that good, simply because there aren't so many live markets available. In simple words, the in-play betting experience is not as convenient as with some other top Aussie bookmakers. But in all honesty – I'm probably just nit-picking here. If you want to place an in-play bet, Palmerbet will still do the job.
All of you who have any experience with online betting in Australia know that bookies around here aren't allowed to accept live bets online. So, in case you want to place an in-play wager with Palmerbet, you should give them a call on 1300 123 238 and state your bet. The operators will do the rest. We have made a step by step guide to help you along:
How to place a live bet at Palmerbet?
Open an account with Palmerbet by clicking here
Click the 'Live Betting' option on the website/mobile app
Find the odds you want
Call 1300 123 238 to place your bet
(The minimum in-play bet is $20)
Live Streaming
Palmerbet doesn't offer live streaming of sporting or racing events. Yes, it sucks. In my opinion, the lack of live streaming is the biggest downside of betting with this betting site. There is nothing better than to place a bet and then watch the game live, all without ever having to leave the betting website.
We all hope that Palmerbet will introduce this option soon since it could quickly propel it to the very top of the Australian betting market. Until then, note that our bet365 review highlights their unmatched live streaming platform where you can watch hundreds of local and international races and sports events.
Palmerbet App
Nowadays, it's hard even to imagine how it looked like to bet online without a smartphone. I'm a huge fan of betting on the go, and the Palmerbet mobile betting app hasn't given me a single issue so far. It's fast, simple and follows the same minimalistic design of their desktop website. The native app is available for both iOS and Android operating systems.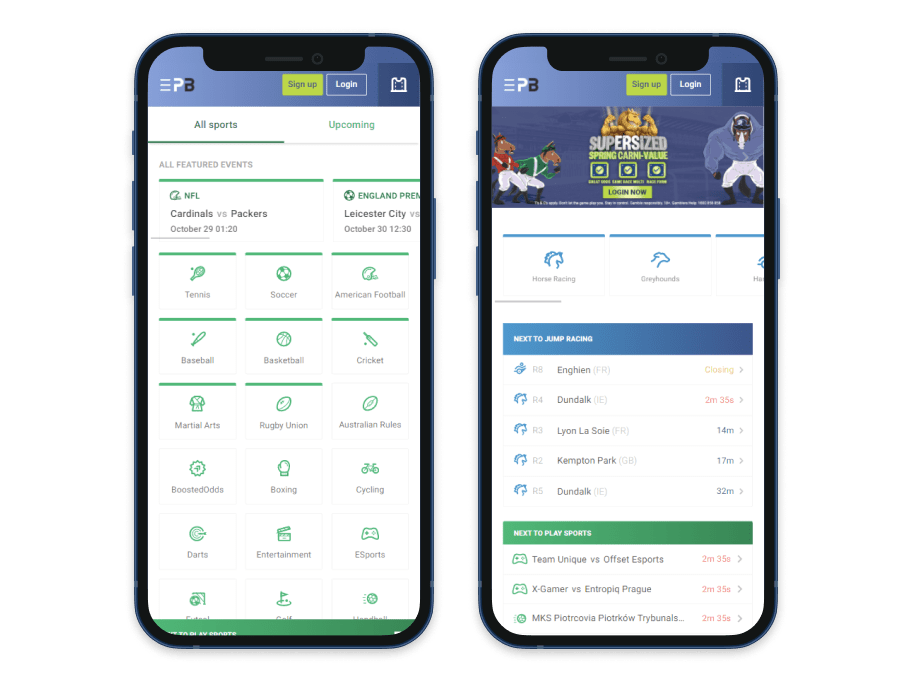 I can say from my own experience that the iPhone version is virtually flawless. It offers all the same betting features as the desktop version of the sportsbook, including very straightforward navigation.
I tested the Palmerbet Android app for a few days on my own, and as far as I can tell, everything is pretty much the same as on iOS. Pages load quickly, and all of the sports and racing bets are there. The only real difference is that you have to download the Palmerbet Android app directly from their site.
In case you don't want to download any native apps, just fire up your mobile browser and use the Palmerbet web-based app. It looks and does pretty much the same stuff as the dedicated apps, so you won't miss out on anything. When I'm switching devices, I sometimes just use a mobile website to place a quick bet, so I don't have to lose time downloading an app for a single bet.
Palmerbet Withdrawal and Deposit Options
I'm always using my credit card when betting with Palmerbet because it's the quickest and easiest way to both deposit and withdraw funds. If you fancy some other option, note that Bank Transfer, BPAY, PayPal, PayID and POLi are also available.
In general, when it comes to online betting transactions, e-wallets are always my go-to choice. However, Palmerbet doesn't have any of them on offer at the moment. The good news is that this bookmaker lets you start slow and deposit only $10 for starters (except with BPAY where the minimum deposit is $25).
Minimum Deposits with Palmerbet
The payment method you use with Palmerbet can have an impact on the minimum amount you are allowed to deposit to get started.
The amount will vary depending on your choice, as you can see from the table below. This is something to consider when looking to sign up.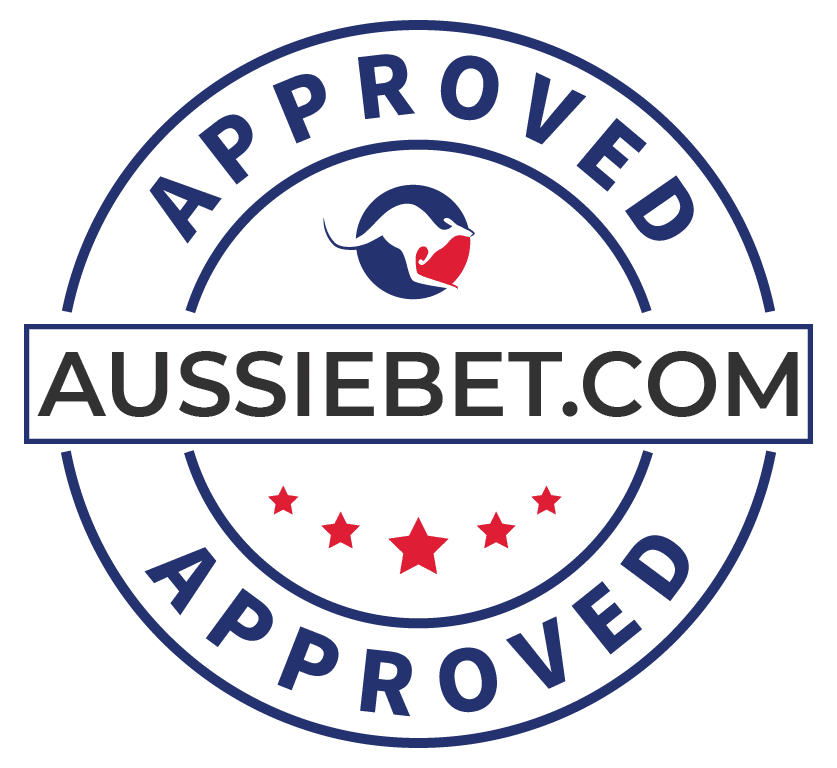 | | |
| --- | --- |
| POLi | $10 |
| PayPal | $10 |
| Debit/Credit Card | $10 |
| PayID | $10 |
| Bank Transfer | $10 |
| BPAY | $25 |
Withdrawal Options
On the other hand, the list of Palmerbet withdrawal options is a bit shorter than the deposit options, with only bank transfers available. You can withdraw even as little as $10, but keep in mind that you can't withdraw before you verify your account by providing some of the personal documents. Don't worry, it's a standard procedure, and it's completely safe.
Every time I requested a withdrawal over a desktop or a Palmerbet app, the money was on my bank account within 2 or 3 days, which is acceptable.
| Payment Methods | Withdrawal Times |
| --- | --- |
| Bank Transfer | 1 – 2 Working Days |
| Visa | N/A |
| MasterCard | N/A |
| POLi | N/A |
| BPAY | N/A |
Sign Up For Palmerbet Bonus
It is important to know that you won't see Palmerbet bonus offers until you have signed up and registered a new account with them.
Aussie betting regulations prevent bookies from advertising betting promotions. However, you will soon have access to all of the offers, including a Palmerbet sign up bonus, as soon as you have signed in.
As always, it is important to pick the betting site that suits you the best and how impressed you are with their odds or additional features. Worry about your Palmerbet sign up bonus after that.
Customer Support
The most important thing you should know here – Palmerbet doesn't offer live chat support. I believe live chatting with support agents is the best way to quickly solve most of the problems, so the lack of this option is a big minus in my book. They do have phone support, although it's available from Monday to Saturday, between 8 am and 6 pm. The last alternative is to send them an email. However, it may take up to 24 hours to get a response.
Availability isn't Palmerbet's strong side, but they make up for it with incredibly pleasant and efficient support agents. The person that answered my last call was super friendly, so we managed to solve the problem in no time. The issue hand was a problem with my bank when making a deposit.
Those are the little things that make you feel like the bookie really cares about you!
Palmerbet Contact
Is Palmerbet Safe?
The short answer is yes – Palmerbet is completely safe. They have all of the industry-leading safety features, such as 2048-bit encryption. What is even more important, they hold an official licence issued by the Government of New South Wales. Since you're sharing a lot of sensitive info when betting online, you always want to make sure the betting site is taking all of the safety precautions. At least I'm always looking for stuff like that as soon as I enter a bookmaker's site.

| | |
| --- | --- |
| Name | Palmer Bookmaking Pty Ltd |
| Launched in | 2013 |
| Headquarters | Canterbury Racecourse, NSW |
| CEO | Grant Palmer |
| ABN | 89 154 794 411 |
| Speciality | Horse racing |
Another thing I like about Palmerbet is that they take responsible gambling seriously. This is by no means a surprise because due to Aussie betting regulations, it is mandatory.
You can use self-exclusion, pre-commitments and a few other useful tools that can help you not to get lost. Even I use it from time to time, so don't hesitate to put limits if you think you may get distracted. If you think you have a problem, or you know someone who does, note that Palmerbet has contact details of a few gambling support agencies in the footer of each page. Caring about customers is something I appreciate the most, and Palmerbet definitely checks that box!
Palmerbet Blog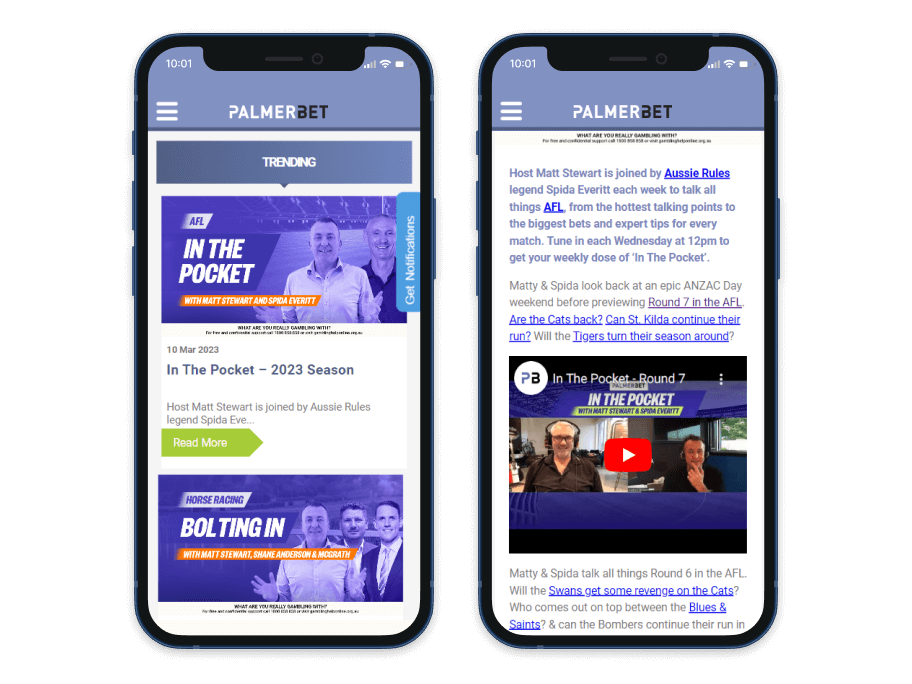 With so many sports and racing events to bet on, it's becoming really hard to stay on top of everything. My way of getting fresh betting insights is by reading expert sports betting blogs. A few years ago, I discovered that Palmerbet has its own blog as well, and after taking a look at a few posts, I realised that it's actually pretty good. Apart from every horse race you can imagine, they also cover AFL, NRL, Soccer and several other sports.
The insights you'll find there can be very useful, and the best thing is that you don't even have to be a registered customer to have access. They put quick links to their sportsbook inside of the articles. So, having a betting account can help you place a bet with ease. I do it all the time. You find a race or a game you want to bet on, read a few expert analyses, and then just go straight to the betting site with a single click. It doesn't get any more convenient than that!
How We Review Betting Sites
To give you a little more insight into the things we considered when putting this Palmerbet review together, we have listed a few key factors below. At AussieBet, we always cross-compare certain elements so you know the important features are being looked at each and every time we make a recommendation. 
Licenses

Every top Australian bookie must be safe and secure for us to recommend them. For this reason, we only put forward betting sites that have a valid license and are regulated. If AussieBet recommends a bookie to you then you know this is the case.

Mobile apps

Betting apps are a must. Not only that but a top app for Android and iOS that is easy to navigate means a bookie will score highly with us. We don't only compare betting sites but also the quality of the apps they offer punters as well.

 

Selection of sports and markets

For a bookie to be considered on of the best in Australia, it must offer a wide array of betting markets. When putting this Palmerbet review together, we made sure to check out the markets available for both popular and niche sporting events.

Quality of odds

You will never get the best odds with just one bookie. However, some are known to have good value prices compared to their competitors. This is another factor we consider when putting reviews together. We only recommend bookies that have good quality odds.

Payment methods

Having a wide range of payment options will really help a betting site stand out from the crowd. Here at AussieBet we always look into this element too. The best bookies have options such as BPAY, PayPal, POLi, Apple Pay, VISA, MasterCard and bank transfer options. It is a good way for us to rate a betting site and how appealing it is for a punter.
Conclusion
Palmerbet has been and stayed one of my favourite Australian betting sites. I like the fact that they have nailed all the basics. The site is snappy and straightforward to use, while the odds on both sports and horse racing are among the strongest on the market.
As I mentioned a few times in this Palmerbet review, there are a few obvious downsides as well. There is no live streaming, no live chat and even the selection of payment options could be deeper. But for me, Palmerbet is much more than just some ordinary bookie we judge only based on available features. They are one of the longest-lasting Australian betting brands that stayed 100% Aussie up until this day. Because of all of that I will keep betting with them in the years to come.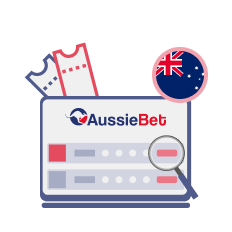 Palmerbet is one of the best domestic bookmakers. Click on the button below to learn more about their betting offer.
Palmerbet overview
Palmerbet Australia FAQs