Bonus Bet Offers & Promotions
Betting is at an all-time high, in spite of the recent regulation changes which shifted the Aussie betting market in a different direction. Online sports betting bonuses & promotions are sought-after for many reasons. Punters get more chances to win, place a few extra bets, maybe experiment a little, whatever they please. We'll reveal everything you need to know on this subject in the following paragraphs.
Due to Australian law, we are no longer allowed to display any betting site bonuses or real money betting promotions. But with this article, we will try to give you a few useful tips on how to choose the best betting sites and what to expect once you are there. Slowly, but very so surely, online betting promotions are becoming a thing of the past. Racing betting promotions, however, are still going strong. For now, we can only recommend joining some of the below listed Australian bookmakers. All of them are safe picks!
The Best Bookmaker Offers For Aussies
#
Betting Site
Best Feature
Secure Link
Info

1

bet365

Best Live Streaming

Visit Site

Geo restrictions apply. You must have a funded account or have placed a bet in the last 24 hours to access. Under Australian law, we are required to inform you that Live Streaming on bet365 is exempt from Parts 3 and 4 of the Broadcasting Services (Online Content Service Provider Rules) 2018.

2

Unibet

Live Streaming
Expert Edge

Visit Site

Reliable Bookmaker with Flawless Track Record

3

PlayUp

Great Sports Coverage

Visit Site

Key Player on the AUS Betting Scene

4

BlueBet

Weekly Specials

Visit Site

Variety of Betting Markets

5

Palmerbet

Great App

Visit Site

Traditional Values and Great Betting App

6

Betfair

Betting Exchange

Visit Site

Unique Betting Product - So Far Undisputed

7

PointsBet

Spread Betting Available

Visit Site

Spread Betting Available!
Online Betting Promotions for New Customers
Australian bookmakers, like all other international betting sites, offer a bonus treat for their new customers. As you can see, most of them take the form of a simple match deposit bonus. Depending on the bookie's generosity, the bonus boosts are in the range of 50% up to 200% in most cases.
However, betting operators are known to go over the line and prepare a juicy 200%+ deposit bonus with the purpose to attract even the least interested punters in bonuses. Thanks to the huge demand, we can't say there's a lack of betting bonus bets and/or other promotions.
It'd still be a "grey" betting experience if it weren't for other betting promotions, which are able to meet the demands of punters who are reluctant to take advantage of bonus bet offers. There's something for everyone!
Bonus Bet Offers Australia
One thing is for sure, we all miss them. Bonus bet offers in Australia have taken the place of the now already gone most sought-after type of bonuses. They're rare because they're borderline prohibited. That being said, the rule book is extensive, which is why bookmakers try to avoid them. It's not like they don't want to reward the punter's trust, and the risk to try something new.
However, that gap was filled with more generous, overall better online sports betting offers. Like we mentioned, bonus bets are here, though, don't rely heavily on them. Match bonuses, and dedicated sports betting promotions such enhanced odds, for instance, are here to stay.
Bonus Bets for Australian Punters
Bonus bets are in fact all bets a punter places with bonus money, credited by the bookmaker as a token of appreciation and a retention scheme. Aussies are fond of these bonuses treats, and bookmakers based in Australia are aware of this!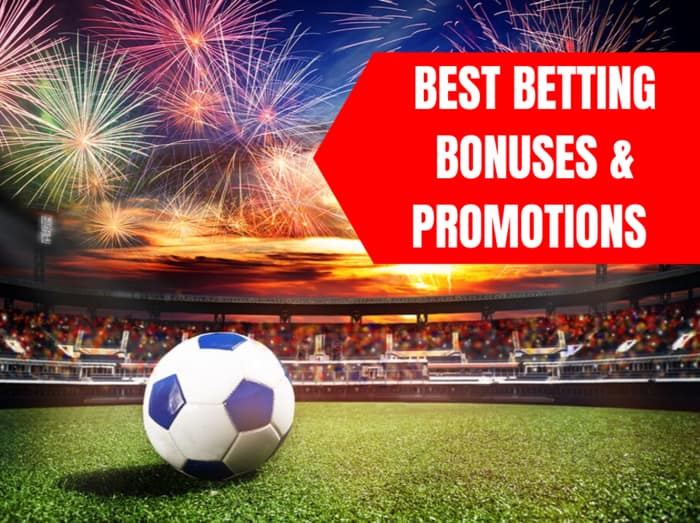 Here are our top partners and what they offer to their newly acquired customers. It's essential to let you know that it's extremely unlikely that you will come across a bonus offer that's identical at two different bookmakers.
This is the bookmaker's opportunity to stand out from the rest, which is why occasionally an overwhelming bonus offer can pop up. Our advice is, don't make premature conclusions, as some bonus offers only appear lucrative, whereas in fact, once the bonus terms are considered, the bonus offer comes off as underwhelming.
Why Aussies Can't See Betting Bonus Offers?
Following the public outcry for enhanced restrictions on betting and gambling in general, operators had to come to an agreement with the Federal Australian Government. Betting sites based in Australia are still legal, but bookmakers have much fewer rights when it comes to advertising their services.
However, all is not lost as there still are lots of bonus bet offers available. Customers are put in an odd position, where they have to sign up before they can see all promotions that are available on the menu. Strangely, some of the betting sites special offers have become slightly better since the new set of betting laws came to power. Is this their way of making up for the inconvenience caused by the new regulation?
Now, bettors must make their decision where to play based on the brand image and the product, like the odds, the payment options and the quality of the customer support. Since we too have to adhere to the new rules, you will not see any online betting promotions displayed at Aussiebet.com. In the event of an update of this regulation, or its total abolishment, we will act on it immediately, and return available bonuses on-page.
Bonus Bet Offers for Victorian, NSW, NT and SA Residents
In case you're one of them, do not worry. There are bonus bet offers for punters located in these regions, it's just that you have to be patient. Due to regulatory issues, bookmakers are not allowed to advertise any bonuses or other kinds of incentives that affect the punter's decision, whether it is to join a bookmaker, place an extra bet, or lure him back in the world of online sports betting. In other words, bookmakers in the said regions have to wait to be contacted.
Once you register, there are no legal obstacles between you and the bonus bets provided by any Australian bookmaker. Note, always bet at bookmakers licensed in Australia. Otherwise, you open yourself to threats such as unfair odds, unfair punter treatment, fixed odds and no customer rights whatsoever. The customer is always right, but only if the betting site is licensed and regulated.
The bonus bet offers you see displayed at Aussiebet are not explicitly available to residents of the aforementioned regions. Should there be any changes, we'll gladly make the necessary, wanted amendments.
Enhanced Odds Boosts for Aussie Punters
Taking extra risks brings higher total prizes. Those accumulators certainly are attractive. However, now you don't have to put your hopes in landing a big accumulator win. Look for enhanced odds promotions at Aussie bookmakers, and/or cashback bonus boosts. Sports betting promotions are tightly regulated by the Responsible Wagering Agency in Australia, which is why most of the promotions are visible to registered customers.
This is why you have to rely on our bookmaker reviews, prepared by our team who obtain the information first-hand, conducting their own research based on years of experience in the betting industry. In order to avoid opening new accounts, solely with the purpose to check out the ongoing promotions, follow our lead!
The enhanced odds usually come with attractive matches, be that derbies or other events of significant importance. Cashback bonus boosts are just as frequent! Choose wisely! Also, please check the small print carefully, as bookmakers can include special terms that change the quality of a promotion. Remember, you can receive only one offer per day.
Although not as attractive as bonus bet offers, enhanced odds should be considered!
Exclusive Bonus Bets & Promo Codes
Bookmakers are aware that punters check for reviews before they start betting, or even before they join a given bookmaker. With the latest onslaught of regulation changes, it's become difficult to know where one can bet. Exclusive Bonus Offers are a thing and an important one. An exclusive promo or bonus code can open the bookie's doors with extra bonus funds on top.
They work the same as any other promotion, but only you and those that visit the online betting site using the code we provide have access to these exclusive bonus treats. If such a code is not required, simply click on the "Claim" button and you'll be taken directly to the betting site, with the exclusive bonus privileges.
Our sincere recommendation, use whatever exclusive bonus you feel it's in line with your betting wants and needs. You always get more bonus bet offers with exclusives!
Betting Promotions Terms and Restrictions
Experienced punters can skip this section, as it targets individuals who are new to online sports betting, and betting bonus deals in particular. When a bookmaker hands out a bonus offer, it does so expecting the punter to follow a set of rules, also called bonus terms. Almost every single bonus bet offer at Australian betting sites has the following terms:
Minimum Odds – The qualifying bets you're going to place have to be at the specified odds or more. In the past, these were cunningly hidden, but now, bookmakers have made them visible, easily accessible. In most cases, the minimum odds are 1.50 or 2.00.
Turnover Requirements – Also known as Play-through requirements, they indicate how many times bonus punters need to wager, the amount punters should bet in total before any withdrawals can be released. Like the minimum odds, turnover requirements are displayed accordingly. This particular area has been a hot topic of many debates, and eventually, bookmakers lost their case. They're brought to the very minimum.
Excluded Territories – Different regions of Australia are subject to different regulations. Punters from certain areas are completely excluded from welcome bonuses. However, there's a way around this. You can find this particular information displayed in every bonus offer on this page or anywhere else at Aussiebet.
Type of Bonus – For now, the only distinction we can make is whether the offer is available to new customers, or it's an ongoing promotion available to existing customers, that have long lost the label "new customer".
These are the most important bonus terms that you have to consider. Note, bookmakers are in a rather unenviable situation. Although they want to attract new punters with attractive promotions and bonus bet offers, they can't, they're not allowed. This is why we prefer to evaluate a bookmaker based on the quality of the odds, the customer service, the overall betting product and the security it provides.
Bonus Bet Offers & Promotions FAQs
How do you get bonus bets?
It all depends on the bookmaker you're playing with, but in most cases, there is a dedicated 'Bonus' tab in the bet slip or in the cashier. You can get bonuses on different occasions. For example, sign up bonus is available as soon as you register for the first time, while some enhanced odds promos are for selected events only.
Can I combine different bonus offers? For example, enhanced odds and a bonus bet?
Unfortunately, you cannot. Bookmakers have to protect their own "investment". Enhanced odds, bonus bets, basically any promotion serves as an incentive, as a loyalty reward. Any attempt to trick the system and do this will backfire eventually.
Can I split bonus bets?
First, you should know that there's a difference between bonus money and bonus bets. It's become common practice to release a given amount of bonus funds. Punters are then allowed to select the bet amount themselves. However, bookmakers can also offer predefined bonus bets. Usually, they come in increments of $10. The minimum bonus bet at most Australian bookmakers is $10. If you have a bonus bet balance less than $10, the full amount must be placed.
How long do bonus bets last?
This largely depends on the bookmaker's policy. They're legally bound to display an expiration period. Ergo, we can't provide one expiration period which fits all bonus offers.