bet365 Review – Strong Dedication to AUS Punters
If you were to hear anyone say that they are new to bet365, they'd be lying. The only reason why that might be the case is if they are not into betting. I am no stranger to betting, neither am I to bet365. As a matter of fact, it's been my Australian bookmaker of choice for a few years now.
I have a lot to share, and the information shared below in the bet365 review will surely give you a better idea of why it is undisputed when it comes to online betting in Australia. You will notice the intense focus on bet365 sports here, as I'm not passionate about racing. Nevertheless, there's something for everyone!
The Pros of bet365
bet365 betting app is exceptional

amazing live stream coverage

variety of payment options

market-leading in-play betting system
The Cons of bet365
too detailed registration form
How bet365 Australia Began?
A little background on bet365, and most importantly, why I have been with bet365 Australia for so long. I was familiar with bet365 even before they "landed" in Australia in 2012. As a passionate punter, surfing the net for the best odds would eventually take me to bet365, but usually, to the UK site, an area that wasn't available to me.
Things changed, and here it was, but back then with a few other products, which went beyond betting. Bet365 got its Northern Territory license in 2012, which gave them access to Australia. However, the rigorous rules imposed by the Federal Australian Government have changed bet365 Australia, making it look slightly different than the bet365 websites in other regions. That said, it is now one of the very best betting sites in the country
Open a bet365 Account
Horse Racing Betting with bet365 Australia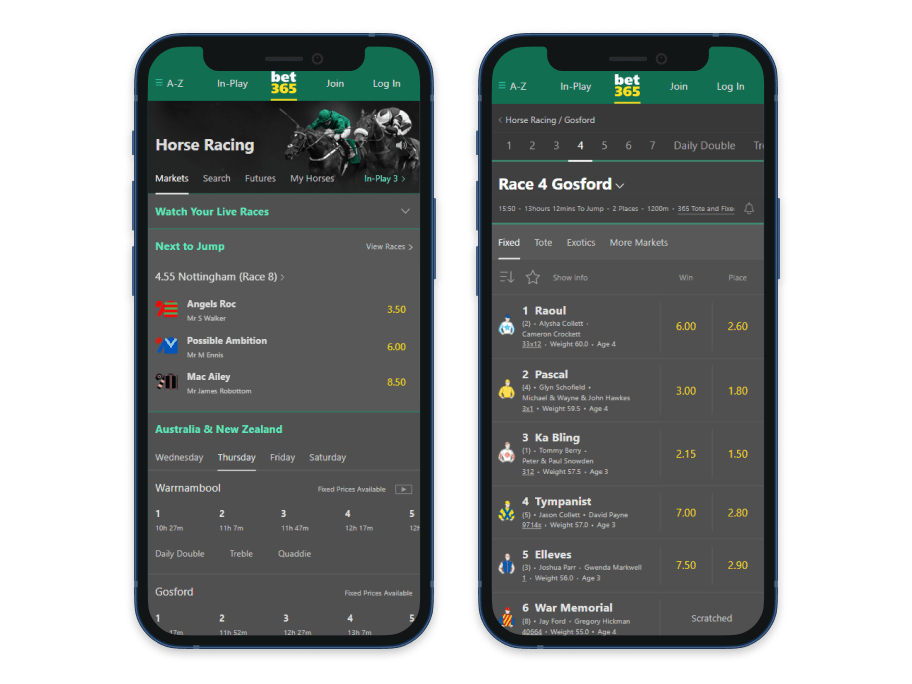 Bet365 is an excellent choice for any Australian horse racing fan. While this bookie doesn't prioritise it over other sports, it is still prominently listed on their sidebar and easy to access and understand.
Navigating their horse racing markets is quick and easy to do. The latest races are listed at the very top of this section before you scroll down to see other cards from Australia, the UK and Ireland, and other international meetings, including Japan, France and the USA.
From here it is easy to access their live streaming service, which is among the very best on offer. Watching all the latest races is quick and simple to do as long as you have an active account and positive balance. You also get access to Australian horse form that has all the stats you could need.
Other factors that will interest horse racing fans are features like best odds price promises, and the ability to add extra places to certain races. It should also be noted that their ante-post offering is as good as any. They have prices available for the Melbourne Cup and Cheltenham Festival months ahead of the races. Registered customers can also request prices for horses if they are not listed for certain big events.
Horse racing fans like myself will know there is nothing worse than missing out on a winner, which is what makes the "My Horses" feature such an appealing extra. See a horse that you fancy for the next time out? Simply click on the star next to its name on the race card to add it to your tracker. You can build a portfolio of horses to follow and receive notifications when they run.
Like live streaming and other key features, this is only available if you are logged in at bet365 Australia.
Betting on Sports – Multi Maker Provided
The odds are in the spotlight, whether sports or racing, bet365 makes it clear what is most important to them, and their success of the past years just confirms that they are doing it right. If you are big on soccer, bet365 has a few extra betting products that I personally like and use!
Nevertheless, bet365 is not all about soccer, but the 35+ sports, at least to me, are just creating noise. I like placing a casual bet on cricket and AFL, but not that frequently.
Compared to other Australian betting sites, bet365's interface is not as colourful, and you are not bombarded with specials and unclear offers.
I was never into betting promotions, but I like the features, like the Multi Maker. To some, an ACCA is a spawn of hell, whereas to me, it's a thrilling experience. The Multi Maker shows the sports with which you can use it, which I simply adore! Instead of raising hopes that I can do it, and later realizing I can't, I get the "memo" the moment I open the Multi Maker tab.
Whether it's cricket, AFL, rugby, or tennis, I could always find what I'm looking for with bet365 Australia. Browsing odds is easy, and finding the betting market I'm interested in is relatively easier when compared to others.
bet365 Sports Soccer Builder – Why I Like it?
First and foremost, it allows me to combine up to 6 different soccer betting markets and do so with convenience. Here are all the bets you can combine:
Match Result (Full Time or Half Time)
Both Teams to Score
Number of Goals Scored
Players to Score (Anytime, First, Last, 2 or More, 3 or More)
Corners
Cards (Total, Player Card or Red Card in Match)
To Qualify or To Lift the Trophy
In most cases, I go for the full-time result, combined with the number of goals scored. If I'm feeling "lucky," I might add the players to score. Corners and Both Teams to Score go hand in hand, especially when it's a close game.
Betting on Tennis with bet365
While I'm not that big on tennis, we can all agree that there's not always a good soccer betting offer. My alternative usually is tennis, just because there's a lot of information available, and data that can be analysed. In addition, the interface is very similar to soccer, and the betting markets are placed at almost the exact same place, as they are with soccer. For example, betting on a specific Game and Set is made easy. If you are betting on your desktop, you will find them in the top right area of the odds and the betting markets, just left of the live streaming window.
Speaking of live streaming, with bet365, be that the Australian version or anywhere else in the world, you won't miss any match. If you are having doubts about the availability of streams before the match, just check the Streaming tab, located in the In-play section.
bet365 Tennis Bet Builder
Another thing I have to point out, as of not so long ago, the Bet Builder is also available for tennis. I'm not to that level to use it confidently and with success, but that doesn't mean you can't or shouldn't. Even when there aren't many tennis matches going on, this cool feature by bet365 tennis accumulator is still an option.
For the sake of consistency, here are all the markets that were available last time I checked:
Match Winner
Set Winner
Next Two Games – Winner
Next Two Games – Either Game to Deuce
Total Games in Set
Set Game Score
Current/Next Set – Lead After (Games)
Current/Next Set – Score After (Games
Current/Next Set – Correct Score Group
Match Total Sets
Match Handicap (Games)
Set Betting
Player Total Games
Player to Win in Straight Sets/From Behind
Due to the nature of tennis, there's more diversity, but, be careful. Adding a few selections can quickly ramp up the odds to a level where the risk involved is too high.
bet365 Live Streaming
So I find the odds, I place the bet, I turn on the TV, and I can't find any live coverage, the absolute worst. Thanks to bet365, not only can I follow the events I'm betting on, but I can get valuable insight about other matches, which, in some cases, are not available online, or on TV.
Then again, I should warn you that this is not a free service. The bet365 live streaming is available to me when I have money in my account, or if I have placed a bet in the last 24 hours. I respect this because streams put a strain on their servers.
Besides live video streams, bet365 also gives me the option to follow live commentary of the game. In short, no bet365 deposit, no bet365 streams. I think it's worth the money. It's not like they are charging you for it, but it's a way of filtering out the people that are in it for the stream only.
You need to have a positive cash balance to get access to live streaming. It's either that, or you must have placed a bet in the last 24 hours.
According to the message provided by bet365, at the time of writing, they have 70,000+ events covered every year. That's a hefty number, regardless of the type of sports you're into.
Even with a 3G connection, I can follow any game with no interruptions.
Now, I know it's not a streaming service, which is why I don't find it detrimental, but not being able to maximise the stream on the full screen hurts. The way I go around this is by zooming in the mobile web app, or desktop, to the stream window. It's the closest thing to a Full-Screen Stream I can get.
Note that you should always read the T&Cs first. Take a look at what they say.
Geo-restrictions apply. You must have a funded account or have placed a bet in the last 24 hours to access it. Under Australian law, we are required to inform you that Live Streaming on bet365 is exempt from Parts 3 and 4 of the Broadcasting Services (Online Content Service Provider Rules) 2018.
In-play Betting – So far, Best in the Business
Although I hate saying it, I have to, bet365 Australia has the best in-play betting system available in Australia. The Quick Code is by far the most convenient method of live betting. Whether I'm betting on desktop or mobile, the Telebet team of bet365 is easy to reach. I find dialing the toll-free number 1800 365 365 more reliable. Just to make sure that you understand the process, here is how the experience looks like:
That pretty much sums it up. I know that bet365 allows calling the Telebet team via desktop with the use of a microphone, or via the mobile app, but I like a traditional way of betting. Call me "old school," but that's just me.
bet365 Live Golf Tracker
I'm not a huge golf fan but I have fallen in love with this feature almost immediately. Can't even imagine how a real golf enthusiast would react! Bet365 Live Golf tracker gives you advanced shot-by-shot data in real-time and interactive course visualisations. The interface looks so good it made me want to bet on golf right away!
You can easily switch between scorecards and the tournament Leaderboard, which makes tracking the live results so much easier. One more thing I liked is an option to quickly switch to live streams and take a look at what is actually happening on the field. You can find this awesome feature right there in the 'In-Play' section. Don't worry, it's available for most of the top tournaments. Live betting on golf has never been so engaging!
Depositing and Withdrawing at bet365 Australia
Now, depositing has always been easy for me. I can't even remember when I have set up my deposit method (a VISA debit card), but I'm considering switching to a different payment method. Again, I haven't had any trouble with it so far, and there are no fees.
I've deposited as little as $10 up to $500, although the maximum limit was $40,000 at the time of writing. In my opinion, a much better alternative to the debit card would be PayPal, POLi, or the bet365 MasterCard. The last one is a direct replacement of the bet365 VISA card, which was discontinued in July 2018.
If you happen to be a casual punter, just go for FlexePin. Or, if you have an iPhone, ApplePay seems like a good option as well.
I had to verify my identity within 30 days, which I respect. Bet365 is one of the first bookmakers to introduce heightened security checks, that are easily describable as responsible gaming policies. I remember a few years back; they first started introducing these security measures, which have now become industry standard.
Minimum Deposits Per Payment Method
The minimum amount you can deposit to get started with bet365 can also depend on the payment method you choose.
Take a look at the table below to see how this varies before you decide which method to pick.
Payment method minimum deposit limits
| | |
| --- | --- |
| Flexepin | $1 |
| POLi | $5 |
| Bet365 Mastercard | $5 |
| Apple Pay | $10 |
| Debit/Credit Card | $10 |
| PayPal | $20 |
bet365 Withdrawal Times
In my experience, the bet365 withdrawal time has always been in the range of 24 hours to 5 days. I was never in a rush, but if you think you will be, go for PayPal.
Like every bookie, the time it takes to withdraw your cash will vary depending on the method you choose. Below we round this up for you:
Withdrawal times per payment method
| | |
| --- | --- |
| Apple Pay | Instant |
| bet365 Mastercard | Instant |
| PayPal | Within 24 Hours |
| Debit/Credit Card | 1 – 5 Banking Days |
| Bank Wire | 2 – 10 Banking Days |
How to Get My bet365 MasterCard?
Getting a bet365 MasterCard makes sense only if you don't plan on jumping to a different Australian bookmaker soon. I don't have one because I don't often deposit and not as much as some of my friends, for example. According to the information available at bet365, any registered bet365 customer can get one.
The thing I like most about it is that it can potentially offer an additional layer of control. What I mean by this is I have a dedicated payment method for betting, and it's impossible to lose track of how much money I'm spending, how much money I've lost/won, and so on. Lastly, from what I could see, the card is also a withdrawal method, meaning I can potentially use it for withdrawals!
Betting with the bet365 App for Android
I cannot even imagine betting without my smartphone. As an Android die-hard fan, I haven't had any problems with the bet365 Android app. Although I can access the full bet365 betting app in a mobile web browser instantly (I prefer Chrome), downloading the app is a move I don't regret.
The bet365 APK file is available just below the odds on the homepage. I made sure I covered the step-by-step process of downloading and installing the bet365 Australia app.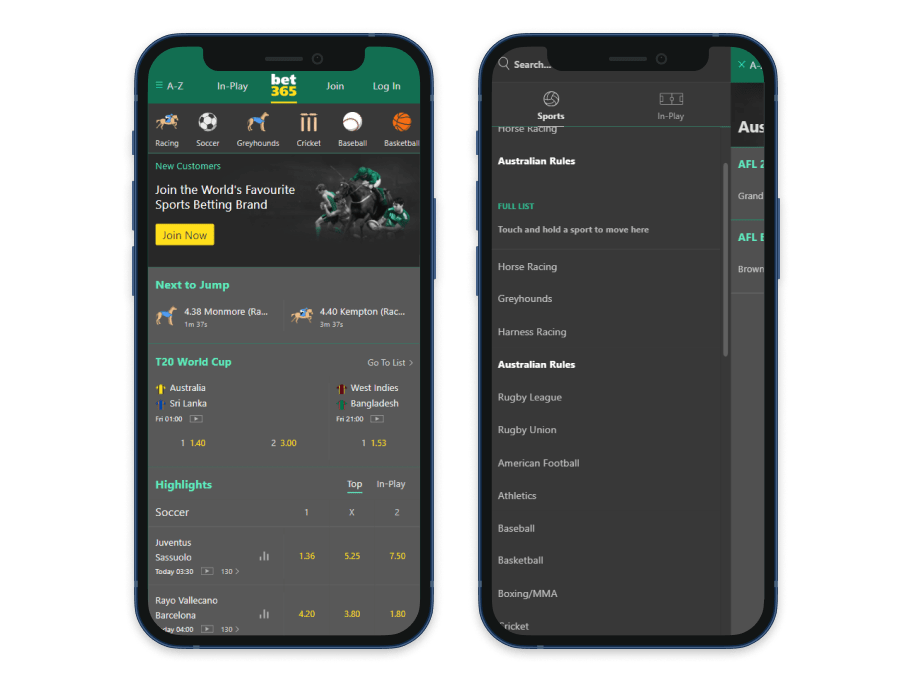 As for the design, it's the same. Both the web app and the native Android app look the same and have the same features. As it was at the time of writing, I think there wasn't anything that's missing. I guess the fact that I was using only the basic features doesn't make me the best judge in this situation, yet I can say I was happy.
Open a bet365 Account
bet365 stream on Mobile – Better than Desktop
Strangely, the bet365 stream looks better on mobile than it does on a desktop. The designers clearly spent more time figuring out how to squeeze the last pixel on the "small screen." Not only can you quickly place a bet as you are watching the game, but the be365 stream gives you access to real-time information. All things considered, bet365 ends up being a one-stop place where not only you can bet, but track results and follow the action.
Whether it's the bet365 app in your web browser or a native app, live streaming is better on mobile, hands down.
bet365 Bonus Once Registered
As with all Aussie bookies, you won't get to see bet365's bonus offers until you have registered with them. This is due to regulations that prevent Aussie bookies using bonus bets to attract customers.
That said, given bet365's place amongst the country's best bookmakers, you can be sure their bonus offers will be competitive. It means picking bet365 because of their other stand-out features, including live streaming and their impressive app. Then any bonus offers really will be a bonus!
Responsible Gambling and KYC with bet365
I already mentioned how bet365 is extremely popular in other regions, besides Australia. This kind of exposure brings a lot of responsibility, and a lot of potential threats, usually legal related. Over the years, responsible gambling mechanisms have evolved. I haven't used any Time-out, I never have Self-Excluded, but I do like the Reality Checks and the Deposit Limit.
I have set the deposit limit on day one, and to be honest, it helped me a few times. Usually, in time for big competitions, I tend to get lost a bit. Things definitely can get out of hand. Nevertheless, not to the point that it causes me problems. Discipline is essential to me, and with the bet365 deposit limit, I'm very safe.
When I had to verify my identity, I was offered two options. I could either send a scan of a recent utility bill/bank statement, or I could choose the mail verification. Basically, bet365 sends you a letter, to the address you have provided, and the letter contains a code. You simply provide the code, and your identity will be verified.
If you were to scroll to the bottom of the be365 site, you could see the seal of approval of the Northern Territory Government, Thawte, and Gambling Help Online, next to an 18+ icon. Things like this give me a sense of relief, knowing that I won't be tricked, cheated, mistreated in any way. I'm not saying that without them displayed bet365 would be any different, but I know that I can use them to my advantage, should the need for that arise.
Overall, I am happy with their approach.
bet365 Company Info

| | |
| --- | --- |
| Name | bet365 Group Ltd |
| Founded in | 2000 |
| CEO | Denise Coates |

| | |
| --- | --- |
| Revenue | $5.3 billion |
| Headquarters | Stoke-on-Trent, UK |
| Type | Privately held |
Opening a bet365 AUS Account
It's not a problem, but the registration is more demanding, sort of. They ask for quite a lot of personal details. Is this bad? I don't think so. However, signing up with bet365 Australia is not convenient on mobile.
I recommend doing so on a desktop because it will be faster and easier for you. Once you sort that out, you can log in on your smartphone, and you can use the bet365 app with no limits.
You can verify your identity from the get-go. You can find all the details in your "Account" tab.
Open a bet365 Account
bet365 Australia Review: Final Verdict
Regardless of the nature of the sports you're into, bet365 Australia is in some areas light years ahead of the competition. I don't think I will be switching to a different bookmaker any time soon. Of course, I'm doing it once in a while to test the competition because that's the only way to do an unbiased review.
However, my betting adventure lies with them. I have to say it was a pleasure going through the product in greater detail, which resulted in this quite detailed bet365 review. I am pretty sure the interface won't change dramatically any time soon, nor will there be new features (mainly due to the regulations in Australia).
bet365 FAQs
Is bet365 legal in Australia?
Yes, bet365 has obtained an Australia betting license from the Northern Territory, which grants them the full right to offer their services to the country's punters. They are now one of the best Australian bookies around.
How to withdraw from bet365 and how long does it take?
Withdrawing funds from bet365 is very straightforward. Just go to the cashier, pick the withdraw option and select amount and banking method. Waiting time depends on the payment method.
Does bet365 offer Live Streaming?
Bet365 offers it's customers a live streaming service for a number of sports including soccer and tennis. It's not a free service, in that you must have placed a bet in the previous 24 hours or have a funded account, but it's a remarkably strong product to offer Aussie punters.
Is there a bet365 app?
Yes, bet365 offers native apps for iOS and Android. These are among the best betting apps available on the market, so it's safe to say that most of the punters will be satisfied. They have all the same features as the desktop site, including sports live streaming.
Who owns bet365?
Denise Coates is founder and co-CEO of bet365. She owns the company together with her father Peter Coates and brother John Coates. Bet365 first came to Australia in 2012 and since then they have been one of the most popular bookies among Aussie punters.
How safe is bet365?
Bet365 is one of the most prominent betting sites in the world, so you can be 100% sure that it's not a scam. They have all of the most advanced safety features installed on their site. But what is most important, bet365 hold a betting license issued by the Northern Territory Government.