PointsBet is the only bookmaker in Australia that has spread betting. However, they don't really offer anything else. Fixed-odds betting is average at best, and the selection of payment methods is unacceptable.
Jump straight to: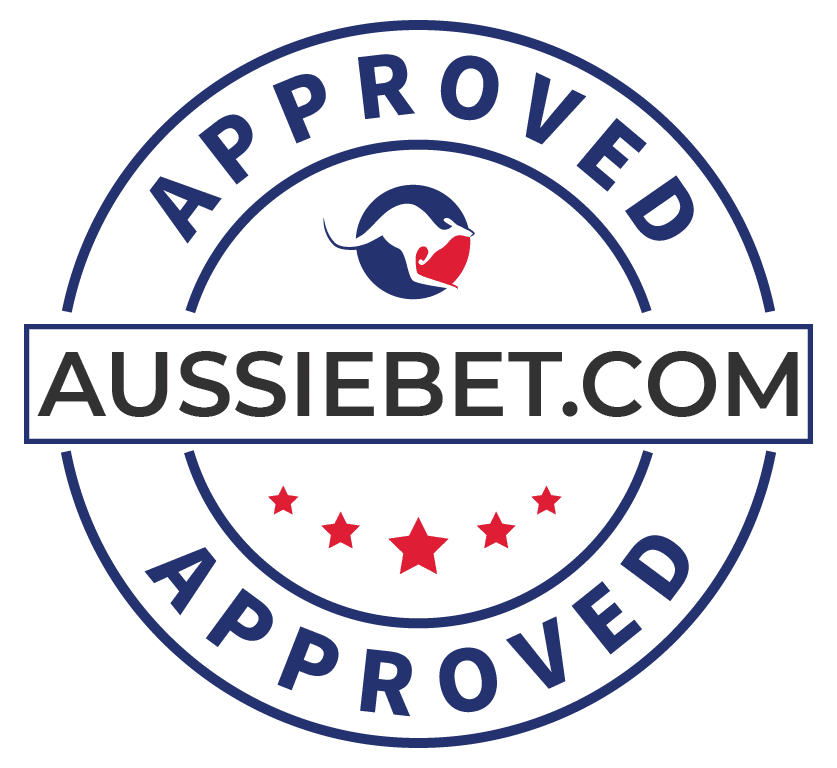 If you're thinking about joining this bookmaker, my PointsBet review will do you good. The general opinion is that they are far from other top betting agencies in Australia. We recommend taking a look at the top-rated bookmakers for an overall better experience.
The Pros of PointsBet
The only spread betting site in Australia

Spread betting on the go with PointsBet iOS and Android apps
The Cons of PointsBet
Limited banking facilities

No live streaming

Weak betting offer overall
PointsBet Overview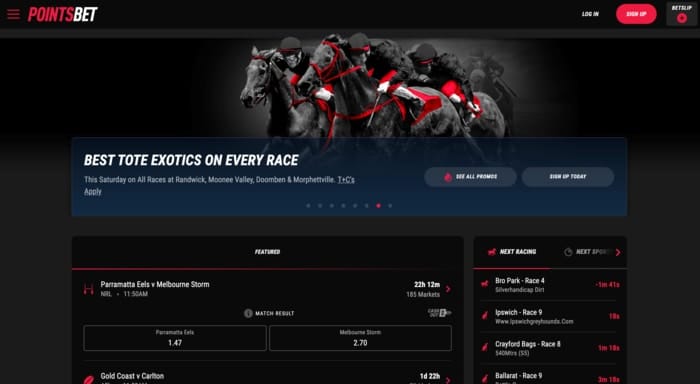 PointsBet opened in 2017 as the only bookmaker in Australia that has spread betting. But the great thing about PointsBet is that they also offer standard fixed odds wagers.
Even though I love spread betting, I don't want to play it all the time. So, having an option to place regular bets is very important for me. PointsBet is a solid option even if you just want to enjoy your usual sports and horse racing bets, and then maybe spice things up with a spread bet from time to time.
This bookmaker is 100% Australian owned, so it didn't surprise me that they have such fantastic coverage of local sports and racing. Apart from the NRL, AFL and Australian horse racing, you can also bet on the broad range of international events. It includes everything from US sports, like NBA and NFL, to top-level cricket and soccer. PointsBet has grown into a respected bookmaker with strong connections across Australia. They are official betting partners of AFL, NRL, ARU, Tennis Australia, FFA and Cricket Australia.
How Does Spread Betting Work?
Since spread betting isn't so widely popular, especially among new punters, I thought that it would be worthwhile to briefly explain how it works. If you already know how spread betting goes, feel free to skip this part. All others should read the next few sections before anything else.
When betting on spread, your potential winnings or losses can be different depending on the winning margin of your Bet. The final payout is calculated by multiplying stake with the difference between the result and your chosen line or total. The gap between line or totals is called the spread. For example, if you bet $10 that the total number of points on an NBA game will be greater than 200, and the final result is 205 in total, you'll win $50. That's because (205-200) x10=50.
The catch is that in case there are fewer points than you predicted, your losses also multiply. So, if the end result is 195, you'll lose $50. That's why I always suggest my friends to be extra cautious with spread betting. You can win much, but you can waste a lot as well. If you're new to online betting, I strongly advise you to read the full guidelines on PointsBet site. They have tons of material, including video guides, which should be more than enough to get you started.
Another thing you should be aware of is that PointsBet lets you limit yours loses. Every spread Bet offers an option to set the maximum amount you're willing to lose. But keep in mind that if you set the max losses to for example $50, your max winnings will also be limited to the same amount. I use this feature for almost every wager since it gives me much more control over the end result. Also note that PointsBet temporarily holds an amount greater than your stake until the Bet is settled, so they can be sure you'll have enough funds to cover a potential loss.
PointsBet Horse Racing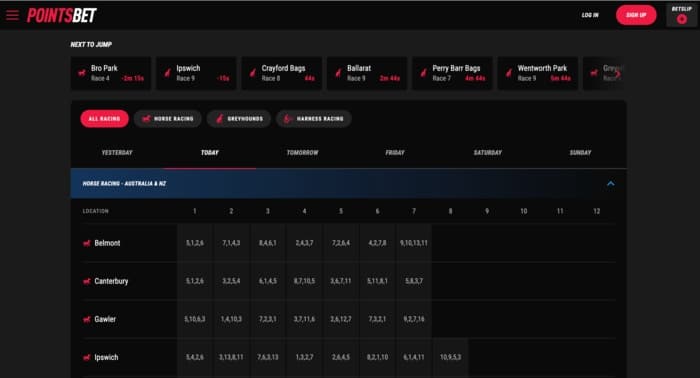 Even though PointsBet's main focus is spread betting, they also offer a strong selection of horse racing bets. Apart from the Australian and New Zealand racing, you can also bet on the range of international events, including the US, the UK, Canada or even Brazil racing. They cover harness and thoroughbred, meaning that there is everything most of the racing punters are looking for.
You can back up all of the most popular bets, such as win, place, each-way, best tote, Quinella, Exacta, Trifecta, First Four and so on. When comparing PointsBet horse racing offer with what other big Australian bookies have in place, I was pleasantly surprised with the results. This bookmaker doesn't lag too far behind even behind the names like Unibet or Palmerbet.
The sole range of events and markets is great, but what really made me love PointsBet is their user interface. It's very slick and modern looking, so you won't have any problems finding your way around.
There is a list of the upcoming races on the right side of the home screen. However, if you want to browse all the events, head out to the 'Horse Racing' page in the main menu. Once you're there, you'll see how easy it is to navigate through days and different races. PointsBet isn't a racing focused bookie. Yet they managed to come up with an excellent offer.
Horse Racing Odds
As you can see from the table below, PointsBet came last in our odds comparison test. This bookie falls behind PalmerBet and bet365 not just in the selection of markets but also when it comes to the quality of odds.
Pointsbet Racing Odds Comparison

| Belmont | bet365 | Palmerbet | PointsBet |
| --- | --- | --- | --- |
| Spanish Hurricane | 11.00 | 12.00 | 11.00 |
| Brains | 7.50 | 7.00 | 7.00 |
| Divine Service | 10.00 | 11.00 | 10.00 |
| I Can I Will I Am | 15.00 | 15.00 | 15.00 |
| Guangzhou | 2.75 | 2.70 | 2.70 |
| Steelz Time | 3.10 | 3.00 | 3.00 |
| Salesman | 15.00 | 14.00 | 14.00 |
| Autmed | 34.00 | 41.00 | 34.00 |
| Overround | 117.3% | 118.3% | 120.5% |
Spread and Fixed Odds Sports Betting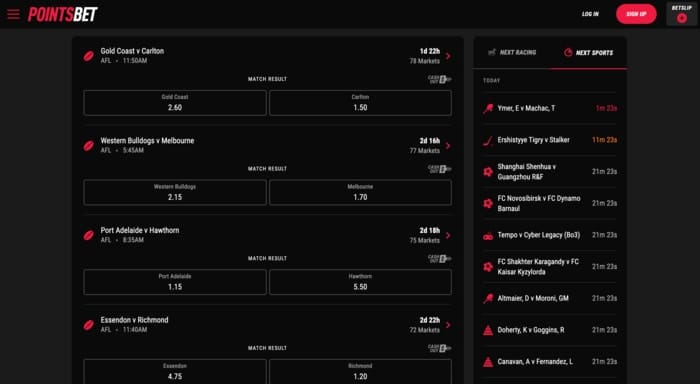 You can place a quick bet directly from the start screen or open the main menu in the top left corner to browse all of the available options. As an Australian native, PointsBet focuses on the domestic leagues, such as AFL, NRL and A-League. But there aren't that many international leagues or niche sports like surfing or table tennis.
Once you choose the sport and a game you'd like to bet on, they will show you 3 tabs – one with fixed odds markets, one for spread betting and one for the same game multi. I was amazed by the range of fixed odds markets on offer. Don't be surprised if you find even more than 250 markets for some of the AFL or NRL matches. But keep in mind that the selection isn't that broad for some of the less popular or non-Aussie sports.
There is also a hefty selection of spread markets, which includes many advanced options like win margins, multipliers or player stats. I personally don't like to bet multies, but if you do, don't miss to check out the 'Same Game Multi' feature. It allows you to place multiple bets on a single event, with just a few clicks. It's definitely one of the most convenient multi maker tools I encountered in recent times.
Sports Odds Comparison
Our tests once again showed that PointsBet trails behind its competitor. As you can see from the table below, both BlueBet and Unibet had better prices. The difference isn't that big, but it all adds up over time.
Pointsbet Sports Odds Comparison

| AFL | PointsBet | Unibet | BlueBet |
| --- | --- | --- | --- |
| Adelaide Crows | 3.35 | 3.40 | 3.30 |
| Melbourne Demons | 1.33 | 1.33 | 1.34 |
| Overround | 105% | 104.6% | 104.9% |
Live Streaming
At the time of writing this review, PointsBet doesn't offer sports or racing live streaming. I love to watch live games and place bets all in one place, but unfortunately, that isn't an option at PointsBet.
If you want to watch live racing or sports online, my recommendation is to head to bet365. They have a market-leading streaming platform that works perfectly on both desktop and mobile. In case you want to learn more about the bet365 betting offer, take a look at our dedicated review below.
Best Live Streaming Betting Sites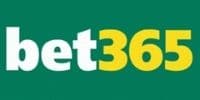 Best live streaming platform
Great racing offering
Long sign-in form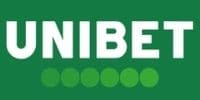 User-friendly website
Excellent app streaming
Not Aussie owned
Live Betting with PointsBet
The selection of sports and games available for betting live isn't that good. PointsBet offers all the usual suspects, like AFL, NRL and soccer, but you can also find a few less popular sports, such as table tennis and volleyball. On the other hand, e-sports fans will be pleased to hear that all of the big video game clashes are there as well.
The selection of live markets is also worse than at their top competitors. It's not as broad as at bet365 for example, so it's hard for us to recommend PointsBet to any in-play betting enthusiast.
In case this is your first time placing live bets, take a look at this quick guide.
PointsBet App – Spread Betting on the Go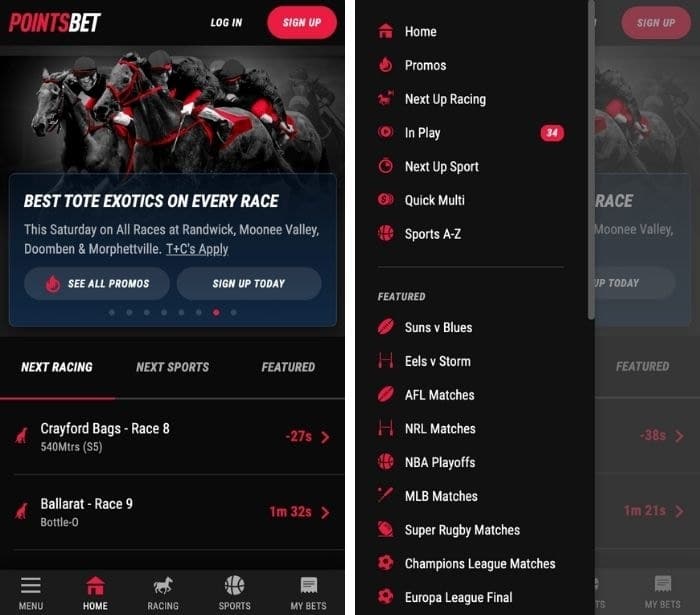 The design of the app is pretty much the same as on the desktop site, so won't have any problems when switching. Another important thing is that spread betting is surprisingly convenient even on a smaller screen. However, the app is sometimes slow and takes lots of time to load, which is a big minus in my books.
As a long-term iPhone user, I can claim that PointsBet app for iOS works pretty well. For the sake of this review, I also tested their Android app. The only difference is that you'll have to get the app directly from the PointsBet site and install it on your own. But don't worry, it's a very simple task. If you're not sure how to do it, take a look at the step-by-step guide below.
If you don't want to go through all of this, feel free to use their web-based app. Just enter the PointsBet website using a mobile browser, and that's it. It has all the same features as native apps, which makes it the easiest way to place a quick bet on the go without having to download anything.
Payment Methods – Only 3 Deposit Options
The selection of payment options is probably one of the weakest sides of PointsBet. You can only deposit via cards, EFT and POLi. As an avid e-wallet user, I was disappointed that neither Skrill or Paypal betting is available. But since cards and POLi are the most popular methods around here, the majority of the punters should be fine even with the offering this slim. I hope that PointsBet add more banking options sometime soon since there is really not much going on in their cashier right now.
POLi is a deposit only method, meaning that there are only 2 options left for withdrawal – cards and EFT. The funds were usually in my bank within 2 or 3 days after sending the request, which is a pretty long waiting time. But don't forget to verify your account as soon as you register. PointsBet will deactivate any account that hasn't completed the verification within the first 14 days.
Pointsbet Payment Options

| Payment Methods | Withdrawal Times |
| --- | --- |
| Bank Transfer | Up to 10 Working Days |
| Visa | 1 - 3 Working Days |
| MasterCard | 1 - 3 Working Days |
| POLi | N/A |
Customer Support
When it comes to customer support, two of the most important things for me are live chat and 24/7 availability. Luckily, PointsBet checks both of these boxes. However, the big minus here is that they usually don't respond right away. You'll have to wait anywhere between 15 minutes and couple of hours, which makes the chat anything but "live".
Also, don't forget to always take a look at the FAQs page first. It isn't too extensive, but it can be helpful for some of the less complicated problems. They also explain in great detail how spread betting works.
PointsBet Contact
PointsBet Contact Number: 13-72-38
Email: [email protected]
Post: PointsBet, PO BOX 4191 535 Richmond East 3121
PointsBet Live Chat: Available 24/7
PointsBet's Safety Features
Since joining PointsBet, I haven't encountered a single safety issue. Everything went smoothly, from account verification to deposits and withdrawals. From what I could find, there are also no other people that had serious security complaints. This isn't a big surprise though. PointsBet holds a betting license issued by Australia's Northern Territory Government, so they have to stick to the very high security standards. For example, the site is protected with the 2048-bit encryption, which means that all your important stuff, such as personal data and card numbers, are well protected from any interference.
Pointsbet Company Info

| | |
| --- | --- |
| Name | PointsBet Australia Pty Ltd |
| Headquarters | Melbourne |
| CEO | Johnny Aitken |

| | |
| --- | --- |
| ABN | 91 606 814 920 |
| Founded in | 2019 |
| Speciality | Spread betting |
Betting with 100% legal bookies such as PointsBet also means that they have all the player protection measures in place. I sometimes use the loss limit tools, but you can also take advantage of self-exclusion or time out. You can learn more about these tools on the 'Responsible Gambling' page. On top of that, there is a quick link to the Gambling Help Online in the footer or every page on PointsBet website.
PointsBet Review Verdict
Spread betting is the only PointsBet feature that sets them apart from the rest. If you're a huge spread betting fan, this bookmaker is, unfortunately, the only place to go right now. However, they're outclassed by competitors in almost every other category. From their betting offer to live streaming and payment methods, PointsBet is far from being the best on the market.
Because of all this, I suggest you take a look at some other top Australian betting sites that have a far superior offerings.
Pointsbet FAQs