Here at AussieBet, you will find all the information you need about all the biggest and best Australian betting companies. This time TAB Sportsbet is put under the spotlight, and if you are thinking about becoming a member, you are in the right place. It's important to know all the downsides of TAB, such as subpar odds and often disappoint selection of markets.
Since these aren't some minor flaws, we strongly suggest you take a look at other options. So far, bet365 sportsbooks have proven to be the best in the business. From live streaming to betting specials, they are the number one!
The Pros of TAB
Access to live streaming of horse racing and NBA

Cover all Australian racing plus a large number of international sports
The Cons of TAB
Depth of markets for sports are disappointing

Odds are usually beneath the industry average
TAB Information And Facts
TAB Sportsbet is part of Tabcorp holdings, an ASX listed company since 1994. The TAB brand was first unveiled all the way back in 1964, and they are licensed in both NSW and VIC. They have over 2500 retail units in both territories, and TAB Sportsbet gives punters the chance to bet on horse racing and sports online.
It is against the law for Aussie bookies to offer online in-play betting due to the Interactive Gambling Act. However, TAB Sportsbet advertises in-play odds on their site, and you can place in-running wagers over the phone.
If you bet mainly on horse racing, then TAB Sportsbet is well worth checking out. Members can access Sky Racing 1, Sky Racing 2 and Sky Thoroughbred Central for free via the TAB Sportsbet site. This allows members to bet and watch the best international and domestic horse racing action. TAB Sportsbet has been on the scene for over 50 years, and we think it is a betting site well worth checking out.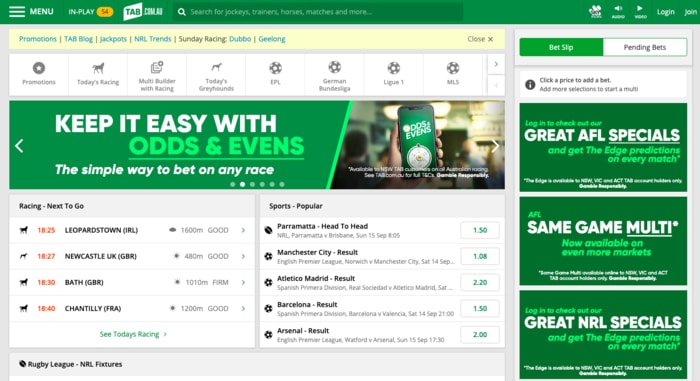 Sportsbet Blog
Sometimes it is nice to have a helping hand when trying to pick out those elusive winners. Well, with the TAB Sportsbet Blog, you can access a wealth of information on a wide range of sports. TAB Sportsbet's experts analyse all the biggest Aussie and International racing and sporting events, and it really is a brilliant resource for punters.
The TAB Sportsbet blog is easily accessed via a link on the drop-down menu on the left-hand side of the home page. You will find regularly updated articles on racing, NRL, AFL, soccer and NBA. The TAB Sportsbet blog is a tool that is well worth utilising, and it is one of the best blogs available from any Australian betting agency.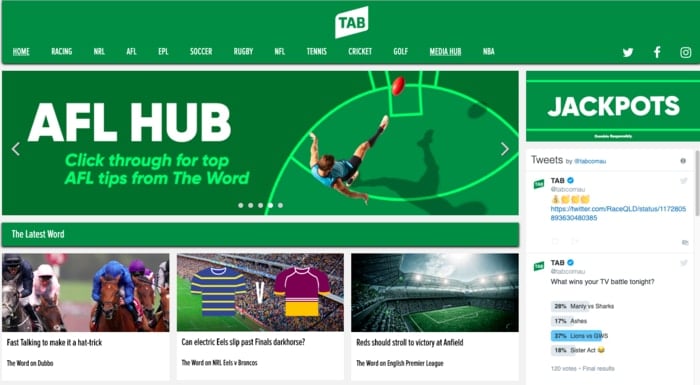 Tab Live Betting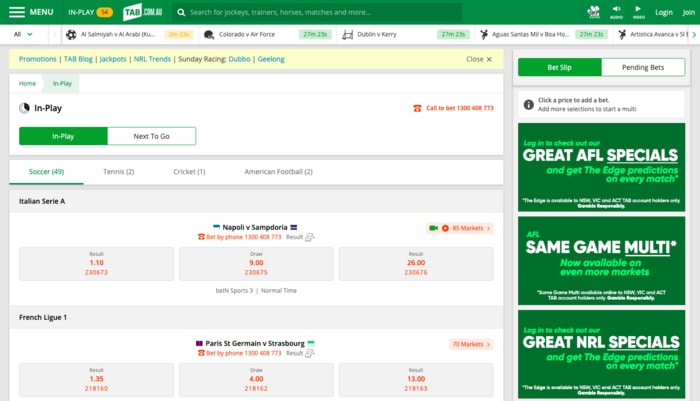 As we outlined earlier on, the Interactive Gambling Act outlawed online in-play betting in Australia. However, most bookies still display in-play odds, and with TAB Sportsbet you dial 1300 408 773 to place your in-play wager. Live betting is available across a wide range of sports with TAB Sportsbet, including basketball, soccer, golf, rugby, tennis, baseball, netball, volleyball and for the Commonwealth Games. An impressive array of in-play markets are available and to find out how to bet in-play with TAB Sportsbet check our guide below.
TAB Live Streaming
One area where TAB Sportsbet really stands out is through their live streaming service. If you open an account with TAB Sportsbet, you will instantly have access to Sky Racing 1 & 2 as well as Sky Thoroughbred Central. This means you can watch all the biggest and best-racing events in Australia and around the world. All you need to do is log in to your account and click on the 'Video' button in the top right-hand corner.
It isn't just racing that you can stream live with TAB Sportsbet. Basketball is hugely popular down under too, especially the glitz and glamour of the NBA. Well, if you love your slam dunks and alley-oops, then TAB Sportsbet could be the betting company for you. You can bet and watch NBA matches live with TAB Sportsbet, just place your wager and visit the 'Live Match Centre'.
TAB Mobile App And Web App Betting
Betting on the move has rocketed in popularity with Aussie punters in recent years. It is imperative that bookmakers provide a Mobile or Web App and TAB Sportsbet have Apps for all devices. You can stream live racing to your device via the TAB Sportsbet mobile and web app and all the usual markets on sports and horse racing are available.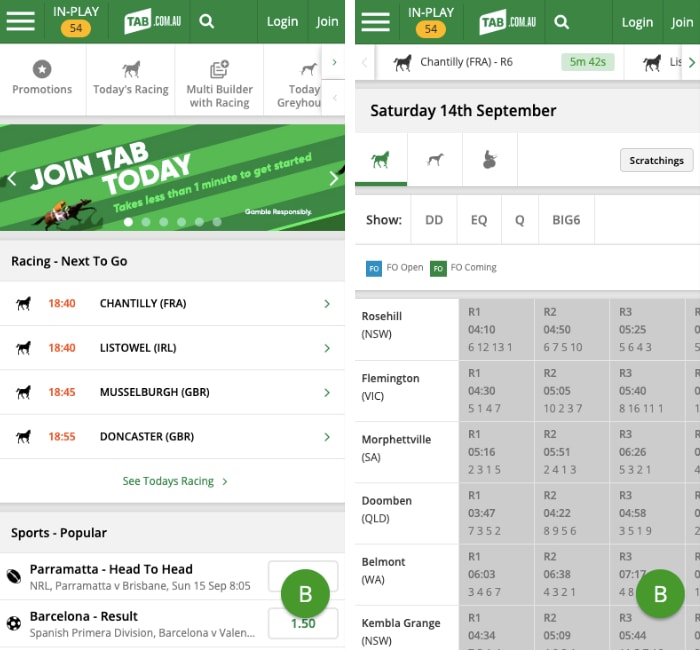 If you use an Apple iPhone, iPad or iPod Touch, you can download the TAB Sportsbet App from the App Store. It is 58.2 MB in size, it requires iOS 9.0 or later and location and age restrictions apply. The Android App can be downloaded directly from the TAB Sportsbet website. If you use a Blackberry, Nokia or Windows Phone, you can bet on the move by simply visiting TAB Sportsbet on your device. You will be automatically redirected to the Web App.
The App works smoothly, and the live betting section is particularly impressive. The odds update regularly, and you will find a multitude of markets to bet on for sporting and horse racing events. The TAB Sportsbet App is well designed, easy to use, and for punters who like to bet anywhere at any time, this Mobile App is well worth a try.
How Good Are the TAB Odds?
Perhaps the most important thing to consider when opening an account with a bookie is the quality of odds and range of markets on offer. We had a look at the odds on offer from TAB Sportsbet, Centrebet and Palmerbet for a recent AFL contest between Newcastle Knights and Brisbane Broncos.
When it came to the quality of odds, there wasn't much between them. TAB Sportsbet had an over round of 110.1% in the head to head market, but Centrebet (109.47%) and Palmerbet (109.84%) had slightly better odds.
When it came to the number of markets for the above-mentioned match TAB, Sportsbet lagged behind with just 56. Centrebet had 110 and Palmerbet were next best with a total of 102 markets. So, when it comes to the generosity of odds and depth of markets, TAB Sportsbet has plenty of room for improvement.
TAB Horse Racing Odds Comparison
TAB has much more to offer when it comes to the betting on horses. Their odds came second behind Palmerbet by a margin of 3.6%. However, TAB has shown to be much better than BetEasy. So if horse racing is your thing, TAB may not be that bad of a choice after all.
TAB Horse Racing Odds Comparison

| Wangaratta | TAB | Palmerbet | BetEasy |
| --- | --- | --- | --- |
| Hichaux | 5.00 | 5.00 | 4.80 |
| Joyfull Prince | 71.00 | 71.00 | 51.00 |
| Pharaoh'S Way | 61.00 | 61.00 | 51.00 |
| Rossgo | 6.50 | 7.00 | 6.00 |
| Vlamingh | 34.00 | 34.00 | 31.00 |
| Yulong Captain | 1.45 | 1.50 | 1.45 |
| Palace Raider | 81.00 | 81.00 | 67.00 |
| Colonnade | 5.00 | 5.00 | 4.60 |
| Overround | 131.6% | 128.2% | 136.9% |
TAB Sportsbet Horse Racing Betting
Horse racing is one of the most important sports in Australia, and not many countries can lay claim to hosting a race that stops a nation. Well, The Melbourne Cup does just that, but that is far from being the only major racing event held in Australia throughout the year. The Autumn Festival is fast approaching, and that is hugely popular with horse racing punters too.
TAB Sportsbet are well known for their extensive horse racing betting suite. It is well laid out and very easy to navigate. Weight and Sky Rating are displayed for each race, and you can get the resident TAB expert view by clicking on the 'Preview Show' button.
All the usual betting options are available, including Win, Place, Trifecta, Quinella, Exacta, Duet, First 4, Quaddie, Daily Double and Running Double bets are offered. TAB Tote is offered for all events and TAB fixed odds are offered for most events. Fixed odds are available earlier than a lot of their rivals, and perhaps the best feature of all is that you can bet on horse racing and watch your selection run live via TAB Sportsbet live streaming.
TAB Sportsbet Deposit And Withdrawal Methods
Instant Deposit Methods: Credit/Debit Card, TAB Retail Outlets
Non-Instant Deposit Methods: BPAY, Bank EFT
Withdrawal Methods: Bank EFT, International Transfer, PayPal, Skrill, BPAY
Unfortunately, POLi Payments is no longer accepted at TAB Sportsbet, following the update of their webpage. Need not to worry, if that's your payment method of choice, check out our POLi betting sites.
Another key consideration when you are deciding whether to open a new betting account is what sort of banking facilities are available. There is no point in becoming a member of a site if you can't withdraw or deposit funds. TAB Sportsbet has a limited range of banking facilities available as you can see above. Minimum deposit/withdrawal is $20. Before you make any withdrawals, you must verify your account and find out how just check our guide below.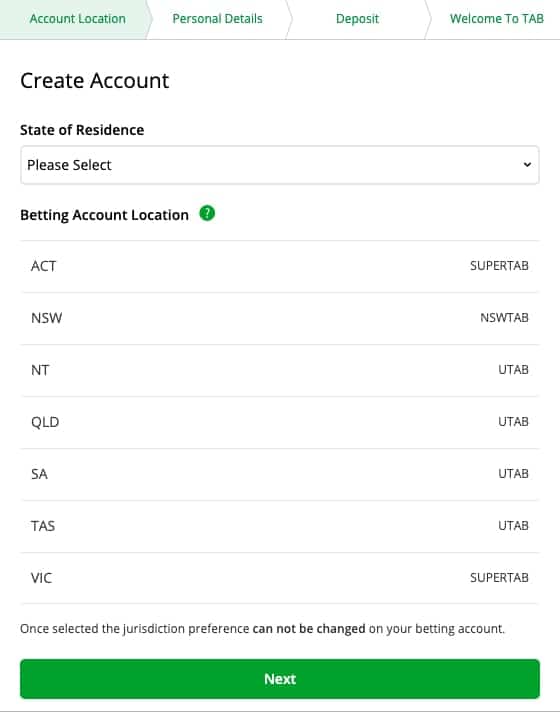 TAB Limits And Payouts
It is very common for bookies to protect their interests by imposing strict win limits for horse racing, sports and multi wagers. Most Australian bookmakers outline clearly in their terms and conditions what the win limits are, but that is not the case with TAB Sportsbet.
They are very vague on what their win limits are, simply stating that they will impose win limits at their own discretion. We think it is much better to know exactly how much you are allowed to win, and this has to be viewed as a major negative for TAB Sportsbet customers.
TAB Customer Service
As the old saying goes, the customer must always come first, and it is imperative that any business, no matter what the industry, provides quality customer service. TAB Sportsbet says the best way to contact them is via the help centre where you can fill out a query form. There are other ways to get in touch with TAB Sportsbet, and you will find the relevant contact details below.
Contact Details
Telephone: Customer Service: 131 802
Email: Via the' Contact Us' section of the website. (same-day response time)
Post: NSW: 680 George St, Sydney, NSW 2000, Australia; VIC: Tower 2, 727 Collins St, Docklands VIC 3008, Australia
Is TAB A Bookmaker You Can Trust?
It is never easy to divulge sensitive personal information over the internet, especially your bank/credit card details. You need to know that your info will be stored safely and securely in a responsible manner and TAB Sportsbet do exactly that. We list some of the main ways in which they protect your sensitive information below.
All personal details are stored on a secure server
Protection of passwords using industry-standard encryption
Measures to preserve system security and restrict unauthorised access
Back-up systems to reduce the risk of accidental or malicious loss of data
Credit cards may need to be verified as an added security measure
TAB Company Info

| | |
| --- | --- |
| Name | Tabcorp holdings ltd pty |
| Founded in | 1964 |
| Headquarters | Melbourne, Australia |

| | |
| --- | --- |
| CEO | David Attenborough |
| Revenue | $5.482 billion |
| ABN | 66 063 780 709 |
Responsible Gambling
Here at Aussiebet, we take the promotion of responsible gambling very seriously. We are glad to report that TAB Sportsbet share the same outlook. It is very easy to get carried away with gambling, and it should always be enjoyable. If you think your gambling habit might be getting out of hand, you can use some of the resources and tools listed below.
To help individuals who are experiencing trouble in managing their gambling, Tabcorp provides a Self-Exclusion program called BetCare
Easily keep track of profits/losses by easily keeping track of transactions
Pre-Commitment Limits: Set daily, weekly or monthly deposit limits on your account
Self-Exclusion: Temporary or permanent self-exclusion available
Links to and contact details for relevant gambling help services
TAB: A Great Choice For Horse Racing
Overall, we weren't too impressed with TAB sportsbook. There are some obvious negatives, including less than generous odds for sports, poor selection of markets in comparison to some of their rivals and limited banking facilities. The lack of defined win limits is another slight downside. Because of all this, it would be best to go and look for other options.
TAB FAQs
What does the acronym TAB stands for in the name of the bookamaker TAB?
TAB stands for Totalisator Agency Board, which was once a government owned organisation. It was the sole provider of betting services in Australia. Each territory had its own TAB.
Is TAB available internationally?
No, TAB is available only on Australian soil, and not across all territories. That is, each territory was governing its own TAB, by issuing laws and rules. For what it's worth, Aussie licensed bookmakers can operate in Australia only.
Does TAB have mobile betting and mobile apps?
TAB gives you the opportunity to bet on the go with its mobile betting apps on both iOS and Android devices. Visit the Google Play Store or the App Store to download TAB sports apps for free.
---