Bbet is one of the longest-lasting Australian bookmakers, with a 20 years-long tradition. Horse racing is what they do best. You can even watch live racing events over their streaming platform.
As a regular customer, I know all ups and downs of betting with this bookmaker. I'll share all of my insights in this Bbet review. It includes an in-depth analysis of their racing betting offer.
The Pros of Bbet Review
Great racing coverage

Watch live streaming via Bbet TV

Android and iOS apps

Solid odds
The Cons of Bbet Review
No live betting

No live chat support
Bbet Overview
Bbet has been around for a long time. Around 20 years to be exact. Famous Australian bookmaker Luke Behrmann and his company The Behrmann Group Ltd own the Bbet brand. They have helped this bookmaker to quickly become one of the favourite online operators in Australia. However, this hasn't happened overnight. Bbet is quite new in the online world, but they have a very long experience in taking bets 'face to face' at the Australian Turf Club meetings.
After great success as a real-life bookmaker, The Behrmann Group just recently launched Bbet online sportsbook. That's why their website can seem like it needs a bit of polishing. But from what I can tell, they got all of the main things right.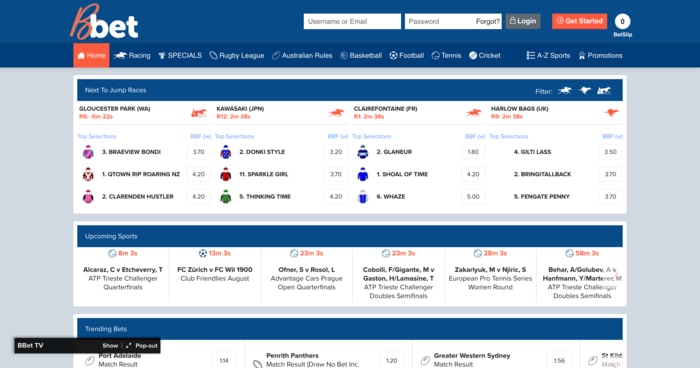 Horse racing is definitely their strong point. Bbet has comprehensive coverage of Australian and New Zealand races, that can stand shoulder to shoulder with what other top bookmakers have to offer. They cover international racing events as well, meaning that you won't miss out on anything if you decide to join them. And what's the most important, all of these goodies are packed inside of a user-friendly website. Placing racing bets at Bbet is a real pleasure!
Sports betting offer is a bit weaker when compared with what they have for racing. But it should be enough to satisfy all of the casual punters. They cover the full range of Australia's favourite sports, like rugby and cricket. Plus, you get access to a decent selection of top international leagues and tournaments. Bbet is even an approved betting partner of AFL, NRL, FFA and a few other major organisations, which just confirms how respected they really are.
Bbet Horse Racing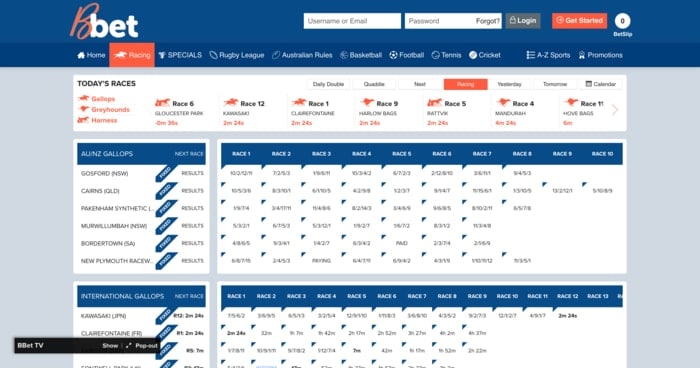 Bbet offers a plethora of horse racing events, and what is even more important, they are all neatly organised. That's why it was always very easy for me to find what I want to bet. You'll see the upcoming races on the home screen, together with the top 3 favourites for each race. If you want to place a quick win bet, just click on a feature market and that's it.
For the full selection visit the 'Racing' page in the top menu. From there you can easily browse by the country, date or the race type. I haven't seen any multi maker tool available. But since I consider multis to be way too risky, this didn't bother me that much.
When it comes to racing markets, Bbet is as equipped as it can be. You'll find all the standard bets, like win/place and top fluc, as well as the full range of exotics, including quinella, exacta, trifecta, first four and quaddie. This is a very comprehensive selection of markets, so I doubt you'll find anything to complain about. Plus, you get to watch live racing on Bbet TV, which is something you don't see every day. However, one small thing I found missing is Speed Maps. They already offer Form Guides, so adding Speed Maps to the offer would make Bbet even better.
Horse Racing Odds Comparison
As you can see from the table below, Bbet racing odds are somewhere around what market leaders are offering. I have put them against bookmakers known for having strong prices for horse racing, but they have still managed to prevail. The most important thing is to do this kind of test before every bet. I do it every time since it's the only way to be sure which bookie has the best offer. Make sure you always include Bbet, since as you can see, their odds are usually more than great.
Bbet Racing Odds Comparison

| Ipswich | Bbet | Palmerbet | Pointsbet |
| --- | --- | --- | --- |
| Katy's Daughter | 6.50 | 6.50 | 7.00 |
| Dolly Spartan | 3.90 | 3.90 | 4.20 |
| Trengganu | 2.10 | 2.10 | 2.00 |
| Juxtaposed | 26.00 | 26.00 | 23.00 |
| Real Fine Wine | 5.00 | 4.80 | 4.80 |
| Parlour | 101.00 | 101.00 | 101.00 |
| Bartalumba | 101.00 | 151.00 | 101.00 |
| East Esplanade | 71.00 | 71.00 | 71.00 |
| Overround | 115.9% | 116.4% | 114.9% |
Sports Betting with Bbet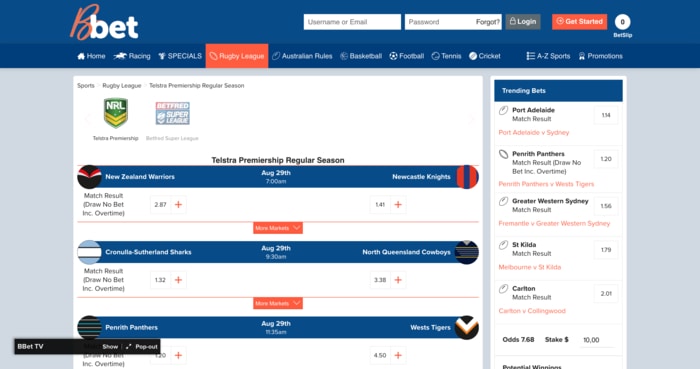 Bbet has a solid sports betting offer. Apart from all of the popular sports, like AFL, NRL, cricket, soccer and basketball, they also cover a fair share of niche sports, such as cycling, darts and martial arts. It's less than 15 sports altogether, which is ok for the bookie of this size. The range like this should be enough to satisfy most of the casual bettors. However, it's not a match for what the likes of Unibet or bet365 have on offer. On the bright side, the interface looks very clean and neat, meaning that placing bets is very easy even if it's your first time visiting Bbet.
Selection of markets also isn't the best I have ever seen. Again, it should be enough for most of the people, but experienced punters may not be delighted. For example, Bbet usually offers around 11 markets for each AFL match. It includes all of the basic bets like win, handicap and first to score. However, many big bookies are regularly having even over 100 markets for popular games. If Bbet added at least totals or goal scorer markets, their sports offer would look a whole lot better.
Sports Odds Comparison
Once again, Bbet finished in the middle in my odds comparison test, which is another proof of how competitive they are. Unibet has a better overround by 0.3%, which is almost a non-existing difference. On the other hand, Bbet is clearly much better than PointsBet in this case. The lack of markets is undoubtedly an issue, but when it comes to odds, this bookmaker has proven that it can stand shoulder to shoulder with the best.
Bbet Sports Odds Comparison

| AFL | Bbet | Unibet | Pointsbet |
| --- | --- | --- | --- |
| Western Bulldogs | 2.48 | 2.45 | 2.50 |
| Geelong Cats | 1.55 | 1.57 | 1.45 |
| Overround | 104.8% | 104.5% | 109% |
Bbet App – Simple Yet Powerful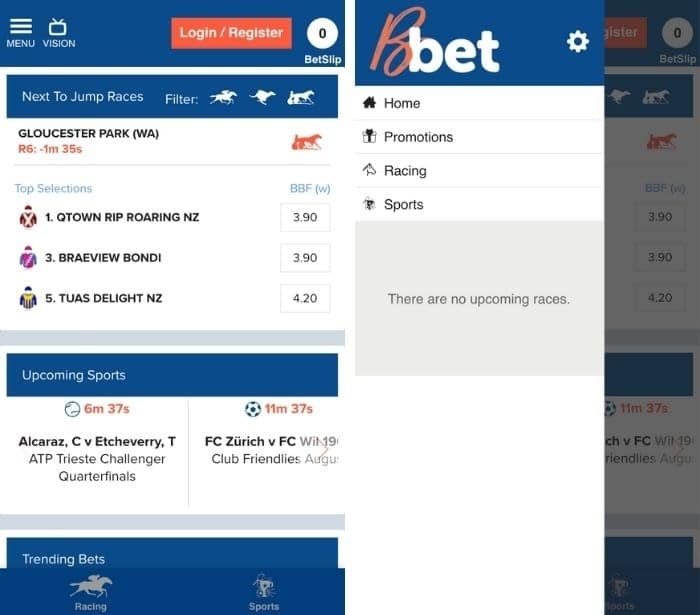 Bbet knows how important mobile betting is these days, so they have released both Android and iOS native apps together with the desktop sportsbook. I'm using the iPhone app at the moment, and from what I could tell, it works great.
I like the fact that there are just two tabs in the bottom menu – sports and racing. It can't get any more straightforward than that! There is a main menu in the top left corner, but I'm no using it too much since everything is already on the screen. A nice touch is the 'Vision' button at the top of the screen, which automatically opens the Bbet TV window.
The android app looks pretty much the same as the iOS one. The menus are identical, and you get the selection of upcoming races and sports on the home screen. The only difference is that you'll have to download it directly from the Bbet website.
The thing I didn't like is that there isn't a dedicated app page, where you can learn more about how the Bbet mobile betting works. I finished everything with ease, but some of the less experienced players may get confused. That's why I have made a step-by-step guide on how to download the Bbet android app.
Click on the Android icon in the site footer to download the apk file
Once the download is complete, open the 'BBet.apk' file
Go to the security setting on your device and enable the 'Unknown Sources' option
Once the app is installed, you can start betting right away
If you're not a fan of downloadable betting software, feel free to use Bbet mobile site. It doesn't require any additional downloads, and it offers all the same features as the native apps. Open your mobile browser, visit the Bbet site and start betting right away!
Payment Methods
Bbet has the usual range of payment methods you'll find at almost any other Australian betting site. If you want to make an instant deposit, then credit/debit cards or POLi is the choice for you. In case you don't mind waiting, use Bank Transfer, BPAY or cheques. On top of that, you can even deposit cash to your Bbet account at any Westpac branch.
These are all banking options that most of the punters are comfortable with, so I think you'll be satisfied as well. I was pretty happy with the offer, even though the addition of at least one e-wallet would make things much better.
You can get your winnings back either via Bank Transfer or the credit/debit card you previously used to deposit. In most cases, the money was in my personal account within 2 to 3 working days, which is pretty good. Also, don't forget to verify your account in time. My advice is to do it as soon as possible since they won't let you do any money transaction before you pass the identity check.
Deposit Methods: POLi, BPAY, Bank EFT, Credit/Debit Cards, Cash and Cheques
Withdrawal Methods: Bank EFT and Credit/Debit Cards
Stream Live Horse Racing via Bbet TV
Bbet offers a service called Bbet TV, which allows you to watch live Australian and international horse racing. Just click on the little black pop-up in the bottom of your desktop screen or on the 'Vision' button on mobile, and the stream will start. They offer pretty good coverage, meaning that you can watch live almost every race you place a bet on.
I use this feature almost every time when betting on horses at Bbet. Not only it's free, but you can use it even if you're not a registered customer. So, if you're into horse racing, there is no real reason why not to give Bbet TV a try. It's definitely something that adds a lot of value to Bbet sportsbook.
Live Betting
At the time of writing this review, Bbet wasn't offering live betting. If you're a fan of in-play wagering as much as I'm, try visiting bet365. They have one of the best live betting platforms I have ever experienced.
You'll find tens of sports and live markets available all in one place. And most importantly, everything is neatly organised. If you want to learn more about bet365's in-play betting offer, take a look at our in-depth review. We cover everything regarding live betting as well, including a step-by-step guide.
Customer Support – Email Only
This is one of the things I dislike the most about Bbet. You can get in touch with their customer support only via email. Even though they're doing their best to be quick, it takes at least several hours to get an answer. Live chat would solve all of these problems, so I hope Bbet enables it anytime soon.
On the positive side, they do provide pretty extensive FAQs, meaning that you'll probably manage to solve most of the smaller issues on your own. As I mentioned above, Bbet launched the website very recently, so naturally, there are still many more things to be added. I just hope that live chat support is on the top of their list.
Is Bbet Safe?
Even though Bbet is new on the market, they have a very long tradition behind them. This isn't just some random bookmaker that popped up out of nowhere. Bbet is known as a reliable betting partner that takes good care of its customers. If that's not enough, note that they have an NSW betting licence, which means that Bbet is a 100% legal bookmaker. These licences aren't easy to get, so you can be sure that they have gone through some serious security and fairness tests to acquire it.
Since Bbet is a licensed bookmaker, they have to have tools on their site to help punters gamble responsibly. It includes things live self-exclusion and deposit limits. Also, don't hesitate to call some of the specialised agencies if you think you're experiencing gambling problems. You'll find numbers to Gambling Help Online and NSW Gambling Help on the 'Responsible Gambling' page.
Conclusion – Great User-Experience
Bbet is still a bit rough around the edges, but I can't deny that Luke Behrmann is doing a great job so far. They do miss some important features, such as live betting or live chat. But everything Bbet has is of high quality. Website is beautiful and user-friendly, the odds are decent, and horse racing coverage is as good as it gets. Plus, you get to watch live racing streams for free with no strings attached.
As I already mentioned in my Bbet review, my experience with this bookmaker was highly positive. That's why I would recommend Bbet to everyone, and especially to punters who're into horse racing betting.
Bbet FAQs
---
User Reviews
No reviews yet
---