BetEasy was one of the biggest bookmakers in Australia. They formed as a result of CrownBet and William Hill merger. Shortly after launch, BetEasy became of the most popular bookies around. Recently, they agree to merge with SportsBet.
Jump straight to: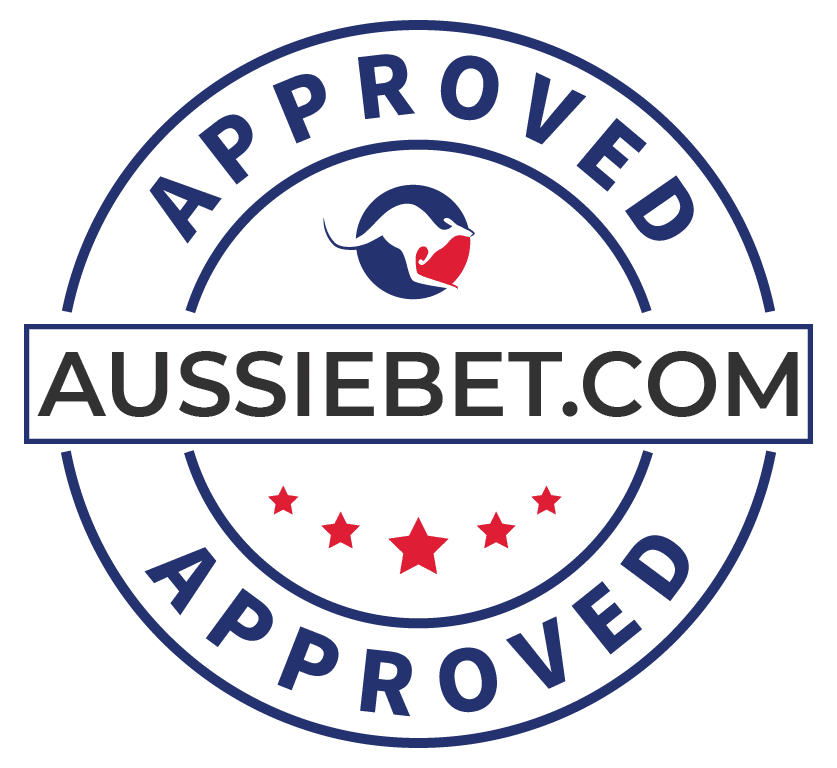 After analysing BetEasy and cross-comparing them with other top Australian bookmakers, we concluded that there are a few much better options. In our opinion, bet365 is the best bookmaker around here. They offer a broader range of sports and racing than BetEasy, plus a deeper selection of markets. Not to mention that bet365's live streaming offer is by far the best in Australia. They cover more events than BetEasy and have a better-looking user interface. Because of all that, we suggest you take a look at our review of bet365 and see what else they have on offer.
Geo restrictions apply. You must have a funded account or have placed a bet in the last 24 hours to access. Under Australian law, we are required to inform you that Live Streaming on bet365 is exempt from Parts 3 and 4 of the Broadcasting Services (Online Content Service Provider Rules) 2018. Gamble Responsibly. Call Gambler's Help; National Gambling Helpline: 1800 858 858 or visit www.gamblinghelponline.org.au 18+
The Pros of BetEasy
Horse racing live streaming with Sky Racing 

User-friendly mobile apps for iOS and Android
The Cons of BetEasy
Navigation can be improved

Sports streaming can be better

Odds can be higher
BetEasy Overview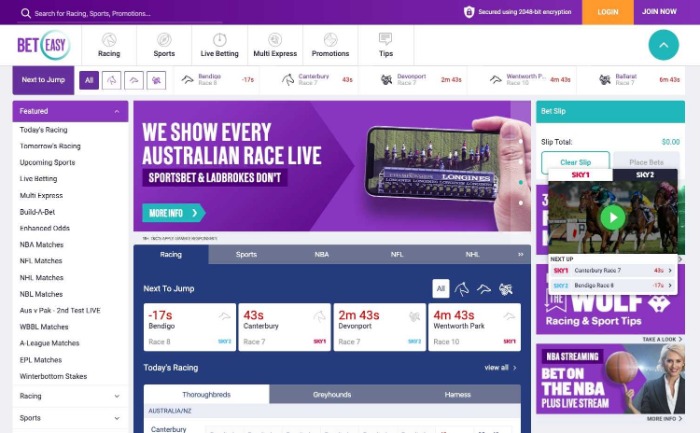 BetEasy formed in 2014 when one of the biggest local bookies at the time, named CrownBet, joined forces with William Hill Australia. If you know anything about betting, then you're probably familiar with the fact that William Hill is one of the most famous bookmakers in the world. The Australian part of William Hill has been sold to Stars Group, which merged them with CrownBet and formed BetEasy as we know today.
That's the thing I like the most about BetEasy. They bring the great international experience of William Hill together with the knowledge of local customers from CrownBet. That makes them a perfect middle-ground for most of the Aussie punters.
It's easy to see what I'm talking about by just checking out their sports betting offer. They are official betting partners of both AFL and NBA, which is a clear indicator of how diversified they are. On top of that, BetEasy also has a partnership with NRL, Cricket Australia, Football Federation Australia, Netball Australia and Tennis Australia. BetEasy's sports coverage is head to head with what big international brands like Unibet and bet365 are offering. If not even better in some areas, such as local sports leagues.
They're also one of the best horse racing bookmakers around. Apart from all of the Australian and New Zealand horse races, BetEasy also offers many international events, such as the ones from the US, Europe or even Chile. But the thing that impressed me the most is the range of horse races available for live streaming. BetEasy has partnered up with the Sky Racing to provide the best live racing experience to their customers. I'll talk about it in greater detail down below.
BetEasy Horse Racing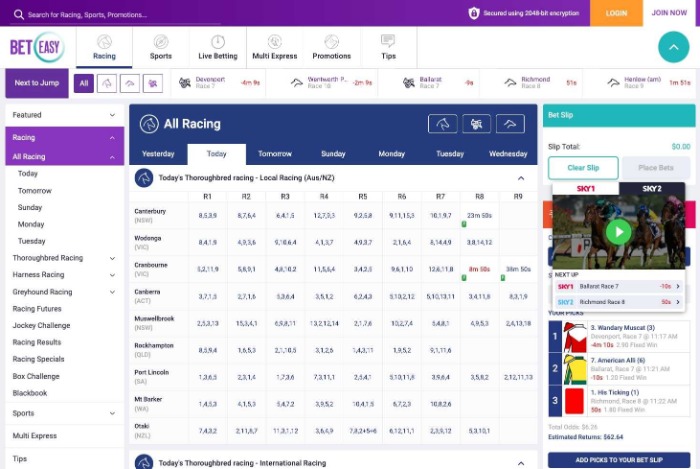 Horse racing is probably the most popular thing among Aussie punters, and BetEasy is well aware of that. When you enter their website, you'll see the selection of the popular and upcoming races in the centre of the homepage. By simply switching tabs, you can search through different types of races, such as thoroughbreds or harness. If you want to search through all races, there are 'Today's Racing' and 'Tomorrow's Racing' tabs on the left side of the screen. There is even a pop-up window in the lower-left corner to jump straight to SKY 1 or SKY 2 racing live streams.
With so many races on offer, it's very important for me to be able to easily find what I want to bet. Luckily, BetEasy nailed this part. There are separate tabs for each day and different types of racing.
On top of that, you have a tool to create racing multies with ease. The window will always be on the right-hand side. The best thing is that you just need to set the number of legs, and they will automatically suggest the best horses. They even offer you an option to choose between $5, $10, $20 and $50 stake with a single click. I personally don't like multi's, but this feature is so convenient that I may just start using them.
Horse Racing Odds Comparison
As you can clearly see from the odds comparison table below, BetEasy blows out of the gym both Palmerbet and Unibet when it comes to prices. Keep in mind that those two other bookies aren't to be underestimated. They are also among the best horse racing betting sites in Australia. BetEasy always tries to be as competitive as possible with their prices, which is one of the main reasons why I loved them in the first place. Even though they usually have the market best odds, it won't hurt if you do the odds comparison test before each bet, just to stay on the safe side.
BetEasy Racing Odds Comparison

| Caulfield | BetEasy | Palmerbet | Unibet |
| --- | --- | --- | --- |
| Jungle Edge | 6.00 | 5.00 | 6.00 |
| Streets Of Avalon | 8.00 | 8.50 | 8.00 |
| Widgee Turf | 6.50 | 6.50 | 6.50 |
| Viridine | 3.00 | 3.00 | 3.00 |
| Great Again | 6.50 | 6.50 | 6.00 |
| I Am Someone | 11.00 | 11.00 | 10.00 |
| I'm Telling Ya | 34.00 | 34.00 | 34.00 |
| Sansom | 9.00 | 9.00 | 9.00 |
| She Shao Fly | 23.00 | 19.00 | 23.00 |
| Overround | 120.7% | 124.3% | 122.9% |
Unmatched Selection of Sports
As I already mentioned above, BetEasy has lots of options for betting on sports. To be exact, at the time of writing this review, they were offering a staggering 49 sports to bet on. Just to put it in perspective, bet365 has 32, while Unibet is currently on 29. They offer everything from betting on NBA, NRL and AFL to netball and table tennis. It means that if you want to bet on some of the exotic leagues or tournaments, BetEasy is the perfect place to do so. From my own experience, if some specific sport isn't on offer at BetEasy, you almost certainly won't find it anywhere else.
Sports interface is also very user-friendly. You'll find the most popular bets in the centre of the home screen, but you'll have to switch to the different tab since horse racing is on the front by default. All of the sports are listed on the left side of the screen. I like the way they organised these pages since it's very easy to toggle between different sports with the quick menu at the top. It was always so simple for me to find what I want to bet, even with so many sports on offer.
Sports Odds Comparison
BetEasy once again showed how competitive their odds really are. In this case, they're having almost the same prices as their top competitors. In most of the cases, you'll find that BetEasy usually has the best odds on the market. But it doesn't hurt to be sure, so I advise you to do a similar odds comparison test before every bet.
BetEasy Sports Odds Comparison

| NRL | BetEasy | Unibet | BlueBet |
| --- | --- | --- | --- |
| Canberra Raiders | 1.54 | 1.54 | 1.52 |
| South Sydney Rabbitohs | 2.50 | 2.50 | 2.55 |
| Overround | 104.9% | 104.9% | 105% |
Request a Market with Build-a-Bet
In case you can't find the bet you like, this fun feature lets you request your own markets. You'll get a form to fill, where they'll ask you about what kind bet you want. After your new bet is live, the customer support will reach out to you. Note that not all sports are available for this feature. This is how you can use the BetEasy Build-a-Bet to request new markets.
Multi Express – Easy Way to Place Multies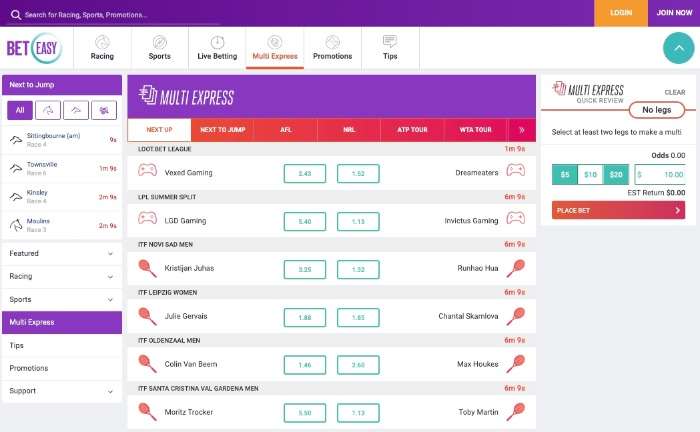 Multi Express is another great BetEasy feature. As the name says, it allows you to place multi bets with ease. I personally don't use multies that much, since they can be pretty risky. But if you do like them, this feature can make your life a lot easier. All you need to do is enter the 'Multi Express' tab and select bets from the list. You can quickly switch between sports in the top menu. Just click on the selections to add it to the bet slip, enter the bet amount on the same page and proceed with your bet. It doesn't get any more straightforward than that!
Quick Bet – Place a Bet in Just 3 Click
Quick Bet feature is probably the easiest way to place a wager that I have ever tried. All you need is 3 clicks:
Click on the market you want to bet
Once the pop-up window shows up, enter the stake
Confirm the bet
I use this all the time since it's by far the most convenient way to bet. But in case you don't like this feature, you can turn it off in the settings, and do things the old-fashioned way.
BetEasy Live Betting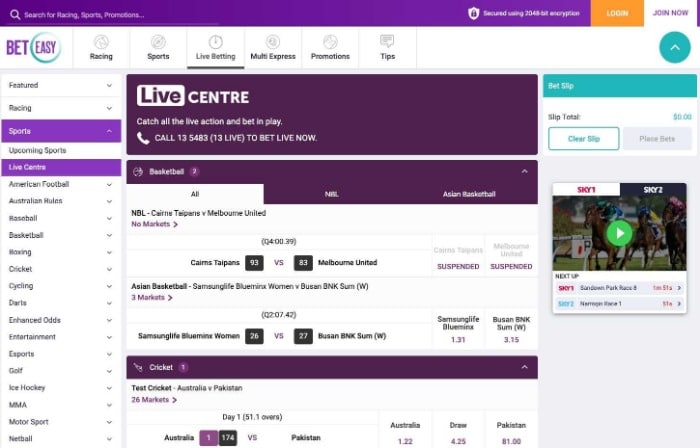 I'm a huge fan of live betting. There is no better feeling than placing a bet and watching how the action unfolds on the playing field. That's why I pay close attention to the live betting section of every bookie I visit. In my opinion, BetEasy has one of the finest in-play betting offers on the market.
Live bets are available under the 'Live Betting' tab in the top menu. Markets are nicely arranged. All of the sports are listed one below the other. Plus, you have a list of the upcoming events at the bottom of the same page. I personally think that bet365's layout is a bit better. But this one is solid as well, so I'm sure you'll have a lot of fun when betting live with BetEasy.
You probably know already that you'll have to give BetEasy a call to place a live bet. In case you're new to online betting, we have prepared a step-by-step guide on how to place an in-play wager, so scroll down and take a look.
BetEasy Live Streaming – Sky Racing Available

Watching live games is probably the only thing about sports I like more than betting. I probably tried sports and racing live streaming at every betting site in Australia, so I can firmly claim that BetEasy stands shoulder to shoulder with all of the market leaders, such as bet365. They offer lots of events, great video quality and a superb user interface, which all makes watching live sports and races very enjoyable.
Even though bet365 offers a broader selection of sports, BetEasy is unmatched when it comes to live racing streaming. They have made a deal with Sky Racing to offer an uninterrupted live feed of Australian harness, thoroughbred and greyhound races.
Apart from watching on a desktop, you can also enjoy live racing on mobile. I just love what they did with live streaming mobile interface. Just turn the screen in landscape mode and you can place bets while watching, flick between Sky Racing 1 and Sky Racing 2 or change the race with a single click. I think that everybody will agree that BetEasy has the best racing streaming platform in Australia.
This bookie also offers fantastic live coverage of the NBA. Since they are an official betting partner, you'll find most of the games available for streaming. The interface is still fantastic, meaning that you can place bets while watching. I'm a huge NBA fan, so this was one of the main reasons why I joined BetEasy. Watching on their site is even more convenient than searching for the TV broadcast. That's why I recommend BetEasy to all of you who like to watch live sports or racing.
BetEasy and Kayo – Sports Streaming on Demand
For all of you who doesn't know, Kayo is one of the most popular streaming platforms in Australia. They bring over 15,000 hours of on-demand game replays, sports documentaries and TV shows. You can watch Kayo directly on the BetEasy website or mobile app. I instantly loved watching sports with Kayo mainly because of these few interesting features.
SplitView – You can watch up to 4 things on a single screen on any device
Kayo Minis – Quick, 20 minutes overviews of key games
Key Moments – This feature allows you to jump between the best parts of games
BetEasy App – iOS and Android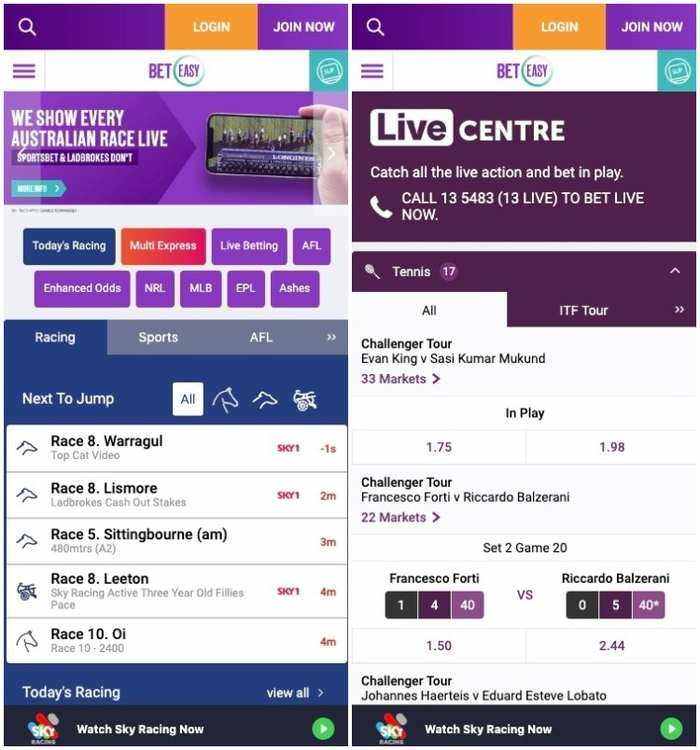 As an iPhone user, I can claim that the BetEasy iOS app is one of the best mobile betting apps I have ever used. The whole experience is buttery smooth, while the easy navigation makes it effortless to move around and find bets. The app looks pretty much the same as the desktop site, so switching between desktop and mobile should be seamless.
You'll have quick access to all of the top races and games right there on the home screen. There is also a Racing Multi window down below, as well as quick links to a few key pages, like Live Streaming and Multi Express. If you want to see the full list of sports or enter the account settings, open the main menu in the top left corner.
BetEasy iOS app has 4.6 star App Store rating on around 35,000 reviews!
I also tried the BetEasy Android app, and as far as I can tell, it performed equally great as the iPhone one. The only thing to keep in mind is that you'll have to get the Android app directly from the BetEasy site since Google doesn't allow betting software on Play Store.
Don't worry, it's quite a straightforward process. Even I who haven't used an Android phone for several years managed to download and install the app with relative ease.
If you don't like to download betting apps, note that you can still bet on the go using the BetEasy mobile website. Just enter the BetEasy site using a mobile browser, log in and you'll be ready to roll straight away. It has all the same features as the native apps, so even I use it from time to time when betting on some other device than my personal smartphone. Also, note that live streaming is available on all BetEasy mobile apps.
Payment Methods – PayPal on the List!
BetEasy offers the range of payment methods that is in line with what all other top bookmakers in Australia are offering. Apart from the usual methods, such as EFT, cards, POLi and BPAY, they also offer an option to bet using PayPal and Apple Pay. They even let customers deposit cash or cheques at any Commonwealth Bank branch in Australia.
As an iPhone user, I always prefer to deposit via Apple Pay, and BetEasy is one of very few Aussie betting sites where I can do so. Another thing I like is that PayPal is available. It's without any doubt the best e-wallet for sports betting, so I suggest you give it a try.
Withdrawals are available only via PayPal, Bank Transfer and cards. Note that in case you have deposited with some other method, they will most probably send you the winnings via Bank Transfer. Every time when I deposited by Apple Pay, the money I later requested reached my bank account within 2 days, which is great. But if you want your winnings ASAP, try using PayPal, because in that case, the money will be there in less than 12 hours. Also, don't forget to verify your account, since they won't let you make any money transaction before you do so.
Deposit Methods: VISA, MasterCard, Bank Deposit, BPAY, Bank Transfer, Apple Pay, PayPal, POLi
Withdrawal Methods: Bank Transfer, VISA, MasterCard, PayPal, International Withdrawals, BetEasy Card
BetEasy Offers 24/7 Customer Support
Even when I experienced a problem when betting or watching live sports late at night, there was always someone to help me. The easiest way to reach BetEasy support agents is to send a message over live chat or give them a call. You can also send an email, but in that case, you'll have to wait up to 24 hours for a reply. Every time I was using live chat, the answer came in about 4 to 5 minutes.
All the agents are super-friendly, so you will probably swiftly solve all of the issues. Before reaching out to them, try visiting FAQs or the 'Support' page. There you'll find tens of guides that will help you solve many smaller problems on your own.
Is BetEasy Safe?
BetEasy is as safe as possible. On top of the official betting license issued by Australia's Northern Territory Government, this bookie also has all of the industry-leading safety features, such as 2048-bit encryption. I always pay close attention to the safety at bookie sites, since you have to leave a lot of sensitive data when betting online. Luckily, I haven't found a single security concern in all this time with BetEasy.
They have a lot of material about responsible gambling on their site. If you visit the 'Responsible Gambling' page you'll find more about the tools like 'Deposit Limits', 'Take a Break' and 'Self Assessment'. Those tools can help you not to get too distracted, so make sure you give them a look. I also use them sometimes, especially when betting live a lot. There are also phone numbers of agencies that help with problem gambling, such as Gambling Help Online. In case you feel like you'll use a helping hand, give them a call or send a message.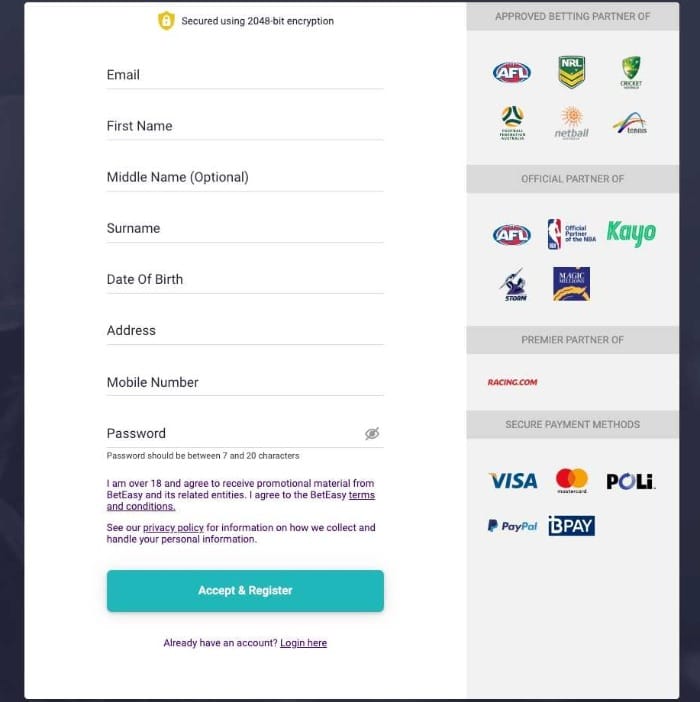 The Verdict – Better Than Its Predecessors
After writing this BetEasy review I just remembered why I loved them so much in the first place. The site is so well organised that even beginners can use it with ease. There are more than enough markets, selection of sports is the best in the business, and odds are usually among the highest you can get. Live streaming is all-around solid, but it's the prime choice for NBA and racing lovers. And on top of it all, everything I mentioned so far is available on mobile. There are very few downsides to betting with BetEasy, so I recommend them to both new and experienced punters.
BetEasy FAQs
How to withdraw with BetEasy?
You can withdraw with BetEasy using cards, Bank Transfer or PayPal. Go to 'My Account' and then click on 'Withdraw Funds'. After that select payment method and confirm. Money should be on your account in up to 2 days, or up to 12 hours when withdrawing by PayPal. We talk more about payments at BetEasy, in the review above.
Who owns BetEasy?
BetEasy is owned by Starts Group. They hold a betting license from the Government of Australia's Northern Territory. BetEasy formed after the merger of CrownBet and William Hill Australia. To learn more about betting with this bookie, check out the review above.
How to place a bet at BetEasy?
Placing bets at BetEasy is very straightforward. You first need to register an account and place a deposit. After that find the market you want to bet, go to the bet slip, enter amount and press submit. If everything is ok, you'll get a notification that the bet is on.
Can I bet live with BetEasy?
Yes, you can bet in-play with BetEasy. To start with in-play betting, visit the 'Live Betting' tab and pick the marker you want to back up. After that give them a call at 13 5483 to place a bet. To learn more about in-play betting with BetEasy, take a look at the review above.
---