Betfair is a global leader in the gambling industry and they have made a big impact in Australia. Betfair is where you will find Australia's only betting exchange, meaning you will be betting against other punters instead of against the bookie. Unsurprisingly Betfair have native apps for Aussie customers, and they have a web-app that works across all devices. In our Betfair App review, you will find out everything there is to know about these Betfair apps. If you are considering betting on the exchange on the move with Betfair, then make sure you keep on reading.
Betfair App Overview
One of the things we like to see is when a mobile web app closely resembles the bookie's desktop site. The Betfair Mobile web app does exactly that, with the same yellow and black coloured theme that they use on the desktop platform. The Betfair Mobile web app loads quickly, odds refresh regularly and it is well laid out and easy to navigate.
The most popular betting markets can be found on the sliding menu bar at the top of the landing page. Here you can find links to access In Play betting events, Horse/Greyhound Racing, Aussie Rules, Rugby, Football, Tennis and lots more. You will find all the same markets and prices on the Betfair Mobile web app that are available on the desktop site.
At the foot of the landing page, you will find buttons to view the Betfair mobile web app home page, A-Z menu and The Hub, which is your one-stop-shop for all the latest and best tips, trends and stats for a multitude of sports. Account settings and deposits/withdrawals can be accessed via the A-Z menu button. The Betfair App is easy to use, loading times are minimal and it makes betting on the move as easy as can be.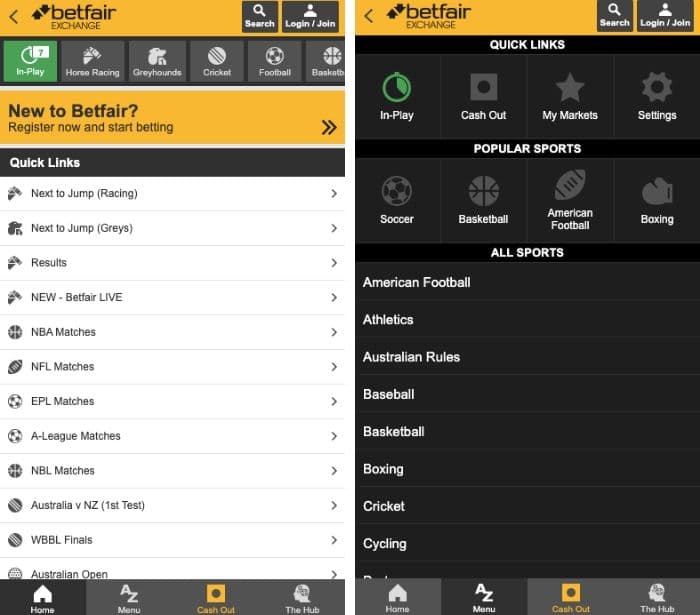 Betfair Exchange App Pros And Cons
A nicely designed interface that closely resembles the Betfair desktop platform
Easy to use and a massive range of sports and racing markets available
Operates smoothly and pages load quickly
Australia's only betting exchange and online in-play betting available
Not as many special markets as their industry rivals
Betfair App for Android Download
Not so long ago, Betfair Australia did not have any native apps for Aussie punters. Fortunately, that's not the case any longer! Android users are not the favoured group, as they have to go to Betfair Australia directly and download the Betfair Android app. It's a simple process, or better said, "simpler" than it used to be back in the days. For what it's worth, we have to provide step by step instructions on how to download the Betfair Android app.
How to download Betfair Android App file?
Visit Betfair AUSTRALIA with your Android device (smartphone or tablet)
Navigate to the bottom of the page, look for Betfair Mobile
Find the Download Android App Button
Download the APK file
Change the Security Settings on your Android device to Accept Apps from Unknown Sources
Finish the Installation Process
You're all set!
The Betfair app for Android features the same high standards Google has, but because of their policy on online gambling in certain regions, Betfair like other bookmakers cannot offer their Android apps in the Google Play Store. Rest assured, this app is safe to use! After all, Betfair's reputation is on the line, they have way more to lose!
Betfair App for iPhone
If, on the other hand, you have an iPhone or an iPad, you just have to visit the Apple App Store. Downloading the Betfair Australia iOS app is as simple as downloading any other app from iTunes. We hope this will be the case in the near and distant future. Apple has been keen on online betting as long as it's done responsibly, and the operators have obtained all the paperwork.
Both Betfair apps have the same feel, the same touch, and the same interface. Frankly speaking, there's something about the iOS app that makes us want to buy an iPhone. Nevertheless, that's a totally different matter, unrelated to the Betfair app review.
Betfair Mobile Web-App
It's not like we always had the opportunity to bet with native betting apps. Luckily, the Betfair web app is as good as ever, and it still is fast and well-optimised. Clearly, they still maintain the web app and make sure that every new feature is added to the system. If you like to skip the hassle of getting the Android app, or you have a Windows phone, the Betfair mobile app that runs in your web browser is more than enough for your exchange bets.
How Easy Is The Betfair Mobile Web App To Use?
We like it when bookies' apps are kept as uncomplicated as possible and we found that the Betfair Mobile web app scored well in this department. As we have already outlined the app is nicely laid out and is easy to navigate. The various menus are simple to find on the app landing page and there are also quick links to all the current most popular sports and horse racing betting events.
A sliding menu at the top of the landing page provides quick and easy access to in play betting events as well as all the most popular sports. If you can't find the sport you want to bet on, just click on A-Z menu at the bottom and you will find every single sport that you can bet on via the Betfair mobile web app.
The Betfair Mobile web app is where you will find Australia's only betting exchange, and you can choose to either back or lay. In its simplest terms, when you back a selection you are wagering on that selection winning, whereas if you lay you are betting on that selection to lose. Betfair receives a commission from each transaction, check the terms and conditions for full details.
Placing a bet on the Betfair mobile web app is probably as simple as can be considering it is a betting exchange. When you have decided what event you wish to bet on and locate it, the odds on display will be the 'Back' odds (in blue). To view the 'Lay' odds (in red) swipe from left to right on the right-hand side of the screen. Then simply choose your odds, enter your stake and hit 'Place Bet'.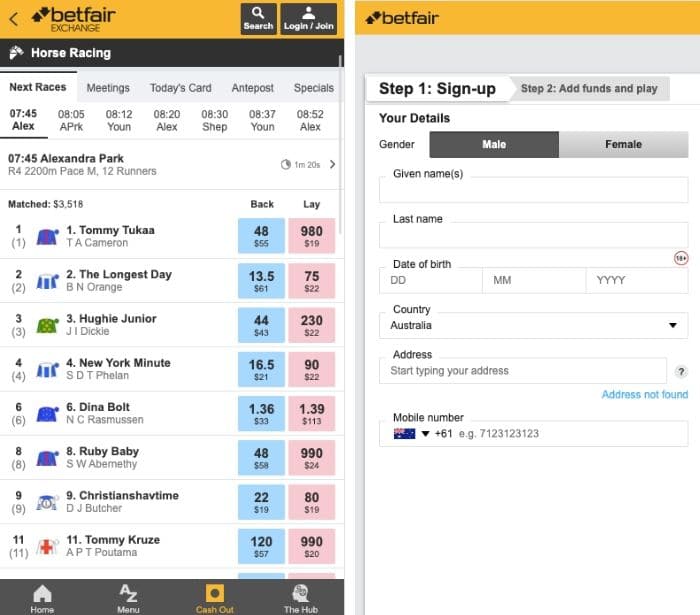 Betfair Mobile Web App Features
Betfair Mobile Web App: In-Play Betting
In Australia, sportsbooks cannot offer online in-play betting due to the Interactive Gambling Act. However, as Betfair is a betting exchange, they offer online in play betting for sports and horse racing, and you can bet in-play on the move on your mobile device with the Betfair mobile web app. If your horse racing bet is unmatched at the off you can select 'Keep Bet' and your bet will be matched if the odds are reached during the running of the race.
Betfair Mobile Web App: The Hub
The Hub is a section of the Betfair site that can be accessed via the main menu bar at the bottom of the home page of the Betfair mobile web app. In The Hub you will find a wealth of information and expert views on a variety of sports. These include tips for horse and greyhound racing, NRL, AFL, cricket, tennis, soccer and USA sports. You will also find form guides, stats and sectional times for horse racing, as well as all the latest results from Australia and around the world. The Betfair Hub is an excellent resource and it makes up for the lack of special markets on offer from Betfair.
Betfair App: Most Popular Bets
Another handy feature of the Betfair mobile web app is the Most Popular Bet section on the home page. Just scroll down through the Quick Links and Horse Racing menu and you will find the 'Most Popular Bet' section. With just one click you will be instantly directed to the current most popular betting events on the Betfair mobile web app.
Betfair Mobile Web App Deposit Options
Before you register with a bookmaker it makes sense to first check out what banking facilities are available for deposits and withdrawals. We were extremely impressed by the range of banking options on the Betfair mobile web app, and the same deposit and withdrawal options can be used across all platforms.
The range of options for depositing cash includes Credit/Card (instant), POLi (2-5 days), Neteller (instant) and Skrill (instant). Credit/debit cards or POLi cannot be used for withdrawals, and you must verify your account before withdrawals are permitted. The banking options available on the Betfair mobile web app are amongst the best in the industry.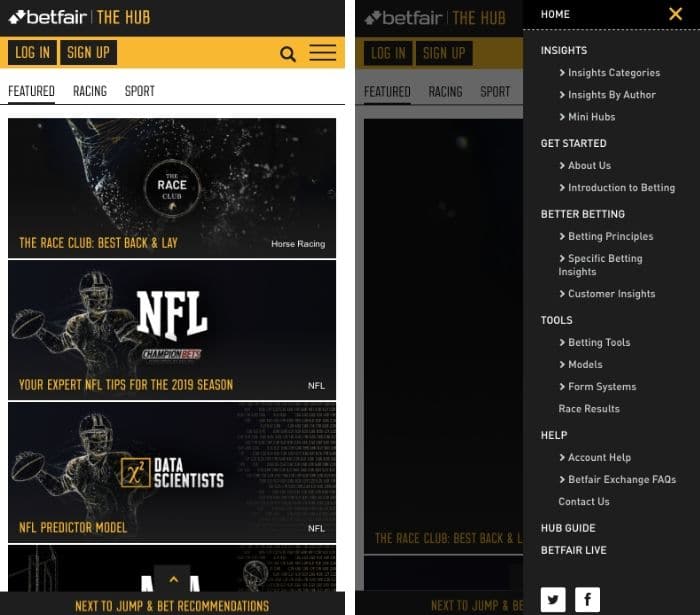 Betfair Mobile Web App: The Verdict
In conclusion, we think the Betfair Mobile Web App has plenty going for it, but there are some negatives as well. However, the Betfair mobile web app has lots of positive points too, the main one being it gives punters access to Australia's only betting exchange on their mobile devices. The smooth operation, familiar interface and quick loading times make the Betfair mobile web app very easy and pleasant to use. You can also bet in play on the Betfair mobile web app, and that is one of the main things that helps this app stand out from the crowd. Overall, we think if exchange betting is your thing, then the Betfair apps are well worth taking a chance on.
Betfair Mobile Web App FAQs
📱 Is Betfair Australia good for mobile betting?
Yes. Betting at Betfair Australia is just as good on mobile as it is on desktop. There are a few differences but these are extremely subtle. Betfair AU's mobile app is available for instant betting across all major devices with faster than usual load rate.
📱 Is there a Betfair AU Android app?
Yes, there is a Betfair app for Android devices. However, note that the app is not available on the Google Play Store, meaning that you'll have to download it directly from the Betfair site. In case, you haven't done this before, check out our review for more info.
📱 Is there a Betfair AU iOS app in the App Store?
There is a Betfair app for iOS devices. If you want to wager on your iPhone or iPad, just visit the App Store and start the download. After that log in with your Betfair account and begin wagering!
---
User Reviews
No reviews yet
---