Launched in November 2017 by former bookie Alan Eskander, SportChamps is a betting site with a difference. You bet with virtual cash on sporting events, competing against other players and not the bookies. Whoever wins the most from their virtual bets takes home the top cash prizes. Buy-ins range in value to suit most budgets and there are betting tournaments on a nice range of sports. In this SportChamps review, we look at every aspect of the product, from odds to customer service and everything in between. If you are thinking about signing up with SportChamps, read on!!
SportChamps: Pros And Cons
100% Australian owned and operated
Betting tournaments with entry fees to suit all budgets
No live streaming available
Limited Payment Options
SportChamps Information And Facts
SportChamps was founded by Alan Eskander a couple of years ago. He made his millions by selling Betstar to Ladbrokes in 2014. Backed by a number of investors, including Brian Singer, James Baillieu and a couple of others, this Aussie owned and focused company has made a big impact on the Aussie betting scene in a short period of time.
It is pretty similar to TopBetta in some ways. Punters compete against each other, rather than against the house. Basically, you pay a fee to enter a tournament and you must place at least 5 bets. If you have accrued the most profit from those bets, you win a cash prize.
SportChamps are licensed by the Northern Territory Government and the usual Geolocation restrictions apply to bonus offers. You can find out more about exactly how SportChamps works if you keep on reading.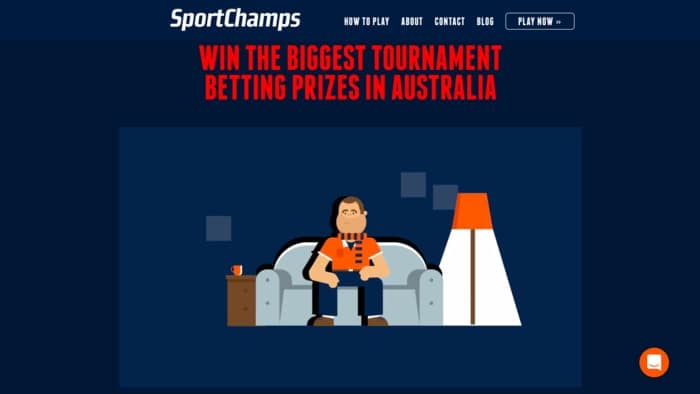 SportChamps Target Tournaments
Another cool thing on offer at SportChamps is their Target Tournaments. In these special tournaments, you have the chance to win cash, even if you don't win the tournament overall. You simply need to meet the ChampCash target set by SportChamps. Once you hit the target, you get paid. No dead-heat rules apply, so even if multiple players hit the target, they will all get paid in full.
SportChamps Betting Tournaments
You can't bet on sports in the traditional way if you sign up with SportChamps. You still bet, but it is with virtual 'ChampCash'. In order to receive this ChampCash, you need to enter a betting tournament. You pay the entry fee and then you receive your ChampCash. You can bet on any of the events in the tournament with your ChampCash and there is a selection of sports to suit most punters.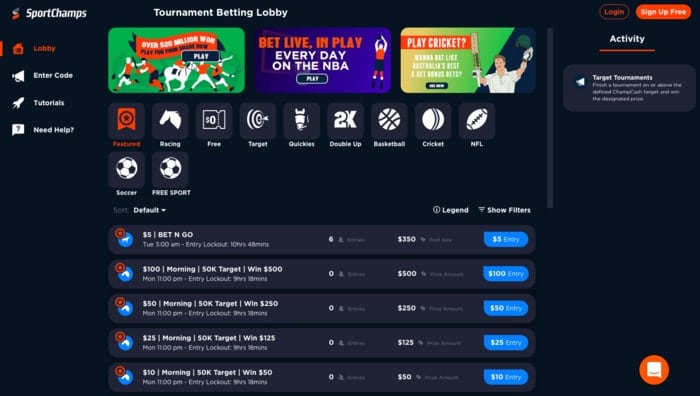 There are regular betting tournaments where either the top 25% or top 40% will take home the prizes. However, you can also enter 'Double Up' and 'Winner Takes All' type tournaments where the winner takes home the whole prize fund. You can enter tournaments for free and we recommend trying a few of these first before you start entering tournaments for real cash.
As this is a 100% Aussie owned site, it is no surprise to see that all of Australia's most favourite sports are catered for. Every tournament has a 5 bet minimum and this helps to ensure that skill rather than blind luck is rewarded. You can also set up private betting tournaments with your mates if they are SportChamps members. You can check out the full list of sports you can bet on with SportChamps below.
SportChamps: Available Sports
Horse Racing
NBA
NRL
AFL
Soccer
Super Rugby
Baseball
Golf
American Football
Tennis
SportChamps Blog
If you are looking for the latest tournament betting news you should check out the SportChamps Blog. Here you will find a lot of useful information on the latest big winners on the SportChamps website. They have relevant news and tips for tournament bettors for different sports.
For example, at the time of writing, they had a nice AFL Ladder predictor piece that some punters may find useful. If you are thinking about taking the plunge with SportChamps you should definitely have a look at their blog. It will give you a taste of what to expect when you sign up.
SportChamps Live-In Play Betting
Live betting is outlawed by the Australian Interactive Gambling act but this has no real effect on SportChamps. This is not a traditional bookie, so you cannot place live in-play bets. All bets placed on SportChamps are placed pre-match or pre-tournament so no traditional live betting is available. However, you can place live bets on certain sports within betting tournaments. If you want to bet in-play on sports for real money, we recommend checking out Bet365 Australia or Unibet Australia.
SportChamps: No Live Streaming Available
Unfortunately you will not be able to stream any sports live with SportChamps. They do not have live streaming available but if this situation changes you will hear about it here first. Those looking to bet and watch should check out Bet365 Australia.
SportChamps Mobile App And Web App Betting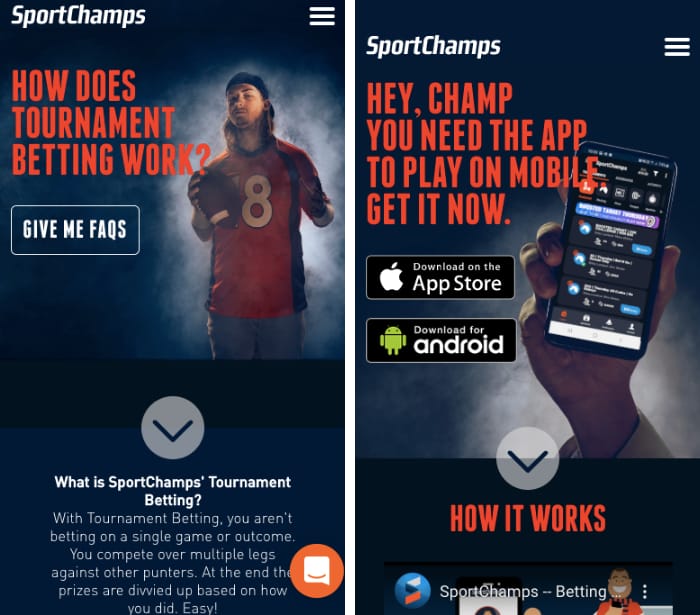 If you sign up with SportChamps you will be able to bet on the move via their Android and iOS app. The Android app can be downloaded direct from the SportChamps site if you visit it on your mobile device. The iOS app is available from the App Store. The iOS app is 118.2 MB and requires iOS 9.0 or later to function correctly.
Users of other devices don't worry; you can still bet on the go if you use the SportChamps web app. All mobile platforms are nicely designed and functionality is excellent. The layout and graphics closely match the SportChamps desktop site and this makes it feel familiar and easy to navigate.
To use the SportChamps web app on Nokia, Windows or Blackberry phones simply head to SportChamps via your mobile browser. Sign up and start entering betting tournaments instantly! The web and mobile apps will only operate if you are in Australia, so if you are living in another country you will not be able to enter any betting competitions via your mobile device.
How Good Are SportChamps Prizes?
As we have already discussed, SportChamps is not a traditional Australian betting site. You pay a fee to enter betting tournaments and compete against other punters for prizes. With SportChamps you bet with virtual 'ChampCash' and the punter who makes the most money in a tournament takes home the top prize. The top 25% or 40% get paid, depending on the tournament conditions.
When you enter a betting tournament the prize pool depends on the entry fee.  At the time of writing, SportChamps had paid tournaments with entry fees ranging from $2 to $50. The top prize fund available was $8460 for the season long Premier League betting tournament (entry fee $10).
For the cost of entry, we were pretty impressed by the prize funds on offer. SportChamps make their money by taking a commission and as far as we could tell they take 12.5%. If you do manage to win a tournament, you will be pretty well rewarded and you will likely win more money than you would if betting in the traditional way with a betting site.
SportChamps Deposit And Withdrawal Methods
Instant Deposit Methods: Credit/Debit Card.
Non-Instant Deposit Methods: Bank EFT.
Withdrawal Methods: Bank EFT.
When it comes to deposits and withdrawals, SportChamps could do a lot better. In comparison to other Aussie betting sites, SportChamps had a disappointing selection of payment methods available. The only way to instantly deposit funds to your account is via either Visa or MasterCard credit or debit cards. Bank transfers can also be used to make deposits but they take a number of days to clear.
The only withdrawal method that can be used on SportChamps is bank transfer. The minimum deposit amount with SportChamps is $1, while the minimum withdrawal is $10. No fees are applied by SportChamps to deposits or withdrawals. You must turn over deposits 1x before any withdrawal can be made. Also, you need to verify your account before making withdrawals, find out more below…
SportChamps Account Verification
SportChamps will send a verification code to your mobile number when signing up.
You must further verify your account in the 'Account' area.
You need to provide 1-3 forms of identification.
Usually a valid driver's license will be enough.
SportChamps uses Edentiti to verify your identity and account details.
If you do not verify within 45 days your account will be suspended.
SportChamps Limits And Payouts
There are few limits on winnings and payouts when you sign up with SportChamps. As far as we could see, there was only one restriction on winnings. Customers can only win a maximum of $35000 per day, but apart from that we couldn't discover any more restrictions on winnings or payouts. The cheapest tournament to enter cost $2, but some tournaments are free to enter and are ideal for beginners who want to practice.
SportChamps Customer Service
If you sign up with a website you should always check out what the customer service is like. The quality of customer service is usually a very good indicator of the overall quality of a betting site. SportChamps customers have a number of avenues through which they can contact SportChamps with any queries or questions regarding their accounts. Live chat is available and this is the quickest and most convenient way to get in touch with SportChamps. Click on the icon outlined below to access live chat. Alternatively, you can email them or get in touch via post. You can check the full contact details for SportChamps below.
SportChamps Contact Details
Telephone: No number on site.
Live Chat: Talk to a member of staff via the message icon displayed on the SportChamps site.
Email: [email protected]
Post: P.O Box 4287, East Richmond, Victoria 3121.
Is SportChamps A Bookmaker You Can Trust?
When you sign up with SportChamps you need to part with a lot of sensitive personal and financial details. For example, when making deposits and withdrawals you will need to reveal your credit card, debit card or bank account details. For peace of mind, it is key to know that SportChamps treat your personal data carefully and keep it safe. We had a look at their privacy policy and below you can check out some of the measures they have put in place to ensure your personal info doesn't fall into the wrong hands.
Data used only for internal purposes.
Measures to secure and protect data and only keep it for as long as needed.
Strong password protection and use of HTTPS transmit protocols.
All staff subject to strict confidentiality agreements.
Systems to detect unauthorised access of accounts.
Strict account verification protocol.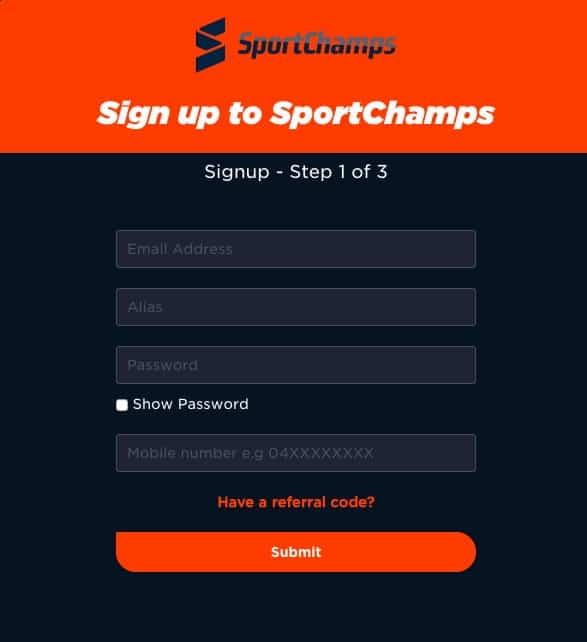 SportChamps: Taking Responsible Gambling Seriously!!
The promotion of safe and responsible betting should be a top priority for any online bookmaker. While SportChamps is not a traditional Aussie betting site, they still have plenty of facilities to ensure that you don't get carried away. You can set a deposit limit when signing up, while they have plenty of other resources available too that encourage safe and responsible gambling. You can check out what they are in the handy list below…
Set deposit limits (weekly/daily/monthly) with 7 day cooling off before new limits implemented.
Self-exclusion available for set periods or permanent.
Links to problem gambling help sites and resources.
Easy access to account history.
SportChamps Advertising Standards And Compliance
In Australia regulations regarding the advertising of gambling sites were recently tightened. It is illegal for betting sites to openly advertise any promotions or specials that might induce punters to sign up. One of the key areas that affect online bookies is that they cannot display promotions on their site to anyone that has yet to sign up.
When we visited the SportChamps desktop site we couldn't see any information on their welcome offer or refer a friend promotion. To find out about the key details, we had to check the Terms and Conditions section. SportChamps were recently fined $2500 for contravening advertising laws in NSW, but as far as we could see they are now fully compliant with Aussie betting advertising rules and regulations.
SportChamps: Top Notch Tournament Betting For Aussies!
So, overall what is the verdict on what SportChamps have to offer. Well, in short, we were extremely impressed by SportChamps. It is not a traditional betting site, but we loved how the site works and it feels like you are betting with real money, even if 'ChampCash' is used for wagering in betting tournaments. With entry fees as low as $2, you can find tournaments to suit any betting budget and prizes are well worth winning.
The range of payment methods could be better and we would like to see more sports catered for in the future. In conclusion, we were very taken by what SportChamps have to offer and if you are looking for a betting site with a difference, sign up now!!
SportChamps FAQs
No, unfortunately, SportChamps do not accept PayPal as a payment method. In fact, this was one area where we think SportChamps have lots of room to improve. You can only deposit funds via Bank Transfer or Visa and Mastercard debit/credit cards. Withdrawals are by bank transfer only. We would like to see more e-wallets like Neteller, Skrill and PayPal added in the future.
The simple answer to this question is no, SportChamps do not have live streaming of any sports available. If you want to bet on and watch live sports you should check out Bet365 Australia. They have live streaming of a wide range of sports and events and they have live betting available too. You should check out our Bet365 Australia review to find out more about what they have to offer.
---
User Reviews
No reviews yet
---