There are a few operators that offer betting on international lotteries, but the LottoGo is easily my favourite one. From their deep selection of lotteries, to great customer support, LottoGo offers everything Aussie punters need.
Jump straight to: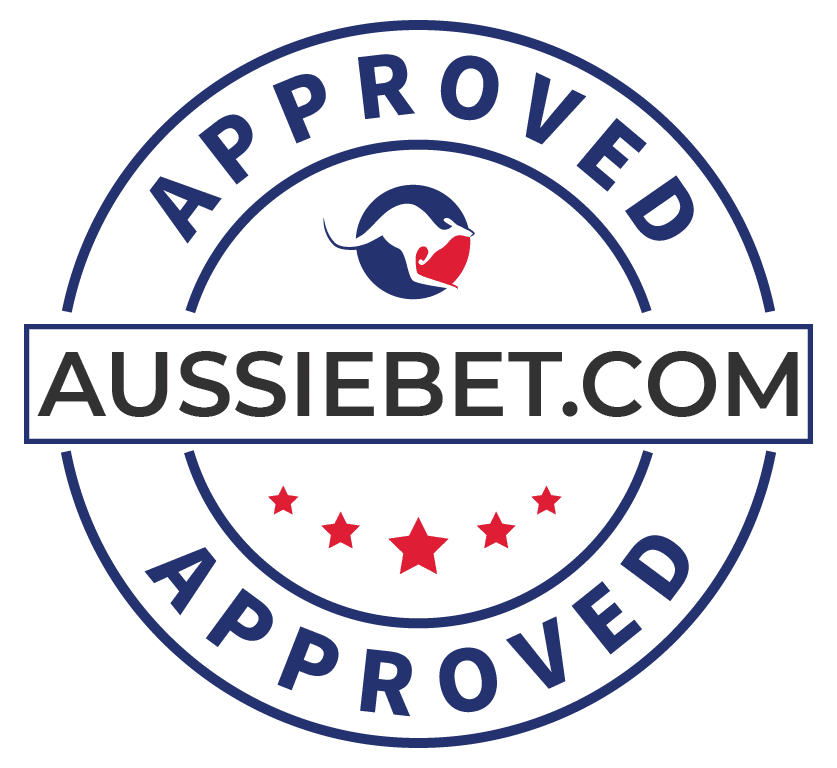 In this LottoGo review, I mention everything you need to know before signing up. I take an honest look at both the pros and cons, so you don't have to do the hard work.
The Pros of LottoGo
All of the top lotteries available

User-friendly website

Fast customer support
The Cons of LottoGo
No native apps

Limited payment options
LottoGo Overview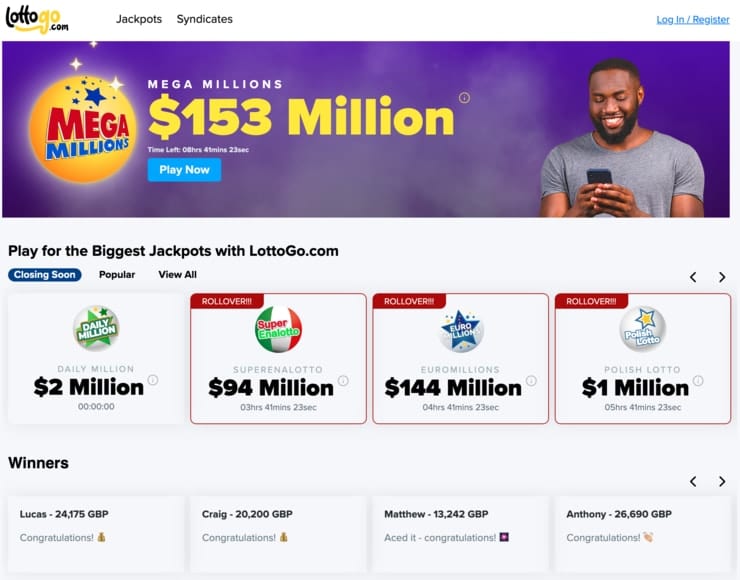 Here you'll find a fantastic selection of different lotteries from around the world. You can bet on the outcome of each of them and earn some substantial winnings. To be precise, LottoGo winners will get the same amount of money as if they were playing the actual lottery. On top of that, you can also join a syndicate to increase the chances of success. I'll talk more about syndicates down below.
You're probably wondering how this is possible. First of all, they have all of the bets secured at insurance companies. On top of that, if the potential win is super huge, they might just go and buy that same ticket from the actual lottery vendor.
Since we're talking about multimillion winnings here, I can't stress enough how important it is to bet on lottery with a reliable operator. LottoGo is a respectable brand with a big company behind it, so you can be sure that you'll always get your money.
LottoGo has been around since 2018, but it's not an entirely new company. They used to go by the name World Lottery Club, which they changed to make the brand "more exciting, more vibrant and easier to understand".
What Lotteries Are Available at LottoGo?
LottoGo offers a solid range of lotteries to bet on. At the time of writing this review, you can take part in 12 different lotteries from around the world.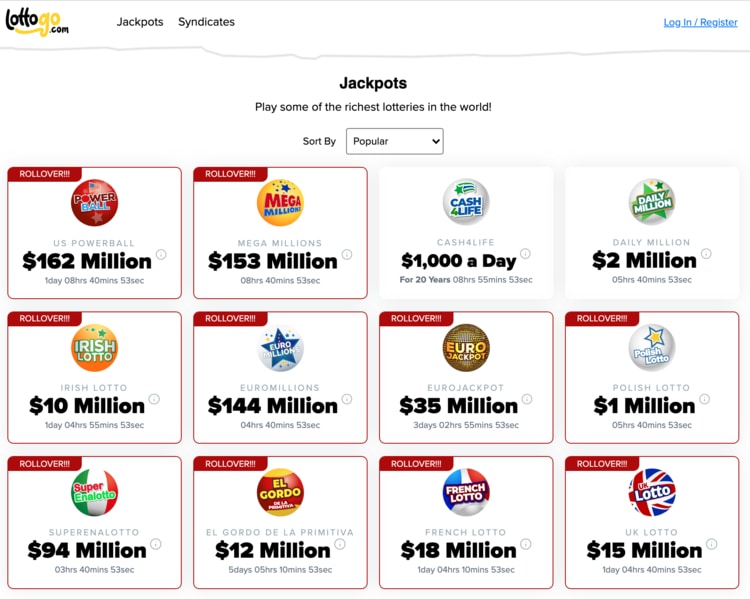 All of the big ones are there, like the US Powerball and Mega Millions. Apart from these two massive American games, you can also bet on a variety of lottos from across the globe. The most notable ones are French Lotto, UK Lotto and EuroMillions. You can even bet on games such as El Gordo and Polish Lotto.
I like the LottoGo selection because it has everything most punters want to see. They aren't a match for big platforms like The Lotter, but the great mix of well-known and smaller games makes them a good fit for the majority of punters.
Note that LottoGo only offers betting on lotteries, which means that there are no sports or racing odds. If you want to enjoy some old school betting, take a look at our page about Australia's best bookmakers.
Top Lotteries
Here is more info about LottoGo's top 3 lotteries, as well as a full list all others together with the jackpots. Everything you can read here was true at the time of writing the review.
US Powerball
Country – USA
Schedule – Wednesday and Saturday
Jackpot – 162 million
Main numbers – from 1 to 69
US Powerball number – from 1 to 26
Jackpot starts from $20 million
Mega Millions 
Country – USA
Schedule – Tuesday and Friday
Jackpot – 153 million
Main numbers – from 1 to 79
Mega Ball number – from 1 to 25
Jackpot starts from $20 million
EuroMillions
Countries – UK, France, Spain, Austria, Belgium, Ireland, Luxembourg, Portugal, Switzerland
Schedule – Tuesday and Friday
Main numbers – from 1 to 50
Lucky Stars numbers – from 1 to 12
Jackpot starts from €17 million
All LottoGo Lotteries

| Lottery | Jackpot |
| --- | --- |
| Daily Million | $2 million |
| Cash4Life | $1000 a day |
| Irish Lotto | $10 million |
| EuroJackpot | $35 million |
| Polish Lotto | $1 million |
| SuperEnalotto | $94 million |
| El Gordo | $12 million |
| French Lotto | $18 million |
| UK Lotto | $15 million |
Join Syndicates at LottoGo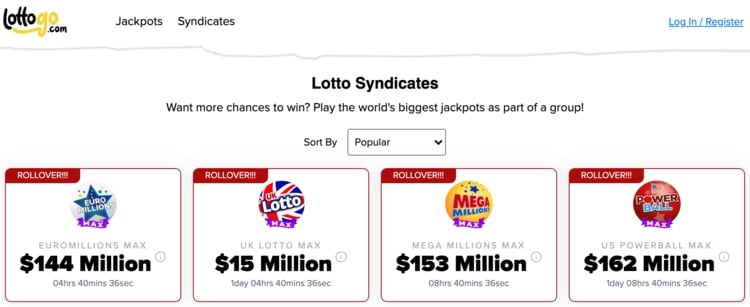 Since big lotteries are extremely hard to win, betting sites help punters' odds by giving them the chance to work together. That's when syndicates kick in! You can join a syndicate at LottoGo and bet on multiple games at the same time together with other players.
If there is a win, you'll receive a share of the award. Each syndicate has a certain number of shares which you can buy. For example, if there are 200 shares and you buy just one, you'll get $1 if the win is $200 or a $2 for the win of $400. Note that you can buy as many shares as you want.
Entering a syndicate at LottoGo is very easy, so I use it all the time. You're much more likely to score a win something, plus you have much greater control over your money. All you need to do is, enter the 'Syndicate' page from the top menu and select which one you want to enter. At the time of writing, they had 4 syndicates for the top paying lotteries. However, they offer much more options in other countries, so I hope they'll make them all available for Aussies as well.
How to Play at LottoGo?
Betting on lotteries at LottoGo is very simple. That's one of the reasons I usually play with them. Even if you're a complete beginner, you probably won't find it hard to start.
In case you're not 100% sure how to do it, take a look at my step-by-step guide below. It covers everything you need to do to place your first lottery bet at LottoGo.
LottoGo Payment Methods
There is not much to talk about when it comes to payments at LottoGo. You can only bet with debit cards, which is probably the weakest selection of payment options I have ever seen. There is no excuse for having only one banking method. I sincerely hope that they will introduce more options very soon since this is barely acceptable.
The good thing is that money will be back on your account within 24 hours in most cases. However, this depends on your bank, so sometimes it can take even up to 5 working days. Keep in mind that you have to use the same card for both deposits and withdrawals.
Account Verification
You'll have to verify your account before performing any money transactions at LottoGo. I know, it's boring. But everybody has to do it because of the player protection and anti money laundering laws. To do so, you'll have to upload a copy of your personal documents. Don't worry, it's all a 100% secure procedure. After that, LottoGo will approve your account within 48 hours.
You'll have to send them at least one document from each of these 3 groups:
1. Identity Verification
National identification card
Passport
Driver's licence
Armed Forces ID card
Other identification document issued by the state
2. Address verification
Household utility bill
Driver's license
Bank statement
Mortgage statement
Tax bill
Tax document
3. Deposit Verification
Screenshot of e-wallet account
Image of the front of the debit card
Mobile App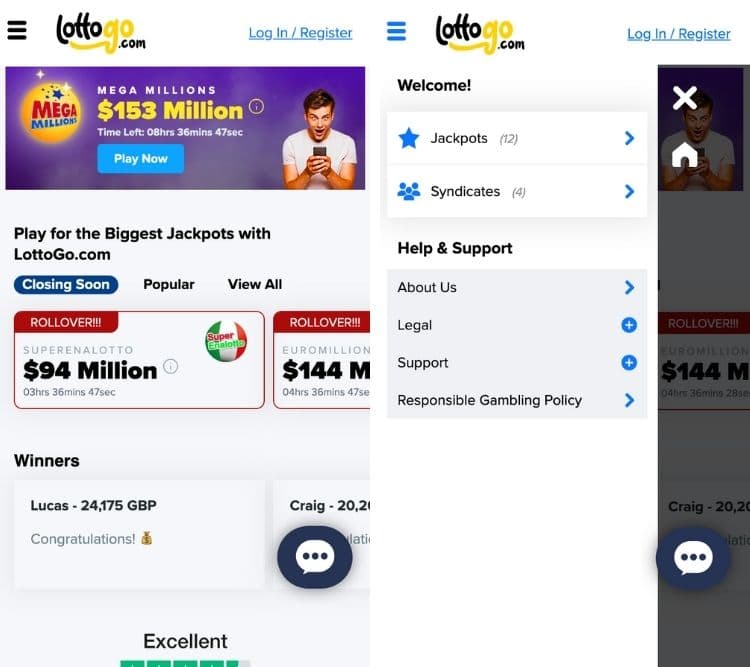 LottoGo is available on all mobile devices, regardless of the manufacturer or operating system. Native apps aren't available in Australia for now, but you can always use the mobile website. I know, that usually isn't everyone's first option. However, you can give it a try if you like to enjoy lottery betting on the go. All of the lotteries and syndicates are available from the palm of your hand, which means that you won't miss out on anything when moving from the desktop site.
They offer native apps in the UK, so hopefully, iOS and Android apps will be available in Australia sometime soon. Until then just use a mobile browser to enter LottoGo website and start playing right away!
Customer Support
I'll say it right from the get-go – I love LottoGo's customer support! It's just as good as you'll find at any other top betting site in Australia. The easiest way to contact customer support is via live chat, which is always available in the lower right corner of the screen. The chat button is there on the mobile as well, so you'll always be just one click away from talking to LottoGo's staff.
But the most important thing is that they're really fast! For me, that is the most important customer support feature. I don't want to wait for half an hour to get a reply! Luckily, LottoGo's people will always be with you in less than 5 minutes.
The other option is to send them an email, but I'll suggest sticking to the live chat, since it's hands-down the most efficient way to get assistance. Before contacting the customer support directly, try going through the FAQs first. They cover almost every aspect of using LottoGo, from how the betting on lotteries work to what payment options you can use. It should be more than enough to help you solve most of the smaller issues on your own.
LottoGo Contact Details
Is LottoGo Safe?
LottoGo has been around for ages under the name World Lottery Club, and in all that time, they kept a clean track record. Unlike Lottoland, LottoGo has never been sued or subject to public scrutiny.
Everything they do is 100% legal and monitored by Australia's Northern Territory Government, so you don't have to worry about security.
The company behind LottoGo brand is Annexio Australia, which is one of the world's best known's lottery betting providers. This all makes them one of the safest places around for lotto betting.
LottoGo Company Info

| | |
| --- | --- |
| Name | Annexio Australia Pty Ltd |
| Launched in | 2018 |
| Headquarters | Sydney |

| | |
| --- | --- |
| CEO | Nigel Birrell |
| ABN | 94 616 833 008 |
| Speciality | Lottery betting |
Responsible Gambling
Another great thing about LottoGo is that they are big on promoting responsible gambling. That is a huge plus in my books since trust is ultimately the most important thing when picking your next betting site. Here you can choose one these player protection tools, in case you're concerned about spending too much.
Reality Checks
Deposit Limits
Take a Break
Self-Exclusion
The other option is to ask for professional assistance. You'll find the numbers to the best-known agencies that deal with problem gambling in the footer of each page, so don't hesitate to give them a call. For more info, visit LottoGo's responsible gambling page.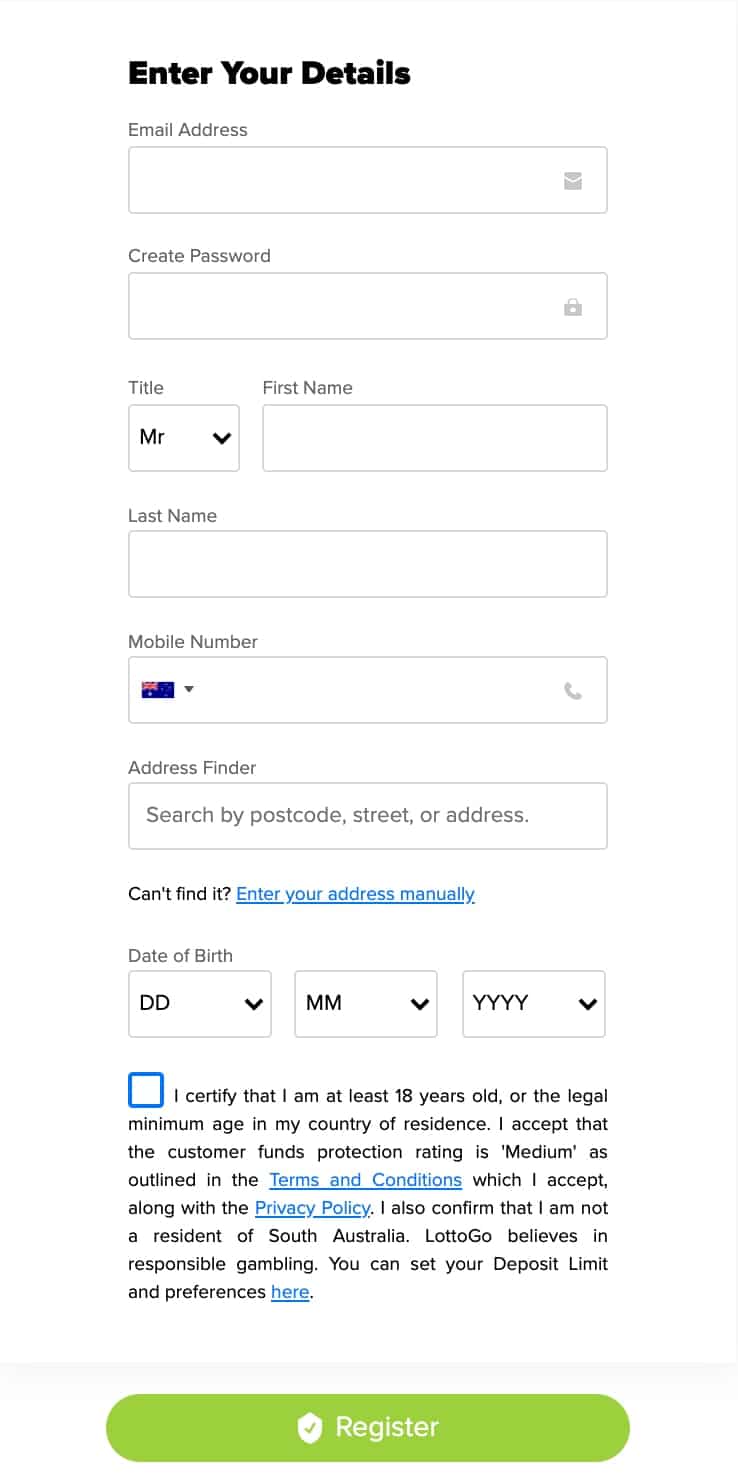 LottoGo Final Verdict
LottoGo is overall the best lottery betting site in Australia. They offer a great combination of popular lotteries and a simple to use website. The most important thing here is that LottoGo has proven over the years to be 100% safe and reliable, even when it comes to paying huge winnings.
They can improve in some areas, such as payment methods and mobile apps. However, they do have all of those features on other markets, so I assume Australian's will get to enjoy them soon as well. Even so, LottoGo is still a lottery betting site I highly recommend.
LottoGo Review FAQs
---