For those who prefer to stick with Australian bookmakers, UBET fits the bill. 100% Aussie owned, UBET was formed by TattsBet in 2015, and it has quickly become one of the country's leading betting agencies. Our in-depth review will look at all aspects of the online offering from UBET, including the quality of odds, range of sports and lots more. So, if you are considering becoming a UBET customer, then you will find all the information you need below.
The Pros of UBET
Competitive odds for racing and sports and 100% Aussie owned

All racing on Sky 1 and 2 can be streamed via UBET Race Vision
The Cons of UBET
Not as many markets on sports as some industry rivals
UBET Information And Facts
UBET itself is a relatively new company, formed in 2015. However, their history goes back a lot further than that, and its beginnings can be traced all the way back to Sydney in 1881. UBET is owned by the Tatts Group, the company that owns the state-wide TAB in QLD, SA, TAS and the Northern Territory. It holds licences in all those territories too.
UBET was formed by TattsBet after they merged and acquired a number of betting companies. UniTab and TattsBet merged in 2006, and Tasmania Tab was acquired in 2011. All of these companies were rebranded as UBET in 2015, and the current CEO is Robbie Cooke. UBET is as Australian as koala bears and kangaroos, so if you are a patriotic punter UBET could be the perfect bookie for you.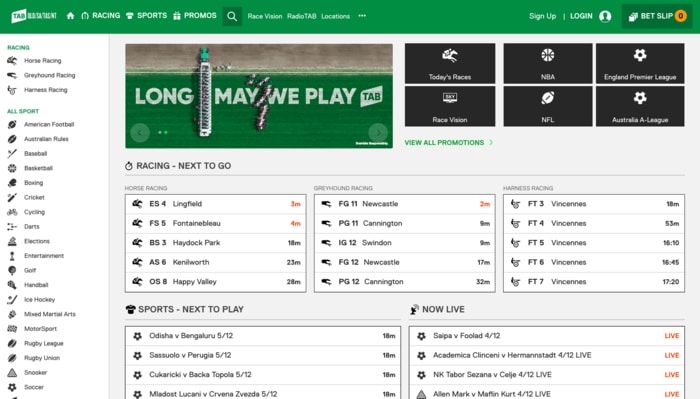 UBET Betshare
So, you have pored through the form and the stats, and you reckon that bet you just placed is a certainty. Well, with the UBET Betshare feature, you can tip your friends off about your upcoming windfall. Just place your bet, hit the 'Share' button on the bet slip and you can notify your mates about your wager via social media or SMS. This is a cool feature, and it really adds to the betting experience.
UBET Free Racing Tips
UBET members have access to the opinions of some of Australia's shrewdest punters and tipsters. Every day, UBET provides expert tips for selected race meetings across the country compiled by respected form analysts. UBET's free racing tips are provided by experts like David Gately, Kevin Casey, Ian Humphries, Brendan Tupper, Joel Marshall, John Barker, Carl Di Lorio, Julie Rowland, Andrew Hannan, Chris Nelson and Paul Richards. If you struggle to pick winners yourself, UBET's free horse racing tips could be just what you need to turn a profit.
UBET Free Sports Tips
Just like with racing, UBET customers can also check out what two of Australia's sharpest sporting brains think about all the biggest upcoming sporting events. Gerard Daffy and Nick Curry share their thoughts on all sorts of sports, including cricket, golf, AFL, NRL, soccer and lots more. This is a brilliant resource for punters and another reason why UBET is well worth checking out.
UBET In-Play Betting
Due to regulations UBET are unable to offer live betting via their website or mobile apps. However, they still display in running prices across a wide range of sporting events, and you can get your bet on by picking up the phone and calling 138 238. Check out our step by step guide on how to bet in-play with UBET.
How To Bet In-Play With UBET
Open an account with UBET by clicking here
Click the 'Live Betting' option on the website/mobile app
Find the relevant event and the odds you want to take
Call 138 238 to place your bet
UBET Race Vision

Not many Australian betting companies offer live streaming of horse racing, but UBET is one of the exceptions. With UBET Race Vision, you can watch every single race covered on Sky Racing (Sky 1 or Sky 2). This includes both domestic and international races, on the desktop site AND mobile apps. So, if you love your horses and you never want to miss a race, then UBET could be the perfect choice for you. To find out how to get UBET Race Vision, just read our guide below.
How To Get UBET Race Vision (Desktop)
Open an account with UBET
Simply head to UBET Race Vision on the website
If a login prompt appears, enter your UBET account details to continue
Choose your channel, sit back and enjoy the live racing action
How To Get UBET Race Vision (App/Phone)
Open an account with UBET
Tap "Racing" from the navigation menu – bottom of the screen
Tap either SKY1 or SKY2 to start streaming
Watch live racing on the go!!
How Good Are UBET Odds?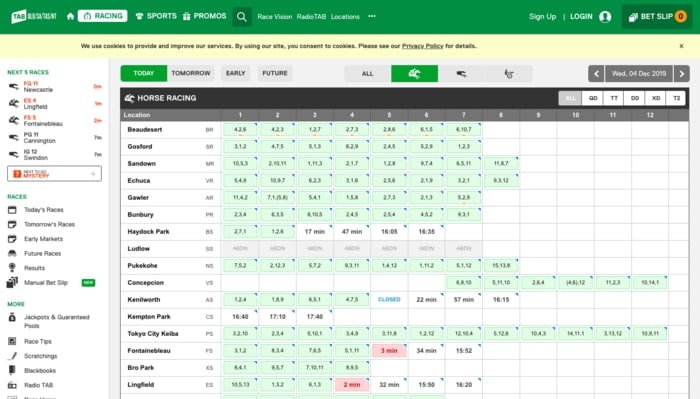 When it comes to value, UBET measures up pretty well against the majority of their market rivals. The depth of markets available somewhat lacks for sports, but as we will discuss later, their horse racing offering is top class. To illustrate the difference in the range of markets offered, we looked at the upcoming A-League soccer fixture between Adelaide Utd and Central Coast. UBET had a total of 38 markets available, whereas Ladbrokes Australia had 147. That is a significant difference and something to think about if you bet on sports.
However, while UBET may not offer the most markets, the generosity of their prices more than makes up for that shortcoming. For the above-mentioned match, we looked at the odds on offer from UBET and compared them with the prices available with CrownBet. The difference was staggering. UBET had an over round of 106.7%, whereas for CrownBet it was 109.2%. That is a massive discrepancy, and it shows that if you are seeking value, you will find it with UBET.
UBET Horse Racing Odds Comparison
Horse racing odds comparison test is another example of how great UBET odds are. We have put their odds on horses against ones offered by the Ladbrokes and BetEasy, and UBET came victorious both times. If you want to get the most out of your bets on horse racing, UBET is the right place for you.
| Wangaratta Rmbl Rising Stars | UBET | Ladbrokes | BetEasy |
| --- | --- | --- | --- |
| Yeldarb | 4.20 | 4.20 | 4.00 |
| Finally Free | 19.00 | 18.00 | 17.00 |
| Patriot Act | 41.00 | 34.00 | 31.00 |
| Hapaira | 2.30 | 2.25 | 2.20 |
| Hail The Hero | 9.00 | 8.00 | 7.50 |
| Invinski | 12.00 | 12.00 | 11.00 |
| Misty Sea | 31.00 | 26.00 | 23.00 |
| Bobby Rocks | 9.00 | 9.00 | 8.50 |
| Ensuing | 8.00 | 9.00 | 8.50 |
| Queen Guinevere | 16.00 | 15.00 | 14.00 |
| Overround | 127.5% | 129.6% | 137.4% |
UBET Mobile App Betting
In this day and age, the ability to bet on the move is important, and with UBET you can do just that on a variety of devices. If you love your Apple devices like iPads or iPhones or iPod Touches, or if you prefer to play using an Android device, then UBET has you covered.
The iPad/iPhone/iPod Touch App is available to download for free from the App Store. IOS 8.0 or later is required for this App. For Android users, the app is not available from the Play Store. You can easily download it direct from the UBET site, and it will work on all the latest Android devices
The UBET Mobile App is very well designed, works smoothly, and it is easy to navigate. You can use either fingerprint ID or a PIN code to keep your account secure. Best of all, you can watch live racing for free via UBET Race vision, and you can also listen to live race commentaries with RadioTab.
UBET Horse Racing Betting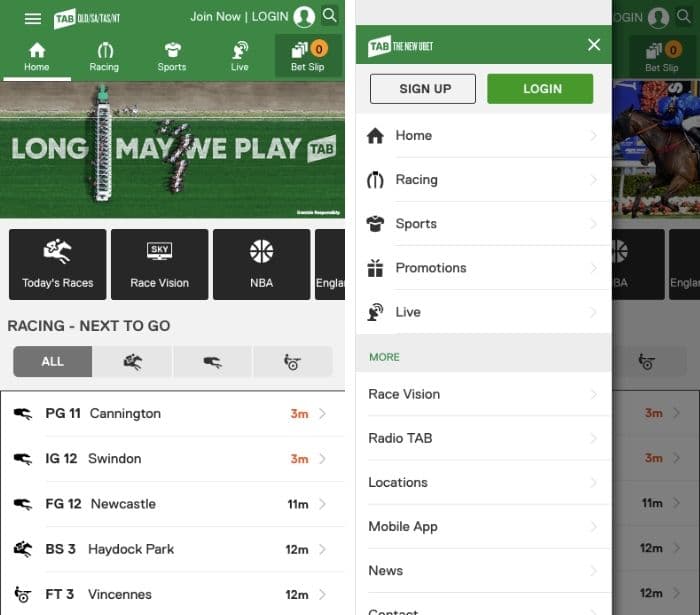 The feather in UBET's cap is the superb horse and greyhound racing betting service they provide. Horse racing is one of Australia's favourite sports and one of the biggest days in the calendar is Melbourne Cup day. You can get your bet on the race that stops a nation well in advance with UBET. They also offer early prices on all of the biggest domestic and international racing events.
With UBET, punters have the option of betting either on fixed odds or through the tote. All of the usual bet types are available, including win/place/each way, trifectas, quinellas, First 4, Any 2, exactas and quaddies. Other betting options include Tote All Up wagers, and double trios. For those who struggle to pick out horses themselves, the 'Mystery Bet Option' will pick them for you.
As we outlined earlier, you can also watch a host of the domestic and international racing action live on your desktop or mobile device with UBET Race Vision. UBET members can also listen to live race commentary and analysis on TabRadio. Overall, when it comes to betting on horse racing, UBET is one of the industry's front runners.
UBET Deposit And Withdrawal Methods
Instant Deposit/Withdrawal Methods: Credit/Debit Card*, UBET Retail Outlets.
Non-Instant Deposit /Withdrawal Methods: BPAY, Bank Transfer.
Minimum Deposit/Withdrawal: $10.
When it comes to finding the best bookie for you, the range of banking facilities available for depositing and withdrawing cash should always be at the forefront of your thoughts. Sadly, UBET doesn't have quite as many payment methods as some of their market rivals. You can top up your account electronically via debit/credit card*, BPAY or Direct Deposit with your own bank. Or, if you prefer, you can deposit funds in any UBET Retail Outlet in Queensland, South Australia, Tasmania or the Northern Territory.
*Credit card deposit limits apply, see UBET terms and conditions for details.
How To Verify Your UBET Account
Open a UBET account by clicking this link
Click on the 'Verify Account' message once logged on
To verify your identity, you'll need to match your details against 2-4 different ID sources
These include Passport, Driving Licence, Electoral Register or an Australian visa
If your details check out, your UBET account will be fully verified and activated
UBET Customer Service
Here at Aussie Bet, we think that providing quality customer service should be an absolute given for any betting agency that wants to be taken seriously. UBET's customer service stands up to scrutiny, and unlike a lot of their competitors, you can get in touch via phone 24 hours a day, seven days a week. You can also contact UBET via email or post, and all the relevant UBET contact details are listed below.
How To Contact UBET
Telephone: 1800 823 888 (free and available 24 hours/7 days)
Post: UBET, PO BOX 248, Albion, QLD, 4010
Email: [email protected]
Is UBET A Bookmaker You Can Trust?
UBET's parent company, TattsBet, is a Stock Exchange-listed company with a solid reputation for security. When you sign up with any bookmaker, it is inevitable that you will part with a lot of very sensitive personal information. This includes your email address, home address, phone number and most importantly, your bank or credit card details. It is imperative that this information is stored securely, and UBET has put in place a number of security measures to ensure that it is. These include:
UBET vows to protect the personal information it holds from misuse and loss.
Sensitive information will be protected from unauthorised access, modification or disclosure.
UBET uses the very latest SSL encryption mechanisms on its desktop and mobile apps.
This ensures that your personal information is kept safe from potential fraudsters.
Credit and debit cards must also be verified as an added security measure.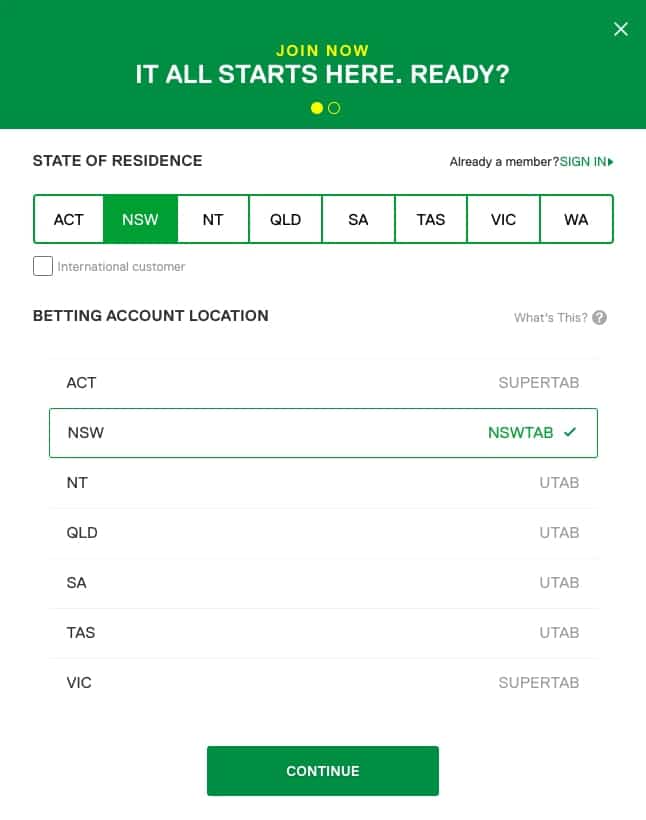 Responsible Gambling
Here at Aussiebet, we are big advocates of responsible gambling, and we are glad to report that UBET has the same mindset. As they say themselves: "UBET believes that the provision of responsible gambling programs is of the utmost importance. UBET is committed to making gambling fun and enjoyable experience while ensuring that those customers experiencing a problem with gambling are protected." Below are some of the tools available to ensure that you enjoy your betting responsibly.
Deposit limits – for control over how much you spend with pre-committed limits.
Bet limits-control how much you can wager on a single bet.
Self-exclusion: If you feel the enjoyment is gone from gambling, you can self exclude with UBET.
A wide variety of links and contact details for gambling support services.
UBET: Leading The Pack When It Comes To Horse Racing!
As can be seen from the above, UBET has lots of strengths and just a few weaknesses. One area they could possibly improve on is the depth of markets available on their sports markets. The relative lack of banking options in comparison to their industry rivals is another weak spot. However, the positives far outweigh the negatives with UBET.
Some of the best things about UBET include their generous odds and their smooth running mobile apps. The longer you stay, the more you'll enjoy the "other" side this bookie. One of the features that helps UBET to stand out from the crowd is the ability to stream live horse racing on their desktop site AND mobile apps with the Race Vision Feature. Overall, we think UBET is a bookmaker that is well worth checking out, especially for those who are serious about their horse racing betting.
Ubet FAQs
What is Ubet?
UBET is a 100% Aussie based and operated betting platform, which can provide a complete online betting experience, covering sports, racing and bretting on other events which have only recently gone mainstream.
Who owns Ubet?
UBET is a subsidiary of Tabcorp Holdings Limited. It's a direct result of te rebranding of TattsBet, which took place in 2015. Following the merger of TattsBet and Tab, Ubet became the operator of the statewide Totalisator Agency Board (TAB).
How to withdraw at Ubet?
Once you've verified your identity with UBET, you can withdraw via credit card, debit card or a bank transfer. The minimum withdrawal threshold is $10.
---