PlayUp is one of the newest additions to the Australian betting market. Because of the fantastic betting offer and a great mobile app, this operator became an instant success. PlayUp was formed after TopBetta, ClassicBet and MadBookie merger, combining the best of all three. They have a huge range of sports and betting markets, plus some of the highest odds you'll ever find.
You must be wondering by now, how to start wagering at PlayUp on a smartphone or tablet? If you want to learn more on this subject, check out our PlayUp app review, where we reveal everything you should know before betting.
PlayUp App Pros and Cons
Easy to use app
Great selection of sports
No live streaming
Not as many markets as at some of their competitors
App Overview
On first sight, PlayUp app doesn't look too overwhelming at all. In fact, some players may say it looks very basic, especially when compared with some of the other top sports betting apps. But when you start using it, you learn to appreciate it's simplicity. There are no shiny banners or too many special offers on the homepage that are just making noise and distracting you from what you actually came to see.
With the PlayUp app, everything is presented as simple as possible. There is one tab for racing and another for sports. You can further look inside each of them to see what are the upcoming events or browse all available options. It doesn't get much more straightforward than that!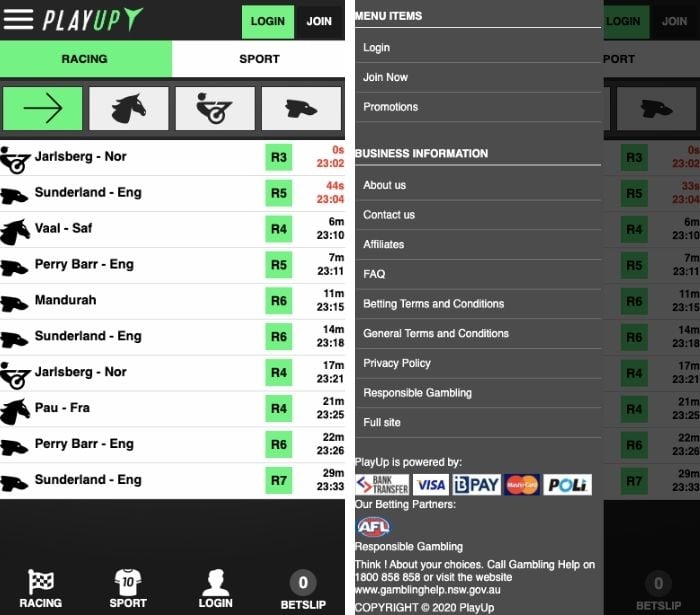 You'll see that they offer a fantastic range of sports and races, including all of the most popular matches. Here you can bet on more than 30 sports, including everything from soccer and NBA to AFL and Cricket. All of that is available on mobile, so be free to place bets on the go as well. The only thing lacking here is the live streaming, but if you want to find out what other sites are offering this service, check out our page where we list all of the most prominent bookmakers in Australia.
If you need anything else, just click the menu button in the upper left corner. But once you're in, you'll notice that there isn't much going on. You'll only find things like customer support info and T&Cs in the main menu, which really makes it easy to follow.
People at PlayUp wanted to create minimalistic betting apps that will give players a way to place their bets with as little fuss as possible. This especially applies to the web-based app, which is extremely basic. The iOS and Android apps have a bit more flair, but there is no doubt that PlayUp designers are fans of minimalism.
PlayUp Android App
If you have already tried some of the other Android betting apps, then you probably already know that gambling applications aren't allowed on the Google Play Store. That's why you'll have to visit the PlayUp site and directly download their app for Android devices. Don't worry, this is a quite effortless task!
Go to the 'Android App' page and follow the instructions. When the download is over, install the app and log in with your credentials. As you can see, there isn't much room for error here. Nevertheless, we have come up with a short step by step guide, just to be sure there that everything is clear.
How to download the PlayUp Android App?
Go to the 'Android App' page on the PlayUp site
Tap the 'Download' button to start the process
Go to the 'Downloads' folder
Click on playup.apk to install the app
That's it! You're ready to play!
PlayUp iOS App
In case you are an iPhone or iPad user, all you need to do to start betting with the PlayUp is to visit the App Store and download their native app. Before doing so, make sure you have at least 75 MB of free space, and that your device is running iOS 9.0 latter.
The whole process is almost fully automatic. To get the app, just type PlayUp in the search bar on the App Store and click the download button. This is a quite straightforward process, and to make it even easier, we have come up with a step by step guide on how to download the PlayUp iOS App.
How to Download the PlayUp iOS App
Visit the App Store
Search for the PlayUp app
Click the 'Download' button
Once the app is installed, you'll be ready to play!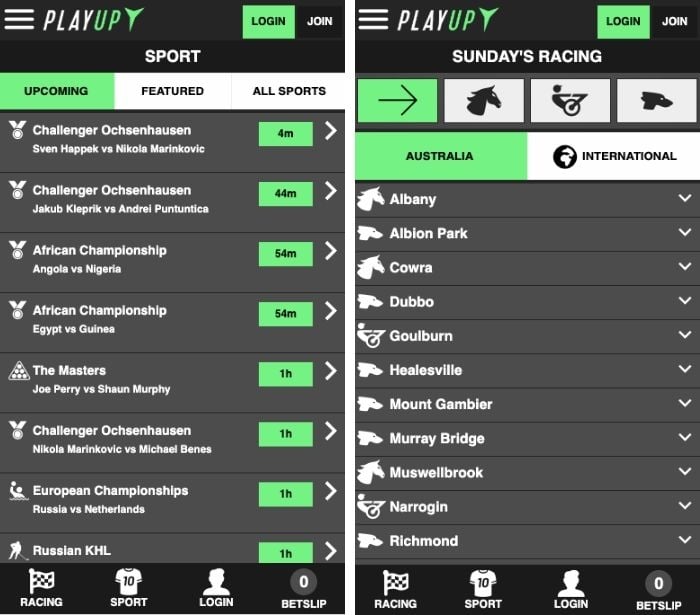 Payment Methods
PlayUp offers a solid range of payment options. It's nothing special, but it should be enough to satisfy the needs of most players. Here you can deposit via Bank Transfer, Visa, Bpay, MasterCard and POLi. All of these are available on both desktop and mobile, meaning that you can seamlessly switch between devices, without having to worry about your payments.
Depositing over a PlayUp app is very straightforward. If you have already staked some cash over the desktop app, you should be able to do the same over the mobile without too much effort. For all first-time depositors, we have made a quick guide on how to deposit with PlayUp app.
How to Deposit With PlayUp App?
Go to the PlayUp cashier
Select one of the available payment methods
Enter the amount you wish to deposit
Fill in the payment details
Confirm the transactions
You're now ready to start betting!
In-App Customer Support
PlayUp offers phone, live chat and email assistance, but note that agents aren't available 24/7. If you encounter some problem while betting at PlayUp, their customer support will be there to help you every day from 7 am to 12 am. We would like to see them providing an around the clock support, but since they are already available for most of the day and evening, absence of full-time care shouldn't be that big of a deal.
Another thing we found lacking is the live chat button for quick contact, meaning that you'll have to wander around the app to find where you can get in touch with the support agents. Addition of the button like this will significantly increase user experience, so we hope that they will make a tweak to the site design anytime soon. But before contacting them directly, make sure you have taken a look at the FAQs page, as there is a lot of useful stuff that can help you overcome some smaller issues.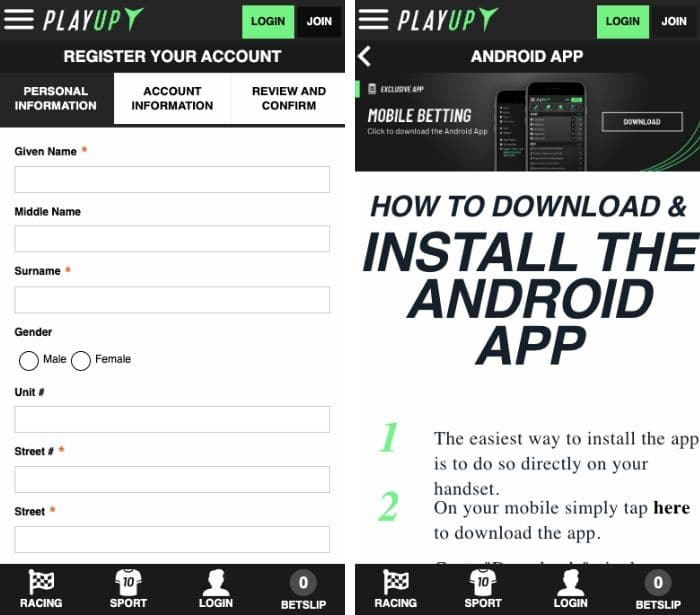 PlayUp App Review Summary
PlayUp is offering a simple but very handy mobile betting app. It isn't super packed with lots of options, but it will let you place bets on your favourite sports events with as little effort as possible. You can easily download native apps for iOS and Android or just use the web-based app, in case you aren't a fan of downloadable software.
As you could see from this PlayUp app review, they have tried to make a straightforward mobile platform, so if you're searching for a modern-looking app with tons of features, this isn't the place for you. In any other case, we recommend you to give PlayUp a chance and try betting with their mobile app!
PlayUp App FAQs
---
User Reviews
No reviews yet
---