Here at Aussiebet, our reviews aren't just limited to sports betting companies, we review all types of wagering websites. Lottoland is by far the most distinct betting site in Australia. A lot has changed in the last couple of years, but one thing is for sure, it's still legal and operational. This Lottoland review, or should we say, Lottoland Australia review, will show you everything you need to know before you start "betting" on, now, Lottoland's proprietary lotteries.
Lottoland Information and Facts
Considering that Lottoland was only founded in 2013 with just seven employees, its growth as a betting site has been phenomenal. The European section of Lottoland has flourished, and they launched their Australian operation in June 2017. Lottoland is licensed in the Northern Territory, and the CEO of Lottoland is Nigel Birrell.
They raised their profile in Australia by buying the naming rights to the Brookvale Oval, the home ground to Sydney based NRL outfit the Manly Warringah Sea Eagles. If you open an account with Lottoland, you can bet on the outcome of a wide range of lotteries. It is important to note that you do not enter the lotteries when you bet with Lottoland, you are simply betting on the numbers and Lottoland will pay you out at pre-determined odds. As of 2019, the winning numbers are based on the values of financial markets.
You can bet on lotteries on your own, or with a syndicate, and Lottoland have already made one of their Aussie customers a millionaire. That lucky customer matched five from five numbers in a bet on the American Mega Millions and came away with over $1.3 million dollars. There have been plenty of other big Lottoland Australia winners too, so if you want to have a chance of winning big, then Lottoland could be the site for you.
Lottoland Australia has been covered by Aussie media very well, mainly due to the court case they finally won in 2019, following a Supreme Court appeal. We will discuss this later.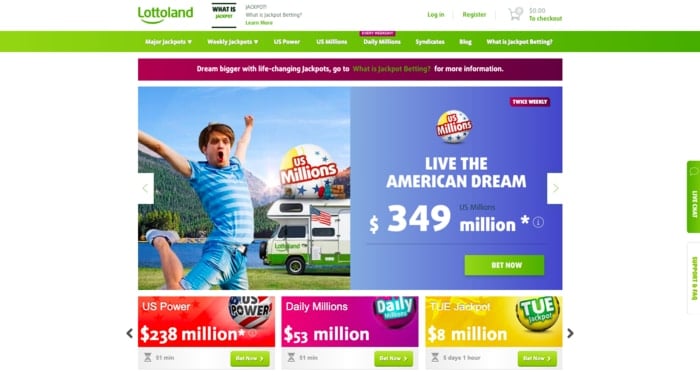 Open a Lottoland Account
How does Lottoland Work?
Lottoland Australia works differently than its other sister sites in other markets. A few years back, Aussies were playing the lottery with Lottoland. Then, they made it clear, which turned into "BETTING ON THE LOTTERY". And in 2019, this changed again. Now, the winning numbers are not determined by the International lotteries, instead of by the values of the financial markets. You can check out an example, and the explanation below.
*Payout as a 30-year annuity or discounted lump sum at Lottoland's election, and also subject to 35% reduction as per T&C's.
What Lotteries Can You bet On With Lottoland

With over thirty lotteries to bet on from around the world, there is no shortage of betting options for Lottoland members to choose from. There are daily, weekly and even more frequent lotteries that you can bet on, and jackpots vary widely. Below we list some of the leading lotteries you can bet on with Lottoland.
Lottoland Biggest Lotteries
US Power: Draw is held twice weekly (Thurs and Sunday, 3 pm AEST). Minimum Jackpot $54 million*. Jackpot paid out over 30 years. Jackpot paid in annual instalments that increase by 5% per annum.
US Millions: Another US-based lottery with draws twice weekly (Wednesday/Saturday 1 pm AEST). Minimum Jackpot is$54 million. Jackpot paid in annual instalments that increase by 5% per annum.
*Payout as a 30-year annuity or discounted lump sum at Lottoland's election, and also subject to 35% reduction as per T&C's.
Lottoland Powerball is Gone – Replaced with "US Power"

At Lottoland Australia, it's called US Power. A few years back, Lottoland changed their model from "Playing" the lottery, to "betting" on the lottery. Now, there's a new model, which, in all honesty, is hard to digest.
In simple words, the "outcome" is based on the financial markets. Lottoland takes into consideration the last two digits of the initial values of a few financial markets, predetermined that is. Then, Lottoland AUS puts all these digits in order, to create a 10-digit number, which is the ID of the quasi lotto combination. We have to give it to them, this is a creative solution, one that does not remove randomness altogether.
Here are the SOURCES Lottoland AUS uses to determine the winning numbers:
Dow Jones Industrial Average: 1st Decimal
Dow Jones Industrial Average: 2nd Decimal
NASDAQ Biotechnology: 1st Decimal
NASDAQ Biotechnology: 2nd Decimal
S&P 500: 1st Decimal
S&P 500: 2nd Decimal
Dow Jones Transportation: 1st Decimal
Dow Jones Transportation: 2nd Decimal
NASDAQ 100 Financial: 1st Decimal
NASDAQ 100 Financial: 2nd Decimal
Note, Lottoland Australia uses these DIGITS, to create a 10-digit ID of a number combination. THESE ARE NOT THE WINNING NUMBERS.
The odds of winning the 1st prize are the same, due to the number of combinations this model brings to the table.
Lottoland Mega Millions – Its Alternative, the "US Millions"
The model of the "US Power" at Lottoland Australia is applied with the "US Millions" as well. However, due to the different lottery rules in the first place, there are differences between the ID and the quasi winning numbers. The payouts are the same, meaning you're not missing out on anything.
Lottoland Daily/Weekly Lotteries
Daily Millions – $52m (at the time of writing), with the option to Double the Jackpot up to $104m.
THU Jackpot – $30m – (at the time of writing), with the option to Double the Jackpot up to $60m
TUE Jackpot – $93m (at the time of writing), with the opportunity to Double the Jackpot up to $186m
Mon & Wed Jackpot – $2.5m (at the time of writing), with the opportunity to Double the Jackpot up to $5m
Lottoland Keno
It appears that Lottoland Australia has removed all Keno games. Moreover, all similar in nature games have been removed as well. Now, following the updates of 2019, Lottoland only provides betting on lottery, based on financial markets. However, other Lottoland sites (which are off-limits for Aussie Keno fans) still offer Keno.
Lottoland Syndicates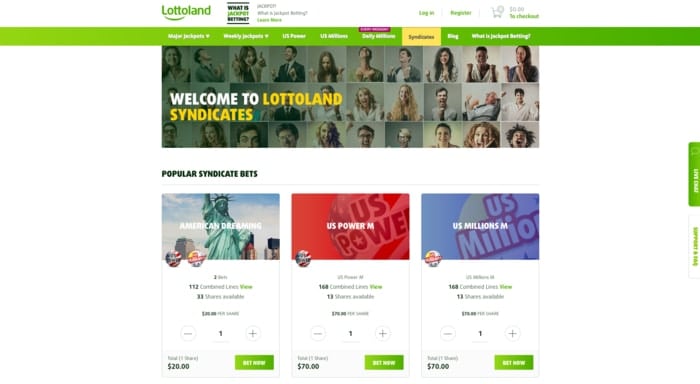 It is hardly surprising given the monstrous odds involved that placing a winning lottery bet is a difficult task. However, Lottoland has taken this fact into account, and if you want to increase your chances of winning some cash, you can join a syndicate.
A lottery betting syndicate allows you to bet on numerous (in some cases over 1000) games for a given lottery or lotteries. You'll then receive a share of the winnings if any of the games wins at any prize tier level, including the jackpot.
The larger the number of games in the syndicate, the higher your chances of winning. Each syndicate has a set number of shares. So, for instance, if you select a syndicate with 100 shares and then purchase one share and win a $100m jackpot, you will receive $1m. If you purchased two shares, you would win $2m, if you purchased it would be $3m and so on.
Entering a lottery betting syndicate couldn't be any simpler with Lottoland. Just click on the Syndicate button on the top menu bar, select the syndicate you wish to bet on and then select how many shares youee want to purchase. After this, select the length of time you wish to partake in the Syndicate. Next click 'Bet Now' to proceed to the cart, place your bet and wait for the winnings to roll in (hopefully!).
Lottoland Blog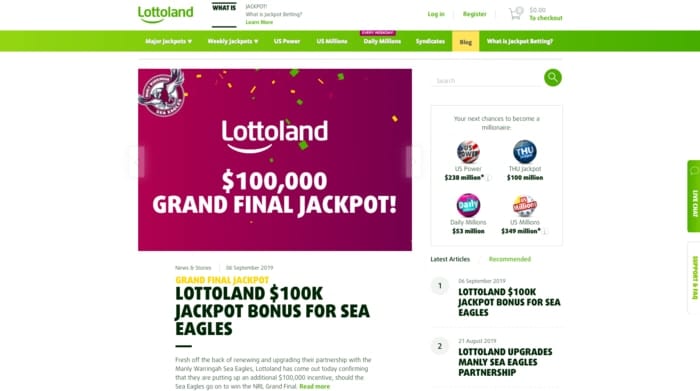 The Lottoland blog is a handy resource that is your one-stop-shop for all the very latest lottery news. Here you will find details of all the most recent big Lottoland winners, and also news of any jackpot increases.
There are also lots of useful articles explaining exactly how Lottoland works, and you should give those a read before you start betting. The Lottoland blog also reveals different tips and tricks that maximise your chances of winning, so we think it is well worth checking out.
Lottoland App and Mobile Betting
One of the best things about Lottoland are the excellent mobile and web betting apps they provide, which allow Aussie punters to bet on lotteries on the go. No matter what your device you can bet on lotteries anywhere, or anytime with Lottoland.
Apple device users can download the App direct, free from the App Store and age restrictions apply. If you use an Android device, the Lottoland App can be downloaded directly from their website. Users of other devices like Nokia, Blackberry or Windows Phones can use the Lottoland Web App by simply visiting the site on their device.
The Lottoland App works very well, and it has an easy to use interface. The App is well designed, and you can bet on all your favourite lotteries, including EuroMillions and US Powerball. You can also access customer service and check recent draw results on the Lottoland Mobile/Web App. So, if you want to have the chance to win millions on the move, you might want to check our Lottoland app reviews, including the Android and the iOS apps.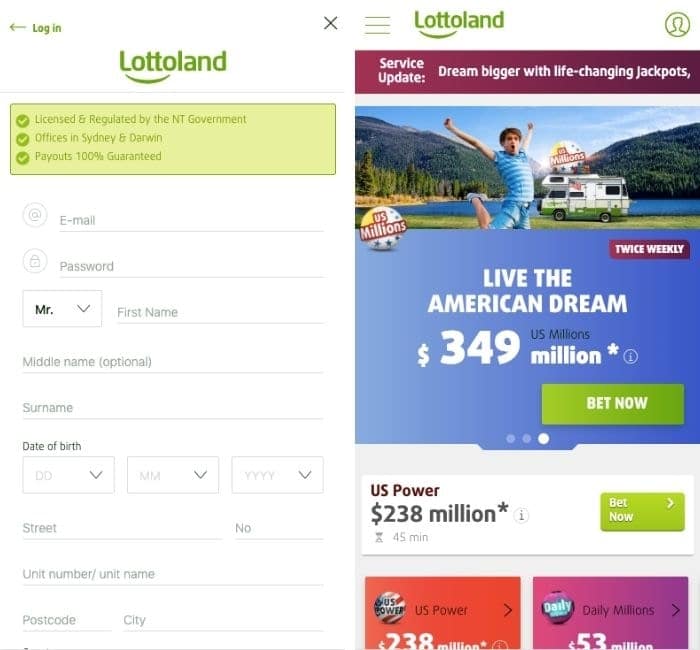 Open a Lottoland Account
How Good Are Lottoland Odds?
With such huge jackpots up for grabs, it is no surprise that the odds on winning the biggest prizes are astronomical. We took a look at two of the biggest and most popular lotteries that Lottoland customers can bet on, US Powerball and EuroMillions. For both lotteries, the odds of placing a winning bet on the jackpot were huge.
The US Power boasts the biggest jackpot available for Lottoland members to bet on at over $630* million. However, your chances of winning it all are minuscule at 292,201,228/1. The maximum jackpot ever scooped on EuroMillions was $190 million, and you have a better chance of placing a winning wager on that than the US Powerball at odds of 139,838,160/1.
*Payout as a 30-year annuity or discounted lump sum at Lottoland's election, and also subject to 35% reduction as per T&C's.
Lottoland Deposit And Withdrawal Methods
Deposit Methods: Visa/MasterCard, POLi, Paysafecard
Withdrawal Methods: Bank EFT
Before you open an account with a betting agency, it makes sense to consider the available banking options. Lottoland has a decent range of deposit options available, including major credit cards, POLi and Paysafecard. However, withdrawals may only be made via your bank account, and before you make any withdrawals, your account must be verified. You can find out how to verify your Lottoland Australia account below.
Account Verification
Provide one option from the following documents as a JPEG or PDF for Lottoland to verify your account:
Passport – details page plus Bank/Utility Bill Statement with full name and address displayed
Driving License Photo Card– front and back (provisional license is accepted)
ID Card– front and back plus Bank/Utility Bill Statement with full name and address displayed
Proof of Age Card– front and back plus Bank/Utility Bill Statement with full name and address displayed.
Make sure all documents are within their expiry date, show all details and are easily readable.
Proof of address must be dated within the last three months. Ensure the image shows the top half of the letter including name, address, date and company heading.
Blank out any sensitive information before sending the image.
All ID documents must be valid, and in-date with the full outline shown and no part cut off.
Upload directly under 'My Account'. Click 'My Transactions' and click on 'Add Account Details'.
Alternatively, you can send Lottoland a copy of your identity document by e-mail to [email protected]
The relevant department will then view the Account for verification within 72 hours.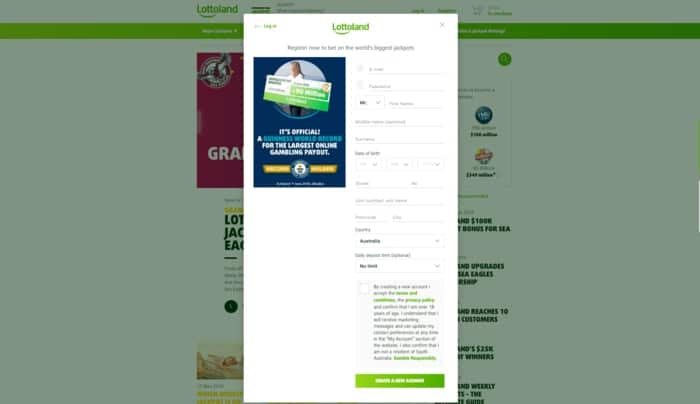 Lottoland Limits And Payouts
Sports betting agencies usually apply strict win limits for their members, but with Lottoland, the sky is the limit. They guarantee to honour any bet placed no matter what the winnings may total, as is stipulated in their Northern Territory license.
With potential winnings in the hundreds of millions, this may come as a surprise, but Lottoland has a system in place that insures them against monster payouts. So, you can bet with Lottoland safe in the knowledge that no matter how much you win, you WILL get paid.
Lottoland Customer Service
No matter what the industry, providing quality customer service, should be a number one priority. We place immense importance on this at Aussiebet, but unfortunately, we have to report that Lottoland does not score well in this department. There are a limited number of ways you can get in touch with Lottoland, and you can find all the relevant contact details below.
Lottoland Australia Contact Details
Email Address: [email protected] (48 hours response time)
Post: Lottoland, 8/96 Albion Street, Surry Hills, NSW 2010
Live chat: Available 24 hours 7 days
Is Lottoland A Betting Company You Can Trust?
When you open an account with a betting agency, you have to part with a lot of very sensitive personal data, including your credit card and often bank details. It is imperative that this information is stored safely, and Lottoland has put a number of security features in place that will help to keep your data safe. We list some of the most critical procedures they employ to protect your info below.
All personal details are stored on a secure server
Restrict access to such information to those employees who need access to perform their job functions, such as our customer service personnel and technical staff
Any payment transactions will be encrypted using SSL technology
All Lottoland employees must respect strict confidentiality agreements
Responsible Gambling
Here at Aussiebet, we are massive on the promotion of responsible gambling. We are glad to report that Lottoland is too. If you are concerned about your own (or someone you care about) gambling habits, there are tools and links to useful resources that can help and you can find them via the 'Player Protection' button at the bottom of the home page of the Lottoland website. Below are some of the ways in which Lottoland encourage responsible gambling.
Easily keep track of profits/losses by accessing your activity history
Spending Limits: Set a monthly spending limit on your account
Self-Exclusion: Temporary self-exclusion available
Links to and contact details for relevant gambling help services
Lottoland Scam Dispute
Lottoland sued the Australian Government, following allegations that they are breaching the gambling laws of the country. The claims were made by the Australian Communications and Media Authority (ACMA), which damaged the reputation of the company, and the trust it had with its loyal customers.
In August 2019, the NSW Supreme Court found in favour of Lottoland in the claim that went on for two months, between them and ACMA.
The facts are that Lottoland is still a licensed "betting company" in the Northern Territory, and they have every right to offer the betting product. Even with the operation model changed, it's still betting on a random outcome. This, in turn, means that Lottoland Australia and its services are legal. The NSW Supreme Court only confirmed these, removing any confusion in the lottery community.
Lottoland: Australia's Only Lottery Betting Site
While betting on sports is undoubtedly a massively popular pastime in Australia, betting on lotteries is increasing in popularity too. Lottoland has been the subject of some negative press coverage in recent times, but we think it is a site worth checking out if you want to try and win a life-changing sum of money.
Okay, the odds of placing a winning bet on one of the massive jackpots are seriously small, but you don't have to break the bank with your stake to be in with a chance. There is a wide variety of lotteries to bet on, and with draws taking place every 4 minutes there's no shortage of opportunities to have a bet Lottoland is a unique site, and if you fancy trying something different then it could well be the betting agency for you. Despite legal barriers, they've always come on top. This is why we have to keep updating our Lottoland Australia review every year!
Lottoland FAQs
Is Lottoland legal in Australia?
Lottoland is not an official distributor of lottery tickets. Instead of owning a lottery ticket, players are betting on the outcome of the initial values of financial markets in the US. We can only say that this approach is following Aussie law.
Will I get paid out if I win at Lottoland?
In most cases, you will, but there were several instances when winners did not get their payment, and they were based in Australia.
Can I legally play all lotteries provided by Lottoland Australia?
That's the catch. YOU are NOT PLAYING the lottery. YOU are BETTING on these lotteries. Legally, you can bet, but you cannot play, LEGALLY.
What is Lottoland?
Lottoland is a betting company which offers betting on the lottery. As of 2019, the outcome is not determined based on International Lottery Results, but on financial markets. Check out our Lottoland Review for more information.
How does Lottoland work in Australia?
Due to Australian online gambling laws, Lottoland cannot offer Keno or Lottery to Aussie customers. However, they can offer betting on random events. As of 2019, all of their products are based on financial markets.
---
User Reviews
No reviews yet
---