DraftKings is a household name in fantasy sports. They are unmatched when it comes to US sports leagues. Australian players can enjoy everything they have to offer, including the DraftKings mobile app.
In this DraftKings app review, we will cover everything you need to know before playing on mobile. Which DraftKings apps are available? How do you deposit on mobile? These are just some of the questions we answer below.
Pros and Cons of DraftKings App
Very easy to use
Excellent selection of US fantasy sports
Huge prizes
No native apps
Limited payment options
DraftKings App Overview
Before we dive deeper into the DraftKings mobile offer, it's important to point out one thing.
At the time of writing this review, DraftKings wasn't offering iOS or Android native apps for Australian players. It means that Aussie punters can only play fantasy sports at DraftKings via their web-based app.
This is a big minus in our books, so we hope DraftKings will release native apps for Australians sometime soon. At the moment, their apps can only be used in the US, the UK and Canada.
DraftKings iOS and Android apps in the US have over 4.8 stars rating on the App Store and Play Store. It's safe to say that once they bring them to Australia, we'll have some excellent fantasy sports apps at our disposal.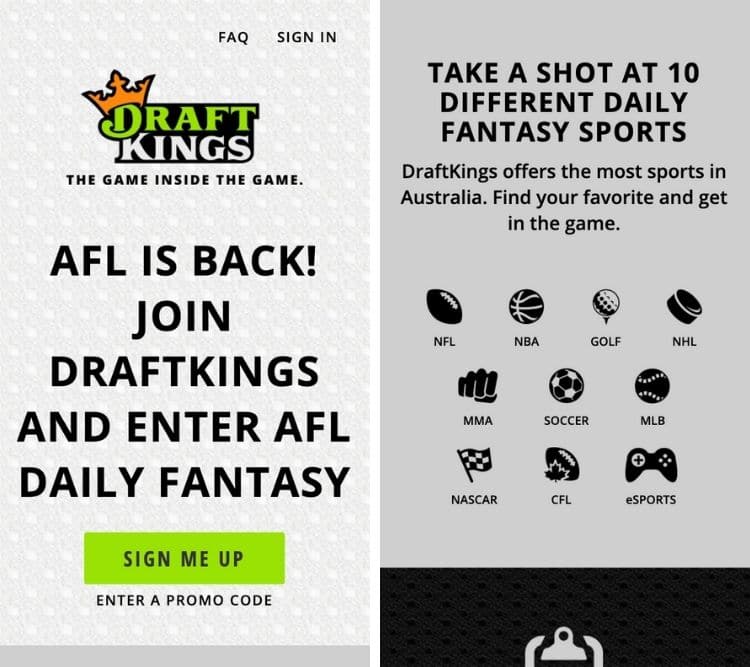 If you want to play at DraftKings on mobile right now, the only way is to use their web-based app. The great thing is that it looks almost the same as the desktop version of the site. It means that the transition from computer to mobile should be seamless. We love it when the apps look similar to the desktop site, since that makes it much easier for novice players to catch up.
DraftKings Web App
The DraftKings web-based app is as comprehensive as possible. It has all of the fantasy sports and contests from the desktop site. So if you want to try your skills with fantasy NBA, NFL or MLB, this is the place to go. Note that DraftKings doesn't offer most of the Australian leagues like NRL or BBL. But if you're mostly interested in American sports, they're unmatched both in terms of prizes and selection of fantasy contests.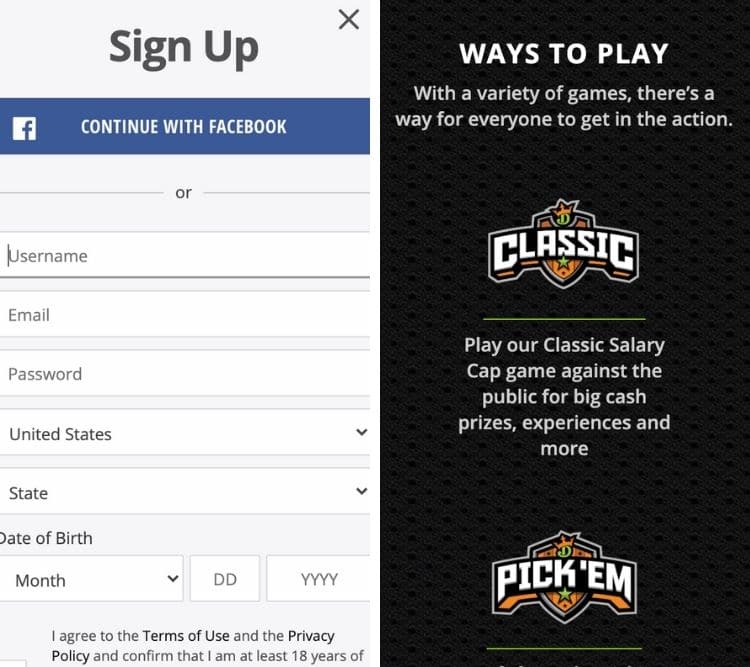 Another great thing is that every game mode is available for mobile users as well. All of the 10+ contest types are there, including the most popular ones like 50/50s, Pick 'em and Double Ups. If you're new to fantasy sports, we suggest you start with Beginner or free leagues. It will help you wrap your head around fantasy sports before risking much of your bankroll.
Starting with the DraftKings Web App
Using the DraftKings web app is very easy. It's basically just the optimised version of their desktop website. You don't have to download anything to start playing, which makes it a lot easier to use than native applications. The DraftKings web-based app is an excellent choice if you want to play a quick fantasy contest on the go.
If this is your first time using a betting web app, take a look at the step-by-step guide below. It explains how to start playing at DraftKings over mobile in just a few minutes.
User Interface
As we mentioned earlier, the DraftKings app has the same design as the desktop site, which makes it really easy to use. Navigation is very straightforward. As soon as you log in, you'll see the list of all available fantasy contests. There are plenty of filters to help you navigate DraftKings's massive offering. You can search by sport, prize, contest type and so on. It's all very intuitive, so even complete beginners won't have a hard time moving around the app.
The mobile website is very well-made. Pages load quickly, and there are almost no bugs. All of the DraftKings fantasy betting products worked like a dream on every device I tested it on. You can play on both iOS and Android platforms. The app should run smoothly even on older phones. The mobile site is well optimised, so it looks great on all screen sizes. Tablet and iPad users are also in luck, as the web app is fully optimised for a huge range of screen sizes.
Mobile Payments
DraftKings doesn't support a huge range of payment methods here in Australia. But the good news is that all of them are available on mobile as well. You can deposit via PayPal or any of the major credit/debit cards. PayPal is very convenient for mobile payments, which makes it perfect for in-app deposits. Not many betting operators in Australia offer PayPal, so DraftKings gets a huge plus for having it.
Withdrawals at DraftKings are a bit trickier. The only way to get your winnings out is via cheques. That is barely acceptable in today's world, so we hope that they will add more withdrawal options anytime soon. DraftKings even state on their site that new methods are coming soon.
Note that you'll have to wait between 2 and 3 weeks for all cheques under $2000, which is way more than with any other banking method.
Conclusion
DraftKings web-based app is as good as it gets. Pages load quickly, navigation is straightforward, and all betting products work perfectly. Overall, it's one of the best fantasy sports web apps we have seen in a long time.
However, the biggest issue is the lack of native apps for iOS and Android. DraftKings already offers dedicated mobile apps in the US, UK and Canada, so it's possible that they'll introduce one for Australia as well.
If the lack of native apps isn't a dealbreaker for you, DraftKings is a great choice. Their web-app offers all of the top fantasy features wrapped in a well-designed mobile platform, so don't miss to give it a look.
DraftKings App FAQs
---