DraftKings is the biggest fantasy sports betting site in the world. They offer an excellent selection of US sports and huge prize pools. However, DraftKings also comes with a few huge downsides, such as the lack of native apps and the total absence of Australian sports leagues, like the NRL and BBL.
After considering everything we concluded that DraftStarts is a much better option for Aussie punters. They offer an excellent selection of both Australian and international leagues, as well as native apps for iOS and Android. Take a look at our in-depth analysis of DraftStars to learn more.
Huge prize pools

Great selection of US fantasy sports
No native apps

Not so many Australian sports

Withdraws only via cheques
DraftKings Overview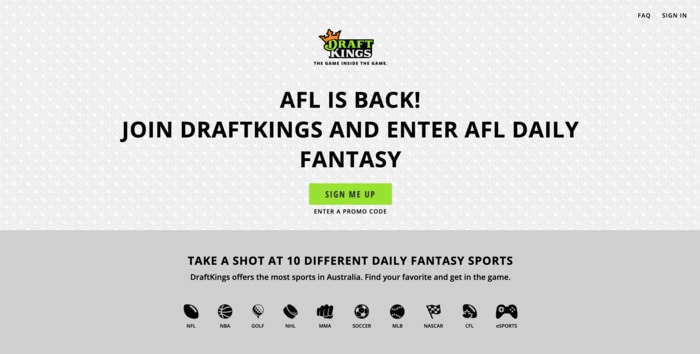 Alongside FanDuel, DraftKings is the best and the biggest daily fantasy sports operator in the world. They are originally from the US, but as DFS rose in popularity, DraftKings quickly became a global phenomenon. Today they have tens of thousands of customers from over 100 countries and over 1 billion dollars in annual income.
Here you'll find daily fantasy contests, meaning that everything is over on the same day. No need for long commitments – just register and play a quick game. Since it's so agile, I especially like to play it on the go on the DraftKings mobile website. It's a shame that they still don't offer native apps in Australia.
Their bread and butter are four major American leagues, the NHL, NBA, NFL and MLB, for which they have over 3 million dollars weekly prize pools. The thing I don't like is that DraftKings doesn't cover that many Australian sports. I'll talk more about that in the following sections.
They offer an unmatched selection of fantasy leagues and several exciting game modes. But what really sets them apart from other fantasy sports sites in Australia, is the size of prize pools they offer. No other DFS operator offers money rewards this big!
How to Start with DFS at DraftKings?
Getting started with DraftKings is pretty easy. If you have already used another DFS operator, this will be very simple for you. The principle is the same! In case you're new to all of this, take a look at the guide below, where I'll briefly explain how it works.
Pick a contest – Choose a sport and a type of contest. Some of the tournaments are free to enter, while others require a buy-in.
Fantasy draft – This is the exciting part! You get to draft real-life players to your team while trying to stay within the cap space. Choose carefully, since the real-life performance of your players will earn you fantasy points based on the DraftKings scoring rules.
Follow the leaderboard – Once the contest starts, you can't change the lineup. Just look at the leaderboard and follow your team's progress.
What Types of DFS Contests Are Available?
DraftKings is a huge company, so it's no wonder that they have an excellent selection of different contest types. This can feel a bit too overwhelming for someone who's just starting, so I always suggest that beginners should start with Casual games since they are easiest to follow.
I personally prefer Pick'em contests, but you should try all of them and see what suits you the best. Here are the all fantasy contest types available at DraftKings:
Classic – This is the most common tournament type where you get the salary cap for drafting players. Note that tournaments like this can come with huge cash prizes.
Pick'em – A bit quicker game type where you draft from smaller groups of players. There is no salary cap here.
Leagues – Organise fantasy contest with your friends and play whenever you want.
Head-to-head – You compete against a single opponent. Whoever drafts better scoring team wins.
Multiplier – Win from 3x to 10x your stake based on your final ranking.
Casual – Tackle a league full of players of similar skill level. Great for learning how to play!
Guaranteed Prize Pool – Prize pool is fixed, regardless of the number of participants.
50/50s – You only earn money if you end up in the upper half of the leaderboard.
Double Ups – Everyone who finishes above certain ranking will get their stakes doubled.
Qualifier Contest – Earn special ticket that will grant you access to high stake tournaments.
Steps – The goal is to go to the next round by winning your current ticket.
Beginner – This contest is open only to players with less than 50 contests played or without an Experience badge.
Free Contests – You can enter these contests without buy-in. Prizes are usually DraftKings dollars or entry tickets for other contests.
What Sports Are on Offer at DraftKings Australia?

As I mentioned above, DraftKings is mostly focused on US sports. They have, by far, the best NBA, NFL, NHL and MLB fantasy leagues in Australia, which is the main reason why I joined them in the first place.
However, the downside is that they are much less committed to Australian leagues. There is no NRL, cricket or horse racing. The only local league available is the AFL. This could be a huge problem for many players since rugby and cricket are so popular around here. If DraftKings really want to establish a foothold in Australia, they have to add at least a few of these sports.
If you want to enter fantasy rugby or cricket leagues, you'll be much better off with Draftstars. They offer all of the popular Aussie sports, plus fantasy horse racing, which is something completely unique to them. In case you want to learn more about this fantastic DFS operator, take a look at what Aussiebet experts have to say about Draftstars.
Here is the full list of sports available at DraftKings:
NFL
NBA
NHL
MLB
Golf
MMA
Soccer
Nascar
CFL
eSports
DraftKings Scoring
I'll go through how scoring works for some of the most popular sports available at DraftKings. Since there are so many options, I'll focus only on the most common ones. Also, keep in mind that they offer several game styles for each sport, while everything you find here applies for the classic mode only. If you want to learn more about this subject, note that DraftKings has everything listed on their website as well.
If you're interested in a specific sport, use the links below to jump straight to the section you need.
DraftKings AFL
AFL is, for now, the only major Australian sport at DraftKings. Here you can see the lineup you'll have to draft and the scoring table.
Forward – x2
Midfielder – x4
Defender – x2
Ruck – x1
| Category | Points |
| --- | --- |
| Goal | 6 |
| Tackle | 4 |
| Kick | 3 |
| Mark | 3 |
| Handball | 2 |
| Hit Out | 1 |
| Behind | 1 |
| Free Kick For | 1 |
| Free Kick Against | -3 |
DraftKings NBA
DraftKings is an official fantasy sports partner of NBA, so you can expect to see a comprehensive offering of DFS contests. Take a look at scoring and lineups.
 PG – x1
SG – x1
SF – x1
PF – x1
C – x1
G (PG,SG) – x1
F (SF, PF) – x1
Util (PG,SG,SF,PF,C) – x1
| Category | Points |
| --- | --- |
| Point | 1 |
| Made 3pt Shot | 0.5 |
| Rebound | 1.25 |
| Assist | 1.5 |
| Steal | 2 |
| Block | 2 |
| Turnover | -0.5 |
| Double-Double- Max 1 Per Player: Points, Rebounds, Assists, Blocks, Steals | 1.5 |
| Triple-Double – Max 1 Per Player: Points, Rebounds, Assists, Blocks, Steals | 3 |
NFL DraftKings
NFL is extremely popular in the US, and Australian punters are starting to love it as well. Here you can see the draft requirements and the scoring table.
QB – x1
RB – x2
WR – x3
TE – x1
Flex (RB/WR/TE) – x1
DST – x1
Offense

Defense

Category

Points

Category

Points

Passing TD
4
Sack
1
25 Passing Yards
1 (+0.04 Pts/ Yards)
Interception
2
300+ Yard Passing Game
3
Fumble Recovery
2
Interception
-1
Punt/Kickoff/FG Return for TD
6
Rushing TD
6
Interception Return TD
6
10 Rushing Yards
1 (+0.1 Pts/Yard)
Fumble Recovery TD
6
100+ Yard Rushing Game
3
Blocked Punt or FG Return TD
6
Receiving TD
6
Safety
2
10 Receiving Yards
1 (+0.1 Pts/Yard)
Blocked Kick
2
100+ Receiving Yard Game
3
2 Pt Conversion/Extra Point Return
2
Reception
1
0 Points Allowed
10
Punt/Kickoff/FG Return for TD
6
1 – 6 Points Allowed
7
Fumble Lost
-1
7 – 13 Points Allowed
4
2 Pt Conversion (Pass, Run, or Catch)
2
14 – 20 Points Allowed
1
Offensive Fumble Recovery TD
6
21 – 27 Points Allowed
0
/
/
28 – 34 Points Allowed
-1
/
/
35+ Points Allowed
-4
Points Allowed (PA) only includes points surrendered while DST is on the field – doesn't include points given up by the team's offence (e.g. points off offensive turnovers). 
A fumble recovery will be awarded to a Defence/Special Teams if the team's offence recovers a fumble by the opposing defence (e.g. after an offensive turnover). 
NHL DraftKings
NHL is one of the most popular sports at DraftKings. Even though Australians aren't big on hockey, fantasy NHL has proven to be very popular around here. Note that you'll have to include skaters from at least 3 different teams.
C – x2
W (LW/RW) – x3
D – x2
Util (LW/RW/C/D) – x1
G – x1
Players

Goalies

Category

Points

Category

Points

Goal
8.5
Win
6
Assist
5
Save
0.7
Shot on Goal
1.5
Goal Against
-3.5
Blocked Shot
1.3
Shutout Bonus
4
Short Handed Point Bonus (Goal/Assist)
2
Overtime Loss
2
Shootout Goal

1.5
35+ Saves
3
Hat Trick Bonus
3
/
/
5+ Shots
3
/
/
3+ Blocked Shots
3
/
/
3+ Points
3
/
/
Goalies will receive points for all stats they accrue, including goals and assists. 
DraftKings Baseball
MLB is increasingly popular among Aussie punters, and there is no better place to try fantasy baseball than DraftKings. Here are the player selection and scoring.
P – x2
C – x1
1B – x1
2B – x1
3B – x1
SS – x1
OF – x3
Hitters

Pitchers

Category

Points

Category

Points

Single
3
Inning Pitched
2.25
Double
5
Strikeout
2
Triple
8
Win
4
Home Run


10
Earned Run Allowed
-2
Run Batted In
2
Hit Against
-0.6
Run
2
Base on Balls Against
-0.6
Base on Balls
2
Hit Batsman
-0.6
Hit By Pitch
2
Complete Game
2.5
Stolen Base
5
Complete Game Shutout
2.5
/
/
No Hitter
5
Hitting statistics for Pitchers will not be counted, and Pitching statistics for Hitters will not be counted. 
DraftKings Soccer
Soccer is probably the world most popular sport, so it shouldn't come as a surprise that Aussies like to play it even in the fantasy format. Take a look at the scoring and the list of players you'll have to draft.
GK – x1
D – x2
M – x2
F – x2
Util (D,M,F) – x1
| Category | Points |
| --- | --- |
| Goal | 10 |
| Assist | 6 |
| Shot | 1 |
| Shot on Goal | 1 |
| Crosses | 0.7 |
| Assisted Shot | 1 |
| Accurate Pass | 0.02 |
| Fouls Down | 1 |
| Fouls Conceded | -0.5 |
| Tackle Won | 1 |
| Passes Intercepted (D,M,F) | 0.5 |
| Yellow Card | -1.5 |
| Red Card | -1.5 |
| Clean Sheet (D) | |
| Shootout Goal | 1.5 |
| Shootout Miss | -1 |
| Saves (GK) | 2 |
| Goal Conceded (GK) | -2 |
| Clean Sheet (GK) | 5 |
| Win (GK) | 5 |
| Penalty Kick Save (GK) | 3 |
| Shootout Save (GK) | 1.5 |
DraftKings MMA
MMA is quite different from the sports we were previously talking about. But when it comes to the daily fantasy sports competitions, everything is pretty much the same. You have to draft six fighters before starting to play. Check out the table below to learn more about scoring rules.
Moves

Fight Conclusion Bonuses

Category

Points

Category

Points

Significant Strikes
0.5
1st Round Win
90
Advance
3
2nd Round Win
70
Takedown
5
3rd Round Win
45
Reversal/Sweep
5
4th Round Win
40
Knockdown
10
5th Round Win
40
/
/
Decision Win
30
Significant Strikes are any Distance Strike or Clinch/Ground Strikes that are considered "Power Strikes" by official scorers. 
A knockdown is awarded to a fighter who knocks his/her opponent down due to debilitation for what the official scorers consider an appreciable amount of time. 
Loyalty Scheme
DraftKings is huge on loyalty rewards. This is how their award system works:
Experience – As you enter new fantasy contests, you'll earn Experience Points. More experience points mean higher levels and an opportunity to join more competitive tournaments. Also, you can brag about how good you are! You can earn experience by just entering a contest or by solving special achievement and missions.
Missions & Achievements – New missions come on a daily basis, and they usually look something like "Play in any $3+ Contests". On the other hand, achievements are different for each sport. They take much more time to complete and bring greater prizes. Achievements usually have a form that looks like "Enter NFL contests with buy-in of a $1 or more for 55 days straight".
Crowns – Solving missions and achievements also earn you Crowns. It's a form of DraftKings virtual currency you can use to enter the paid contests or buy merchandise in the DK Shop. You also earn 1 Crown for every 1$ you spend when entering a contest.
Daily Awards – DraftKings also gives daily awards to most loyal customers, which can be anything from more crowns to tickets for high-end fantasy contests. They assign you a tier based on the total number of crowns earned in the previous month, which then determines what prizes you get every day.
The thing I liked the most here is that you don't have to do anything special to earn rewards. Just play your favourite fantasy contests, and the prizes will start coming on their own.
DraftKings App – Web App Only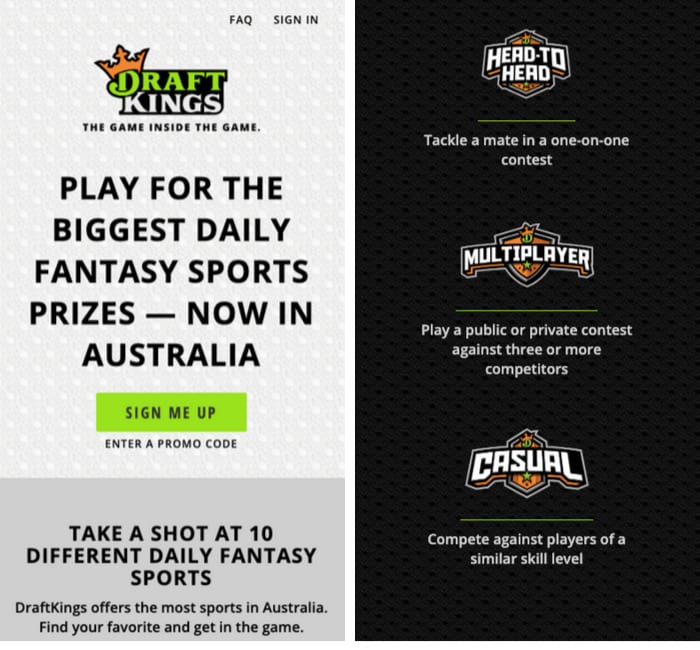 I love to have a quick fantasy game on the go, so discovering that DraftKings offers native apps only for the UK, US, and Canada was disappointing. As an Australian based punter, you can only play via their web-based app. That can be a deal-breaker for many players who prefer to bet on the movie via custom made iOS or Android betting apps. It almost made me quit DraftKings at one point.
But on the bright side, the web-based app is decent. It's snappy, easy to use and offers the full range of sports and fantasy league types. If you decide to use this app, there is no need to download anything. Just enter the DraftKings via a mobile browser and start playing!
In case the lack of native mobile apps isn't acceptable for you, my suggestion is to check out Draftstars. They have an excellent mobile presence and a great range of Australian fantasy sports. Since DraftKings is such a renowned company, I assume that they'll release Aussie native apps very soon. When that happens, Aussiebet will be the first to notify you.
Short List of Payment Options
DraftKings offers a short list of deposit options which focuses on credit/debit cards. However, we liked the fact that PayPal betting is also available! It's not much, but since I'm a huge PayPal fan, its suites me perfectly. Not many Australian betting sites offer this e-wallet, so DraftKings gets a huge plus in my books for having it.
However, if you prefer Aussie native payment methods, like POLi and BPAY, this fantasy operator is a no go. They're focused on these two payment methods across all markets, so I doubt you'll see any new ones being added anytime soon.
The biggest issue here is withdrawals. At the time of writing, the only way to access your winnings is to request a cheque. That is not acceptable in this day and age so I hope that they add more options in the future. DraftKings even state on their site that new withdrawal methods are coming soon.
Also, note that the waiting time for cheques under $2000 is 2 to 3 weeks, so I suggest you avoid them at all costs.
Deposit Methods: PayPal and Credit/Debit Cards
Withdrawal Methods: Cheques
Customer Support – No Live Chat
DraftKings has solid customer support. The most important thing is that agents are friendly and professional, so I was always able to solve all of my problems without too much fuss. However, I didn't like the fact that live chat and phone support isn't available.
The only way to get in touch with the support agents is via email or contact form on the site. I usually had to wait for a few hours to get an answer, which is great for email support, but still problematic for when you need immediate assistance.
The good thing is that FAQs page is very comprehensive, so you'll probably be able to solve most of the smaller issues on your own. This doesn't mean that DraftKings shouldn't improve their customer care. Adding at least one new channel of communication would make them a lot more user-friendly.
Contact
Working Hours
Monday – Friday – 6:00 AM EST – 11:59 PM EST
Saturday & Sunday – 6:00 AM EST – 11:59 PM EST
Is DraftKings Safe?
Even though DraftKings is such a big and respected company, it can't hurt to ask if they are really safe for Australian punters? I looked into this as soon as they arrived Down Under, and from what I can tell, everything is top-notch. DraftKings is regulated by Australia's Northern Territory Racing Commission. Having a betting license is by far the most important thing, but it's also good to know that this operator has all other safety features in place, such as 2048-bit encryption on the website.

| | |
| --- | --- |
| Parent | Diamond Eagle Acquisition |
| Founded in | 2012 |
| CEO | Jason Robins |
| Headquarters | Boston, Massachusetts |
| ABN | 50 610 507 072 |
| Revenue | $14 million |
Note that DraftKings at the moment doesn't provide services to residents of South Australia.
It's always good to see that a bookmaker is big on promoting responsible gambling. DraftKings does just that, which is a huge plus. However, I would like to see a bit more data on Australian agencies that deal with problem gambling, such as Gambling Help Online. I think it would make Aussie fantasy sports fans feel much more comfortable.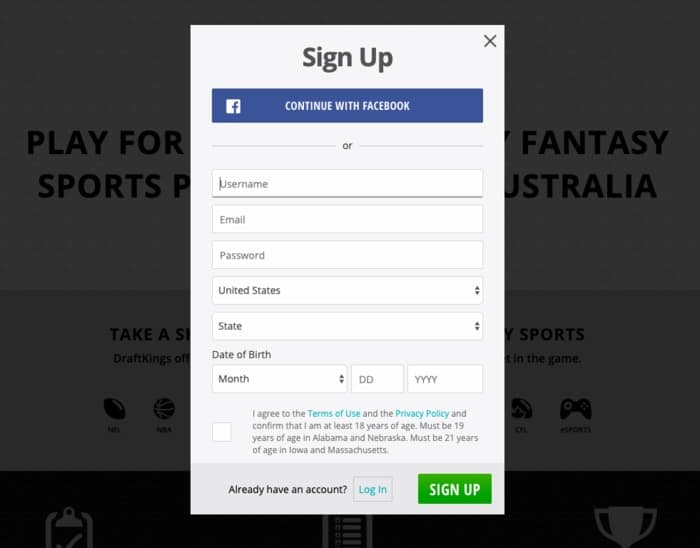 Conclusion
DraftKings Australia is still missing a few features that are available to US players, most notably the native apps for iOS and Android. I pointed out a few more issues in my DraftKings review, which includes the lack of live chat support and a narrow selection of Australian sports.
From the perspective of an Aussie punter, they lack a lot of important things, so Draftkings may be the best in the US, but they are far from the top in Australia. That's why we suggest to all fantasy sports lovers to visit DraftStars instead because they offer much more to local players.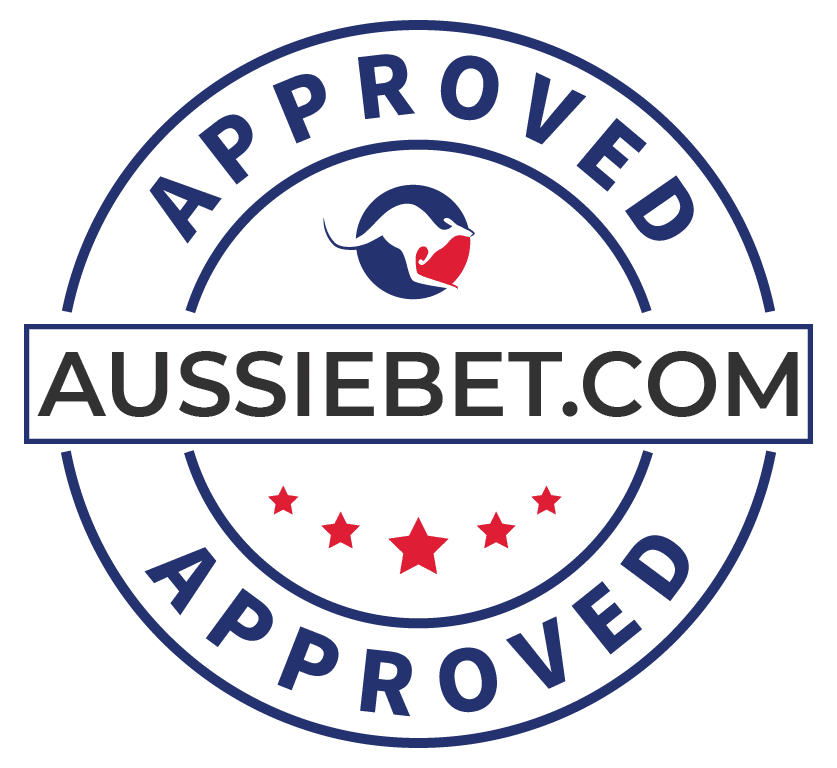 Draftkings is a solid DFS site. However, after doing this review we realised that Aussie punters would be much better with some of the domestic fantasy operators. Take a look at the list of top Drafkings alternatives.
How to Bet on Fantasy
Draftkings FAQs
How can I deposit at DraftKings?
You can deposit at DraftKings using any of the major credit and debit cards, or via PayPal. If you want to learn more about payments at DraftKings, take a look at the full review above.
What sports are available at DraftKings?
DraftKings is focused on four major American sports, NFL, NBA, NHL and MLB. There is also a range of other sports available for Aussie customers such as AFL, F1 and soccer. For the full list of sports at DraftKings, take a look at our review.
Can you play DraftKings in Australia?
Yes, you can. DraftKings has officially come to Australia, meaning that local punters can legally play fantasy sports with them. DraftKings holds a license from Australia's Northern Territory Racing Commission, which makes them 100% safe and legal.
Is there a DraftKings Australia app?
At the time of writing this review, DraftKings only offers a web-based app for Australian users. Native iOS and Android apps aren't available. To learn more about DraftKings mobile presence, scroll up and take a look at the full review.