The SportChamps app is the only place where Aussie punters can enjoy betting tournaments on mobile. This unique betting operator offers an excellent mobile experience available on both iOS and Android platforms.
Our SportChamps app review covers everything you need to know about tournament betting on mobile. Here you can learn more about in-app payments and mobile design. We also explain how to download their native apps.
Pros and Cons of the SportChamps App
Native apps for iOS and Android
The only app that offers betting tournaments
Pages load very quickly
There could be more payment options
SportChamps App Overview
If you like playing betting tournaments on the SportChamps desktop site, you'll love their mobile app. All of the playing modes are available on mobile, like target tournaments, winner takes all and double ups. There are no limitations for mobile users. Everything that's available on desktop is accessible even when playing on a smaller screen.
All of the SportChamps apps look more or less the same as the desktop site. We like the fact that they all follow the same design because it makes the transition so easy.
The navigation is very straightforward, so you won't have a hard time moving around. It's great how they managed to squeeze all of the filters on small mobile screens. Since SportChamps runs dozens of betting tournaments, the easiest way to find the one you like is by using those filters.
Regardless of whether you have an iPhone or an Android device, SportChamps have native smartphone apps ready to download. If you're not a fan of downloadable software, the SportChamps web app is just as full-featured as their betting apps are. All you need to do is head to their site on your device's browser.
The web app is fully touch-optimised and works on all screen sizes. Once you're in, register an account and start playing. It's a very quick and easy way to play a betting tournament on the go, which makes it perfect for casual punters.
SportChamps App for Android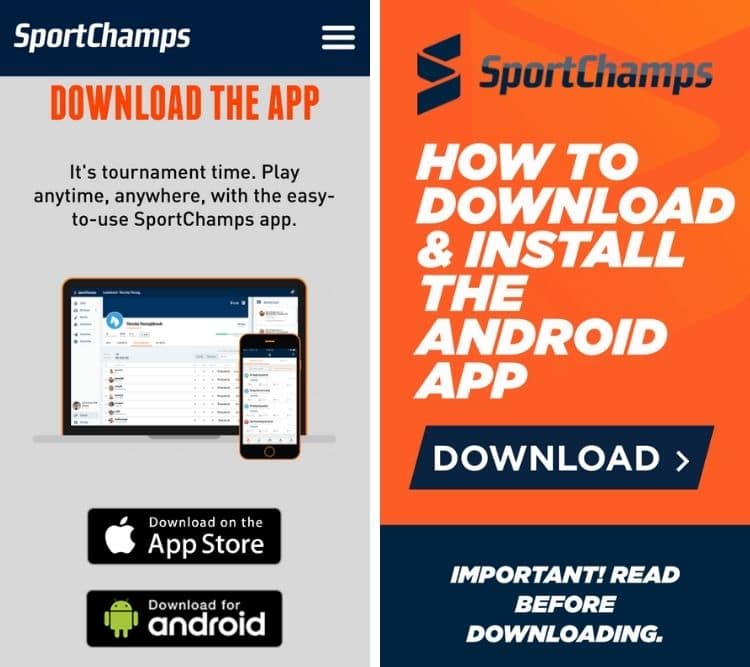 If you're an Android user, the native SportChamps app is likely the best option for you. Not only do you get access to all of SportChamps' features and services, but you also get a few other perks that aren't available on the web app, such as push notifications.
The app is fast and sleek, providing you with an incredibly smooth mobile betting experience. SportChamp has even gone to the trouble of making sure that their app is well optimised for Android tablets.
The only thing to keep in mind is that you'll have to get the SportChamps Android app directly from their site. This is because Google doesn't allow betting apps to be listed on the Play Store. If this is your first time downloading a native Android betting app, take a look at the simple, step-by-step guide below to get started:
SportChamps App for iOS
The SportChamps iOS app looks and feels more or less the same as the Android version. It has all the bells and whistles you get with any other SportChamps app.
Note that you'll need iOS 11.0 or later to run this application, but that should be fine as long as you have an iPhone 5S or newer model. Also, much like their Android app, SportChamp has fully optimised their app for iPad, so you can enjoy the larger screen real estate.
The only difference is that you can get the iOS app directly from the Apple App Store, which makes it even easier to obtain. All you need to do is visit the App Store and follow the steps listed below:
User Interface
SportChamps doesn't reveal much to unregistered users. So, if you want to look around, you'll have to register an account. Also, note that the app is only available in Australia, so you may not be able to use it while abroad.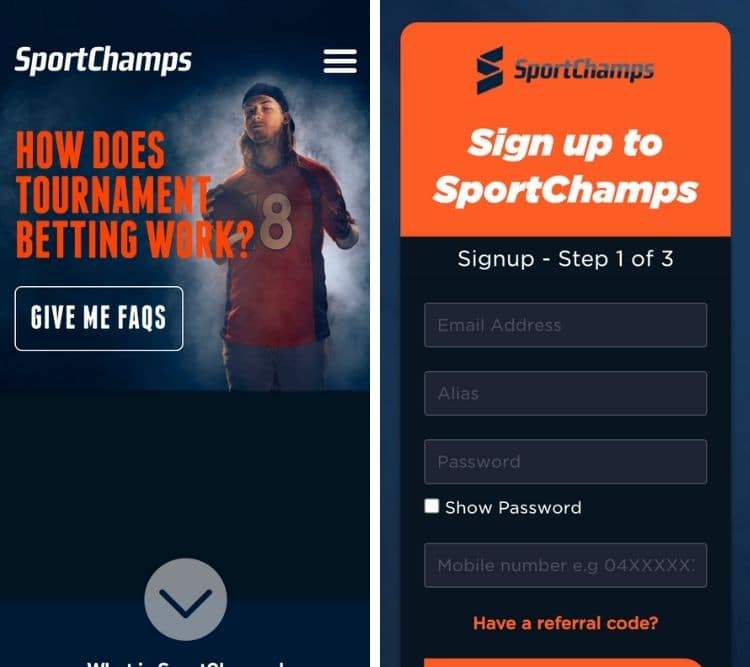 As soon as you register an account, you'll see the Lobby with the list of all available tournaments. From there you can pick a sport or use some of the filters to find one that's right for you. If you want to learn more about a specific tournament, just click on it more details will pop up.
The sticky menu in the bottom of the screen helps to navigate with ease. You can use it to go back to the Lobby, check out 'My Bets' or enter your account details.
In-App Payments
SportChamps doesn't offer that many payment options. But on the bright side, all of them are available on mobile as well!
You can deposit via bank EFT or any of the major credit debit/cards. All you need to do is visit the cashier and follow the instructions. It all looks the same as on the desktop version of the SportChamps site.
When it comes to withdrawals, the situation is more or less the same. The only difference is that you can only cash out via bank EFT. The selection of payment methods is shockingly limited, and we hope that more options will be introduced in the near future.
Final Verdict
Props to SportChamps for making betting tournaments so mobile friendly and available on both iOS and Android platforms. SportChamps' apps run smoothly and include all of the features from the desktop site.
We would like to see a few general improvements. For example, a few more payment methods would be nice. But when it comes to the actual betting apps, we don't have anything to complain about. If you're a mobile-first punter who wants to try something new and exciting, the SportChamps app is the way to go.
SportChamps App FAQs
---