One of the newer kids on the block, ClassicBet refer to themselves as Australia's first premium betting agency. ClassicBet has found a niche in the Aussie market for higher stakes bettors. This betting company is 100% Australian owned and they cover horse, greyhound and harness racing as well as all of Australia's favourite sports (AFL, NRL, Cricket, Tennis, Soccer). Every member of ClassicBet gets their own personal account manager. If you are considering opening an account with ClassicBet you are in the right place, as you will find all the information you require in our extensive and exclusive ClassicBet review.
Classicbet: Pros And Cons
100% Aussie owned.
Strong on Aussie Sports.
Every client gets their own account manager.
Odds could be better.
Limited banking options.
100% Aussie owned, ClassicBet was formed in 2014 and branded itself as Australia's first premium betting agency. They adopt a different approach to other bookies, and every customer gets their own personal account manager. ClassicBet is licensed in New South Wales and that is where their headquarters are based too, at Penrith Paceway.
ClassicBet concentrate exclusively on racing and sports, so if you are someone who bets on politics or entertainment then this may not be the bookmaker for you. They cover a wide range of sports, including AFL, tennis, basketball, soccer, golf, rugby and lots more. The depth of markets available is more than decent too, on both domestic and international events. ClassicBet also have a solid mobile/web app, so when it comes to betting on the move they have all the bases covered!
ClassicBet Live Betting
At this present time, it is illegal for Aussie betting companies to offer live betting online. This is due to the Interactive Gambling Act which was passed by the Aussie Government in 2001. However, with ClassicBet you can still bet in play by just picking up the phone and dialling 1800 888 001. Just let the operator know what bet you want to place and they will tell you the odds. Minimum stake for telephone bets is $10.
ClassicBet Live Streaming
A lot of Aussie bookies are now offering live streaming of certain horse racing meetings and sporting events. Unfortunately, at this present moment ClassicBet do not offer live streaming on any events. This situation may change it the future, and if it does you will find out straight away here at Aussiebet.
ClassicBet Mobile App And Web App Betting
The fact that ClassicBet market themselves as a 'Premium Bookie' is reflected in their mobile and web apps. Betting on the move is increasing in popularity at an astonishing rate in Australia. With ClassicBet you can bet on the go with consummate ease. If you use an iPhone/iPad, an Android device or Windows Phone, Blackberry or Nokia, ClassicBet caters to your needs.
The iPhone/iPad/iPod Touch app is available to download free from the App Store. The app is 12.1mb in size, it requires IOS 8.0 or later and age restrictions apply. The Android App is available to download via a link on the ClassicBet site, just visit on your device, click on the link and start betting. For users of other devices like Windows Phone, Nokia or Blackberry you can bet on the move via the ClassicBet Web App.
The App itself is well designed and easy to navigate. All the usual sports and racing markets can be found, and the odds refresh regularly. The site works very smoothly, and it is simple to place single and multi-bets. In this day and age, it is imperative that betting agencies offer an App that works well and ClassicBet's Mobile and Web App is definitely worth checking out.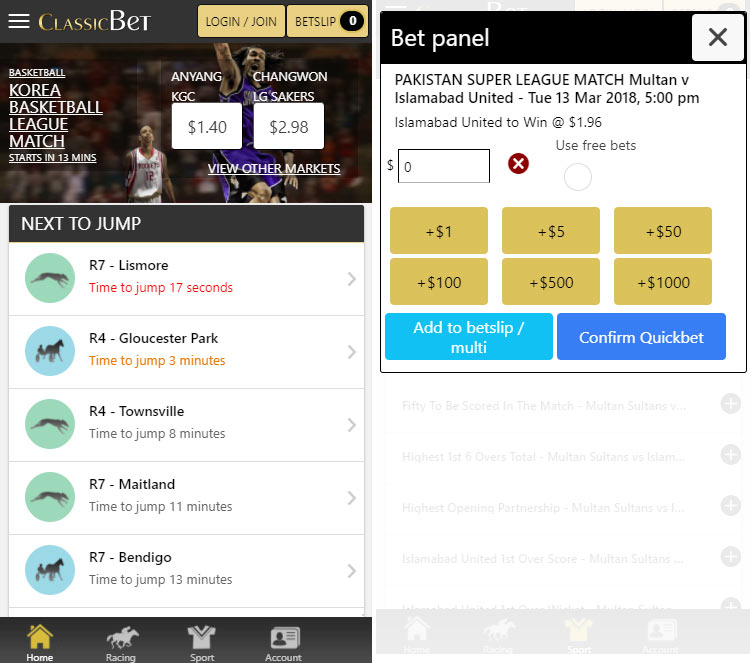 How Good Are ClassicBet Odds?
When it comes odds and markets available, ClassicBet has room to improve in both these areas. We compared the prices from a trio of bookies for the recent Premier League contest between Manchester United and Liverpool at Old Trafford. What we found was quite revealing and not good news for ClassicBet.
For the above mentioned match, ClassicBet had an over round of 107.7% on the home/draw/away market. Bet365 had an over round of 106.93, not a huge difference. However, Unibet had an over round of 104.9% for the same match, a very significant discrepancy of just under 3% with ClassicBet.
Unibet also led the way when it came to quantity of markets with 208. Bet365 had 72, while ClassicBet came in with a respectable 116 total markets. The odds on offer from ClassicBet aren't terrible, but they could definitely be a bit better. At least they make up for it with the range of markets available.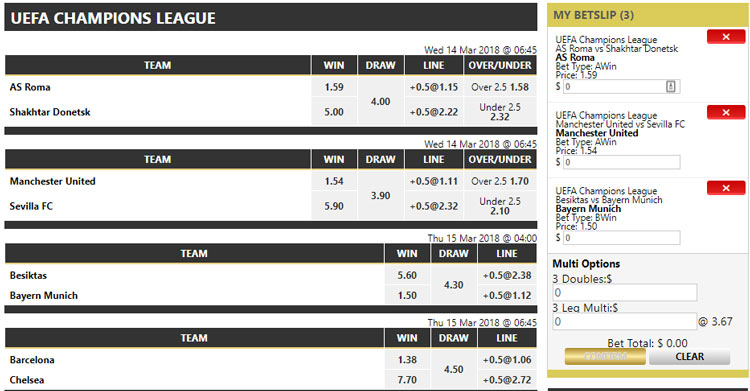 ClassicBet: No Cash Out Facility Available
Most Aussie bookies have embraced the Cash Out facility, a tool that allows punters to cash in a bet (single or multi) before the event has concluded. However, at the time of writing ClassicBet offer no such facility. This is a big disappointment, and if in the future ClassicBet do decide to start providing a cash out service we will update this review to let you know.
ClassicBet Sports: More Than Just A Horse Racing Betting Site!
As you can probably tell from the range of promotions on offer, ClassicBet is more than just a horse racing betting site. You can bet on a very nice selection of sports with ClassicBet too. Given that ClassicBet are 100% Aussie, it is no shock to see that they cover all of the nation's favourite sports and events.
They have markets available for Aussie Rules, Rugby League, Rugby Union and Cricket, as well as for all the major European and domestic soccer competitions. However, they only have around 100 markets for the biggest football matches, well below the industry average of around 150. Some of the markets include Anytime Own Goal, Number Of Goals, Team To Score, To Come from Behind and lots more.
Other less popular sports are covered too, including Netball, Surfing and even Yacht Racing. If you are wondering if ClassicBet cover your favourite sport, you can check out all available sports and events in the list below.
ClassicBet Sports Markets
Horse Racing
Greyhound Racing
Harness Racing
Australian Rules
Baseball
Basketball
Boxing
Cricket
Cycling
Darts
Elections
Golf
Gridiron
Ice Hockey
Mixed Martial Arts
Motor Racing
Netball
Rugby League
Rugby Union
Snooker
Soccer
Surfing
Tennis
Yacht Racing
Volleyball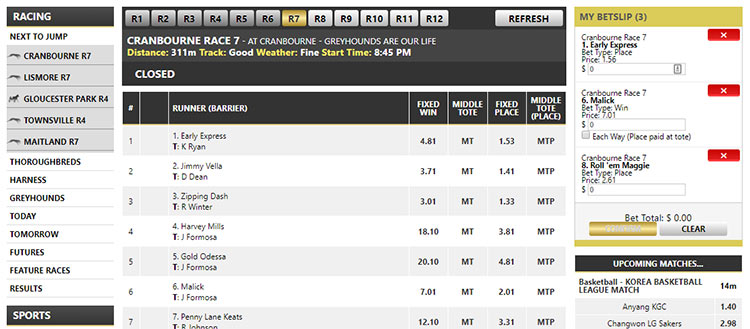 ClassicBet Limits And Payouts
Betting agencies always look to protect themselves from possible bank busting pay-outs. For this reason, most bookmakers impose stake and win limits to cover themselves. ClassicBet are no different in this regard and they have pay-out limits in place for horse racing and sports. Below we take a look at some of the most important limits imposed by ClassicBet. *
ClassicBet Dividend Limits
MultiBets: $10001.00.
Thoroughbred Racing: $101.00 (win and place).
ClassicBet Pay-Out Limits
Telephone Bet: $100k.
Internet Bet: $50k.
ClassicBet Exotic Payout Limits
Quinella: $5k. Exacta: $10k. Trifecta: $20k. First Four: $20k. Quaddie: $50k.
Greyhounds: $20k.
Harness: $20k.
*Please check ClassicBet Terms and as other limits may apply.
ClassicBet Deposit And Withdrawal Methods
Instant Deposit Methods: Credit Card, POLi.
Non-Instant Deposit Methods: BPAY, Bank EFT, Cheque.
Withdrawal Methods: Bank EFT, Credit card.
When you are trying to decide which is the most suitable bookmaker for you, banking facilities should always be considered. After all, there isn't much point in opening an account if you are unable to deposit or withdraw cash from it! ClassicBet lag behind some of their rivals with the range of banking services on offer. They don't facilitate deposits or withdrawals with Skrill or PayPal, and withdrawals must be made via Bank EFT or credit card (only equal to deposit amount). Before you can do any of this your account must be verified. Find out how to verify your ClassicBet account below.
Account Verification
Click here to open a ClassicBet account.
ClassicBet uses a 'Points system' to verify your account.
Exact details of forms of ID required can be found on the Classicbet Website
Proof Of ID can be either emailed [[email protected]] or faxed [(02) 4722 3180 / 1800 888 700].
ClassicBet Customer Service
Another key element to think about when opening a new betting account is customer service. Here at Aussiebet we firmly believe that the customer should always come first, and that should be the case with any business. Customer service should be prompt and polite, and ClassicBet have a decent track record in this department. There are a number of ways you can get in touch with ClassicBet, and we have listed their contact details below.
ClassicBet Contact Details
Telephone: 1800 252 779 (Australia) or + 61 295 710 030 (International).
Email: [email protected]
Post: PO Box 40, Potts Point, NSW 2011.
Is ClassicBet A Bookmaker You Can Trust?
Perhaps the most important thing of all when you sign up with a new betting agency is, are they a company you can trust. It is never easy to hand over personal information like bank details, but with ClassicBet you can rest assured that they will keep your sensitive data safe. We pored through ClassicBet's Privacy Policy and below are some of the security procedures they have in place.
All personal details are stored on password protected servers and databases.
The use of the latest SSL technology to protect payments.
All ClassicBet employees must respect strict confidentiality agreements.
ClassicBet – Fully Compliant With Advertising Regulations
In May 2018 the Australian Government introduced tighter regulations regarding how betting sites promote their product. This has had a major effect on how bookies advertise themselves, especially their promotions and specials. You shouldn't be able to view any available promotions with any Aussie betting site unless you have signed up and are logged in. ClassicBet comply with this regulation fully.
Responsible Gambling
The promotion of responsible gambling is massively important in our opinion here at AussieBet. We like to see the same attitude on display from betting companies, and ClassicBet do a good job. Sometimes gambling can creep up on you, and before you know it you are wagering more than you can afford. Remember, never chase your losses and if the fun stops, then stop! ClassicBet have a number of useful tools and resources to help those affected by problem gambling.
Pre-Commitment Limits: Set deposit limits on your account (7 day wait to increase limit).
Self-Exclusion: Temporary or permanent self-exclusion available. Call: 1800 888 001 or Email: [email protected]
Links to and contact details for relevant gambling help services.
ClassicBet: A Patriotic Choice For Aussies!
Overall, ClassicBet has a lot going for it, but on the other hand there are quite a few negatives to think about too. The lack of live streaming, cash out and limited banking facilities are all reasons why punters might think about going elsewhere. However, those issues can be easily improved upon and perhaps ClassicBet might think about that in the future.
On the other hand, as a new customer, we're sure you will enjoy it a lot, the range of markets available for sports is impressive (especially Aussie Sports) and the ClassicBet Mobile/Web App works like a treat. Best of all, ClassicBet is 100% Aussie owned so for those who are proud to be patriotic punters, ClassicBet could be just the ticket!
ClassicBet FAQs
ClassicBet is an online sportsbook owned by PlayUP Pty Ltd. It's part of a wider network of betting platforms which operate in Australia. It's fully legal, licensed and authorised to operate in Australia.
ClassicBet accepts a range of different deposit methods such as VISA, MasterCard, BPAY, POLi, Paysafecard and Bank Transfer. For the time being, PayPal is not accepted at ClassicBet.
ClassicBet is one of the more traditional bookmakers in Australia. It operates and is managed based on traditional Aussie betting values. This is why it has a strong appeal to Australian punters if compared to its competitors. It is 100% safe and reliable.
---