Robert Waterhouse is one of the household names among local racing bettors. This famous on-trach bookmaker joined forces with popular 'BetMakers' platform to create RobWaterhouse.com betting site. They offer all of the top racing features, including live streaming!
My RobWaterhouse.com review covers everything you'll need to know before registering with his bookmaker. If you want to know more about their horse racing betting offer, payment methods and security features, check out the rest of the review.
The Pros of RobWaterhouse.com
Great horse racing offer

High odds

Live streaming

Straightforward website
The Cons of RobWaterhouse.com
No native apps

Lacks some sports betting markets
RobWaterhouse.com Overview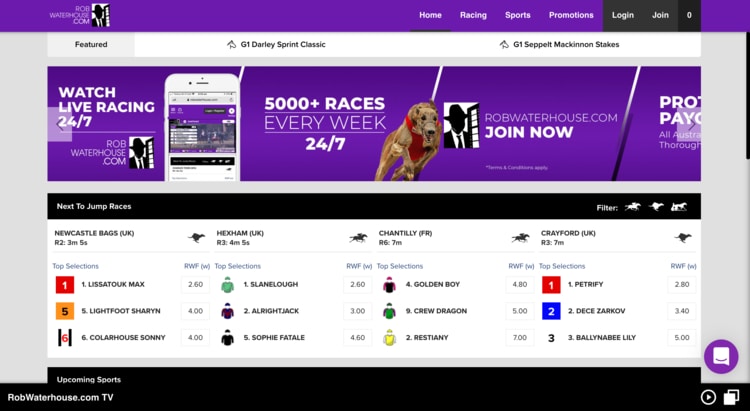 If you have any experience with the Australian racing betting, you must have heard about the Waterhouse family. Big Bill Waterhouse started the family on-track racing firm all the way back in 1898, and they have been in the business ever since. Rob is the third generation of the dynasty and the first one who tried to bring their family business online.
In 2020 he joined forces with popular 'BetMakers' platform to create a brand new RobWaterhouse.com betting site. Since Rob is already such a well-known name among Aussie punters, the online sportsbook started getting traction almost instantly.
The website isn't too overwhelming, but all of the basics are done right. If you already played with other 'BetMakers' bookies, like BetDeluxe or TexBet, note that all of those sites function almost the same. Even though RobWaterhouse.com doesn't look too shiny, I appreciate simplicity and user-friendliness.
The thing they do best is, of course, horse racing. I was amazed by the selection of both thoroughbred and harness races. Here you can bet on a wide range of events, including the smaller Australian races and a full range of top international tracks.
On the other hand, sports betting offer is a bit weaker than at some other top betting sites. But it should be good enough for most of the casual punters. I prefer betting on AFL, NRL or American sports, and RobWaterhouse.com always had everything I wanted.
RobWaterhouse.com Horse Racing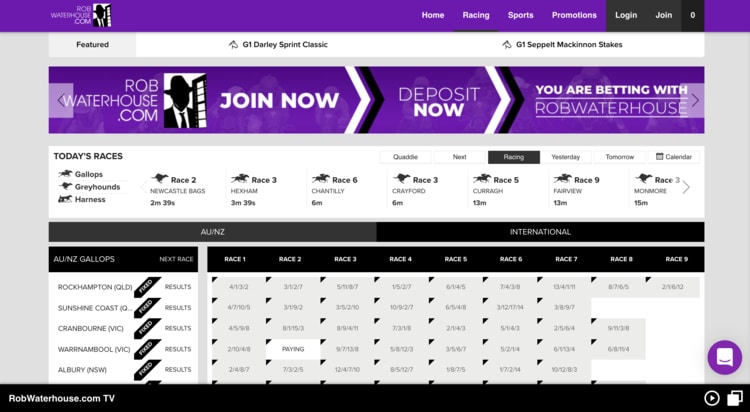 RobWaterhouse.com have a racing betting offer that can stand shoulder to shoulder with what the best Australian bookmakers have in place. From almost every Aussie and New Zealand race to a broad range of international event, this bookmaker has it all.
I love how they organised all of those markets. Local and foreign races are separated into two tabs, with the upcoming events listed on top of it all. It's easy to search by the day or race type, so even complete beginners won't find it hard to move around and search for bets.
Here you'll find all of the most popular racing markets, from win/place to the full range of exotics, which includes Quinella, Exacta, Trifecta and Firstfour. From recently RobWaterhouse.com even offer form charts, where you can learn more about horses' recent performance. They do lack specials and some niche markets, but all of the most popular options are covered.
Horse Racing Odds Comparison
As you can see from the table below, RobWaterhouse.com has proven to have by far the best odds for the selected race. Keep in mind that I have put them against Palmerbet and BlueBet, which are among the best horse racing betting sites in Australia. Nevertheless, RobWaterhouse managed to get the best of them.
Even though this test can tell you a lot about which bookmaker has the best prices, don't forget to make a similar comparison before every bet. The odds are ever-changing, so it's important to always double-check before betting.
RobWaterhouse.com Racing Odds Comparison

| Flemington | RobWaterhouse.com | Palmerbet | BlueBet |
| --- | --- | --- | --- |
| Crystal Dreamer | 9.50 | 10.00 | 11.00 |
| Garner | 6.50 | 6.00 | 6.00 |
| Mystyko | 61.00 | 51.00 | 51.00 |
| Ancestry | 3.50 | 3.20 | 3.20 |
| Villami | 5.00 | 5.00 | 4.80 |
| Varda | 3.30 | 3.30 | 3.30 |
| Knowles | 31.00 | 26.00 | 26.00 |
| Overround | 109.65% | 114.03% | 113.95% |
Sports Betting at RobWaterhouse.com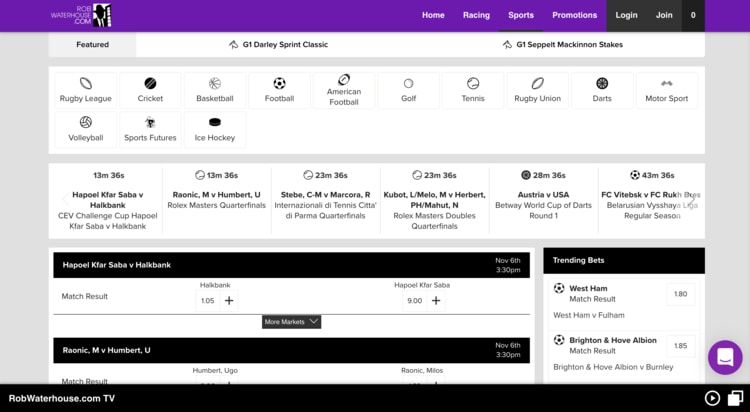 At the time of writing this review, RobWaterhouse.com had 14 sports available, with all of the most popular ones covered. You'll find a full range of domestic leagues, like AFL and NRL, as well as a great selection of US sports, such as NFL, NBA and NHL. Selection of niche competitions isn't too extensive, but there are still a few minor sports available, including darts and volleyball.
Selection of sports markets isn't the best I have ever seen. They have all of the usual bets, including the ones like money lines and total points. However, if you fancy the more exotic markets, some of the bigger Australian bookmakers would probably be a better choice. It especially goes for American sports, while the likes of AFL and NRL are a bit better equipped.
On the positive side, I really liked the looks of RobWaterhouse.com sports section. Navigation is straightforward and black letters on a white background make it really easy to read even on smaller screens. All of the sports are held under the 'Sports' tab in the main menu.
Hottest upcoming games are displayed on the home screen as well, just below the list the races that are about to start. This once again shows that horses and greyhounds are still much more important at RobWaterhouse.com than things like rugby and cricket.
Sports Odds Comparison
When it comes to odds, RobWaterhouse.com is neck to neck with the best Aussie bookmakers. They did finish the last, but the margin is so minor that you probably won't even know the difference. Even though RobWaterhouse lacks some of the more complex sports betting markets, their odds are as good as it gets.
RobWaterhouse.com Sports Odds Comparison

| State of Origin | RobWaterhouse.com | Unibet | bet365 |
| --- | --- | --- | --- |
| NSW Blues | 1.38 | 1.38 | 1.38 |
| Queensland Maroons | 3.05 | 3.10 | 3.10 |
| Overround | 105.25% | 104.72% | 104.72% |
Mobile Betting – Web App Only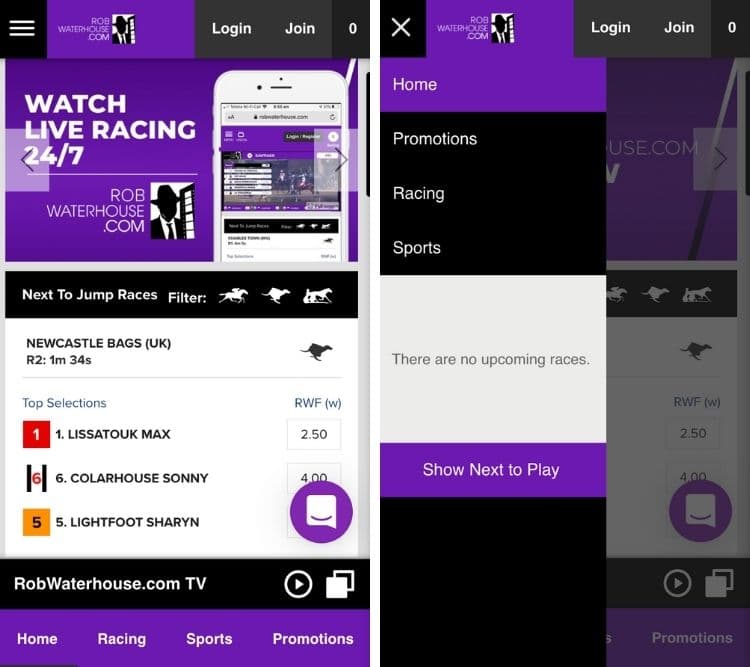 Big minus for RorWaterhouse.com is the lack of native betting apps. As a huge fan of betting on the go, this came as quite a disappointment. However, keep in mind that they are still a pretty new betting site that introduces new features almost all the time. So, it's safe to say that native apps are somewhere around the corner.
For now, you can use their web-app, which looks and works almost completely the same as the desktop site. It comes with identical features and the full range of sports and markets. Pages load quickly, and the navigation is as simple as it gets, so even complete beginners won't have a hard time using it. I like how they put all the important buttons at the bottom of the screen. That way, almost everything you regularly use is always just a click away.
Live Betting Isn't Available
At the time of writing this review, RobWaterhouse.com wasn't offering live betting services. As I mentioned already, this betting site is still rapidly improving, so don't be surprised if they introduce in-play betting sometimes soon.
Until that happens, I suggest you visit bet365 and check out what they have to offer in the live betting department. Unibet and Betfair are also solid options, so don't miss to give them a look in case you want to research other options first.
Top Live Betting Sites

| | | |
| --- | --- | --- |
| | | |
Live Streaming – RobWaterhouse.com TV
One of the things I liked the most about RobWaterhouse.com is the racing live streaming feature. It's always available at the bottom of the screen. All you need to do to start watching is click the play button in the lower right corner. The selection of events isn't as extensive as you would find at bet365 or Unibet, but it should be good enough to make your bets on horses and greyhounds even more interesting.
The best thing here is that you don't have to even register an account to start watching. Just visit RobWaterhouse.com and check it out! It's available on both desktop and mobile, so feel free to watch even when on the go.
Keep in mind that RobWaterhouse covers only racing, which means that they don't stream any sports.
Payment Methods at RobWaterhouse.com
RobWaterhouse.com offers a decent range of payment methods. They have all of the popular Aussie deposit options, including BPAY and POLi, on top of the direct cash and good old credit/debit cards. However, you won't find any e-wallets here, which I think is a significant disadvantage. If they added PayPal, I wouldn't have anything to complain about. But still, offer like should be good enough for most of the bettors.
You can withdraw funds either via credit/debit card you previously deposited with or over a bank EFT. RobWaterhous.com is fast in both cases. I usually received my winnings within 1 to 2 days, which is fantastic.
But don't forget to verify your account as soon as you register, since otherwise, they won't let you do any money transactions. The process is rather simple, just send them pictures of some of the documents listed on the site and everything will be finished within a few days.
Min deposit – $10
Min withdrawal – $20
Customer Support – Live Chat Available
RobWaterhouse.com offers pretty good customer support. The easiest way to get in touch with the agents is via live chat. All you need to do to start a conversation is click the button in the lower right corner of the screen on mobile or desktop.
Exact working hours aren't listed on the site, but I noticed that they don't work during the night. However, in most cases, you'll have to wait just a few minutes for a reply. The best thing is that agents are very professional, so I solved most of my problems very quickly.
Since there is no phone support, the only other option is to send them an email. I would advise you against that since the live chat is so much more convenient. Also, make sure to check out the FAQs page before contacting the support. They explain how to solve many of the most common issues, so reading a few FAQs will probably help you with most of the smaller problems.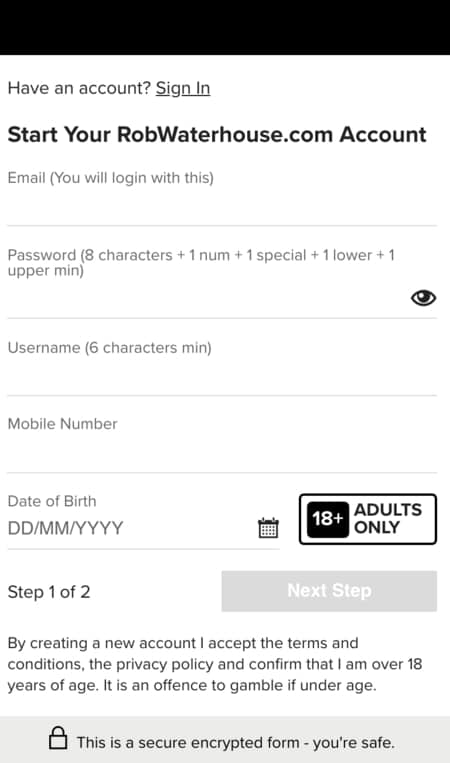 Safety at RobWaterhouse.com
Robert Waterhouse is a well-known bookmaker, so you can be sure that everything will run smooth. He holds licenses from Racing NSW and the NSW Office of Liquor, Gaming and Racing. It means that everything here is 100% legal and fair.
More experienced punters have probably heard about Mr Westerhouse's involvement in the famous Fine Cotton Affair, which was a huge racing scandal at the time. Because of that, Rob Waterhouse lost the license and couldn't do business until 2001. It all happened over 30 years ago, so it's safe to say that Aussie bettors have regained their trust in Mr Waterhouse. However, it's always good to know the whole story!
RobWaterhouse.com Company Info

| | |
| --- | --- |
| Name | RobWaterhouse.com |
| Launched in | 2020 |
| Headquarters | Sydney |

| | |
| --- | --- |
| Founder | Robert Waterhouse |
| ABN | 20 146 654 783 |
| Speciality | Horse racing |
Since this is a registered betting site, you'll find all of the usual player protection features, such as pre-commitment and self-exclusion. These are all very useful tools, so don't hesitate to use them if needed. They also list phone numbers to a few of the most popular agencies that deal with problem gambling. In case you think you're starting to develop a gambling problem, don't hesitate to give them a call.
Conclusion – Great Horse Racing Bookmaker
As you could see throughout my RobWaterhouse.com review, this betting site covers all of the important stuff, but nothing more than that. Horse racing betting is their strong point. You can even stream live races for free via RobWaterhouse.com TV.
Range of sports is solid, but they do lack the depth of markets to compete with other top Australian bookmakers. Also, I hope they'll develop native mobile apps anytime soon.
Even though it has a few shortcomings, RobWaterhouse is a betting site I would gladly recommend to anyone. They offer a no-nonsense website, lots of racing bets and some of the highest odds on the market. In other words, everything an experienced Aussie punter could wish for!
RobWaterhouse.com FAQs
---
User Reviews
No reviews yet
---