Neds was a promising addition to the Australian betting market. We gave them a chance, but following our in-depth research, we realised that it's best to be conservative. Bet365 offers so much more, without compromising any areas that affect the customers' experience in any way. Sometimes, it's better not to experiment.
100% Aussie owned

Solid horse racing product
Lack of markets on sports

No live streaming

Apps could be better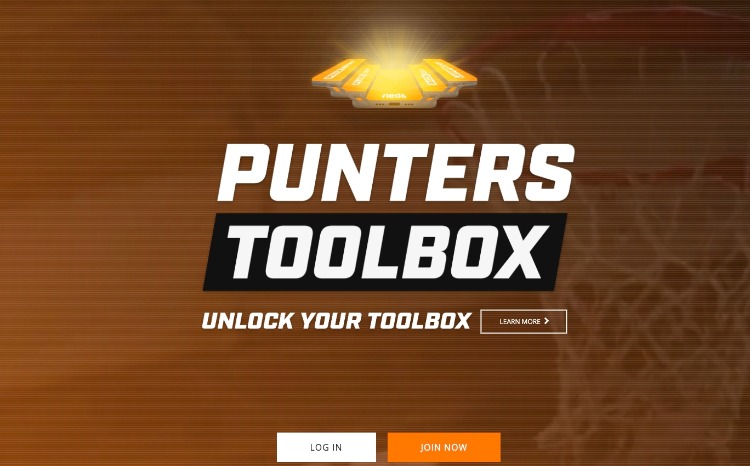 Information And Facts
Neds was launched by former Ladbrokes Australia head honcho Dean Shannon in late 2017. Based in Brisbane, they are licensed in the Northern Territory, and Neds has already gained a foothold in the Aussie market. Neds is a 100% Aussie owned company, and they are official betting partners of the NRL, AFL, Rugby Australia, Tennis Australia, PGA Australia and Cricket Australia.
You can bet on greyhounds and harness racing with Neds, as well as domestic and international thoroughbred racing. Neds offers domestic sports action including NRL, AFL and A-League. The odds on offer are about average in comparison to their industry rivals, while the range of markets on offer is something they could improve on.
Neds Blog
Sometimes finding winners can be a struggle, so it helps to have resources and tips available. With Ned's blog, you can find the latest news on racing, AFL, NRL, Cricket, tennis betting and lots more. However, we would like to see more in-depth analysis and expert opinions. There are some decent articles, but overall, Ned's blog is far from being the best there is.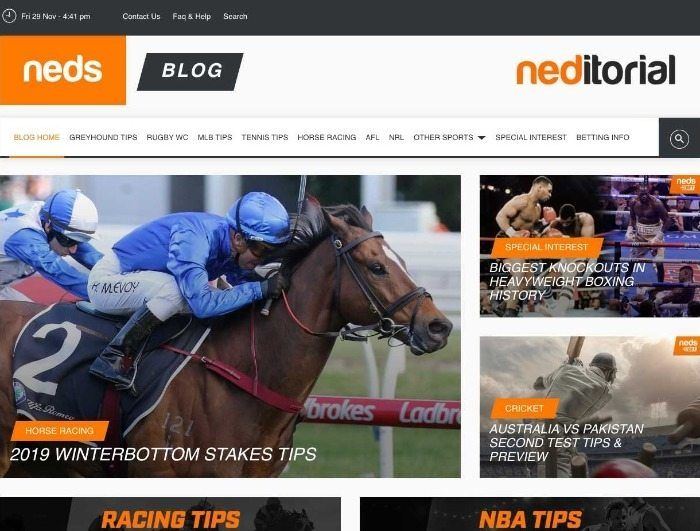 Neds Punters Toolbox
One of the recent additions at Neds is the rather aggressively advertised Neds Punters Toolbox. In essence, its sole purpose is to give horse racing punters the means to take betting to the next level. In all honesty, it's the go-to bundle of features for every horse racing bettor.
However, the Neds Punters Toolbox is only available via the Neds app. In other words, you have to download the app if you want to get all the benefits that come with it. The Neds Punters Toolbox consists of 4 different "tools", each targeting a specific betting situation.
MultiBuilder
Neds MultiBuilder allows you to build your best and biggest multi bets with very few clicks or taps and swipes, making it one of the best multi betting bookies in Australia. Make your selections across many sports and racing markets without leaving one screen. It works especially well on the Neds mobile/web app and to find out how to use the Neds MultiBuilder on your mobile device check out our guide below.
How To Use Neds MultiBuilder On a Mobile Device
Click on the menu icon at the top left corner of the screen
Click on Multi Builder
Swipe through sports and matches to make your selections
To add different sports, just go to the top of the screen and swipe through the different options
When you've finished building your multi, press the Add to Betslip button
Your bets will now be in your Bet Slip
From there, you'll be able to add your stake and confirm your bet
Overview Mobile Builder

Live Betting
Due to the Australian Interactive Gambling Act, Aussie bookies are unable to offer online live betting. However, with Neds you can still bet in-play, all you have to do is pick up the phone. The in-play odds are displayed in the 'Live-In Play' section, accessed via the left menu bar.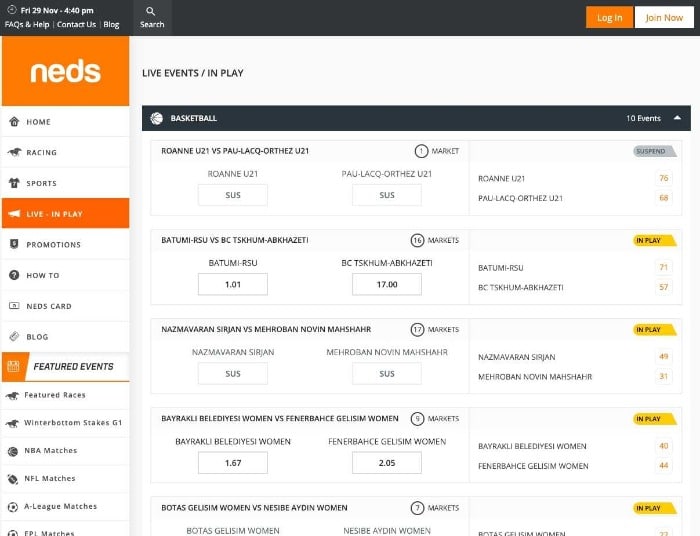 All the current and upcoming live-in play betting events will be displayed here as well as regularly updated live odds. We found that the selection of live markets is not as good as at bet365 and Unibet, so consider this as well before betting in-play.
Once you have weighed up your in-play wager, just call 134 777 and a friendly Neds operator will take your call and place your bet. The minimum stake for bets placed over the phone is $10.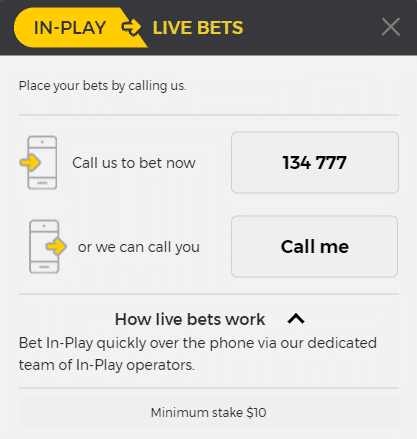 Live Streaming
One area where Neds is lacking is its failure to provide a live streaming service. The provision of live streaming is becoming more common with Australia's Corporate bookmakers, and the ability to bet and watch is an attractive proposition for punters. However, it is still very early days for Neds, and it would be no surprise if they offer live streaming sometime in the future. If live-streaming does become available at Neds, you will hear about it here first.
Best Live Streaming Betting Sites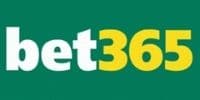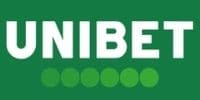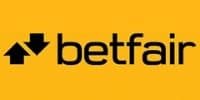 Exchange bets
Watch and bet live on horses
Not so many sports events
Betfair review
Neds Betting App And Web App
Betting on the move is hugely popular around here, and all of the best betting agencies in Australia has realised this fact. If a bookmaker wants to succeed Down Under a quality mobile/web app is a must, and you can bet on the go with the Neds app on most devices. Their app looks a bit cluttered and bigger pages usually take some time to load, so if you're looking for a smooth mobile betting experience, Neds may not be the best choice.
If you use an iPhone/iPad/iPod Touch, the Neds Mobile App can be downloaded for free via the App Store. It is 26mb, iOS 9.0 or later is required, and age restrictions apply. The Neds Android App can be downloaded directly from the Neds betting site, and it will work on most recent Android devices.
If you use another device like a Nokia, Windows Phone or Blackberry, don't worry, you can still bet anywhere at any time with Neds. Just visit the Neds website on your device, and you will be automatically directed to the Neds Web App. Although Neds is a new company you wouldn't know it from their Mobile/Web App, and if you bet on the go Neds is well worth a shot.
How Good Are Neds Odds?
A key consideration for anyone that is serious about their betting is the quality of odds and depth of markets on offer. We compared the odds and amount of markets available for an A-League clash between Perth Glory and Sydney FC with Neds, William Hill Australia and BetEasy.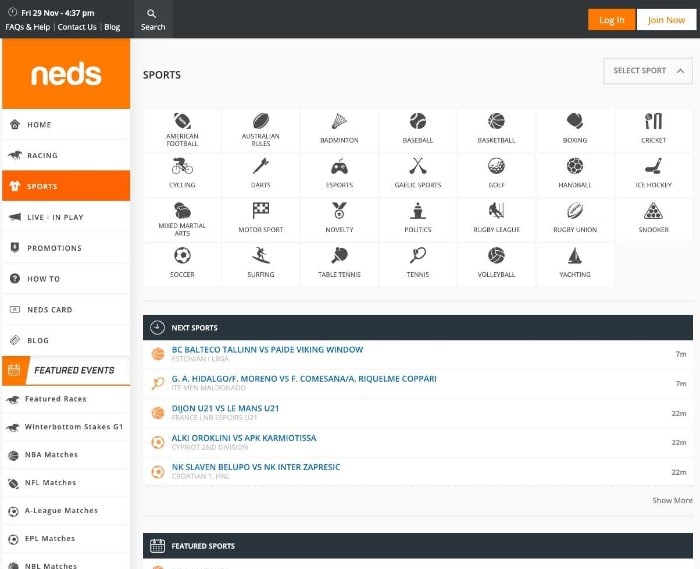 The best way to gauge the quality of odds is to work out the margin or overround. The lower the margin, the better it is for punters, and Unibet just about came out on top with 105.36%. Palmerbet was worst by far with 109.07%, while Neds had a competitive margin of 105.96%.
However, Neds does not quite match up to either Unibet (90) or Palmerbet (121) when it comes to the number of markets available. Neds only has 50 extra markets on offer, and that is definitely an area they can improve upon. You will still find all the main player markets and other popular markets, but a little more depth wouldn't go unappreciated.
Neds Racing Odds Comparison
Our test has shown that Neds' racing odds are far worse odds than their direct competitors'. As you can see from the table below both Unibet and bet365 are having significantly better prices. If you want to bet on horses, we highly suggest you scroll down and visit one of those sites.
| Moruya – NSW | Neds | bet365 | Unibet |
| --- | --- | --- | --- |
| Blevio | 7.00 | 8.00 | 7.50 |
| Fortune's Path | 5.00 | 5.50 | 5.50 |
| Mohican | 13.00 | 14.00 | 14.00 |
| Joel | 9.50 | 10.00 | 10.00 |
| Never In Doubt | 13.00 | 14.00 | 14.00 |
| Mickey Jay | 7.00 | 8.00 | 7.50 |
| Isadora Twinkle | 3.00 | 3.30 | 3.20 |
| Tiara Road | 5.00 | 5.50 | 5.50 |
| Train The Brave | 9.50 | 10.00 | 10.00 |
| Dashtorush | 34.00 | 41.00 | 41.00 |
| Overround | 141.3% | 128.4% | 131% |
Best Racing Betting Sites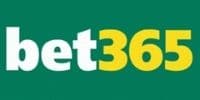 Best racing live streaming platform
Great selection of markets
bet365 review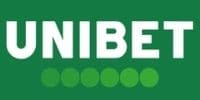 Neds Racing Betting
Neds are near the front of the pack when it comes to betting on horse racing with a wide variety of horse racing bets available. These include the usual suspects like win/place/each way and odds are displayed for Top Fluc and Tote (Best or SP and Best Tote place). Exotics like exactas, trifectas, quinellas and first four bets are easily accessed from a menu bar above each race.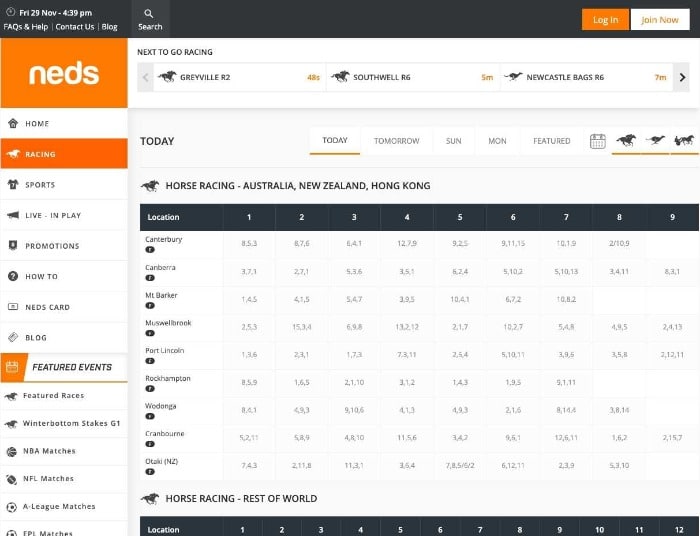 Neds also has a few very neat features that can be useful to horse racing punters. For every race, you can utilise the 'Money Tracker' to see exactly where the smart dollars are going. Fluctuation history featured bets and speed maps can also be accessed for every race, while the race comments can often point you in the direction of a winner. Fixed odds are available early for domestic racing, so if betting on the horses is your passion, you could do a lot worse than giving Neds a try.
Deposit And Withdrawal Methods
Instant Deposit Methods: Visa, MasterCard, POLi.
Non-Instant Deposit Methods: BPAY, Bank EFT.
Withdrawal Methods: Bank EFT, BPAY.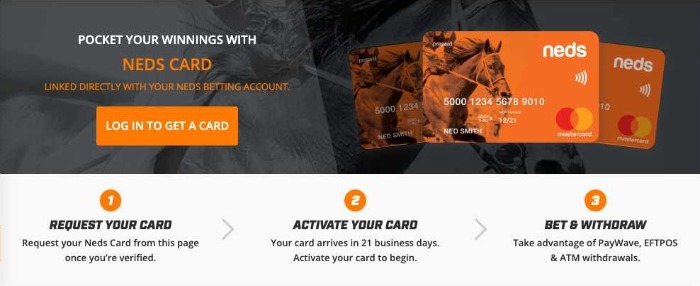 There is not much point in opening an account with a betting company if you are unable to deposit or withdraw funds. Banking facilities are a key consideration when signing up with a bookmaker, and Neds lag behind a lot of their rivals when it comes to banking options. PayPal and Skrill are unavailable, and you can only withdraw via BPAY or Bank transfer. Before you can deposit or withdraw, you will need to verify your Neds account, and you can find out how below.

If you're looking for a bookie with a great selection of payment methods, check out bet365! They offer over 15 banking options, including PayPal, Paysafecard, Apple Pay and so on.
bet365 review
Limits And Payouts
Betting agencies always protect themselves from monster payouts with the potential to bankrupt them. Neds imposes strict win limits for sports and racing, and we outline some of the key limits below.*
Neds MultiBet Win Limits And Payouts*
Maximum dividend for any multi bet capped at 10,000/1.
Maximum payout for any multi bet capped at $500,000.
Maximum legs allowed in multis: Racing-16; Sports-20.
Neds Horse Racing Win Limits And Payouts*
Maximum payout of $200,000 per single race.
Maximum payout over 24 hours of $500,000.
Neds Racing Win Limits By Race Type
Australian Horse Racing (Gallops):
Win and Place: Metropolitan Venues = $300,000; Non-metropolitan Venues = $150,000.
Quinella: Metropolitan Venues = $200,000; Non-metropolitan Venues = $50,000.
Exacta: Metropolitan Venues = $100,000; Non-metropolitan Venues = $30,000.
Trifecta; Metropolitan Venues = $200,000; Non-metropolitan Venues = $50,000.
First Four; Metropolitan Venues = $200,000; Non-metropolitan Venues = $50,000.
Daily Double: Metropolitan Venues = $20,000; Non-metropolitan Venues = $5,000.
Treble: Metropolitan Venues = $100,000; Non-metropolitan Venues = $20,000.
Quaddie; Metropolitan Venues = $300,000; Non-metropolitan Venues = $100,000.
Super 6: Metropolitan Venues = $300,000; Non-metropolitan Venues = $100,000.
Betting Without: Metropolitan Venues = $50,000; Non-metropolitan venues= $25,000.
Odds/Evens: Metropolitan Venues = $50,000; Non-metropolitan venues= $25,000.
Head to Head: Metropolitan Venues = $20,000; Non-metropolitan venues= $10,000.
Jockey Challenge Metropolitan Venues = $30,000; Non-metropolitan venues= $15,000.
Early Quaddie: Metropolitan Venues = $100,000; Non-metropolitan Venues = $25,000.
Fixed Odds Quinella: Metropolitan Venues = $100,000; Non-metropolitan Venues = $25,000.
Fixed Odds Exacta: Metropolitan Venues = $50,000; Non-metropolitan Venues = $10,000.
Fixed Odds Trifecta: Metropolitan Venues = $100,000; Non-metropolitan Venues = $25,000.
Back the Field: Metropolitan Venues $20,000; Non-metropolitan Venues $10,000.
Fixed Odds Quinella: Metropolitan Venues = $100,000; Non-metropolitan Venues = $25,000.
Fixed Odds Exacta: Metropolitan Venues = $50,000; Non-metropolitan Venues = $10,000.
Fixed Odds Trifecta: Metropolitan Venues = $100,000; Non-metropolitan Venues = $25,000.
A Metropolitan Venue is defined as Melbourne, Sydney, Brisbane, Adelaide and Perth
*Please check Neds Terms and Conditions. Other limits may apply.
Neds Customer Service
As the saying goes, the customer should always be number one, and this should be reflected in the customer service on offer. There are a number of ways you can get in touch with Neds, including phone, live chat and email. For those who may need to get in touch with them, we've provided Neds' contact details below:
Neds Contact Details
Telephone: 1300 006 337 (7am-11pm AEDT).
Email: Via the' Contact Us' section of the website. No response time specified.
Post: Neds.Com.Au Pty Ltd, Montpelier Road 25, Brisbane, 4006, Australia.
Neds Live chat: Via 'Live Help' link on the Neds betting site.
Is Neds A Bookmaker You Can Trust?
When you sign up with a new bookmaker, you need to know they can be trusted. Handing over bank details and other sensitive information is never easy, and Neds takes a number of key precautions to keep your information in safe hands. Below you will find some of the security features used by Neds to stop your details falling into the wrong hands.
Protection of passwords using industry-standard encryption.
Measures to preserve system security and prevent unauthorised access.
Back-up systems to prevent accidental or malicious loss of data.
Any paper copies are stored in locked cabinets or restricted access archive rooms. Neds may use third-party data storage providers to store.
Documents verifying your identity and any credit card information you send to Neds will be stored in a secure database.

| | |
| --- | --- |
| Name | GVC Australia Pty Ltd |
| Founded in | 2017 |
| Headquarters | Bowen Hills |
| Founder | Dean Shannon |
| ABN | 25 151 956 768 |
| Speciality | Horse racing |
Responsible Gambling
Here at AussieBet, we cannot emphasise enough how important we think the promotion of responsible gambling is. A great thing is that Neds share our enthusiasm for responsible gambling, and their message is clear. When the fun goes out of gambling, it is time to stop and get help. Below are some of the features Neds have put in place to help encourage responsible wagering.
Identity Checks.
Pre-commitment limits (deposit and bet limits).
Self-exclusion (either temporarily or permanently).
Provide information and referring customers at risk to gambling-related support services.
Self-help and awareness information.
Tools to protect underage access.
Training staff about responsible gambling at induction and every 2 years.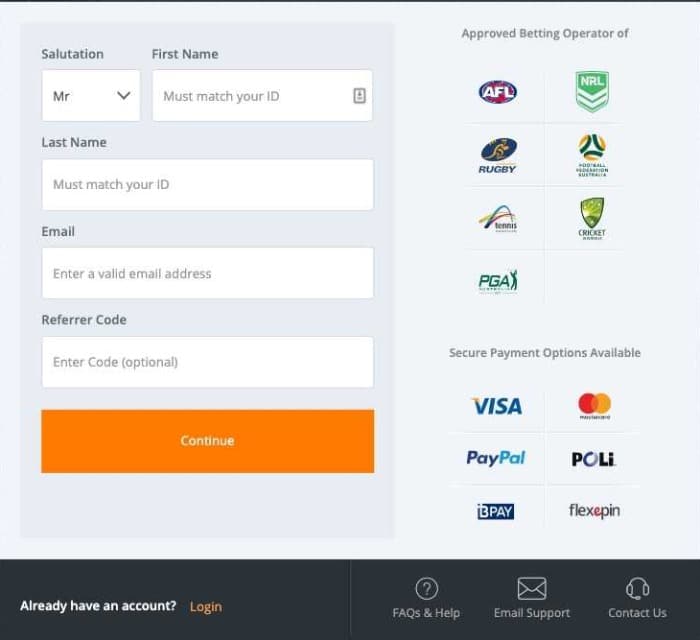 Neds: Final Verdict
For a bookmaker that only started a manner or months ago, Neds has already made a mark on the Aussie betting scene. There are a few negatives like the lack of depth of sports markets, no live streaming and limited banking facilities. All of those can be fixed, but for now, we strongly believe that you would be much better off with one of Australia's top bookmakers.. There is just no reason to miss out on all of those great betting features available at other betting sites!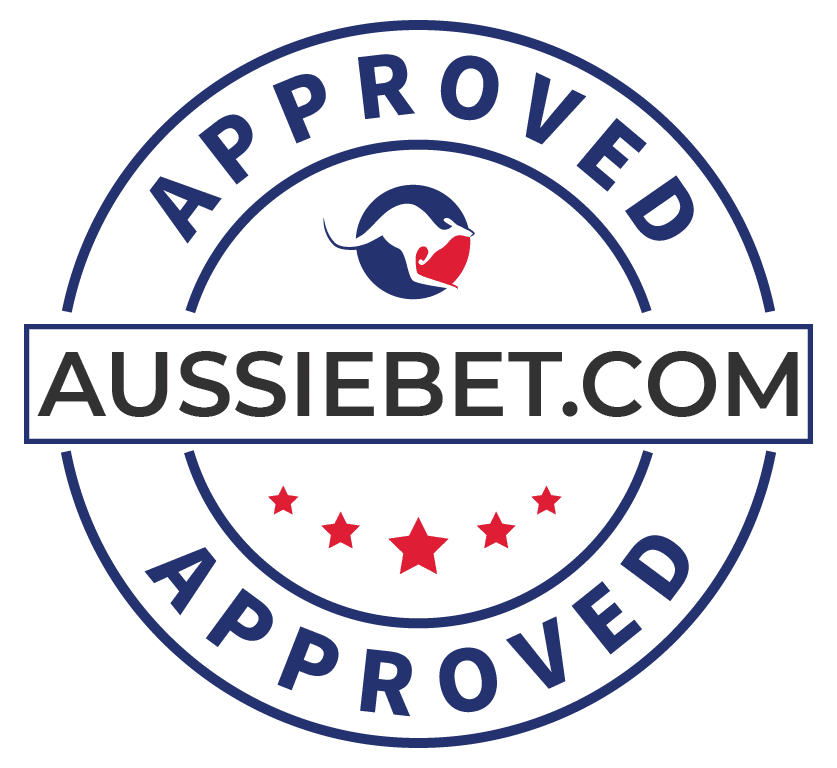 We think that there are many much better bookmakers in Australia than Neds. If you'd like to see which bookmakers have received top ratings, click the button below.
List of online bookmakers Australia
Neds FAQs