PlayON is one of the latest fantasy sports sites in Australia. However, their mobile offering is still far from being the best on the market. It's mainly because there are no native PlayON apps for iOS or Android. The only way to play on the go is via their mobile website.
If you want to play fantasy sports on mobile, the Draftstars app is a much better option. They offer native apps for iOS and Android, on top of a fully optimised mobile site. Draftstars also has a market-leading selection of Australian fantasy sports leagues.
PlayON App Overview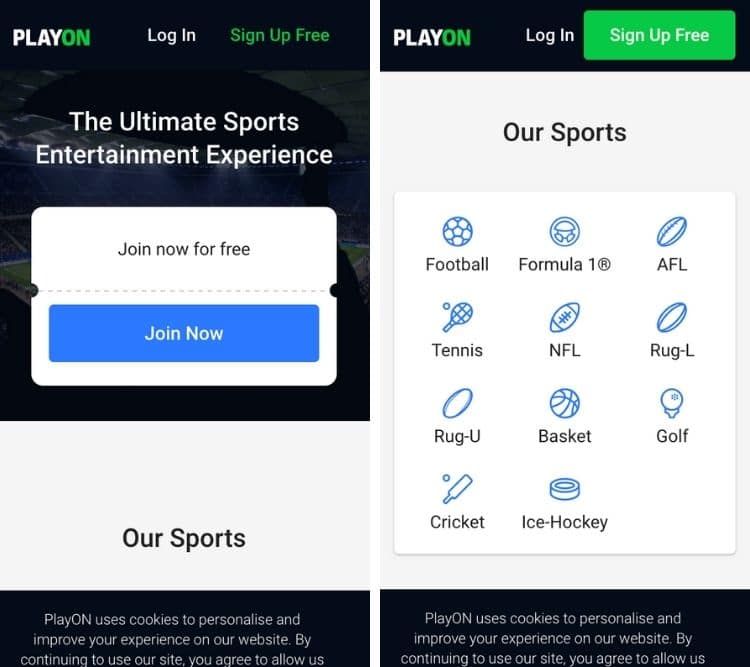 PlayON is a solid fantasy sports sites, but they still don't have a notable mobile presence. The biggest drawback is that there are no native mobile apps for iOS or Android. You can still play all their fantasy contests on the PlayON mobile website, but you won't get any features specific to native apps, such as push notifications.
We even contacted PlayON customer support and asked whether they plan to release native apps anytime soon. They said that the apps are still in the making, so we could probably expect that they'll be live in several months.
Until then, you can try the Draftstars app for iOS or Android. It has more sports than PlayON and a couple of unique features, such as fantasy horse racing and Rapid Fire game mode.
If the lack of native apps isn't a dealbreaker to you, try the PlayON web app. You won't have to download anything to start playing. Just use your device's browser to enter the PlayON site, log in to your account and pick a fantasy contest.
What Sports Are Available on the PlayON App?
PlayON App offers the same range of sports as the desktop site. It includes all the most popular Aussie leagues, such as AFL, NRL, BBL, etc. Since PlayON isn't originally from Australia, you'll also have access to many overseas leagues, including NFL, NBA, EPL, NHL and so on.
Basketball fans will be happy to hear that PlayON is an official fantasy partner of the NBA. On top that, they also have a partnership with Formula 1.
The only thing missing here is fantasy horse racing. They still don't have it on offer, so Draftstars remains the only DFS site in Australia to offer fantasy racing contests.
Is the PlayON App User-Friendly?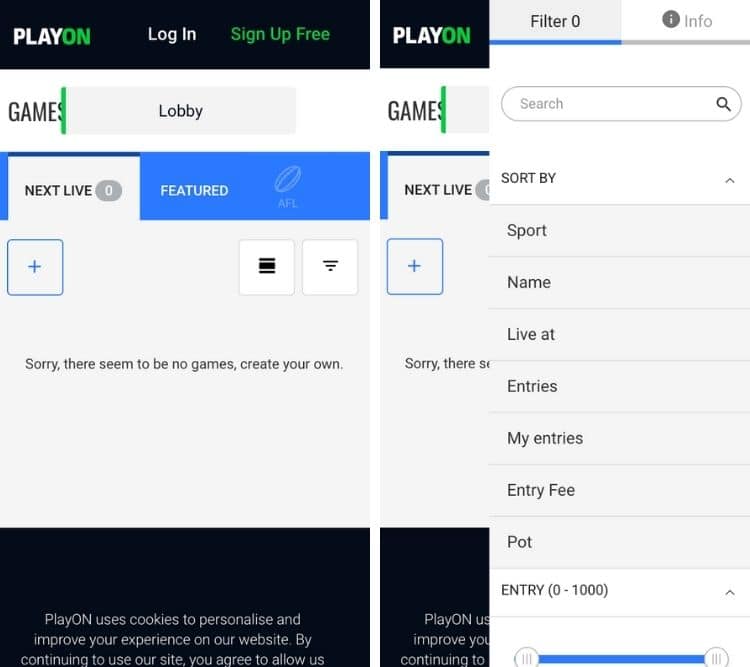 The PlayON app is pretty simple and easy to use. They don't offer many game modes and complex features, so even the complete beginners can find their way around. If you already played fantasy sports before, then things will go even smoother.
The app home page doesn't display much, especially if you still haven't registered an account. You'll just see some basic info about the PlayON fantasy sports offer and nothing more. To learn more about the actual DFS contests, visit the 'Games Lobby'. That's the place where all the PlayON fantasy contests are listed.
There are usually quite a few DFS contests available, so most of the times you'll have to use filters to find a game you want. Luckily, the platform is straightforward to use, even when playing on a smaller screen.
Just click the grey button on your right-hand side to open a menu with all available filters. There are dozens of them! You can filter the contests by sport, entry fees, game type, timeframe and so on.
We also liked how the button for creating a new contest is always available on the left side of the mobile screen. It takes just a few minutes to make a new game for you and your friends!
Mobile Payment Methods
The PlayON app doesn't support many Australian payment methods, such as POLi and BPAY. However, all e-wallets fans will be pleased to hear that Skrill and Neteller are available. On top of that, you can also place a deposit via Visa debit card.
It's easy to place a deposit on the PlayON app. Just click the button in the top right corner to enter the cashier, pick the banking method and confirm the transaction.
The same payment options are available for withdrawals as well. You'll usually have to wait for around 3 days for your winnings to arrive, which is bearable. Note that you'll have to verify your account before making any transactions.
Final Verdict
The PlayON mobile experience is still miles away from what the top Australian DFS sites have to offer. Even though their mobile website is very user-friendly, we can look past the fact that the native apps are missing. PlayON also lacks most of Australia's top payment methods, which could be a dealbreaker for many punters.
If you're serious about playing fantasy sports on mobile, we suggest you take a look at the Draftstars app. They have native apps for both iOS and Android, as well as several unique features, such as the Rapid Fire game mode. Visit Draftstars to see for yourself why they're rated the best fantasy sports operator in Australia.
PlayON App FAQs
Is there a PlayON app for Android?
At the time of writing, PlayON wasn't offering a native app for Android devices. However, all Android users still can play fantasy sports at PlayON over their mobile website. Just use your device's browser to enter the PlayON mobile site, register an account and pick a fantasy contest you like.
Which payment methods are available on the PlayON app?
You can deposit on the PlayON app via Visa debit card, Skrill and Neteller. The same payment methods are available for withdrawals as well. Keep in mind that you'll have to verify your account before placing the first deposit.
Which fantasy contests are available on the PlayON app?
The PlayON app offers the same range of fantasy contest as on the desktop site. All the most popular sports are available, such as NRL, AFL, NBA and so on. You can also try every game mode, including progressive, double-up, and custom made contests.
Is the PlayON app safe to use?
Yes, the PlayON app is entirely safe to use. They are a highly respectable company with thousands of customers from all around the world. PlayON holds a gaming license issued by Australia's Northern Territory Racing Commission, which means they are 100% reliable.
---