PlayON is one of the latest DFS sites to join the Australian betting market. They offer a range of sports and a very user-friendly website. This operator focuses only on fantasy betting, so no need for season-long commitments!
I joined this operator as soon as they started accepting Aussie players. From what I could see, PlayON has a lot of things to improve. There are no native apps or many payment options, so I believe that you'll be better off with some other top fantasy operator like Draftstars.
Great selection of fantasy sports

Several types of fantasy contests
No native mobile apps

Limited payment options

Customer support could be better
PlayON Overview
Unlike most of the other DFS sites around here, PlayON isn't an Australian company. They were originally founded in the UK in 2012. Today PlayON has customers from over 100 countries around the world, including Australia. Since they are a global brand, you'll get access to a broad selection of international sports leagues and tournaments.
On the other hand, their range of domestic sports isn't that great. It's not as great as at some of the Aussie DFS brands, like Draftstars.
Keep in mind that PlayON only features daily fantasy sports, meaning that they don't offer leagues that require any long term commitment. I usually just pick the tournament, draft players and wrap everything up on the same day.
How to Play Daily Fantasy Sports with PlayON?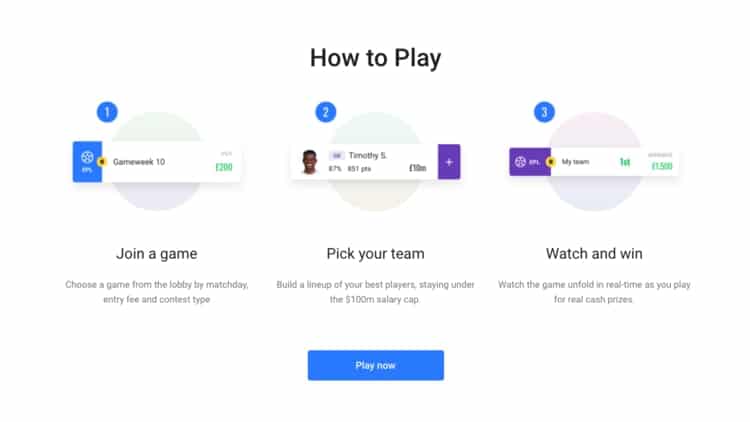 I like PlayON because they have put a real effort to make everything as simple as possible. Their site isn't too flashy, but the navigation is straightforward, so even complete beginners will find the way around pretty quickly.
If this is your first encounter with fantasy sports, take a look at my quick guide below. This is how it works, regardless of the sport or tournament type you pick.
Join a game – Pick a contest from the Games Lobby. You can browse fantasy tournaments by day, entry fee or contest type. Some events are free to join, while others require an entry fee. I always tell beginners to start with free tournaments, just so you can get the hang of it without risking any real money.
Draft a team – This is my favourite part! You get 100m virtual dollars to draft real-life players to your team. Players' price is based on their expected real-life performance. Later on, as they fill in the stat sheets in actual games, you'll earn fantasy points.
Keep track of leaderboard – You can't change players once the league starts. All you need to do is check the leaderboard and watch how your players are performing. To check the team's progress, go to the 'My Live Games' tab in the main menu.
Note that PlayON takes between 3 and 10% commission, depending on the tournament type and size.
What Sports are Available at PlayON?
PlayON started as a fantasy sports site focused primarily on overseas sports and leagues. But as time went by, they have started adding more and more popular Australian sports. Today they feature a few local leagues, including AFL, Rugby Union and Rugby League. However, their coverage is still far from being the best on the market.
Since they aren't originally Australian, you'll find a bunch of foreign sports as well. They have great soccer coverage, as well as an excellent selection of US leagues, like the NFL and NHL. PlayON is an official partner of the NBA, which should make all the basketball fans very happy. On top of that, they're also a DFS partner of Formula 1.
The only thing lacking here is horse racing. In case you want to try fantasy horse racing, visit Draftstars. They are the only DFS site in Australia to have it on offer. We explain everything in great detail in our comprehensive review of Draftstars.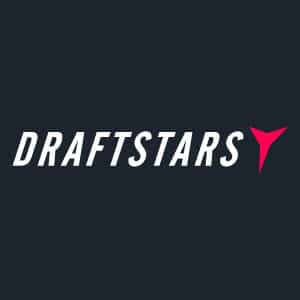 Draftstars is the only Australian betting site to offer fantasy horse racing! Click the button below to learn more about Draftstars fantasy features!
Draftstars review
Here is the full list of sports available at PlayON:
Soccer
Formula 1
AFL
Tennis
NFL
Rugby League
Rugby Union
Basketball
Golf
Cricket
Ice-Hockey
What Types of Tournaments Are Available?
PlayON Australia offers several tournament types. All of the contests are available as both free and real-money tournaments, meaning that you can try all of them without any strings attached. I believe that Double Ups and One-on-One contests are the best for beginners because they are the simplest ones to grasp. However, I encourage you to eventually try all of them. That's the only way to learn what suits you the best.
These are all game types available at PlayON.
One-on-One – As the name says, you're facing just one opponent. Whoever drafts the highest scoring team wins.
Double-Ups – Everyone who finishes in the upper half of the leaderboard will get their stakes doubled. Simple, easy and great for beginners!
Triple Ups – Similar to Double Ups, just in this case you get 3x your stake for finishing in the top 1/3 on the leaderboard.
Progressives – Here the contenders get paid in tires based on the final ranking. The highest-ranked player wins the most, while others earn less and less as you go down the leaderboard.
PlayON Australia Scoring
Here I'll explain how the fantasy scoring at PlayON Australia works. Since there are so many options on offer, I'll focus only on the most popular sports. In case you want to learn more, note that PlayON has all of the details listed on their site.
Note that you'll start with 100 million dollars budget on every fantasy draft.
If you're interested in a specific sport, use the link below to jump straight to it!
PlayON AFL Scoring
AFL is from recently also available on PlayON. Here is how many players you'll have to draft and how the scoring works.
2x Defender
3x Midfielder
1x Ruck
2x Forward
1x Flex
| Category | Points |
| --- | --- |
| Kick | 3 |
| Handball | 2 |
| Mark | 3 |
| Tackle | 4 |
| Free kick for | 1 |
| Free kick against | -3 |
| Hitout | 1 |
| Goal | 6 |
| Behind | 1 |
PlayON Rugby Union Scoring
The scoring table you see below works for all Rugby Union competitions, which includes Super Rugby, Rugby World Cup, Bledisloe Cup and so on. I'll also list how many players you'll have to draft.
1x Front Row
1x Second Row
2x Back Row
1x Scrum Half
1x Out Half
1x Centres
2x Back Three
| Category | Points |
| --- | --- |
| Tries | 100 |
| Assists | 50 |
| Defenders beaten | 10 |
| Offloads | 20 |
| Turnovers | 30 |
| Metres gained | 5 |
| Tackles made | 10 |
| Line breaks | 30 |
| Missed kick | -10 |
| Drop goal | 40 |
| Successful penalty/conversion | 25 |
| Tackles missed | -10 |
| Yellow cards | -50 |
| Red cards | -100 |
| Handling errors | -20 |
| Penalties conceded | -10 |
| Minutes played | 3 |
PlayON NRL Scoring
NRL is one of the most popular leagues in Australia, so it's no wonder PlayON included it in its offer. The scoring and players selection you see below also works on all other Rugby League competitions.
1x Half Back
2x Outside back
1x Hooker
3x Forwards
2x Flex
| Category | Points |
| --- | --- |
| Try | 100 |
| Try Assist | 50 |
| Tackle break | 20 |
| Tackle | 10 |
| Tackle Missed | -20 |
| Offload | 20 |
| Line break | 40 |
| Line break Assist | 20 |
| Run metres gained | 1 |
| Penalty conceded | -5 |
| Error | -10 |
| Goal kicks | 20 |
| Drop goal | 40 |
| 40/20s | 25 |
| Sin bin red card | -25/-50 |
PlayON Football Scoring
PlayON offers a fantastic selection of fantasy football leagues, which includes the English Premier League and many other popular options. The scoring below applies to every football league at PlayON.
1x Goalkeeper
4x Defenders
4x Midfielders
2x Forwards
| Category | GK | DEF | MID | FWD |
| --- | --- | --- | --- | --- |
| Goal | 1,000 | 1,000 | 1,000 | 1,000 |
| Assist | 500 | 500 | 500 | 500 |
| Shot on target | 200 | 200 | 200 | 200 |
| Chance created | 100 | 100 | 100 | 100 |
| Interception | 100 | 100 | 100 | 100 |
| Tackle | 50 | 50 | 50 | 50 |
| Clearance | 25 | 25 | 25 | 25 |
| Appearance (per min) | 5 | 5 | 5 | 5 |
| Clean sheet (per min) | 3 | 3 | – | – |
| Penalty save | 750 | – | – | – |
| Save | 200 | – | – | – |
| Goal conceded | -250 | -250 | – | – |
| Yellow card | -200 | -200 | -200 | -200 |
| Red card | -500 | -500 | -500 | -500 |
PlayON NBA Scoring
NBA is one of many US leagues available at PlayON. Take a look at the scoring and player requirements.
1x Point Guard
1x Center
1x Shooting Guard
2x Flex Positions
1x Small Forward
1x Power Forward
| Category | Points |
| --- | --- |
| Points | 1 |
| Assist | 1.5 |
| Rebound | 1.2 |
| Steal | 3 |
| Turnover | -3 |
| Block | 3 |
PlayON App – No Native Apps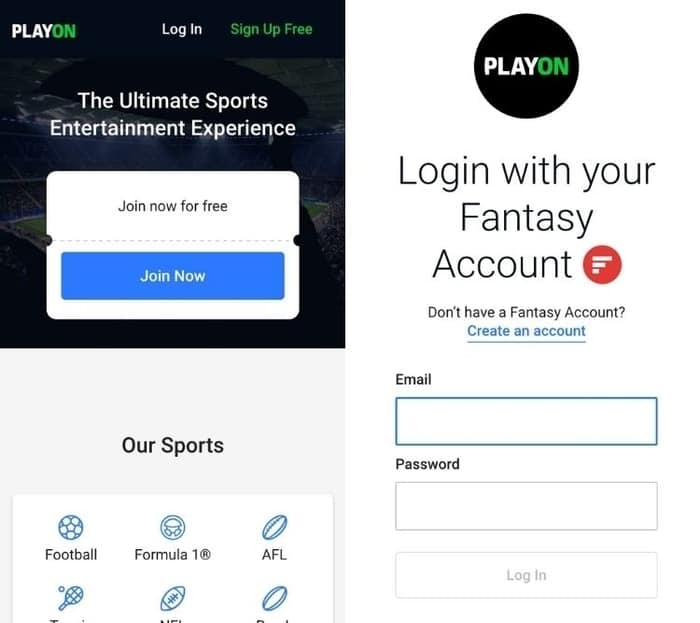 PlayON has a very limited mobile betting offer. At the time of writing this review, they don't offer any native smartphone apps. However, the web-based app works nice, so I was still able to use PlayON even when on the go.
The PlayON mobile site loads very quickly and offers all the same features as the desktop site. You can use it on all mobile devices regardless of the operating system without having to download anything. All you need to do is visit the PlayON website using a mobile browser, and that's it! It offers the same range of sports and fantasy contest as the desktop version of the site.
But if having an installable app is especially important to you, then PlayON is a no-go. In that case, I strongly suggest registering with Draftstars. They have excellent native apps for both Android and iOS. I have explained everything you should know about them in my analysis of Draftstars, which is well worth taking a look at.
Payment Methods – Visa & E-Wallets
You can deposit and withdraw at PlayON using either VISA debit, Skrill, or Neteller. As a huge fan of e-wallets, I haven't had any issues here, apart from the fact that you can't deposit with PayPal. However, the problem is that a lot of people still don't use Skrill and Neteller, or prefer Mastercard for everyday stuff. That could be a serious deal-breaker for many punters, so I hope that PlayON will add more option sometime soon.
You can clearly see that they are a foreign company since there are no Aussie specific payment methods, such as POLi or BPAY. Adding them would make PlayON much more tempting for Australian bettors. Other fantasy sports sites in Australia also have a very weak selection of banking options, so this could be a game-changer for PlayON.
All withdrawals are usually processed within 72 hours, which is not that great compared to their competitors. But don't forget to verify your account as soon as possible since they won't let you take out your winnings before the identity check is done.
Deposit Methods: Visa Debit, Skrill and Neteller
Withdrawal Methods: Visa Debit, Skrill and Neteller
Customer Support – Not Great
Customer support isn't one of PlayON's stronger sides. They say on the site that you can get in touch with support agents by clicking on the live chat icon in the bottom right corner of the screen. But at the time of testing, the button wasn't there at all. I checked again later, and it was still gone. I hope that this is just temporary since a live chat is by far the most efficient way to get your problems solved quickly.
Phone support also isn't available, so the only way to reach out to them is by sending an email. However, in that case, you'll have to wait for at least several hours to get an answer.
There is an FAQs page as well, but it's not too extensive, so it probably won't be of much use most of the time. I sincerely hope that PlayON Australia will improve customer support at some point soon since what they have now is far from perfect. Almost every other decent bookmaker in Australia has better support, meaning that PlayON should do something fast if they want to stay relevant.
Is PlayON Australia Safe?
PlayON is a huge company with customers from over 100 countries around the globe, so it's safe to say that they have proven to be reliable. This betting operator holds licenses from some of the most renowned gambling regulatory bodies in the world, including UKGC and Australia's Northern Territory Racing Commission.
From what I could see, they have all of the latest safety features installed on their site, such as 2048-bit encryption. Because of this, you don't have any reason to worry about safety when playing DFS with PlayON.

| | |
| --- | --- |
| Name | Tradeplayer Limited |
| Founded in | 2012 |
| CEO | Killian Jones |
| Headquarters | Dublin, Ireland |
| ABN | 60 382 327 903 |
| Speciality | Fantasy sports |
Another great thing is that PlayON Australia offers an array of tools to help you stay in control of your play. It includes features like Deposit Limits, Transaction History and Self Exclusion. The thing I don't like here is that they only list the contact details for UK-based agencies that deal with problem gambling. I get it, it's because PlayON is a UK company. But still, I'm sure that Aussie punters would feel much better if PlayON listed some local institutions as well, such as Gambling Help Online.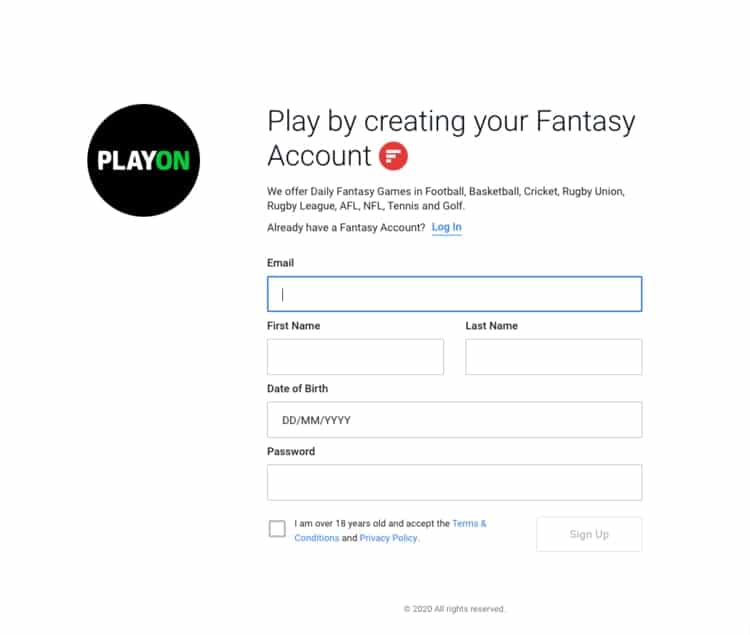 Final Verdict
PlayON has an excellent daily fantasy sports offer. You can choose between many popular sports and tournament types. Everything is packed inside of a user-friendly website, so even complete beginners won't have a hard time finding the way around.
As you could see from my PlayON review, it's clear that their platform is still rough around the edges. Customer support isn't great, the range of payment methods could be better, and most importantly, there are no native apps. PlayON is still work in progress, so I suggest you join one of the more established fantasy sites. Trust me, it'll save you a lot of time and nerves.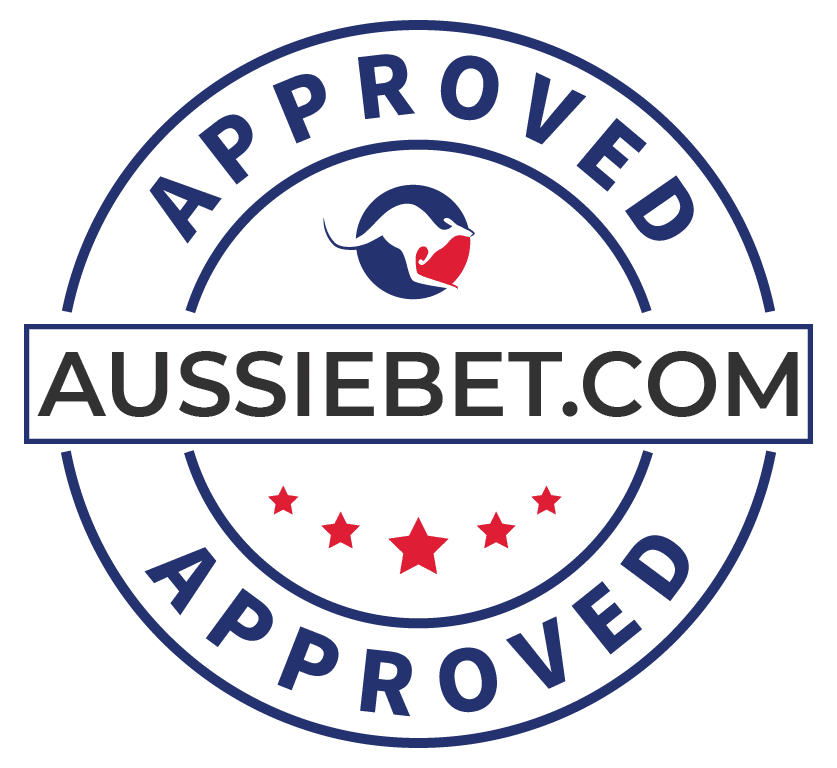 PlayON isn't the best option for fantasy sports betting in Australia. It comes with quite a few downsides we just couldn't ignore. Instead, check out our top rated operators.
Top PlayON alternatives
PlayON FAQs