Skrill Betting Sites in Australia
Written by Dave
Last time updated

01/27/2023
Finding the best betting sites that accept Skrill may be difficult. It's a payment method that's not available by default in Australia. That's why we have listed all of the local Skrill betting sites in one place.
We're also going to take a look at the fees, the transaction period, and how to complete the Skrill deposit. If you already know what's Skrill and how it works, jump straight to the top Skrill betting agencies.
Top Online Bookmakers that Accept Skrill in Australia
Ad disclosure
Casino
Bonus
Payment methods
Link
T&Cs

Unibet

Watch Live Streams

Visit Site

Unibet Review

Best Features:

Great all-round bookie, Unibet TV, Impressive app

Payment methods

(4 in total):

Minimum Deposit:

AU $5

Withdraw Time:

1-5 Days

Licences:

Northern Territory

App availability:

Close –

Open +

Reliable Bookmaker with Flawless Track Record
Skrill is in a peculiar position in Australia. Unlike the Aussies, EU and UK punters rely heavily on Skrill. It's almost the go-to payment option that helps them fuel their betting endeavours. Seeing Skrill in the banking section, or listed next to other deposit methods, hints at the bookmaker's standing and target audience. Why? Because Australia, unlike other regions, has enough of its own highly competitive payment providers. Its key competitors are POLi, FlexePIN and BPAY, and all of them have excellent market shares.
Australian Skrill Betting Sites – What You Should Know
First and foremost, it's not a payment option that's available by default, such as POLi or BPAY. Skrill is primarily focused in other markets, most of which are in Europe, but it has a decent market share in Canada as well. Australia is a secondary market, freely speaking.
It is not the best payment method for Aussie punters, but it's a rather efficient payment solution, perfect for casual punters. Those of you who are taking betting seriously might want to consider to bet with PayPal or POLi.
Whether you deposit in AUD or a different currency, it doesn't make a difference, aside from the currency conversion fee you have to cover. If, say, you deposit in a currency which is not accepted by the bookmaker at hand. Although, we highly recommend sticking to Australian betting sites, licensed in Australia, and depositing and betting in AUD.
Deposit with Skrill at Betfair Australia
Another big, international, yet a bookmaker with its roots deep in Australia is Betfair. Not only it provides excellent odds for online horse racing betting, but Betfair also boasts the biggest betting exchange. But you already knew that, right? Did you also know that Betfair accepts Skrill deposits? Did you know that Betfair also pays out winnings via Skrill? Now you do!
Betfair Australia takes betting to a whole new different level. And no, you don't need a separate account to place bets and to take a chance on the betting exchange.
An interesting fact is that Betfair Australia is the most versatile betting site out of all bookmakers regarding deposit and withdrawal options.
Skrill at Unibet – Deposit & Withdraw
Here's Unibet, one of Australia's finest betting site, which is also accepting Skrill (Moneybookers) deposits. Although is one of the most famous European brands, Unibet has kept its Aussie look. That being said, you'll notice it looks different than other international bookmakers.
Unibet takes you straight to the betting action. With your Skrill e-wallet, you can place your first real money bet in less than 5 minutes! That is if you're tech-savvy and you know exactly what you're doing!
Ad disclosure
Casino
Bonus
Payment methods
Link
T&Cs

Unibet

Watch Live Streams

Visit Site

Unibet Review

Best Features:

Great all-round bookie, Unibet TV, Impressive app

Payment methods

(4 in total):

Minimum Deposit:

AU $5

Withdraw Time:

1-5 Days

Licences:

Northern Territory

App availability:

Close –

Open +

Reliable Bookmaker with Flawless Track Record
Online Betting with Skrill – Advantages
It goes without saying that Skrill is a highly competitive payment provider. It's available in more than 100 countries, and it supports transactions in more than 15 currencies. No wonder there are so many betting sites with Skrill around the world! However, in spite of its "liberal" marketing model, certain restrictions apply, but not in Australia. Aussie punters can deposit and withdraw at Skrill betting sites in AUD. Moreover, Skrill opens an entirely new range of bookmakers which are not licensed in Australia. By taking this path, you put your betting journey in jeopardy.
There's an excellent range of Australian betting sites that provide attractive odds and the comforts a passionate punter deserves. For what it's worth, here are the Skrill's payment advantages:
Supports Multiple Currencies
Great for Mobile Betting
Deposit & Withdrawal Method
Fast Transactions
Its reputation precedes itself. In a way, its features make it perfect for casual punters that like deposit frequently, yet modest amounts.
Betting Online with Skrill – Disadvantages
We showed you where Skrill could take you, which online bookmakers accept Skrill and what you can expect. However, when compared to other payment providers, Skrill proves to be quite cost-inefficient. That being said, here are the cons of using Skrill:
Maintenance and transaction fees
Restrictions might apply when claiming some bet sign up offers
The list of Skrill disadvantages is a short one, indeed. Then again, Skrill is a punter favourite payment option in some areas of the world. Surprisingly, many punters from Australia are their loyal customers.
Are there any Fees on Skrill Deposits at Betting Sites?
Skrill comes off as a favourable payment provider, but mainly because of its efficiency, and not in terms of costs. It's fast when it takes the role of a deposit method, but it's also decent if you withdraw using Skrill if the bookmaker allows it. A rule of thumb, there aren't any deposit or withdrawal fees at betting sites. However, Skrill charges fees, and it does so on several occasions. Let's repeat that the Skrill betting sites do not charge any fees!
| Type of Charge | Fee |
| --- | --- |
| Funding Charge | 1% |
| Withdrawing Charge (Bank Account) | $8.07 |
| Withdrawing Charge (Credit Card) N/A | 7.5% |
| Sending Money | 1.45% (min. fee $0.73) |
| Receiving Money | Free |
| Currency Conversion | 3.99% |
| Annual Service Fee | $7.50 |
The fees vary greatly, depending on the funding payment method primarily. These fees are in the range of 1% to staggering 7.5%. Additionally, you have to pay another fee when you withdraw money from your Skrill account, to say, your bank account. Withdrawal fees are fixed, and they hurt. However, if you reduce the frequency of Skrill withdrawals, it can be turned into an efficient, COST efficient payment provider. Nevertheless, it can't beat the modest fees of PayPal.
Note, if you're betting at an international bookmaker and the AUD is not accepted, you're in for an increase of 3.99% in fees, charged against your transaction. You will NOT be informed of this at any point. The betting site will not warn you either.
Online Betting with Skrill on the Go – Skrill App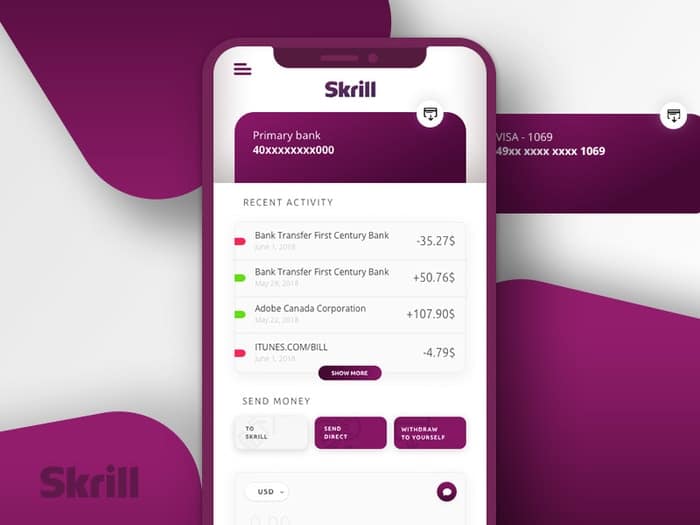 Skrill is available both on Android and iOS, and fully compatible with Windows devices. The Skrill mobile app is everything you need to be in total control of your betting balance. You can download the Skrill app from the respective app store, log in, and you're all set. However, the app is not necessary, since you don't need it to make deposits, nor you need it to withdraw from betting sites. However, note that Skrill payments are available at a few of the best betting apps in Australia, meaning that if you have a Skrill app as well, you can finish the whole process on your mobile device.
With the Skrill app and a mobile bet app of your choice, you will never have to take a seat at your desktop device to place online sports bets.
Deposits and Withdrawals at Betting Sites using Skrill
You might've already picked up the hints we left along, but it's best we get this dilemma out of the way. The answer is yes; you can deposit and withdraw using Skrill. However, online bookmakers still reserve the right to deny a Skrill withdrawal and force its trusted customers to withdraw via bank transfer. On certain occasions, this is not an issue, but there are some situations when it can cause a lot of inconveniences. For starters, you will have to provide extra proof and verification documents.
Skrill withdrawals are a staple in Europe, mainly because of high bank transfer charges. Cross-border transactions add up to a significant amount in fees.
This Skrill feature gives it a head start over POLi, BPAY and FlexePIN, just because it enables punters to withdraw money from betting sites. Nevertheless, PayPal still comes on top. For the time being, Skrill is a decent payment option, but please, consider switching to PayPal at some point in the foreseeable future.
How to Deposit with Skrill at Betting Sites?
For starters, Skrill is an e-wallet. As such, you need to fund your Skrill account via credit cards, debit cards, other e-wallets or directly via bank transfers. Regardless of how you do it, there are fees which apply to you. Need not to worry, we have that covered as well, and we're going to talk about it later on.
Here's a brief step by step guide on how to deposit with Skrill at betting sites:
Deposit with Skrill
Register and Verify your Betting Account
Find the Cashier/ Deposit Button
Select Skrill as Your Deposit Method
Fill in the Information
Insert the Amount You Wish to Deposit
Complete the Deposit Transaction
Place the Bet You've Been Thinking About
It's simple, fast and widely available. Makes you think it's one of the best payment methods for punters. Skrill deposits are instant, as long as you have enough cash in your Skrill wallet. This puts it ahead of conventional deposit methods such as bank transfers, and surprisingly, well ahead of BPAY!
How Long Do Betting Skrill Withdrawals Take?
When it comes to withdrawal times at betting sites in Australia, almost all payment options bring forward the same capabilities. Then again, if your withdrawal is approved sooner, you will get your money out faster. Nevertheless, this is the case only if you're withdrawing via an e-wallet, such as Skrill for example.
In our experience, Skrill withdrawals can be completed within hours following the withdrawal request. However, those guys working in the finance departments at betting agencies need to go through all of your details before they can approve the transaction. In case you don't know what they're doing, they're double checking if you've breached any of the terms in their long, painfully long rule book.
Although it's typical for Skrill withdrawals to be fully completed within 24 hours, the worst-case scenario is 48 hours. This is the threshold beyond which even bank transfers become a more efficient withdrawal option.
Bookmakers that Accept Skrill Are Hosting International Punters
It is, without a doubt, a way more versatile payment option than POLi and BPAY because it supports transactions in multiple currencies. Australia's finest proprietary payment providers support AUD transactions only. Let this not be a distraction and confuse you. You can use Skrill as a deposit option at betting agencies that accept it, try not get lost. After all, the Australian law states that the bookmaker needs to hold an Australian license.
Best Bookmaker Accepting Skrill in Australia
It is quite a limited selection. As it turns out, there aren't many Skrill betting sites in Australia, as, for example, there are in Europe. This indicates that the financial service market is oversaturated. When a giant such as Skrill can't get the market share, it's used to. Something's going on.
Nevertheless, we can point out the best of the best Skrill betting sites in Australia. Drumroll, Betfair. Like our top 2 bookmakers accepting Skrill list says, it sits firmly at the very top. It's demonstrated high customer retention rates, which is the case because of decent odds, excellent customer support and fantastic betting products.

| | |
| --- | --- |
| Name | Skrill Limited |
| Headquarters | 25 Canada Square, London, United Kingdom |
| Founded in | 2001 |
| CEO | Lorenzo Pellegrino |
| Revenue | $331 million |
| Mobile | Yes |
| Contact | 855-719-2087 |
| Top bookie | Unibet |
| Fees | 1.45% |
| Website | skrill.com |
What Are the Alternatives?
In case you don't want to use Skrill, take a look at some of the best alternatives. You can also take a look at some of our in-depth payment method reviews.
Skrill Alternatives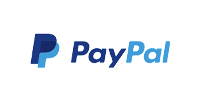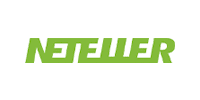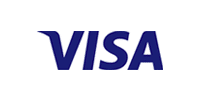 Betting with Skrill – Conclusion
So, has Skrill gotten your attention? In our honest opinion, Skrill certainly has its pros, but we can't say it's the best payment method for Aussie punters. Have another look at our top 2 best Skrill online bookmakers and start betting! Online betting with Skrill is easy, fast, and it enables you to focus on the important stuff, like the bet slip!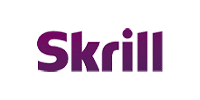 We believe that Unibet is the top Australian Skrill betting site. If you want to examine the other options, take a look at our list of top Skrill bookmakers.
Best Skrill betting sites
Skrill FAQs
What bookmakers accept Skrill?
Not many in Australia. Only Betfair Australia and Unibet accepted Skrill deposits at the time of writing. Most likely, you will have to look for a Skrill alternative if any of these can't meet your betting criteria.
How long does it take to withdraw my money from Skrill?
The general withdrawal period via Skrill is around 24 hours. It makes it one of the fastest payment options available. So in case you're looking for quick cashouts, check out our list of top Skrill bookmakers.
What's the withdrawal processing fee?
If there isn't any currency conversion, a fee of $8.07 applies. If, however, there's a currency conversion, a 3.99% fee applies as well. Since you're going to bet at betting sites licensed in Australia, you don't have to worry about any currency conversion fees.